10 Reasons Why You Should Invest in a Custom Swimming Pool
Creating a new standard in pool service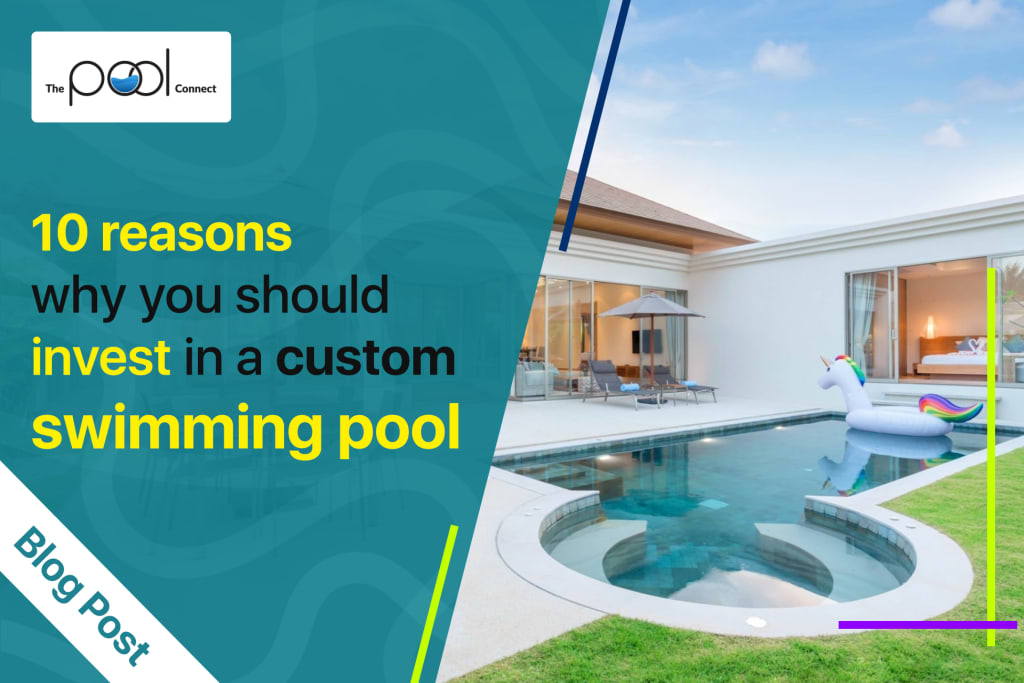 A swimming pool is a fantastic addition to any house, especially during summer. It spells hours of fun and relaxation without having to leave your house.
But, do you know what's better than a swimming pool?
A customized swimming pool.
But what is a customized swimming pool? How can you customize it and what are its benefits? This blog explores all this and more.
Continue reading.
What is a custom swimming pool?
Before we talk about the benefits of having a custom swimming pool in your house, let's go back to the basics a little.
A custom pool is one that isn't pre-fabricated. It simply means creating your swimming pool from scratch. You plan every single detail, right from ideation to designing it and finally installing it. This pool is built to your exact specifications taking into account your budget and lifestyle.
10 great reasons to invest in a custom swimming pool
Innovation, ease, and comfort- these are some of the top benefits of having a custom swimming pool in your house.
Let's take a look at some reasons why getting a custom pool for your home is a great idea:
1. You can choose the shape
The most prominent part of a swimming pool is its shape. House owners with prefabricated pools sometimes are stuck with not-so-ideal pool shapes that make their backyard look cluttered. It does not just define the aesthetics, but also the functionality of the pool including its features. With a custom-built pool, you are in complete control of its shape and can modify it according to the available space.
2. Customized interiors
We mostly see swimming pools with uninspiring white tile interiors. But with a custom pool, it is very simple to have a color palette of your choice. For instance, you can choose from colors such as aquamarine, graphite gray, and sapphire blue. That's not all, customizing your pool also gives you the freedom to select special effects such as a mirror-like effect.
You can also think of adding textures such as glass beads, pebbles, waves, or slabs.
3. Suits your lifestyle
One of the greatest benefits of a custom swimming pool is that it can exactly suit your lifestyle. For instance, if you have kids, you may want the pool to be less shallow. On the other hand, if you have a large family of grown-ups, you can design a pool large enough for laps.
4. Personalized seating
Who doesn't like to lounge in their pool for hours during the hot summer months? Custom pools make this even more fun. When you are designing a pool from scratch, it becomes easy to build interesting options such as in-pool seats, recliners, umbrella chairs, and lounger chairs.
5. Fun pool entry options
With a custom pool, you don't have to stay restricted by boring pool entry options. When designing your pool, you can choose from several exciting options. If you love tanning yourself, you can get a Baja shelf pool entry. Or if you want to recreate the beach experience at home, get a beach entry with a slight slope entryway.
6. Endless entertainment options
A pool is a space where you can entertain and offer your guests an amazing experience. It is where you can spend hours talking, have drinks, and enjoy food. However, a prefabricated pool may not offer you the flexibility to add more aesthetics.
While customizing your pool, you can easily build a bar or a deck area for inviting your friends and family over. You can even add an outdoor TV lounge near the pool to enjoy movie nights or sporting events.
7. Add exciting fun features
Plain pools and flat surrounding landscapes are a thing of the past. Custom pools allow you to add unique features that add tonnes to its beauty, value, and functionality.
Some of the most fun features to add include fountains, water slides, and even shower areas. If you have kids, you can even consider adding a small play area.
8. It adds value to your house
When you have a swimming pool that fits the landscape and aesthetics of your house to the 'T', it adds tremendously to the value of your property. A well-designed custom pool with the latest features works much better than a pre-installed pool.
9. You get fitter
When you have a pool designed to your taste, you use it more regularly. This offers you a range of health benefits right in the comfort of your house. You get a private place to work out and don't have to worry about shared public pools. This is especially easier for people with mobility issues.
10. You are in control of the process
Building a custom pool is more than just a monetary investment. Since it does so much for the value and aesthetics of your house, you need to be in complete control of the process of its design.
And you are!
You have all the say in deciding the design aspect of the pool including its features. This also means hiring the staff for doing up your pool. We are talking about hiring contractors and other technicians who can design the best custom pool for your house.
Conclusion
Now that you know how great custom pools are for the aesthetics, health, and value of your property, you need to have only the best contractors and subcontractors. The Pool Connect app helps you connect with the most professional and experienced contractors in your area who will make your imagination a reality and create a stunning pool for you. Download the app today using your iOS or Android mobile application.
Reader insights
Be the first to share your insights about this piece.
Add your insights