Why should you hire a subcontractor for pool maintenance?
Creating a new standard in pool service.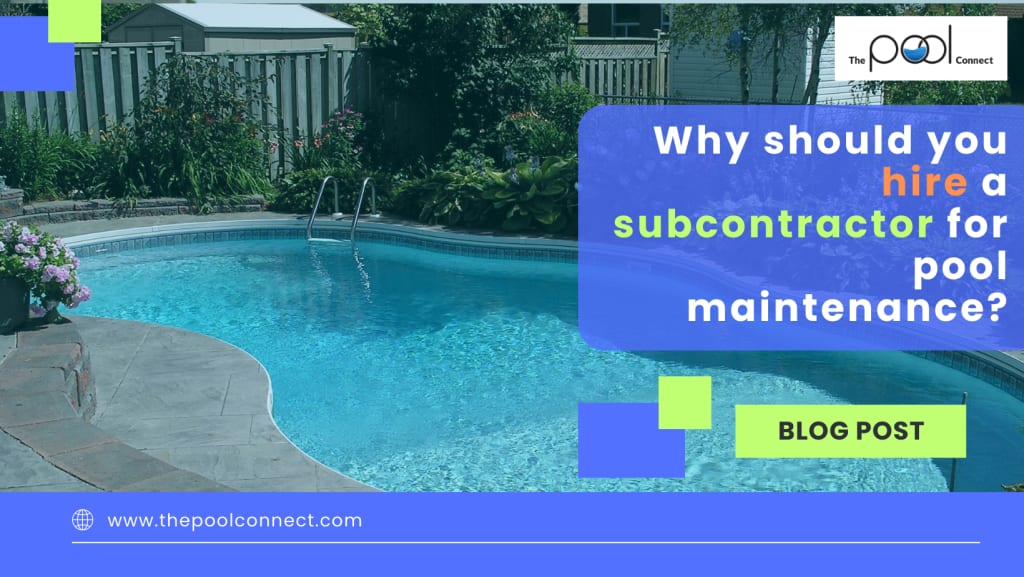 Having a swimming pool in the house can transform its landscape entirely. It makes the house look more aesthetic and charming, and even increases its value. However, it is also a known fact that a swimming pool requires quite a bit of investment by homeowners.
If you have been commissioned to maintain a swimming pool, chances are that you may be thinking of whether to hire a subcontractor. This is especially true when you feel you could do with additional hands or expertise.
This blog explores reasons why you should consider hiring a pool maintenance subcontractor and offers tips on how to find the best one for your projects.
What are the benefits of hiring a pool maintenance subcontractor?
Hiring pool maintenance subcontractors is a common practice. They are people who are hired not by the client directly but by you to perform some specialized pool maintenance tasks. Hiring subcontractors instead of permanent staff has huge benefits in terms of revenues, expansion, cost savings, and goodwill.
Here are some advantages that hiring subcontractors brings with it:
They come in handy in a large-sized project
If yours is an expanding company that has got more pool maintenance projects than it can handle, hiring an experienced subcontractor will help you tremendously. They act as additional hands and help deal with a bigger clientele.
They often come with the expertise in doing a variety of projects and will help you handle your clients easily and efficiently. You can also take up multiple bigger projects simultaneously to increase your client base and profitability in the future.
Offer specialized services
Regular pool maintenance is essential to keep the contaminants out of the water and keep the users healthy. Besides, it also helps in maintaining the aesthetics of the pool and avoiding expensive repairs later on. Maintenance work goes much just keeping it clean.
It may also include detecting and making structural repairs and adding cosmetic changes. Your company may not be specialized in all these services. Making a subcontractor with specialized knowledge a member of your team will help you fulfill your obligations towards the client and do a great job.
Additionally, hiring a subcontractor for pool maintenance who has specialized knowledge and skills improves your goodwill in the long run.
It offers flexibility
One of the biggest benefits of hiring a pool maintenance subcontractor is that it doesn't involve a long-term commitment or legal obligations. You can hire them for a few projects and part ways when the project gets completed.
This is, at times, better than getting full-time employees on board. They come with more obligations and terminating their jobs can get complicated.
You can become more productive
Let's admit pool maintenance can get mundane at times. One of the most important advantages of hiring a pool maintenance subcontractor is that it allows your staff to focus on your core business areas and outsource the smaller routine tasks.
This way you can put your focus on the more important jobs and expand your business while the subcontractor handles the simpler work.
Allows you to save costs
Although hiring a pool maintenance subcontractor comes with its costs, it is still more economical than bringing in a salaried employee for the long-term. You also don't have to give them office space or equipment and it saves you on taxes too.
Where can you find great pool maintenance subcontractors?
There may be times when either you are looking for new specialized talent or cannot find a subcontractor who you can trust. You need to find experienced people who can do the job for you.
Here are some tips for you to find reliable pool maintenance subcontractors:
Talk to your pool industry contacts
One of the best places to find great references in your contacts in the pool industry, they are likely aware of good subcontractors and give you current data of names. They can easily help you evaluate between good subcontractors and shortlist the best one for yourself.
Speak with subcontractors that you worked with in the past
If you are looking for a specialized pool maintenance job to be done, you may want to talk to subcontractors that you have worked with in the past. They can easily give you references from their contacts and references.
Browse Online
Browsing for pool maintenance subcontractors is the quickest way to find good references. One of the best online spaces for you to find a subcontractor is on The Pool Connect application. A single marketplace and a one-stop-shop solution for everything related to pool services, the application has a great database of subcontractors for varied specializations. It features only the most experienced, reliable, and professional subcontractors for pool maintenance
On this application you can:
Browse through hundreds of authentic subcontractor profiles.
Find new prospects in your location.
Connect with subcontractors that meet your regular and special requirements.
Shortlist subcontractors depending on your budget and scale of the project.
Conclusion
Although outsourcing work to a subcontractor for pool maintenance is a great decision, it needs careful thought and planning. Since the project's completion and your goodwill depends entirely on the kind of subcontractor that you find, it is important to choose the best fit. The Pool Connect application helps you do exactly that and offer exceptional service to your client. The application is user-friendly and accessible online. Download it today using your iOS or Android mobile application.
Reader insights
Be the first to share your insights about this piece.
Add your insights