When Saucers First Flew
The first saucer sighting was viral, mystifying, and a curious tale for an insatiable public.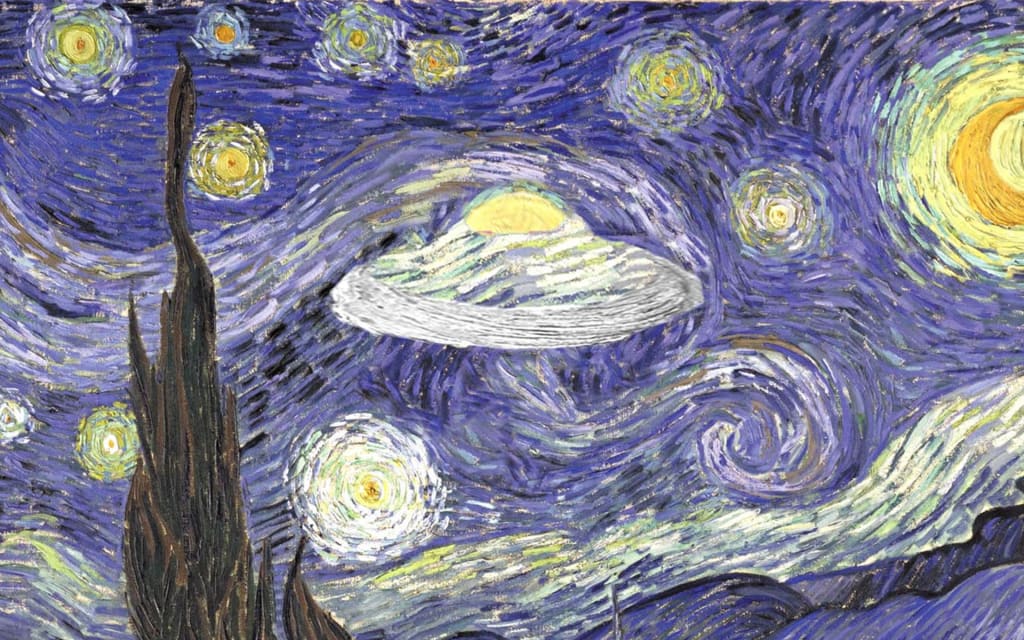 Ray Palmer was the father of a sizable, and still-growing, chuck of Western pop culture. One of the first generation of science fiction editors (Amazing Stories), he discovered and first published writer Isaac Asimov and artist Virgil Finlay. Nonetheless, when it came to pulp, he liked it slapdash, slam-bang, and science-free.
In 1943 a letter from one Richard S. Shaver arrived at his office; an associate threw it in the trash, where Palmer rescued it. Shaver claimed to have discovered the language of the world's Ur-language, Mantong (pronounced Man-Tongue). Palmer wrote Shaver back, asking to see more. In response Shaver sent Palmer a 10,000 word document he entitled "A Warning to Future Man."
Shaver's story: two billion Atlans and Titans, the former Great Races of Lemuria, lived in beautiful cities in the cavern world, inside the earth. Most fled when the sun's protective carbon shell burned away; the ones who remained, slowly becoming more dissipated, spending hours on the Stim [ulation] machines, in time became the Dero. The Dero, Shaver explained, use telepathy to lure victims (invariably female) into caves, or onto unused subway platforms, or into elevators leading only to sub-sub basements, where they torture, attack, and eat them. It was only some time later that Shaver told Palmer that he first heard the screams of the tortured through his welding equipment, in Detroit, in 1932.
Palmer knew he had something. He quickly rewrote Shaver's fantasies into "fact" based fiction, calling the narrative "I Remember Lemuria," and publishing it in the March 1945 Amazing. Sales immediately began to climb, and received hundreds of letters, some from outraged science fiction fans wanting to know why the magazine published such nonsense; other letters from individuals detailing their past, and often terrifying, experiences with the Dero. For about two years, Amazing Stories became all-Shaver, all the time. Still, interest couldn't help but fade, over time. It was then that Palmer's second great opportunity came along.
On June 24, 1947, commercial pilot Kenneth Arnold radioed into Yakima, Washington, that he saw nine reflective, disc-like objects moving 1200 miles an hour over the Cascades. Once on the ground he retold his story to a local reporter, who put his story on the AP wire. The words "flying saucer" first appeared in a no-byline piece from Hearst International release dated June 26. By June 27, the phrase, and Arnold's story, had gone worldwide, in a pre-internet example of viral transmission.
Palmer offered to buy Arnold's account of what he saw; declining payment, Arnold sent him a copy of the report he made to the Army Air Corps on what he saw. Palmer quickly rewrote the piece, calling it "I Did See the Flying Discs!" It appeared as the cover article in issue number one of Fate magazine in 1948, the lively editor's newest venture.
To Arnold's surprise, soon after asking for an account of his sighting, Palmer asked if he'd investigate a sighting of a flying disc over Puget Sound at around the same time he'd seen his. Arnold agreed, though he was in the midst of a debriefing by two Military intelligence officers from Washington, DC. Palmer gave him two contact names: Fred Crisman and Harold Dahl.
Arnold flew to Tacoma, where he met Dahl, who told him that on June 21, six flying discs ejected shards of lightweight metal onto their boat as they passed Maury Island, in the Sound. Dahl said the metal burned his crew, burned his son, and killed their dog. Once back on shore, his son safely in the hospital, he gave some of the "saucer metal" he'd recovered from the boat to Crisman. He showed Arnold some pieces, as proof.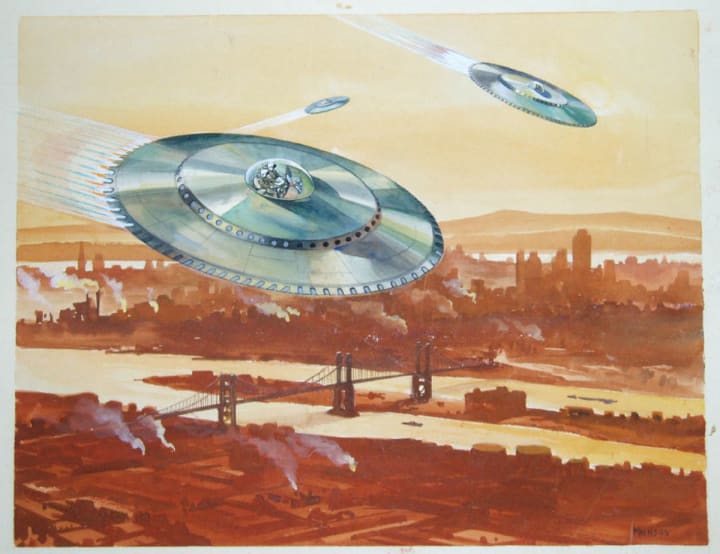 The next day, Dahl continued, a man wearing a black suit driving a brand new black 1947 Buick stopped him as he walked down the street, saying they needed to talk. Precisely recounting the events Dahl experienced the day before, he added, "I know more about your experience than you will want to believe," and to not tell anyone else of their conversation.
When they met the next day, Dahl told Arnold they'd be continuing their conversation at his secretary's house, a rundown shack. Once there Dahl explained that saucers are piloted by man-like beings made visible by A-Bomb radiation. Dahl said he would arrange a meeting between Crisman and Arnold, so that the former could hand off the saucer metal.
After leaving the house that day, Arnold later realized that the secretary was using a piece of the same saucer metal Dahl had showed him as an ashtray.
The two intelligence officers who'd been debriefing Arnold asked if they could join in the meeting with Crisman, delaying their return by one day. On the evening of August 1, Arnold and the officers met with him. Crisman spent a couple of hours retelling the same story Dahl had told. Around midnight Arnold reminded Crisman that he was supposed to have brought along a box of saucer metal. He said he'd forgotten it, and would have to go back to his house to get it. Infuriated, the officers left, intending to fly back to DC.
Next morning Arnold saw the headlines: SABOTAGE HINTED IN CRASH OF NAVY BOMBER. The two officers were killed; Arnold, feeling responsible, called Palmer in order to tell him he'd had enough. Only then did Palmer tell him that he had been alerted to the Maury Island case by the same Fred Crisman, who earlier had written Palmer, telling him of his experiences with Dero in the caves of Burma.
Here at the very beginning of the phenomenon every element fell into place:
Mysterious lights in the sky, vanishing evidence, scientific details possessing no science, odd witnesses, government involvement, strange deaths, and even the first reported Man in Black.
The Shaver Mystery became Jesse Garon to the saucers' Elvis Aaron the moment Kenneth Arnold flew over the Cascades that day in June.
Flying Saucers Are Real! is a catalog of the Jack Womack UFO library and a history of one of the 20th century's most pervasive subcultures. The collection presents 257 color and black-and-white images taken from mid-century flying saucer books with extensive text by Womack outlining the history of the UFO phenomenon and annotating the selections. The onslaught of flying saucer sightings is remarkable not only because they were so widely reported, but because so many people felt compelled to publish books explaining what these saucers might be.