Top 10 'Star Wars' Projects Coming In 2022
An Exciting Year For 'Star Wars' Fans!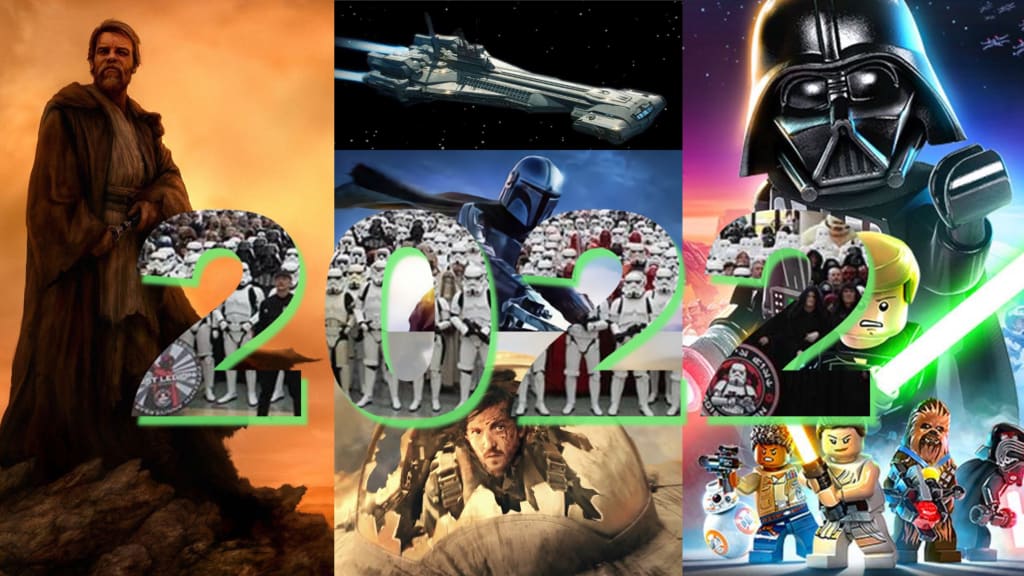 With no movie release, no big conventions, and no major announcements from Lucasfilm, 2021 was a rather mediocre year for Star Wars. So, with a new year approaching, fans turn their sight towards the future, which, as we all know, is always in motion, especially in these times. Keeping that in mind, here are the top ten Star Wars projects coming in 2022:
10. Hunters
The game from Zynga marketed as a "competitive arena combat game," had a soft launch in November of 2021, but its big release for Android, iOS, and Nintendo Switch is scheduled for sometime next year.
In the game, players will be able to choose one of several different fighters, including a stormtrooper, a Wookiee, and a bounty hunter, team up with several other players, and fight against another team in an arena setting. In addition, it will be possible to customize and upgrade the fighters, using both in-game currency and real money, as it is common with this type of game.
RELATED: Which 'Star Wars' Disney+ Show Are Fans Looking Forward To The Most In 2022?
9. Hyperspace Lounge
In the summer of next year, travelers will be able to "fly" through hyperspace while cruising the seas in reality. Hyperspace Lounge is a bar aboard the Disney Cruise Line's Disney Wish. Inspired by the look of Dryden Vos's yacht First Light and the casino on Canto Bight, the location is targeted at an adult audience in contrast to other areas of the ship aimed at children. Big video panels on the walls will act as viewports and will give the impression of actually flying through space while getting in contact with other ships of the Star Wars universe, like X-Wings, TIE-fighters, or Star Destroyers
8. Untitled EA game/KOTOR Remake
This is actually a bit sketchy, but back in 2019, there was a rumor that EA would release a new Star Wars game before the end of 2022. If this pans out, it might be another Battlefront title or the sequel to Jedi: Fallen Order. Also not entirely out of the realm of possibility is the Knights of the Old Republic remake for Playstation 5 and PC.
7. LEGO Star Wars: The Skywalker Saga
After several delays, the game for PC, Xbox One, Xbox Series X, PS4, PS5, and Nintendo Switch should finally see the light of day in the spring of 2022. Unlike previous LEGO Star Wars games, players will not be forced to complete the 45 levels (5 for each of the nine movies) in linear order but will be able to explore the game in a more "open-world" manner, starting from a central "hub." In addition, the game will be available in a standard and a deluxe edition that comes with a Luke Skywalker with blue milk Minifigure and 6 DLC character packs.
6. Galactic Starcruiser
Acting as a kind of "big brother" to the Hyperspace Lounge, fans with a thick wallet and enough credits will be able to check-in at the first Star Wars hotel at the Walt Disney World Resort, starting on March 1. Designed as the starship Halcyon, the hotel connected to Galaxy's Edge will offer an immersive experience with several in-universe characters and even lightsaber training. However, while making a holiday in a Star Wars environment seems like a dream come true for many fans, this trip comes with a hefty price of several thousand dollars just for a two-night stay, depending on the type of cabin. Disney recently posted a first-look video of the innards of the Halcyon but took it down after a few days, following a massive fan backlash. So, it remains to be seen if there will be long waiting lists for checking in at Star Wars hotel.
5. The Bad Batch – Season 2
Initially dubbed as season 8 of The Clones Wars, the Disney+ series is about a group of renegade clone soldiers, who try to get along after the rise of the Emperor, while also protecting their youngest member, Omega. With a late spring release date, fans can expect to learn even more about the dark times between the prequel and the original trilogy and if Hunter, Tech, Wrecker, Echo, and Omega will still be in heavy pursuit by their former team member Crosshair.
4. Andor
It is hard to rank the supposedly 3 live-action Star Wars series coming out in 2022. This 12-episode prequel to 2016's Rogue One will tell the story of what Rebel spy Cassian Andor did before he met Jyn Erso. Andor's sidekick K-2SO, played by Alan Tudyk, will reportedly not be featured in the first season but is rumored to appear after 2022. Filming wrapped in September 2021, so a premiere in the fall is likely.
3. The Mandalorian – Season 3
With The Book of Boba Fett, which will start on December 29, 2021 and so it is not on this list, acting as a kind of Mandalorian Season 2.5, fans can expect to see the return of Din Djarin and Bo-Katan at the end of the coming year. Hopefully, the third installment will answer questions like who will become the new leader of Mandalore, what happens to Moff Gideon, and of course, will Grogu actually get a yellow lightsaber?
2. Obi-Wan Kenobi
After nearly decades of rumors, next year will finally see the return of Ewan McGregor as the former Jedi Master, who lives in a self-proclaimed exile to watch over young Luke. The mini-series will offer much more than just an old hermit just watching sand dunes and banthas, as he will be reunited with his former apprentice and now Sith Lord Anakin Skywalker/Darth Vader, played by Hayden Christensen. Add some Inquisitors and probably a very young Princess Leia to the mix, and you quickly get the biggest Star Wars project of 2022. But wait, there is another…
1. Celebration Anaheim
Initially scheduled for 2020 and then canceled due to the COVID-19 pandemic, May 26-29 will hopefully see the coming together of thousands of Star Wars fans from around the globe in California. Unfortunately, with the event still being 5 months away, there haven't been any major announcements regarding planned events or celebrity guests, but there surely will be some big announcements, many surprises, wrist band hunts, great community meetings, and tons of merchandise to hunt down from all corners of the Star Wars universe.
READ NEXT: What The 'Alien' TV Show Can Do To Help The Franchise
Written By Gerald Petschk
Syndicated From Culture Slate