The Sci-Fi 2019 Book Launch Party You Do Not Want to Miss!
A Guest Panel of Authors Who Dominate the Genre!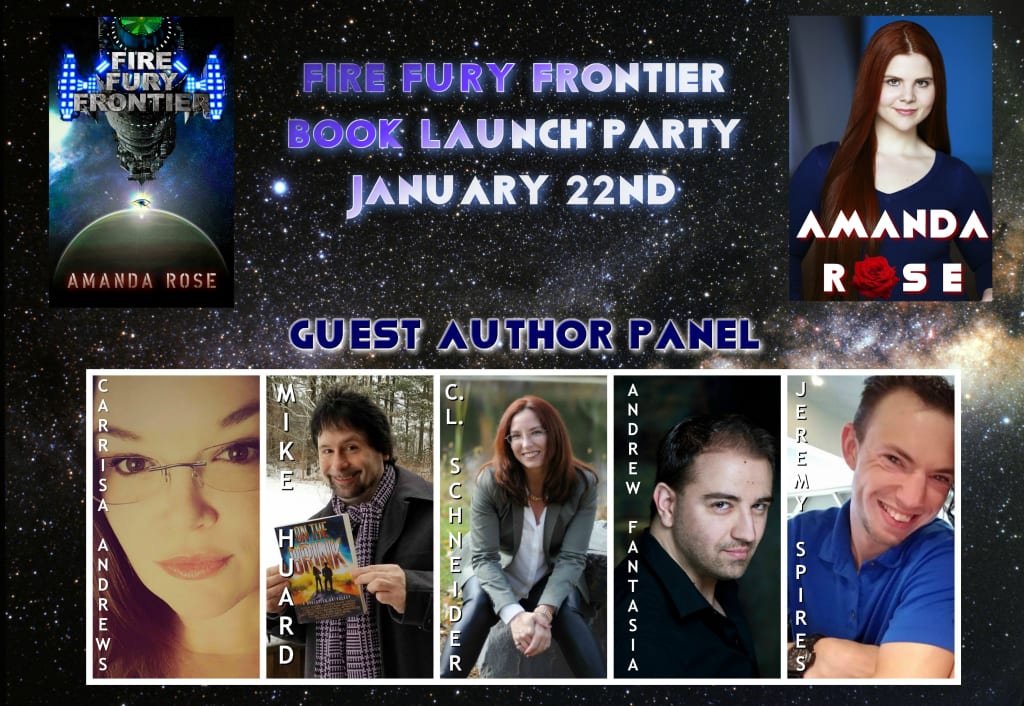 °•▪ Fire Fury Frontier ▪•°
°•¤ Online Launch Party ¤•°
Featuring giveaways, guest authors, and a book launch.
Shut. The. Front. DOOR!
This is going to be an out-of-this-world kind of EPIC!!!!!!
Next Tuesday, January 22, mark your calendars because you do not want to miss this killer lineup of incredible authors who will be presenting throughout the day, and holding some badass giveaways, too!!!
Click "Going" on the Facebook Event and then remember to check on the event page throughout the day on Tuesday, January 22.
Never been to an online book launch before?
Here's what to expect...
In our modern lives most things are becoming more accessible online, and that includes launch parties! No longer do you have to travel to New York or LA to celebrate the much anticipated release of a book you love—or even just hope dearly that the author will tour to your home town; with online Launches you can participate from ANYWHERE and get a signed copy!
Not only that, but with guest authors from around North America able to hop in from wherever they are, we get to celebrate in a whole new way!
A launch party will rotate through from the host author, to the guest authors, all of whom will be sharing some juicy tidbits on their work, offering giveaways, and and answering your questions!
It's a day long event that you can come and check in on periodically, get yourself entered into all the giveaways, and find some new authors whom you'll adore in the genre!
Guest Authors
Carissa Andrews
Carissa Andrews is an internationally bestselling author from central Minnesota who writes a combination of science fiction, fantasy, and dystopia. She's currently working on a young adult paranormal series called The Windhaven Legacy—due out in 2019, as well as a post-apocalyptic supernatural thriller called Awakening—also due in 2019. Learn more at her website.
Follow her work on Facebook.
Cindy L. Schneider
Known best for her Nite Fire and Crown of Stones series. Keep an eye out for her at Comic-Con!
Follow her on Facebook.
Mike Huard
Known for his Mystical Slayers trilogy. Mike is a martial arts instructor and his impeccable fighter skills are breathed into his characters!
Follow him on Facebook.
Andrew Fantasia
Author of SideScroller, Andrew excels at vivid storytelling telling. Actor, and rebel scum podcast host, Andrew impacts the world through his art with a delicious sense of humor.
Jeremy Charles Spires
Author of the Fallen Empire series. Jeremy is a veteran, husband, and father, who loves writing dystopian sci-fi.
Book Description
One ship, one last chance to survive…
Humanity's home world has been destroyed from extensive global warming. For over two hundred years the last remaining humans have lived in space aboard a single massive ship, the Saisei. After generations in space, living aboard a ship is all anyone has ever known.
But space is an inhospitable home.
The ship is old and damaged, rations are low, and a planet fit for colonization has never been found.
In the vast expanse of space, as the Saisei makes way to resupply their ship, they stumble upon a discovery that will change the course of human history forever.
°•¤•°•¤•°•¤•°•¤•°•¤•°•¤•°•¤•°•¤•°•¤•°•¤•°•¤•°•¤•°
We are all in giddy excitement we are dancing with anticipation for the Fire Fury Frontier book launch!! 🎉
"It's Mass Effect meets Star Wars in this Harrowing Space Opera!" - BETA READER
literature