The Most Futuristic Cars You Can Buy Right Now
The future is here when it comes to the automotive industry's new sci-fi cars.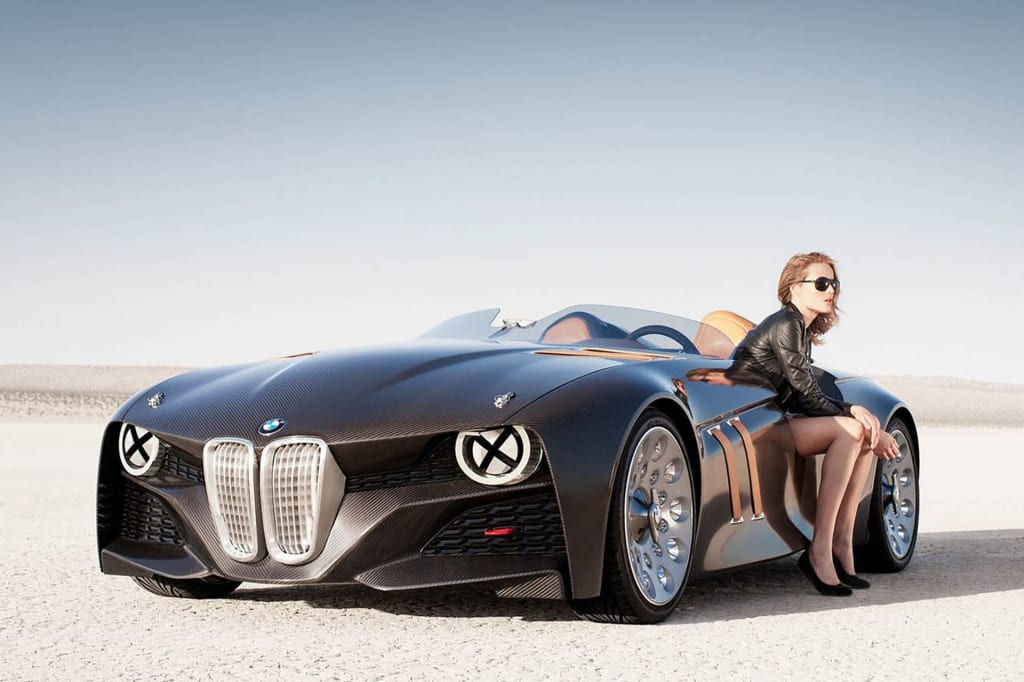 Most gearheads will tell you that they love a car that has customized tires, top rated engines, and a suspension setup that can handle even the roughest roads. But, among car enthusiasts, there's another point of admiration that they very rarely will discuss.
Whether they'll admit it or not, even the most diehard car lovers will tell you that they love seeing cars that look like they belong in a science fiction movie.
And, it's easy to see why. Truthfully, these are cars that are both attractive and fascinating for a number of reasons—many of which need no mechanical knowledge to enjoy.
There's something about the impressive roar of a high-performance engine encased in a body that makes you feel like it could be featured in an interstellar space war. They are testaments to modern engineering that both inspire would-be car designers and make people wonder what the true limit of human engineering ingenuity really is.
Though they are few and far between, there are cars that look like they belong in parking lots in the year 2900. These cars are actually available for purchase... if you have the money to afford one.
The Koenigsegg One:1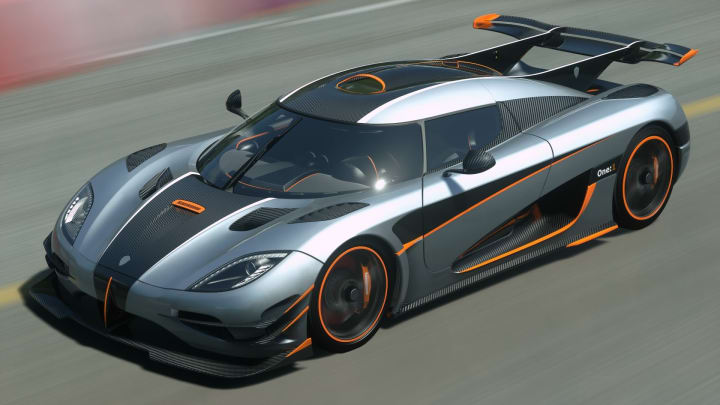 Among car enthusiasts, the Koenigsegg One:1 is somewhat of a legend thanks to its ability to exceed speeds of over 273 miles per hour with over 1161 horsepower on standard mode. The breakneck speed and accelaration that the One:1 can reach gives riders a similar experience to what X-Wing flyers probably feel.
This street legal racecar boasts specialized scissor-hinged doors, carbon-ceramic brakes, and some of the most elegant lines that you could imagine on a car. Even looking at the car's exhaust is more reminiscent of a spaceship you'd expect to find in a campy 80s movie than an actual car.
But, as impressive and stylish as the exterior is, it's the interior that really makes it feel like a car from the future. Racer seats, neon-hued accents, and a spaceship-like dashboard make driving a Koenigsegg One:1 an experience that gives drivers the vibe of an interstellar joyride rather than a standard race around a track.
A car of this quality isn't cheap, so if you want one, you'll have to shell out a bare minimum of $2.9 million for the most basic package it comes in.
The Spania GTA Spano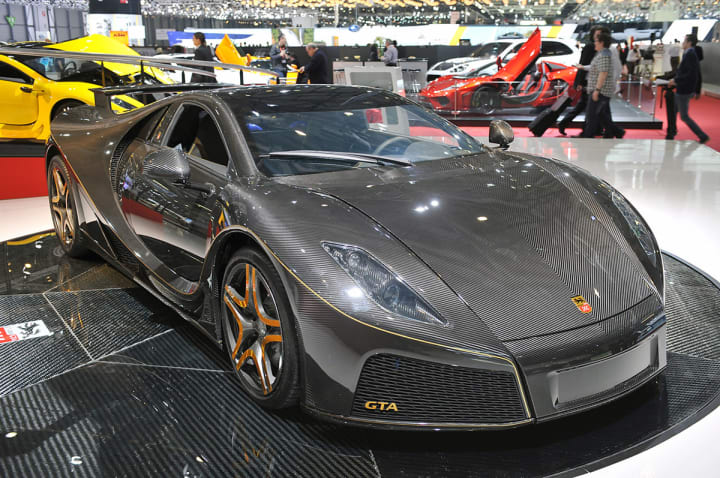 This little-known hypercar boasts a makeup featuring state of the art titanium alloys, carbon fiber accents, and a chassis that is composed almost entirely of Kevlar. But, it's not the materials that make this car so futuristic.
In fact, it's not even the fact that it reaches a maximum speed of 215 miles per hour with an engine powerful enough to go from 0 to 60 in under 3 seconds.
Rather, it's the sleek exterior with its uniquely Tron-inspired paint options, its high-powered LCD screen dashboard, and its pushbutton gear-shifting interface that make the Spano appear perfectly at home in a sci-fi movie.
Car collectors who want a Spano may have a hard time getting it, if only because only 99 of these cars are made at any given year. As of right now, a 2013 Spano retails for well over $750,000—and that price is expected to increase.
The W Motors Lykan Hypersport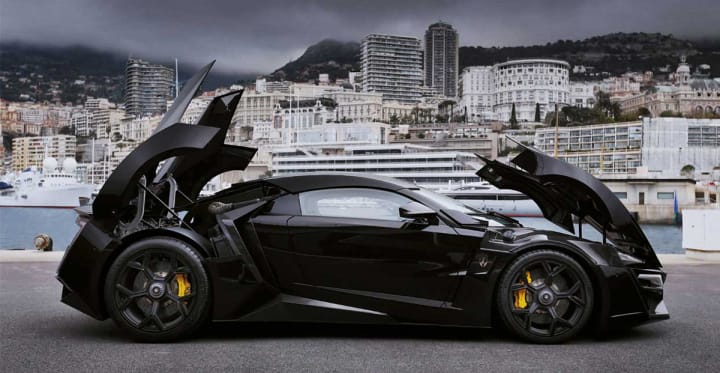 It doesn't take a rocket scientist to realize that the Lykan Hypersport is a car that was intentionally built to have as futuristic an image as possible. Its organic-yet-boxy, smooth-yet-angular build is one that makes people wonder if they're looking at a real car or a 3D image that was rendered in a software program.
Inside, W Motors included one of the very first dashboards in the world to have a holographic mid-air display that's both fully customizable and fully interactive. In other words, they have managed to create the amazing sci-fi displays that you see in Star Trek, Tron, and every other major Hollywood movie... and put them inside a real-life car.
That being said, a car of this design is bound to be exceptionally rare. Only seven of these cars are produced annually, making them one of the rarest street-legal cars in the world. Prices start at around $3.4 million.
The Devel Sixteen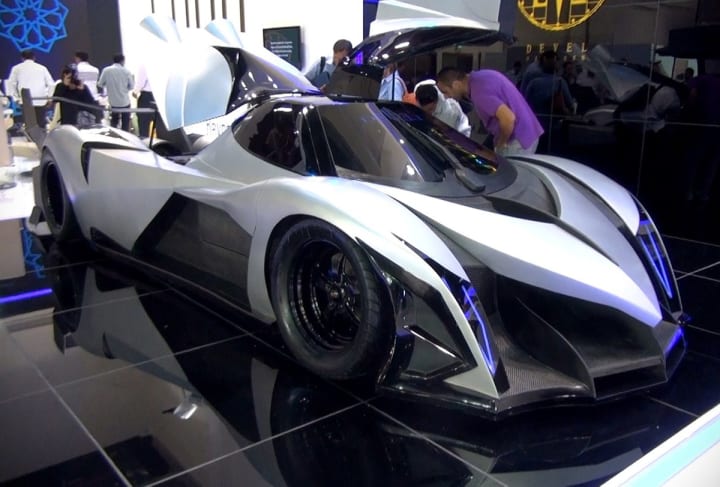 At first glance, the Devel Sixteen doesn't really look like a real car. It looks like a prop that you would expect on the set of the latest sci-fi racing thriller. However, it is a real car... and it's actually ranked as one of the top supercars in the world with a maximum speed of 348 miles per hour.
The exterior alone looks like a beautiful mix between a space shuttle and a Ferrari, and inside, it's equally futuristic. Little is known about this hypercar, simply because only one has ever been created and sold.
However, Devel has announced that there will be more in the future, and prices are expected to begin at $4 million.
The Lamborghini Egoista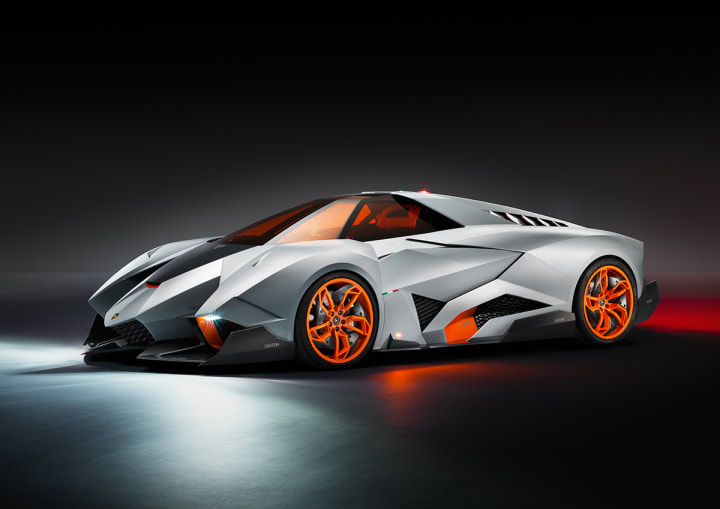 Arguably the most expensive car on this list, the Lamborghini Egoista can only be bought for $117 million. However, one look at this car will quickly illustrate why this is the case. The Egoista is literally inspired by jet fighter planes, and has design elements that reflect it in its machinery, interior, and exterior.
The car's exterior is highly futuristic and created to deliver the highest level of aerodynamicism possible without having the car literally lift off into the air.
More interestingly, the Egoista may be one of the only cars to have ever been created that has a cockpit rather than an actual driver's seat. It also has "NO STEP" written on the bumper, and warning lights on the front and side of the car.
Simply put, this is exactly what an individual spaceship would look like—if they actually existed. Only one of these cars was ever made, but in theory, it is possible to buy it if you have the money.
The Tesla Model X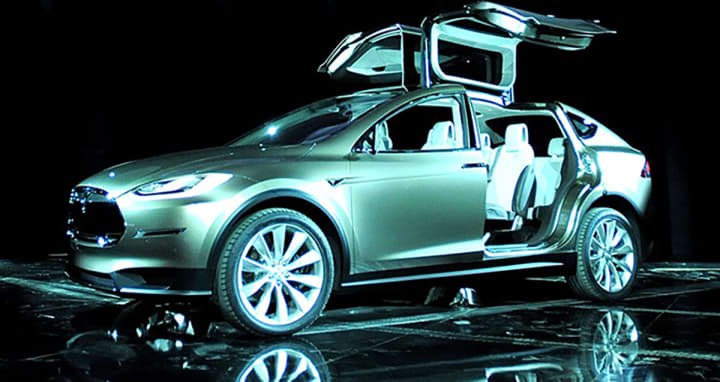 If you feel like having a futuristic car is way out of budget, then we have some good news for you. The Tesla Model X is relatively affordable at only $80,000. Much like all other Tesla cars, this electric car brings the driver into the future wave of car ownership with a car that runs on electricity.
Along with being one of the only luxury SUVs that runs exclusively on electricity, the Tesla Model X also boasts sleek lines and eye-catching Falcon Wing doors.
Deceptively futuristic in its design and engineering, the Tesla Model X is expected to hit dealership lots in droves... and it's also expected to sell out.
The Lamborghini Sesto Elemento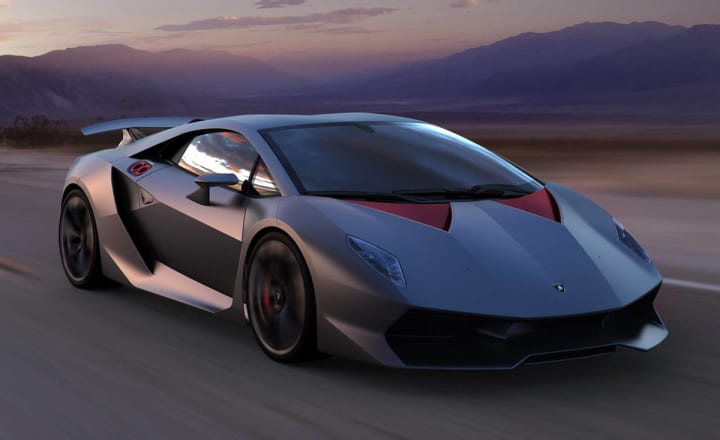 This Italian-made supercar is known for the fact that it's almost entirely composed of carbon fibers, and for the fact that its name literally translates into "The Sixth Element." As the most lightweight racecar that's available for sale, the Sesto Elemento only weighs 2200 pounds.
In terms of futuristic appeal, it's obvious why we included this car on the list. It looks like it belongs in the newest Men In Black movie, and can outrace almost any car in existence. (Oh, and it totally looks like it belongs in The Fifth Element, too.)
Right now, the Sesto Elemento currently costs $2.89 million, and only 20 cars have ever been made in this series.
The Gibbs Quadski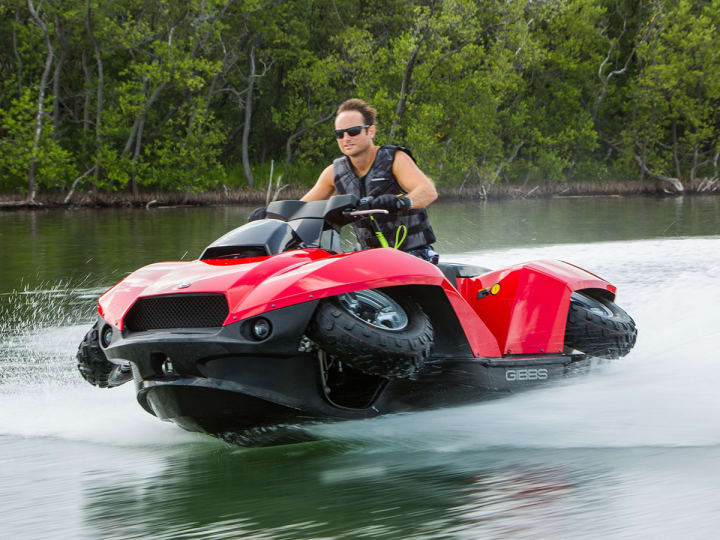 Gibbs is a car company that specializes in creating amphibious cars - much like the ones you may have seen in Johnny Quest and similar TV shows. In the past, they've made a number of models that definitely have a rugged sci-fi twist to them, including the 5-seater Humdinga concept car.
Their most popular car was the Gibbs Quadski, an amphibious car that has retractable wheels, a futuristic build, and a fully functional marine jet propulsion outfit. Though it's not street legal, you can buy it—and it can get up to 45 miles per hour on land.
About the Creator
Spends his days making his own Star Wars figurines. His craft has driven him to look towards the future, drawing inspiration from past technological advances.
Reader insights
Be the first to share your insights about this piece.
Add your insights