The Easiest DIY Star Wars Gifts
Bonus: all of these easy DIY Star Wars gifts will cost you less than $20 and 2 hours of your time.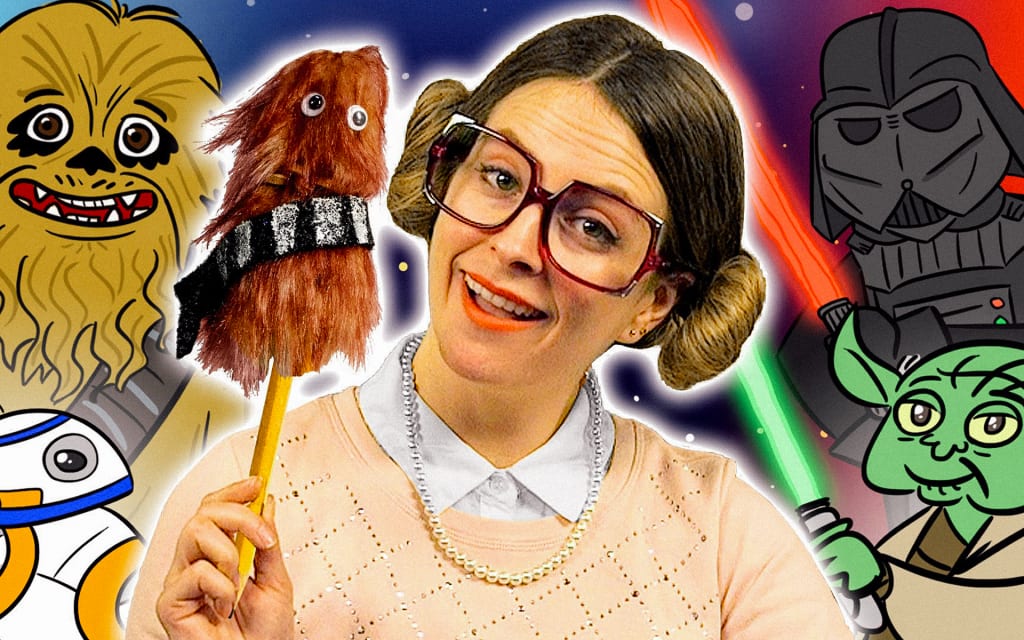 Some people would call me crafty. Those people are not technically correct. Can I safely use scissors and Elmer's glue? Yes, I can. Can I crochet an entire set of miniature Star Wars figurines? Ha ha ha. No. I cannot. But that doesn't mean that I can't make some pretty rad DIY Star Wars gifts for all my kinfolk when the holiday season is coming around. My goals when selecting winners for this list were twofold: first, nothing should cost more than $20, and second, nothing should take more than an hour or two of hands-on crafting time. While you might spend a little bit more or take slightly longer depending on your material sourcing and crafting abilities, I hope I've hit pretty close to the mark. Grab your supplies and if you're feeling a little lackluster about your DIY abilities, just remember: do, or do not. There is no try.
Stenciled Star Wars Pillowcases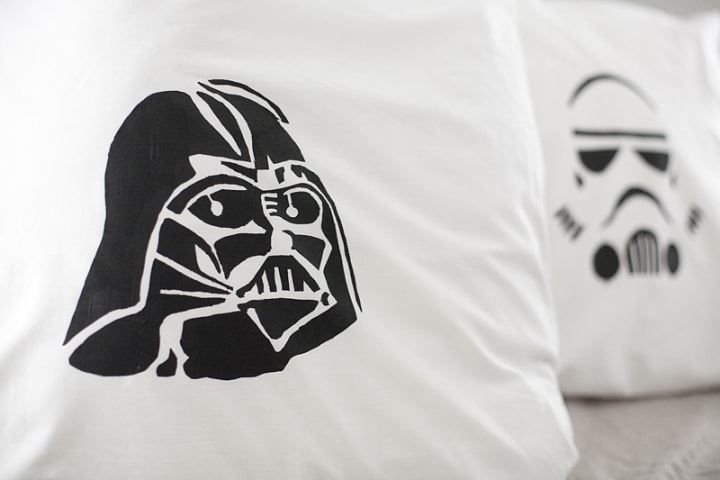 If you've never experienced the magic of freezer paper stencils before, it's not too late, and you are probably also asking yourself, WHAT in the name of Yoda is freezer paper? Here is what I know: it's in the same aisle at the grocery store as the tinfoil and plastic wrap, it's cheap, you can buy convenient flat sheets of it online, and when you trace a stencil onto it (say Darth Vader's helmet) and cut it out, you can iron it right onto fabric and then paint the cut-out areas with no leaking. 24 hours later (or less if you're foolish and impatient like me) you're peeling it off - yes, it's very satisfying - and gaping in awe at your very own amazing creation. Allison of All For the Boys found some pumpkin carving stencils online for these Dark Side-themed pillowcases. This means your options are pretty much unlimited; the internet is pretty great that way. Feel free to use the same method for t-shirts, canvas bags, or any other flat fabric surface you desire.
Death Star Globe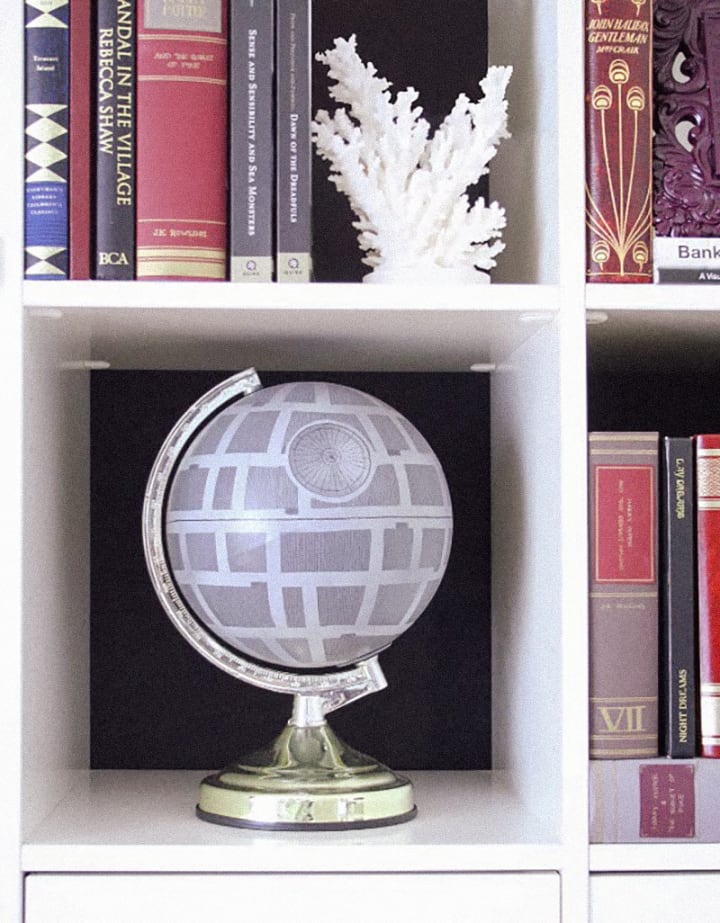 This is no moon. But it is a really great way to use that globe you bought at a thrift shop and always planned to use (but never did). Alex of The Interior DIYer really went the extra mile to make this project a stunning piece for your mantle or bookshelf, and her instructions are super clear. You'll need to allow time to wash and dry your globe, spray paint a base coat, then use thin, easy-to-remove washi tape to mark out a grid. After another coat of spray paint, you get to peel off all that tape (yessssss) and then let it dry once more before drawing on all the details with a paint marker. I know this might be a bit of a stretch for some of the less crafty among us, but with a little patience and a few deep breaths, I think we can all get there. And for all that work, you get a big, beautiful Death Star to display of your very own. Bonus: no thermal exhaust ports for those pesky Rebel scum to score precise hits on and destroy all your hard work.
You're The Obi-Wan for Me Sharpie Mug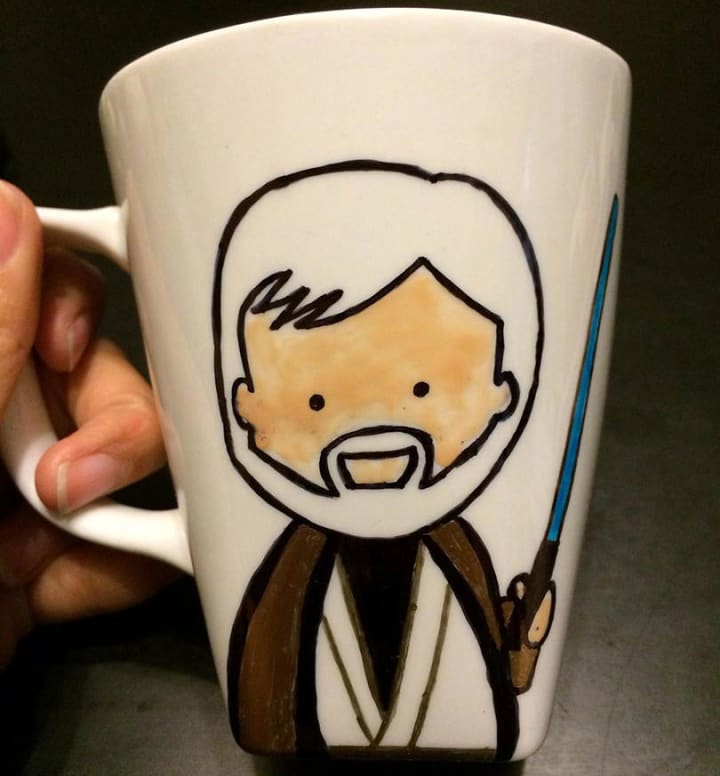 This awesome rendering of Old Ben is by Tatowtat, who shared this great DIY Star Wars gift on Reddit. Tatowtat describes their simple process like this: "I used a combination of regular Sharpies and oil-based sharpies. I cleaned the surface with isopropyl alcohol first and tried to not touch the surface after that except with the markers to prevent any oil/dirt transfer." Simple enough, right? The other side of the mug reads, "You're the Obi-Wan for me." Awwwww. The people of Reddit had other suggestions as well: "You're tall, Darth, and handsome," "Yoda only man for me," and "You have the Woo-key to my heart" were some of my personal favorites. You'll find many other great ideas online, so customize this one however you like. They're so easy and quick, you can make one for pretty much everybody on your list (unless they don't like Star Wars, and in that case, coal will do just fine).
Star Wars Tin Can Lanterns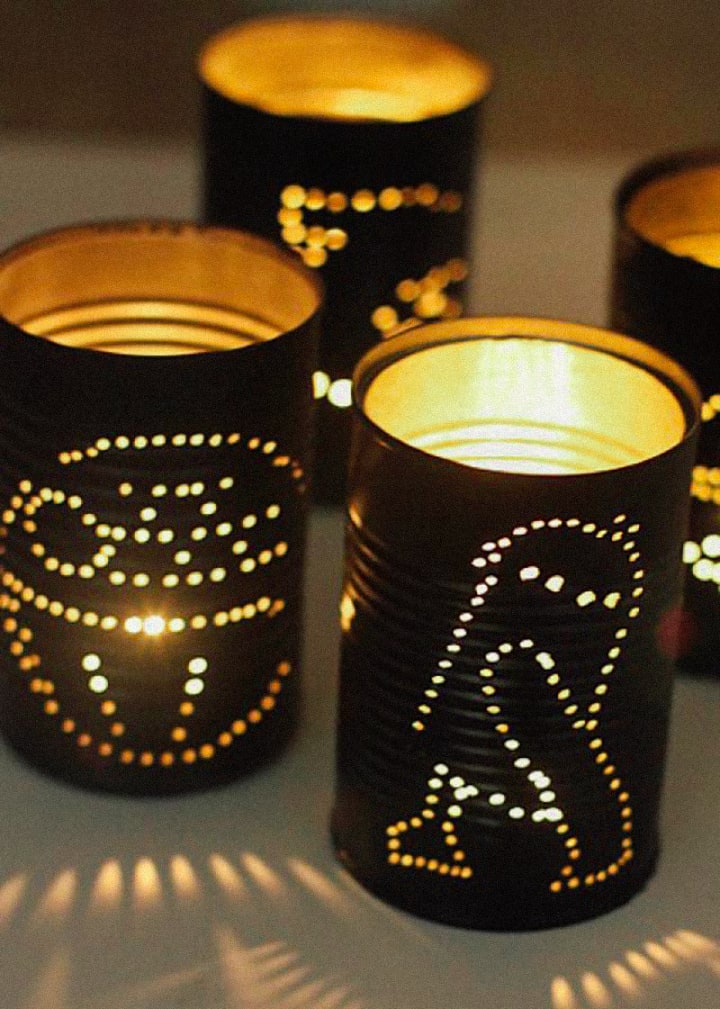 Talk about CHEAP (but awesome). Sarah of Frugal Fun for Boys and Girls was incredibly brave and let her 10-year-old son do this (with supervision, but still - that's a rockstar mom right there). Just save your tin cans, fill 'em with wet sand and freeze for a bit to prevent denting, then tape on a stencil and nail away. You can spray paint them when you're finished, then drop in a tea light (battery powered ones if you prefer) and you're ready to party. They do get hot when there's real fire inside, so consider that before you choose. This is also a great project to try if you've got some pent-up anger; just pound away on the tin cans instead of taking it out on your fam (and remember, anger leads to hate, and hate leads to suffering).
Chewie We're Home Doormat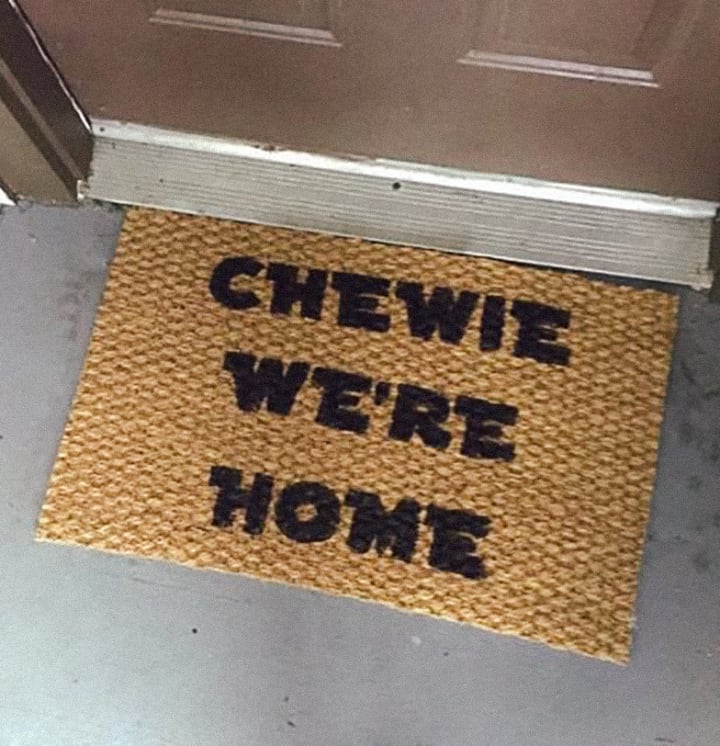 If listening to Harrison Ford say these words in the trailer for The Force Awakens didn't make you sob uncontrollably, then you're probably an emotionless droid incapable of feeling things. Or you just aren't as Han-Solo-obsessed as yours truly. One of those. Maria from Oh So Lovely Handmade grabbed a $5 IKEA doormat, printed out a stencil (which she so kindly provides for our use on her tutorial), then Sharpie-traced the outline of the letters before painting. Find out which of your friends are true Star Wars fans by opening the door really fast to see if they're brushing away tears as they gaze in wonder at your tribute to the best friends of all time (because of course, you're keeping one of these for yourself).
Admiral Sackbar Puppet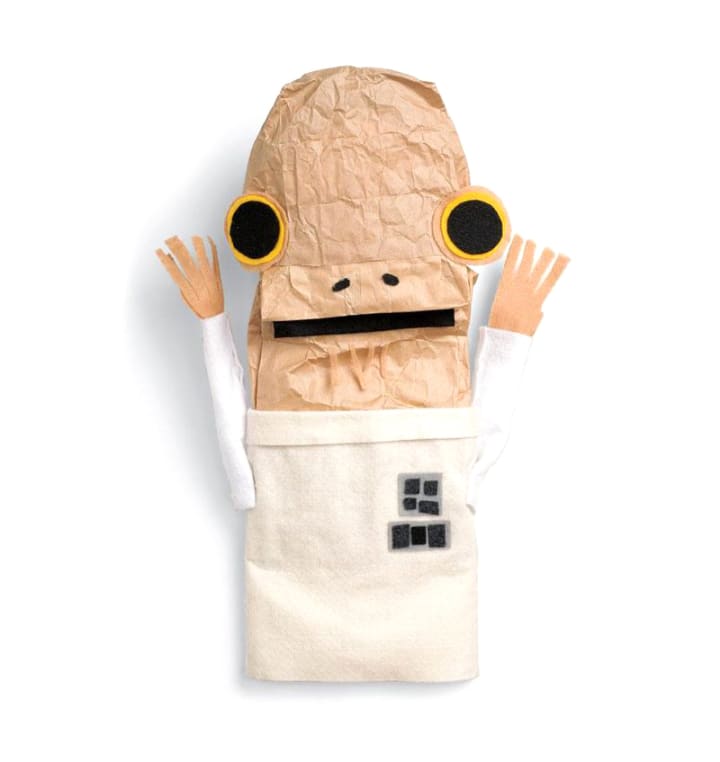 I think we can all agree that I saved the best for last. Can you even imagine the possibilities?? The possession of some felt, scissors, googly eyes, paper bags, and glue are literally the only things standing between you and having a totally legitimate excuse to memorize every Admiral Ackbar quote ever (you know, if you haven't already) and wow the crowds. Or give this to someone nerdy enough to think that "wowing the crowds" is something you can do with a paper bag puppet vaguely resembling a Mon Calamari military leader. But for reals, I'm cracking up just imagining this guy at a holiday dinner. "At that close range, we won't last long against those Star Destroyers!" "We have no choice, General Calrissian! Our cruisers can't repel firepower of that magnitude!" And of course, "It's a trap!" Now go read some little-known Admiral Ackbar facts so you can further amaze your extended family with a litany of uselessness.
About the Creator
I'm a writer in love with India, Stars Wars, fantasy, travel, and Thai curries. My childhood heroes were Luke Skywalker and Joan of Arc. I muse on superheroes, sci-fi, feminism, and more.
Reader insights
Be the first to share your insights about this piece.
Add your insights