Sustainable Architecture: Building for The Future
Sustainable Architecture Smart Eco-Friendly Buildings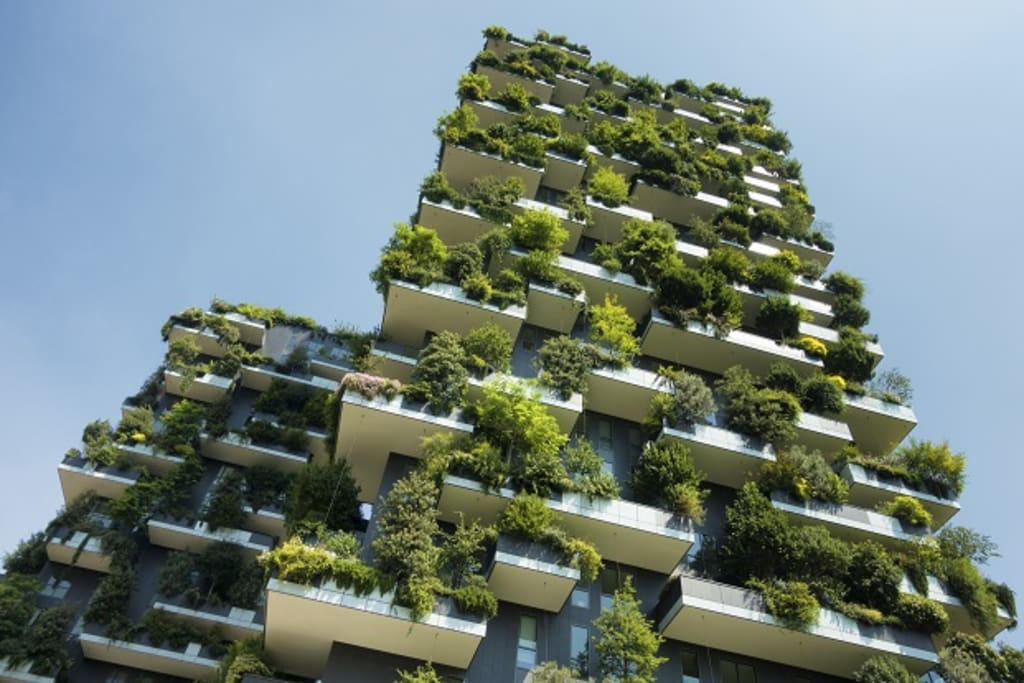 What is Sustainable architecture?
The goal of sustainability is to ensure that the use of any available resources does not harm our collective well-being or our ability to access resources in the future for other purposes.
Hence, Sustainable architecture can be defined as the method to minimize the negative impact on the environment by judiciously using the material, space and energy.
A sustainable approach to modern-day architecture covers every aspect of the planning and construction process. It includes the choice of materials, the design and implementation of heating, cooling, plumbing and other systems, and the integration in the natural landscape.
The design must allow the built environment to sustain long-term functioning throughout its life cycle. Apart from being functional and aesthetic, space must be built to achieve long-term energy and resource efficiency in mind.
Sustainable architecture is pushing architects to pursue smart designs and explore innovative means to minimize the negative impact of construction on the environment and communities.
Benefits of Sustainable architecture
1. Reduction in maintenance and operation cost
Sustainable buildings promote the effective use of resources and also provide several financial benefits.
Such financial benefits can range from savings on utility bills (due to energy and water efficiency) to lower construction costs and higher property value for developers.
A sustainable building can also increase occupancy rates and create new forms of employment.
Furthermore, sustainable buildings have a high return on investment. Simply told, sustainable construction increases the value of a house tremendously.
According to developers and building owners, sustainable buildings, whether new or rebuilt, offer a 7% boost in asset value over older designs,
2. Better health
Sustainable construction can be helpful to one's health. People who live in sustainable buildings benefit from various health benefits due to the use of safe materials during construction.
Environmentally friendly products can also aid in air filtration. As a result, environmentally conscious construction firms avoid employing plastic by-products that have been discovered to produce harmful chemicals, such as carcinogens.
3. Reduce waste and increase material efficiency
Because of its decreased negative impact on the environment and use of renewable resources and materials, sustainable buildings help to reduce waste.
This means using processes and materials to employ the least amount of materials while maintaining the quality of the end product; in addition, the processes should generate the least amount of waste.
Demolition waste, sand, and burned coal are examples of products employed with excellent environmental and creative results.
4. Protects the natural environment
Sustainable buildings can have a positive impact on the environment by generating their own energy or by enhancing biodiversity. They also reduce or eliminate negative environmental consequences by consuming less water, energy, or natural resources.
Some crucial elements are taken into account when building a sustainable structure.
For example:
Installing well-insulated windows, ceilings, and walls to ensure that no energy is wasted.
Making buildings more energy-efficient and environmentally friendly by using solar heaters, insulated air-conditioning pipes, and photovoltaic panels.
Barriers to Sustainable architecture
1. Financial concerns
When undertaking a new construction approach, developers rely on general market practices and information available from others. But, this does not always inspire confidence.
Sustainable buildings are perceived to have higher up-front (capital) costs of construction and operating costs. Also, there is a lack of knowledge about the long-term economic benefits of sustainable building. Hence, sustainable buildings are believed to cost more than what people are willing to pay.
Finally, a lack of reliable cost models to understand the actual costs of green buildings further demotivates developers. Developers must depend on lending institutions and investors' ability to overcome their initial cost concerns.
2. Lack of knowledge
Even today, a large number of people are unaware of sustainable buildings and their endless benefits. The general perception towards sustainable buildings is that they are expensive and financially unachievable options.
3. Lack of expertise
Another significant barrier to Sustainable building adoption is the lack of skilled experts and workforce and also a lack of training for architects.
With no benchmarks in place, there are disagreements regarding minimum performance standards, which activities are considered environmentally stressful, and how to evaluate the economics of sustainable buildings.
4. Limitations of design and construction process
A limited knowledge of sustainable options for design and construction processes is affecting the adoption of green buildings. These limitations have created new challenges to sustainable architecture. The challenges include:
Knowledge gap in designing specifications
Unavailability of high-performance materials
Lack of infrastructure to handle and make recycled material also increases the costs
Regulatory challenges in gaining approval for new building codes and new technologies
Uncertainty about approvals
Lack of skilled labor to install, operate, and maintain new technologies.
Workforce challenges due to potential labor-saving measures
Future of sustainable architecture
Much effort is being put into creating sustainable buildings to be more eco-friendly.
The vision for the future is the development of a universal model that will use technology to combine current building models with sustainable practices.
New techniques, models and simulation platforms are in development that will help future planners and architects to realize how their designs will affect the environment. Such as constructing simulations of wind and temperature distribution in a landscape and using that information to build smart cities.
Conclusion
The current research in the field of sustainable architecture is highly distributed. Some countries are taking extra measures to ensure a green future, while others are not even aware of such new practices.
Hence, it is essential to create a universal approach to understand better how urban building systems and nature interact. Another critical aspect would be to spread such knowledge globally to aid in creating sustainable designs, construction, operations, and maintenance.