'Star Wars: The Clone Wars': Season 7 Review
Spoilers ahead!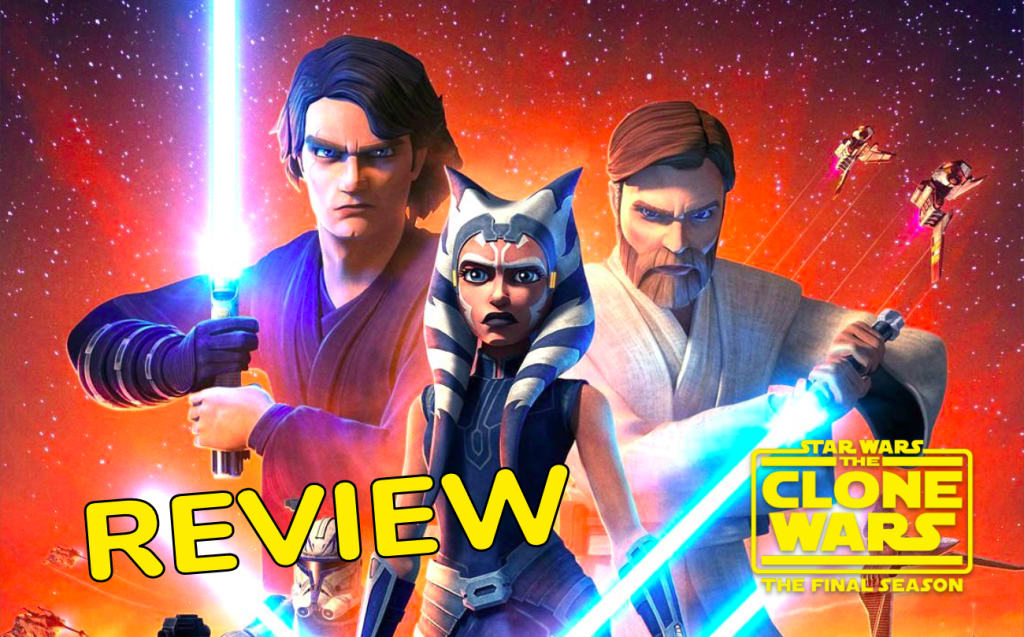 Happy Star Wars Day! It is May 4th, and today is the day that everyone can come together and unite over our love for Star Wars and hopefully throw our hatred out the window for just one day.
Today, Disney+ released a lot of Star Wars-related content, from The Rise of Skywalker to a documentary series on the making of The Mandalorian. Most notably, however, they released the series finale of Star Wars: The Clone Wars, my favorite TV series based around the Star Wars galaxy.
And with season 7 complete, I thought it would be a good idea to write a review of the final season of The Clone Wars. There were three story arcs in this 12-episode season, and I will be reviewing each arc with SPOILERS!
The Bad Batch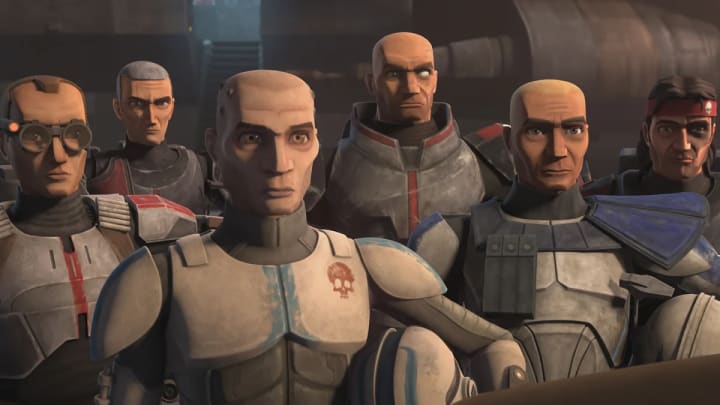 This season began with a four-episode arc mainly centered around Anakin Skywalker and a group of clone troopers known as the Bad Batch, as Rex discovers his friend, Echo, may be alive.
I found this to be an enjoyable arc. It's not one of the better ones, and it's not one of the worse ones. This arc served its purpose as perfectly acceptable Clone Wars entertainment with a few surprises and a generally satisfying conclusion.
However, in terms of the overall story, this arc felt a bit inconsequential. It ended with Echo deciding to join the Bad Batch, but the Bad Batch had not shown up before or after this arc. Therefore, this arc adds little to the overarching story, but it does give us a good look at the darker side of Anakin when he murders Admiral Trench.
While it wasn't the epic opening arc some of us may have been expecting, there is a lot of fun to be had with this arc.
Grade: ★★★✬☆ [7/10, B-]
Ahsoka's Walkabout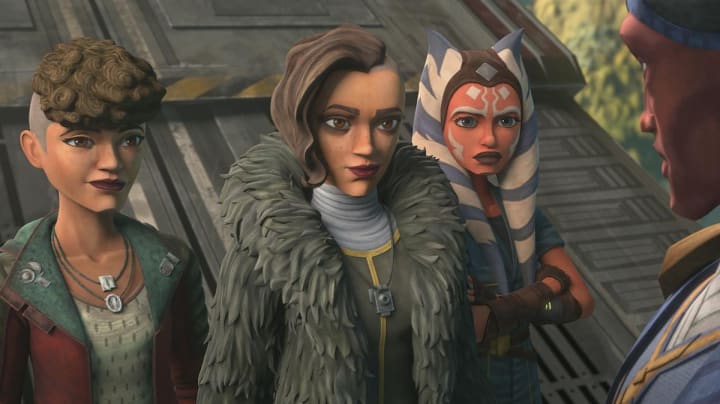 This was the arc that picked up on Ahsoka Tano's story after she decided to leave the Jedi Order at the end of season 5 and her absence in season 6. Here, she runs into two sisters, Trace and Rafa Martez, in a four-episode arc that unfortunately fell a bit flat.
While Ahsoka may be my favorite character in the show, this was a "nothing" arc. Some have called this arc filler, but I think a more accurate way to describe this arc is underwhelming. Like with the previous arc, this arc introduces new characters that appear for the episodes they are in and vanish without a "trace" (see what I did there?).
The third episode in the arc ("Dangerous Debt") adds almost nothing to the story. It begins with Ahsoka, Trace, and Rafa in prison, and ends with Ahsoka, Trace, and Rafa in prison. If Rafa hadn't explained her backstory and how it connects to the Senate hostage crisis in season 1, this episode could be skipped over in its entirety, and the story would be unaffected.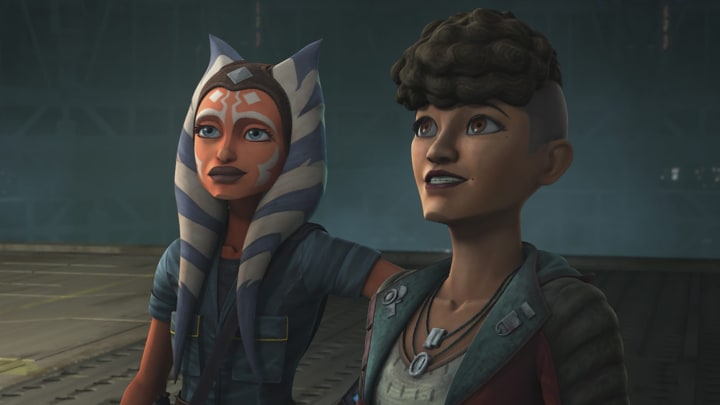 Now, that's not to say I didn't enjoy this arc. Clone Wars is Clone Wars, and these episodes don't disgrace that coveted title; the action is exciting, and it's never dull, but the quality feels reminiscent of an earlier season of the show, back when the series hadn't yet found its footing.
And again, the decision to give us two new characters in this arc that were never mentioned before and will likely never be mentioned again is a bit disappointing.
Grade: ★★✬☆☆ [5/10, C]
The Siege of Mandalore & Order 66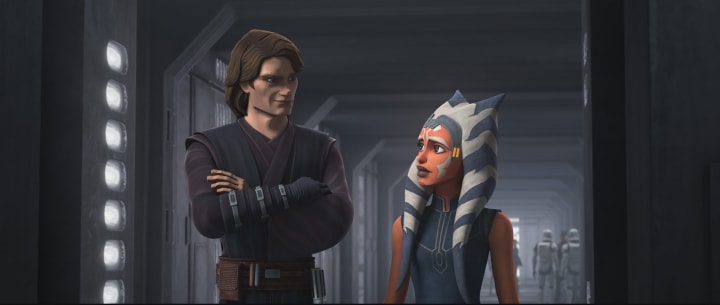 When "Old Friends Not Forgotten" began and we saw the classic Lucasfilm logo, I knew we were in for something special. And when the red title card appeared juxtaposed with John Williams's Star Wars theme, I was ready for the true ending to The Clone Wars.
Look, I liked the ending of season 6, but it didn't feel wholly satisfying. This arc, however, is the finale I had wanted to see for a while. And this arc was terrific, showing us the final time Anakin and Ahsoka were able to see each other before his turn to the Dark Side.
He gave her two lightsabers, and she uses them in an epic battle against Maul, and in our final two episodes, Palpatine orders the clones to execute Order 66.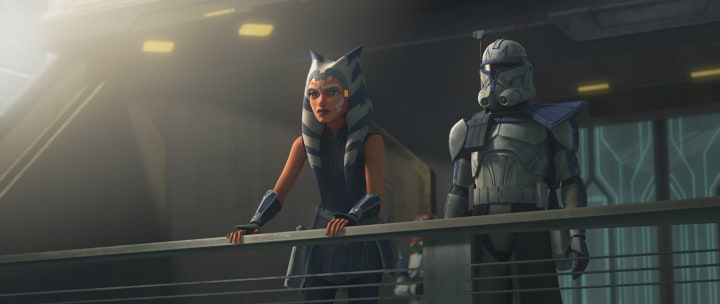 As Ahsoka hears the events of Revenge of the Sith, she must enlist Rex's help to fight off the clones who turned on her, and this allows us to see Order 66 from a different perspective from the many we witnessed in Episode III.
The final scene of "Victory and Death" with Darth Vader discovering the lightsaber Ahsoka left next to the helmets of the 501st Legion was very satisfying. Overall, the final four episodes were some of the greatest the show had to offer, and a massive step up from the previous two arcs.
Grade: ★★★★✬ [9/10, A]
Final Thoughts
Almost everyone was excited when Disney announced that The Clone Wars was coming back for a revival season. And while the first eight episodes were a bit underwhelming for those of us who set our expectations a bit too high, the final arc made it all worth it.
This season tied into Revenge of the Sith quite well and in a time when Star Wars fans are divided on the sequel trilogy, I'm glad we can all agree on something: The Clone Wars went out with a bang, and in these times, Star Wars has brought us together with positivity.
I've always believed that despite the title, this series isn't about war; it's about unity, and it's great to see the conclusion of Star Wars: The Clone Wars take warring fans and unite them with carefully crafted, well-animated entertainment.
Until next time, may the Force be with you all.
star wars
Film critic. Lover of Pixar, Harry Potter, Star Wars, Marvel, DC, Back to the Future, and Lord of the Rings.
For business inquiries: [email protected]