'Star Wars' Fans Unite! Next Teaser Trailer Could Drop Oct. 9
Also, could Sebastian Stan be Mark Hamill's son — at least on screen?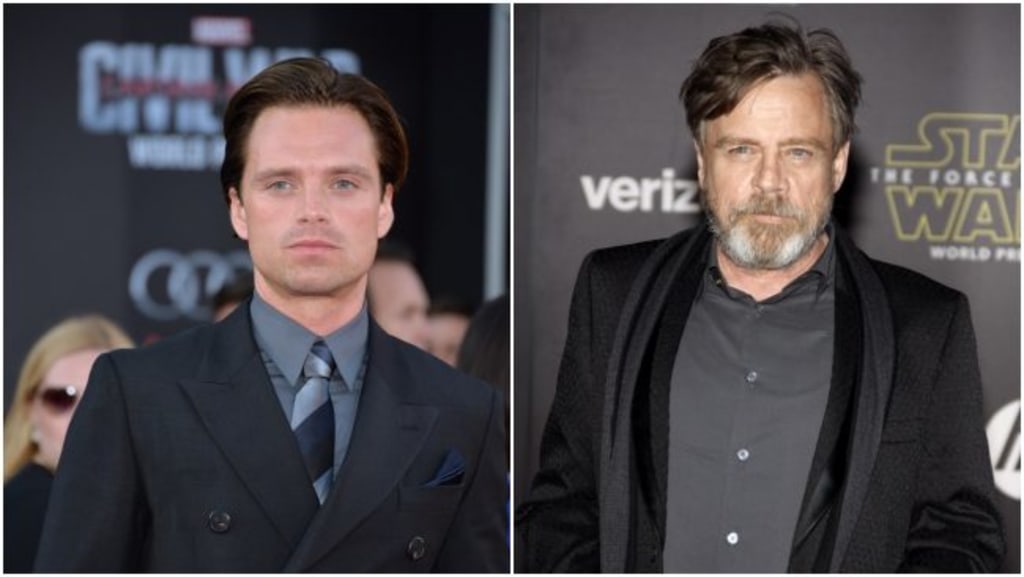 Source
"Watch Monday Night Football on Monday, October 9 – for no reason in particular."
Mark Hamill managed to capture the attention of the internet with just 13 words, and with good reason. Although he later deleted the tweet, Star Wars fans everywhere are now certain that the next teaser trailer will be dropping for The Last Jedi on Oct. 9.
Outside of the sizzle reel released about The Last Jedi in mid-July, there has been surprisingly little about the upcoming sequel to The Force Awakens, set to bow internationally Dec. 15, 2017. Certainly, there was the trailer in April of this year, but over the last six months, there has really not been a whole lot coming out about The Last Jedi. That will definitely change in a few weeks, given we are just under three months away from the release of Star Wars: Episode VIII, but Hamill's deleted tweet raised quite a few eyebrows.
Star Wars News Dot Net has apparently confirmed that the next trailer for what is sure to be the movie of the upcoming holiday season will bow Oct. 9, and suggested that the apparent tie-in with Monday Night Football might mean a sure boost in ratings for ESPN. Regardless, people are definitely hoping for something to come soon from Star Wars, and are certainly eager to learn more about The Last Jedi.
Whether Mark Hamill inadvertently slipped about a potential trailer release date or not, it's been about six long months since a trailer surfaced about The Last Jedi, and while fans loved the sizzle reel — which featured everyone's favorite royal general Carrie Fisher, in addition to statements from Daisy Ridley (Rey) and director Rian Johnson, among others — a sizzle reel is not the same as a trailer.
Hamill has also gotten tongues wagging as a result of his ongoing "suggestions" that Captain America and The Winter Soldier actor Sebastian Stan could very well be Hamill's son, either on screen or otherwise. To be sure, there are strong resemblances between the two actors, and both have had a good time with the suggestion that Stan could, indeed, play a young Luke Skywalker should the decision be made that a movie about Skywalker's time between Return Of The Jedi and The Force Awakens be made.
It hasn't hurt the rumor mill that there is a brief film clip of Stan saying, "And Mark Hamill is my father," that has garnered some notice on social media. There's also an image of Stan put alongside an image of Hamill from 1993's Time Runner, where Hamill would have been 42. Stan turned 35 in August, and the resemblance between the two actors at a similar age is uncanny, leading to further fueling of the hopes that Stan could portray a younger Luke Skywalker, should there be another standalone film in the Star Wars universe. While it's an idea that Hamill has previously turned down, the resemblance between the two actors suggests that there could be a likely candidate to fill the shoes of a young Luke Skywalker.
Between images of a young Hamill and Sebastian Stan popping up on Twitter and Instagram and news of a new trailer for The Last Jedi coming soon, Star Wars fans everywhere have had a great deal to enjoy in the Star Wars universe. Star Wars: The Last Jedi bows in theaters December 15, and while the cast is notoriously tight-lipped about what the story could offer — including fan generated prospects that Skywalker could turn to the Dark Side of the Force, as well as curiosity about the storyline involving General Leia Organa — excitement continues to mount for the coming premiere.
About the Creator
I'm a high school English and French teacher who trains in the martial arts and works towards continuous self-improvement.
Reader insights
Be the first to share your insights about this piece.
Add your insights