'Star Wars' Beach Gear
May the weather be with you. Keep your 'Star Wars' beach gear close.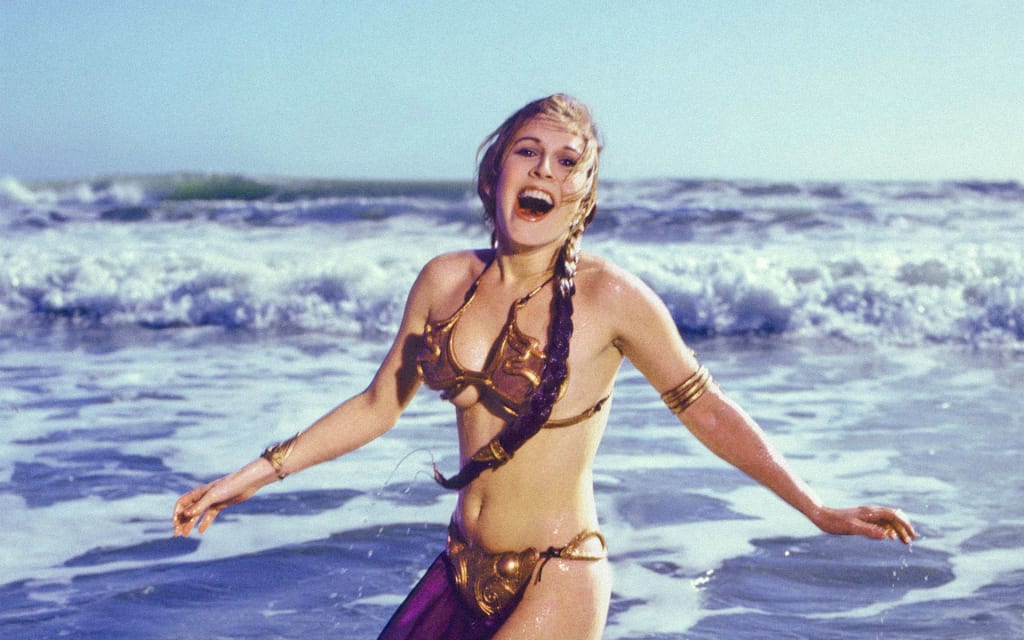 Step over to the Dark Side as you tan the day away on a beach with the best Star Wars beach gear. Whether you are hopping on a cruise to the Bahamas or enjoying a relaxing weekend in the Hamptons, the only thing hotter than the climates to which you are vacationing will be the Star Wars beach gear that you bring along. For the Tatooine-like weather that you are visiting, these beach must-haves will check everything off of your vacation list, as well as your fan list. From an R2-D2 bathing suit for the pool, a Death Star inflatable beach ball for some fun or Star Wars headphones for a long trip, there is something for every Star Wars fan. Pack up the umbrella, cooler and beach chairs, as well as your Star Wars beach gear for a vacation full of fun that is out of this world.
Bleep bloop. Bleep. Bleep bleep bloop. Bloop bleep. Bleeeep! Translation: This is the cutest swimsuit ever. Much cuter than anything with that gold robot on it. The R2-D2 bathing suit is perfect for any Star Wars fan girl looking to spend a day on the beach or helping to save a galaxy. The suit is a little low cut in the front which offers a sexy look without showing off too much skin.
Looking to throw your own Star Wars beach party? Meet the R2-D2 Bluetooth Speaker. After charging your speaker, you can pair your phone with the R2-D2 or just plug your device into the standard audio jack. A new take on the classic robot, the speaker will light up with the familiar indicator light and blue lighting underneath. The great thing about your R2-D2 Bluetooth Speaker is that you can also make calls when he's paired to your phone, so the music can transfer seamlessly back after your call.
Sure, the Death Star is fun during the day. It's a space station. What's not to love? But when the Death Star really comes alive is at night. With all that black, you know the Sith are totally going clubbing. Oontz. Oontz. And this Death Star Light-Up Star Wars Beach Ball also comes alive at night. During the day, it's fun to toss around. At night, the impact-activated LED inside makes playing with it even more fun. Buy it today to make your pool or any outdoor event explode with awesome. (It's a good thing they didn't shield the exhaust port on this one, or we'd never get it filled!)
You need them to travel the galaxy, and navigate a vacation, properly. Any good geek knows that. But you also need them to dry off after splashing around in the ocean or pool. So when you have to venture into the outside world, bring along a towel that expresses your own particular brand of fandom. This Star Wars beach towel let you show off your obsession to everyone around. This towel depicts an iconic scene in the franchise. Han Solo in carbonite? That's for folks who throw subtle out the airlock.
After a long day on the beach, your cellphone might be more drained than you are. Plug it in with the R2-D2 USB car charger and let it charge during your drive home. While we don't yet have the technology in this quadrant of the galaxy for fully-automated repair droids, we can get a portion of the R2's versatility into something small enough to sit in your vehicle's cupholder. You see, it makes R2-D2 whistle sadly when he sees a device that's run out of power. Make him bloop and bleep happily again by letting him use your vehicle's power to recharge your devices. With him plugged into your 12V vehicle power adapter (cigarette lighter), you can get 2.1 amps through each of his USB charging ports, which is enough to charge two tablets or smartphone.
This Star Wars Space Bikini is where art meets fashion meets pop culture. The watercolor-esque depiction of TIE fighters and X-Wings duking it out in a dogfight. Whether you're lounging poolside or heading to the ocean, this bikini shows your appreciation for the popular franchise, while still being subtle and feminine, but those keen to the saga will appreciate the nod to Star Wars.
These are the headphones you've been looking for! Don't feel like talking while you're tanning on the beach? Then these headphones are exactly what you need to keep from hearing anything you don't want to hear. They feature professionally-tuned, 40mm drivers which pump the tunes into your dome with amazing clarity. These Star Wars headphones are super portable - folding up into their own carrying case. Whether you choose Boba Fett, Galactic Empire, Rebel Alliance or Stormtrooper, they are all ready to take your ears to a musical galaxy far, far away!