Space Maestro
Just a humble violin player (A Giant Leap story)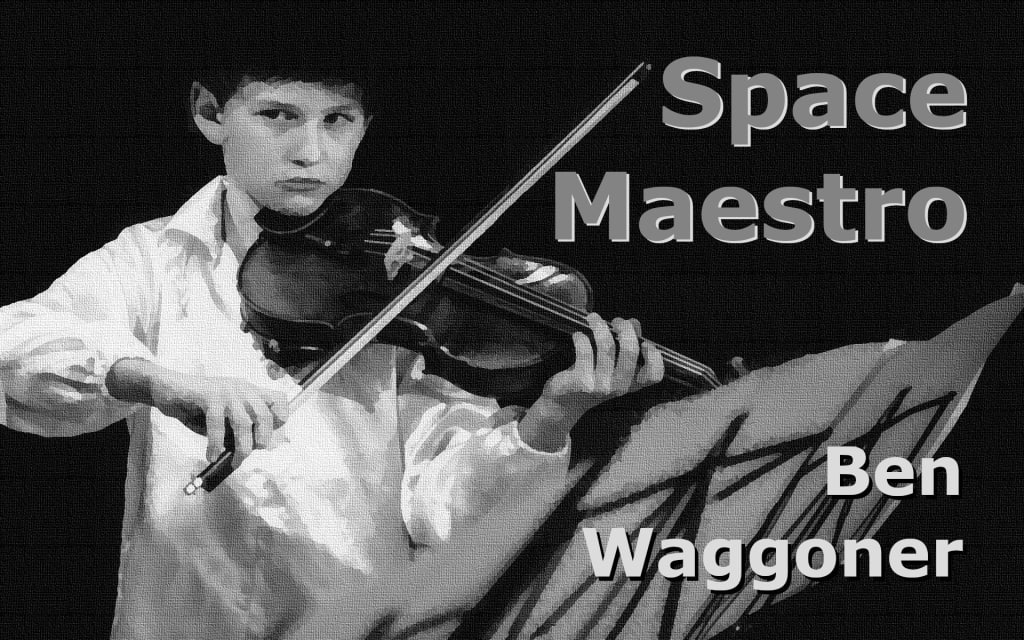 Image credit: Nikon D300 @maxpixel.net
Author's note: Space Maestro takes place on the colonization spacecraft The Giant Leap, introduced in Space Diner Proposal and referenced in Alien Honeymoon and Big Earth Journals. You are invited to acquaint yourself with the craft and some of the characters by reading those stories here on Vocal:
Space Diner Proposal • Alien Honeymoon • Big Earth Journals
Space Maestro
Framed in the doorway of practice room number three, Professor Alemagna froze and clutched as though trying to pull a stiletto from his heart. Two halves of a violin bow swung from horsehair draped across a black music stand. The source of the muffled crashes that had brought him to the room stood before him, a red-faced, panting ten-year-old boy named Logan Brainerd. Fractured pieces of the spruce violin body dangled from the smooth maple neck like a grotesquely mangled marionette.
"What—what have you done?" The music teacher raked his fingers through a shock of white hair. He reached down and picked up the splintered bridge that lay in front of him. "Logan?"
The boy glanced at the remnants in his right hand, hefting them limply, then simply glared at the Maestro.
"Answer me, Logan. How could you do this? Why?"
"I hate the violin!" snarled Logan. "I hate being locked in here and forced to practice."
"This door is never locked. You know that." Alemagna sighed deeply. "What are we to do now? May I have that?"
Still sour-faced, the unrepentant boy handed the violin neck to his stricken teacher.
As Professor Alemagna gently placed the broken instrument on a cabinet top, a woman's voice intruded from the foyer.
"Maestro? I'm here, so whenever Logan is ready to go …"
"Your mother is back," said the teacher. He cast a mournful expression at his pupil and added, "I suppose your hour is over."
Alemagna ushered Logan out of the practice room. "Good afternoon again, Virginia. Young master Logan has just informed me he no longer wishes to study the violin. I am not here to compel anyone to learn against his wishes."
"Oh? I thought you were picking it up pretty well, Logan. What changed?" She searched the faces of her son and his teacher. "Maestro, you look sad."
"Yes. It always saddens me when a young person does not want to learn music," he said, nodding.
The main door opened, and Gianna announced, "I'm here! Umm, io sono qui." Her mother, visibly pregnant, closed the door behind them.
"Eccellente. I am glad you are here. Benvenuto," said Alemagna. "Welcome, Gianna and Maria. Today, Gianna, you graduate. You will use a full-size violin, not the small one." He looked at the countdown timer beside the door to practice room number one and added, "We must only wait a bit for your new violin to be available, and I need a few minutes to clean the practice room you usually use."
"Wait, what? You're giving her an adult-sized violin already?" asked Maria.
Virginia looked at the professor with a quizzical expression. "What do you mean clean? If Logan made a mess, he needs to help clean it up." She strode down the short hall toward practice room number three.
"No, I will clean—" started Alemagna.
"Oh my God!" Virginia spun in the doorway to face the others, and her voice dropped to a whisper. "Logan, how could you?"
"I hate the violin. And I hate the professor. And I hate it here. I don't want to live on The Giant Leap or go into space. I want to go back to Earth, where I had friends." Angry tears streamed down Logan's face.
"I'm your friend," said Gianna.
"No you're not, you're a girl. And violins are for girls, and I don't want to play one anymore." Logan stared at the floor, fists clenched.
"What makes you think violins are for girls?" asked Virginia.
"Mason told me only girls play violins. And he spit on me again," said Logan.
"Well, Mason doesn't know. The professor isn't a girl—you know that." Virginia crouched in front of her son. "But if someone or something upsets you, you need to come talk to me or daddy—you can't just destroy things like this!" She put a hand to her forehead. "Maestro, I am so sorry. I had no idea he was this unhappy. And I have no idea how we're going to make this right. How much did this violin cost?"
The music teacher's eyes grew misty, and he took a deep breath, letting it out slowly before replying. "I paid nothing for it."
"That's worse," Virginia huffed. "It was a gift?"
"It was my second violin," he assented sadly.
Virginia exchanged glances with Maria, who merely shook her head.
"From when you were a boy? How can anyone know the price of that? It's irreplaceable."
"Instruments are replaceable things. The hearts of little boys are not," the professor said. "Logan, you think you have no friend here, but I am your friend. I forgive you for breaking the violin. Will you be my friend?"
Logan tensed and stared at the shiny Italian tile in the space between his mother and the professor.
"Sweetie? Are you going to answer Professor Alemagna? He wants to be your friend."
The boy sent a furtive glance toward the professor's legs and cleared his throat.
The music teacher extended his right hand. "Dammi la mano, friend."
Reaching for it slowly, Logan asked, "You're not mad at me?"
"I am very sad the violin is broken to pieces, but, no, I am not mad. Friends?"
Logan nodded. "I'm sorry."
"È acqua passata."
"It may be water under the bridge, Maestro, but we still need to replace that violin."
"Getting one from Earth may take a while," answered the professor with a sigh. "I have an idea. Maybe Logan can build one for me."
"I don't know how to make a violin."
"Do you know Dominic Madeira? He is working right now with the cabinet fitters because they are shorthanded, but he is a luthier. If I ask him, he will help you." Alemagna released Logan's hand. "That is, if you intend to stay here and not go back to Earth."
"I want to learn how to make a violin!" interjected Gianna.
"What do you think, Logan? Should we let her make a violin with us?"
"Okay," Logan said quietly.
"Why don't you shake hands? You can be friends even though she's a ragazza."
The student in practice room number one emerged, and Alemagna directed him to Gianna. "Give the instrument to the young lady, please. Gianna, you may use practice room number one for today. Start with your scales and arpeggios, and I'll be in shortly."
"I'm going to wait in the Lone Star Diner. I'll be back in an hour and a half," said Maria.
"Can you take Logan with you?" asked Virginia. "I'll just be a few minutes. Sweetie, go with Mrs. Gauthier. Maestro, can we talk in your office?"
Professor Alemagna led the way and gestured toward a russet leather love seat. "Please, sit."
As he took his place in the opposing chair, Virginia noticed the oil painting of an Alpine house near a frozen pond. "Was that someplace you lived, or is it just a painting?"
"My grandfather built it for my grandmother, and my father grew up there." The professor took in a deep breath and let it out slowly, smiling wistfully. "What can I do for you, Virginia?"
"Tell me a price." She scooted forward on the love seat. "I know a little boy can't make a violin, so we need to reimburse you."
"I told you, I paid nothing."
"Then I need to pay for the replacement—whatever you order from Earth," Virginia said earnestly. "Plus I want to pay for whatever materials get used if Logan actually tries to build a violin with Mr. Madeira."
"Very well. I will check prices."
"But most of all, Maestro, I have to—" Virginia covered her mouth and swallowed hard. Her eyes found the painting, and she gazed at it as she tried to compose herself. "I have to thank you for how you handled Logan today. He doesn't understand now, but someday he'll recognize what it cost you to forgive him for destroying your keepsake—yet you did it so readily, without any anger. You don't just teach music here. You help mold boys into men. You are an extraordinary man, Maestro."
The professor pursed his lips, his eyes moistening. "I am just a humble violin player, my friend." He took a deep breath and sat straighter in his chair. "I will get you a price, but now it is time for you to leave. Gianna is waiting on me, and you must go make girl talk with a pregnant lady."
"Yes, I must." Virginia smiled at him with one hand over her heart. "Thank you, Maestro. Grazie molte."
"Prego, Virginia." Professor Alemagna watched her go, then walked over to the oil painting on the wall. He touched the frame as though to straighten it but left it unmoved. "Papà, remember you warned me that I might someday encounter a student who would be as difficult as I was. When I finish this lesson I will come back and tell you about Logan Brainerd. Fortunately, I think I connected with him before he became utterly diabolical."