Science Fiction Author Ray Bradbury
Author Ray Bradbury's definition of science fiction excluded his own work.
Ray Bradbury left a monumental impact on the world of science fiction, and is considered by many to be one of the greatest sci-fi authors of all time, but he always maintained he was a writer of fantasy. Ray Bradbury was born in 1920 to a large family in Waukegan, Illinois. His supportive family and hometown became a symbol of security in many works, such as Dandelion Wine and Something Wicked This Way Comes. Unable to afford college, Bradbury spent his time at the local library absorbed in the science fiction works of H.G. Wells and Jules Verne.
Bradbury published his first major work, The Martian Chronicles, in 1950-a collection of short stories about humans and the indigenous people of Mars. Many science fiction aficionados were unhappy with his unrealistic take on Martian life. They felt his take should have been more scientifically accurate. Bradbury defended himself by saying, "Martian Chronicles is not science fiction, it's fantasy. It couldn't happen, you see? That's the reason it's going to be around a long time - because it's a Greek myth, and myths have staying power." Bradbury's pivotal science fiction work is the dystopian novel Fahrenheit 451. The book predicted a number of technologies which exist today, such as earphones, Bluetooth headsets, flat screen televisions, ATM machines, and digital text. He went on to work in Hollywood as a consultant on screenplays and television scripts. In 1953, his short story The Meteor was made into the movie It Came From Outer Space.
"I define science fiction as the art of the possible. Fantasy is the art of the impossible. Science fiction, again, is the history of ideas, and they are always ideas that work themselves out and become real and happen in the world. And fantasy comes along and says, 'We're going to break all the laws of physics.' Most people don't realize it, but the series of films which have made more money than any other series of films in the history of the universe is the James Bond series. They're all science fiction, too-romantic, adventurous, frivolous, fantastic science fiction!" Ray Bradbury was quoted as saying in Conversation with Ray Bradbury by Ray Bradbury and Steven L. Aggelis.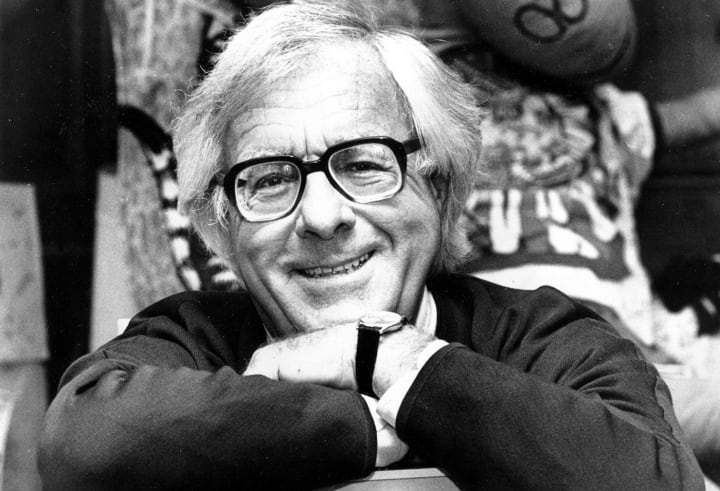 Ray Bradbury's Definition of Science Fiction
Ray Bradbury held a strict interpretation of science fiction and adamantly denied being a science fiction writer. He believed science fiction should tell a story about what is possible in the world - written in a way that predicts how science and technology will shape the future. Otherwise, sci-fi should serve as a warning of the possibilities the future holds, such as Bradbury's only self-proclaimed science fiction work Fahrenheit 451. That novel is about a future American society where books are outlawed and "fireman" burn any books that are found. The title of the book is supposed to be the temperature at which the auto-ignition of paper would occur. It is clear to see that the story is based on views of why notorious book burnings have occurred - to extinguish certain views and ideas. It was written during the McCarthy era, which was a time of great concerns for writers and other artists. in 1954, it won the American Academy of Arts and Letters Award in Literature and the Commonwealth Club of California Gold Medal. Following Bradbury's view, The Martian Chronicles is a work of fantasy because it contained elements outside the realm of possibility; it is not a prophecy of what is possible based on modern science and technology.
Bradbury's short story "Homecoming," written in 1947, was his first big success. The premise of the story is about a young boy who feels like an outsider at a family reunion of vampires, witches, and werewolves because he lacks any special powers. The story was picked by an editor at Mademoiselle magazine and it earned Bradbury an O. Henry Award as one of the best short stories of the year. The editor was a Truman Capote.
Bradbury's writing career began as a fluke. His vision was not good enough to gain him admission into the military and he therefore began writing science fiction stories in fanzines in 1938. He was inspired by Flash Gordon and Buck Rogers. By 1942, he was a full-time writer and his first collection of short stories, Dark Carnival, was published by Arkham House which was located in Wisconsin.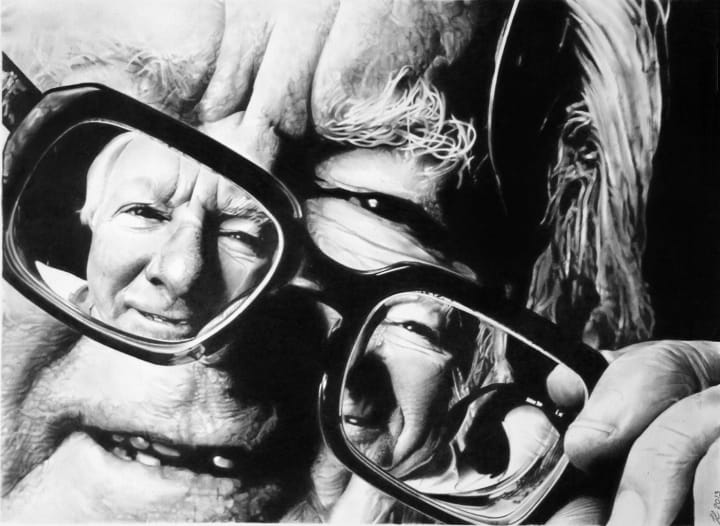 Beginning His Career
However, this isn't to say that Bradbury wasn't interested in writing from a young age. He was an avid reader and writer from a young age, and was always interested in "going into one of the arts." He began writing his own stories at the young age of eleven, during the Great Depression — sometimes writing on butcher paper, as it was the only paper available to him. He spent a large amount of time in the Carnegie library as a child. His favorite authors were H. G. Wells, Jules Verne, Edgar Rice Burroughs, and Edgar Allan Poe.
At twelve, Bradbury began writing traditional horror stories. He attempted to imitate Poe during these early years, and continued to do so until the age of 18. The Warlord of Mars was one of his favorites and impressed him so much that at the age of 12 he wrote his own sequel.
Bradbury identified with Jules Verne during his later teen years, saying, "He believes the human being is in a strange situation in a very strange world, and he believes that we can triumph by behaving morally." He stopped reading genre books in his twenties and moved to broader fields of literature, reading Alexander Pope and John Donne. In addition to his stories and novels, he was also a playwright. Bradbury headed the Pandemonium Theatre Company in Los Angeles for many years and was also involved with the Fremont Centre Theatre in South Pasadena. In 2004 Bradbury was presented with the National Medal of Arts by President George W. Bush.
He was married to Marguerite McClure for over 50 years and together they had four daughters. Interestingly enough, with all of his visions for the future and inventions that became self-fulfilling prophecies, Bradbury would never travel by airplane; only car or train. He passed away at the age of 91 in 2012.
Best Ray Bradbury Books
The broad scope of Bradbury's works makes it difficult to decide where to start when exploring his writing. Whether you go by his definition of science fiction or the more modern day definition which certainly seems to take his works under its umbrella, there are some of his works that science fiction and fantasy fans alike should absolutely add to their collection. Some are considered the best Ray Bradbury books, while others will give you a stronger grasp of his work and how it walks the line between sci-fi and fantasy.
Though there is some debate surrounding which novel is Bradbury's best, there is no argument that any other than Fahrenheit 451 is his best-known work. In terms of pure notability, Fahrenheit 451 is exceptional. The 1953 work, considered by many to be a classic, was especially timely in American culture. Published during the height of McCarthyism, the book explores the controversial and important topics of government censorship and control. In 2009, when Bradbury authorized the digital distribution of the book after a long and public opposition to the medium (even telling a reporter for the New York Times that the internet was a "big distraction"), there were already 10 million copies of Fahrenheit 451 in print throughout the world. This book is considered one of the best soft sci-fi books, and shows the side of Bradbury's work that walks on the outside of science fiction.
First published in 1950, The Martian Chronicles was Bradbury's first major work. The book is actually a collection of short stories, some of which had been previously published. These works were integrated into one narrative told through short stories, each chronicling various moments of the colonization of Mars by earthlings. One of Bradbury's most famous books, it is also one of his most beloved. The themes embodied by The Martian Chronicles are also central to the narrative of colonization, including racial and gender prejudice, the destruction of war, and the stories of those who live through it. It's these lasting ideas that lead many to believe that The Martian Chronicles is the best book Bradbury ever wrote.
Another collection of short stories integrated into one book, The Illustrated Man tells the story of a man whose entire body is covered in tattoos. Each tattoo tells a different story, creating a novel as beautifully patchworked as its titular character's skin. The book has been continuously in print since the day it was first published in 1951. The Illustrated Man is praised for telling dark and beautiful narratives that create a cohesive whole, held together with the motif of a man tattooed with stories.
While many of Bradbury's previous works are considered to be otherworldly science fiction or fantasy, depending on whom you ask (according to Bradbury himself, The Martian Chronicles are fantasy rather than science fiction), Something Wicked This Way Comes is a dark fantasy that remains distinctly earthly. The book is set in the American midwest of the 1930s, a nostalgic setting for Bradbury, who grew up in this time and place. Elements of mystery and sinister foreignness are woven together with the nostalgic setting to create a single dark narrative, a contrast from the collections of short stories for which Bradbury had become famous.
Dandelion Wine shares the nostalgic, midwest setting of Something Wicked This Way Comes. This book is more autobiography than fantasy; it's set in Green Town, Illinois, which is directly inspired by Bradbury's hometown. The protagonist is a twelve-year-old boy, whose character was inspired by Bradbury himself. This book is an homage to better days, the small towns of midwestern America, and the simple beauty of summer.
Regardless of which Bradbury story they believe to be his best, most critics agree that he was an exceptional writer who contributed greatly to science fiction and writing as a whole.