Satanic wrongs conjured up by a malevolent media
Census sheds light on boom in Devil worship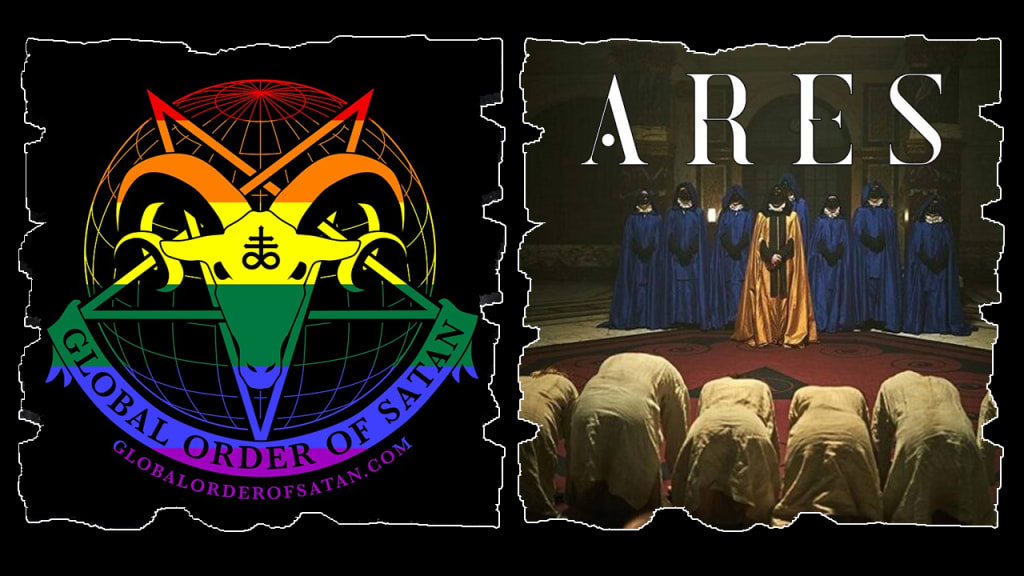 It's probably a bit unrealistic to expect a Google search to conjure up much information about the leader of a UK satanic group, but to my amazement it did throw up more than I'd expected on the Global Order of Satan, an organisation that hit the headlines recently... not for anything more outlandish than the fact it could offer some insight into the growing number of people practising "the faith" in the United Kingdom.
And how do we know this? Well, it comes from an extremely reliable source in the findings of the Office for National Statistics' 2021 census, which discovered the number of people in England and Wales who identified themselves as satanists had increased by 167 per cent between 2011 and 2021, when the number rose from 1,893 to 5,054 over the 10-year period.
In fact, one of the most surprising findings of the 2021 census on religion was this rapid rise in the "worship" of the figure also known as the Devil, who – in Christianity and Judaism – is considered the embodiment of all evil. The reason for this rapid increase is not immediately apparent but it did correlate with other ONS data suggesting a reverence for the Devil was increasing.
Last year the ONS also released data on baby names, which revealed "Nigel" was going out of favour… so much so that it was on the verge of extinction, with no baby Nigels identified as being born in 2020. But, in the same year, 15 Lucifers (a name widely regarded as being the Devil's moniker) entered the world... with another 15 the following year, even though the name didn't even appear in the rankings until 2016.
The 2021 census also identified a rise in the number of pagans from 56,620 to 73,733, as well as an increase in animists, who believe all living things have a soul, from 541 in 2011 to 802 in 2021. Although, surprisingly the figures revealed those practising witchcraft was falling… decreasing from 1,276 to 1,045 in the 10-year period.
Of course, the trends revealed by the census depend greatly on the questions asked and it would be fair to say findings should be taken with a large pinch of salt since not everyone filling in the forms takes them completely seriously.
For example, the 2011 census found 177,000 people had declared themselves as Jedi under the religion category, making it the country's seventh most popular, with a further 6,242 claiming heavy metal as theirs.
But, perhaps as a result of this irreverence in 2011, many of those respondents now list themselves under the "other" section, with the "Jedi knights" among those hugely disappointed it was no longer an option to proclaim their faith on the 2021 form.
Unfortunately my Google search produced very little information about 32-year-old London-based undertaker Chaplain Leopold, who Gabriella Swerling of the Daily Telegraph identified as the co-chief of the Global Order of Satan UK, which the chaplain reckons has seen a 200 per cent increase in membership over the last five years.
Haven't heard of the Global Order of Satan before? Well, it's not only active in the UK, it really is very much a global phenomenon with affiliates in Sweden, France, Italy, Poland, Germany, Austria, Hungary, the Czech Republic, Slovakia, Israel and Brazil… but strangely nothing about the United States is listed on their website. Yes, they do have a website!
But, there's no need to be alarmed by all this, Chaplain Leopold is very clear in his interview with the Daily Telegraph that their practices are all quite clean and wholesome and don't involve "any murder" and "there's never any sacrifice, there's never any blood rites to Satan".
"We don't worship the Devil," the chaplain added. "We don't cast magic spells."
So, what does the organisation profess? Its' website states "the founding pillars of a satanic organisation guide and empower you to live a satanic lifestyle" and that no single founding pillar should be raised higher than any other, with actions being guided by them collectively.
"Self-fulfilment and personal understanding allow us to support ourselves and therefore others," the Global Order of Satan states under its' "six pillars", adding: "Respect the inviolable body, autonomous will, and sovereign right of every individual to guide their own life and being; remembering that enjoyment of these rights is predicated on respect for the same in others.
"Science, evidence, reason, and critical thinking should guide our beliefs about our universe. Truly critical thinking can only be achieved by challenging your own preconceptions and opinions, providing a more balanced outlook to help us make better informed decisions.
"Act with empathy, compassion and wisdom towards yourself and others. Justice always takes precedence over laws, institutions and religious texts, as long as the pursuit of it does not countermand the pillars. All people make mistakes. Allow them to correct those mistakes, as we seek acceptance in others over our own."
Caplain Leopold feels two factors are primarily responsible for the rise in satanism... the decreasing popularity of "traditional dogmatic religions" and "a movement towards self-identification and self-realisation".
"This is particularly amongst younger people who don't want to be identified as part of a prescriptive dogmatic religion and rather want to identify as their own self-beliefs and self-realisation – which is what satanism offers," he said. "So we often say that we're sort of the religion for those who don't like the oppression of previous religions."
He added that many young people are "turning away from what are now incredibly outdated, very obviously stuffy views that are completely not in keeping with modern times". This is particularly so regarding issues such as sexuality and gender identity.
And, perhaps a more noteworthy statistic to emerge from the census is that during the same period the number of Christians dropped so low that they now account for less than half of England and Wales' population for the first time in census history, prompting the Archbishop of York to insist christianity was not in "terminal decline" and that Jesus suffered setbacks, so Christians will too.
The figures revealed 46.2 per cent of the population (27.5 million people) described themselves as "Christian" in 2021, marking a 13.1 per cent drop from 59.3 per cent (33.3 million people) in 2011.
According to Swerling's piece in the Daily Telegraph, academics claim the figures are indicative of wider trends, with David Robertson, a senior lecturer in religious studies at the Open University, stating: "The appeal of a lot of new religions, including satanism, is that they offer a form of religion that directly addresses the social issues that matter more to the young people, especially their willingness to be activists.
"And not only do they offer an opportunity for this sort of stuff to actively challenge laws, but also to appeal to the activists among the young people."
Professor Linda Woodhead, head of theology and religious studies at King's College London, believes satanism "is a young person's religion" but the "bigger phenomenon we're seeing is the incredible diversification of the religious and spiritual landscape".
"There's now a lot of solitary exploration, particularly with the internet, and you can find anything to fit your particular identity, interests, values or beliefs," she said.
In contrast, Reverend Diarmaid MacCulloch, emeritus professor of the history of the Church at the University of Oxford, said: "These are all symptoms of people who've been disappointed by other religions, or who may only know them superficially, and who are looking for a system of belief to make their own, since our society encourages individual consumer choice and research."
But, contrary to widespread belief, not all satanists worship the Devil, with the faith being more metaphorical, identifying more with rebellion as epitomised in the protagonist of John Milton's 17th-century epic poem Paradise Lost.
But that doesn't mean satanists are not up for a bit of fun, with Chaplain Leopold comfortable in pointing out rituals are regarded as a positive form of community bonding.
"You wouldn't recognise a satanist most of the time if you pass them in the street," he said. "But then we like to have the ritual space, which is when we don the robes and light the candles and hail Satan and everything else we wish to do.
"Because we embrace that aspect – it's almost like a form of mindfulness, a form of self-actualisation – and while religions think they're casting magic spells when they perform their rituals, whereas we just believe that we're all coming together and affirming our bonds as humans.
"You should never feel like it's a chore going into a satanic ritual. It shouldn't be like: 'Oh, God, it's Sunday, we've got to go to church.' It should be something you want to engage in, that you're enjoying and benefiting from."
Probably the most notable absentee from the Global Order of Satan's affiliate countries is the United States, but Malcolm Jarry, co-founder of The Satanic Temple (TST), based in Salem, Massachusetts, told Swerling the ONS figures were probably a huge underestimate, stating his organisation, founded in 2012, had 21,996 members registered from the UK and around a million followers worldwide.
"The demographics of TST membership are fairly broad but certainly, younger people tend to be more engaged in activism, so they are more visible," he said. "I think our rise in popularity is founded on our having a set of principles and values that resonate with many people and our rejection of hypocrisy and corruption."
Now, while I have no doubt the views expressed by the experts interviewed by Swerling are perfectly valid, I would also argue the media, particularly film and television, contributes greatly to the trend towards satanic beliefs.
A quick flick through the movies and series available on Netflix indicates that "promotion" of the occult has also reached an all-time high and is accelerating from one year to the next.
During my formative years a "Hammer horror" – featuring Peter Cushing, Christopher Lee or Ingrid Pitt – was about as close to the occult as you could get on the screen but, boy how has that changed, now the number of series and films on "satanic" subject matter probably forms the biggest genre on the market.
From Charmed, Warrior Nun, The Order, Lucifer and scores of other offerings, it'd be hard to find many regular Netflix viewers who haven't been subjected to the occult in some way, shape or form. And, to be honest, I'm as big a sucker for them as most viewers, but I can assure you I will never don robes and creepy masks although I'm in no doubt a substantial percentage of their audiences will and would also go so far as to identify themselves as being satanists.
And, everyone should be aware by now that, with the entertainment industry controlled by an incredibly small number of monolithic media monopolies, this is no random phenomenon – it's being done by design, with very evil and divisive groups at its core manipulating society with the express purpose of making some of the more outlandish behaviour seem acceptable.
While I'm not a fan of all the offerings on Netflix, one that did stand out was the Dutch series Ares, produced by Amsterdam-based Pupkin Film.
Starring Jade Olieberg as the lead protagonist Rosa Steenwijk, the series opens with a college hazing at which one of her predecessors at the exclusive establishment is abused by a male society member and responds by graphically killing herself.
Rosa joins the same society and a few episodes later is subjected to a similar kind of sexual abuse, but her response is very different to the previous case and – without going into too much detail mainly because it's a while since I watched it and also to not divulge too much of the plot – she emerges a much stronger person as a result and eventually goes on to become the society president.
The intended message here, I believe, is that even the most traumatic experience is only as bad as a person perceives it to be – dwell on it and it can drive you to an early grave, forget about it and you can end up becoming queen of the castle.
So, it seems to me, the moral of the story here is that it's better to leave adverse experiences in the past rather than obsessing about them… which, to my mind, could send out a rather disturbing message to women that abuse is not a big deal.
And, worryingly, Ares is not alone in doing this. Many programmes in this genre contain similar themes and suggest to me we are being "groomed" into accepting certain types of behaviour, which makes it abundantly clear the media is attempting to brainwash us – please, don't fall for it!
About the Creator
From Covid to the Ukraine and Gaza... nothing is as it seems in the world. Don't just accept the mainstream brainwashing, open your eyes to the bigger picture at the heart of these globalist agendas.
JOIN THE DOTS: http://wildaboutit.com
Reader insights
Be the first to share your insights about this piece.
Add your insights