Rian Johnson Is Dumb And His Cufflinks Are Even Dumber
Please stop reminding us of The Last Jedi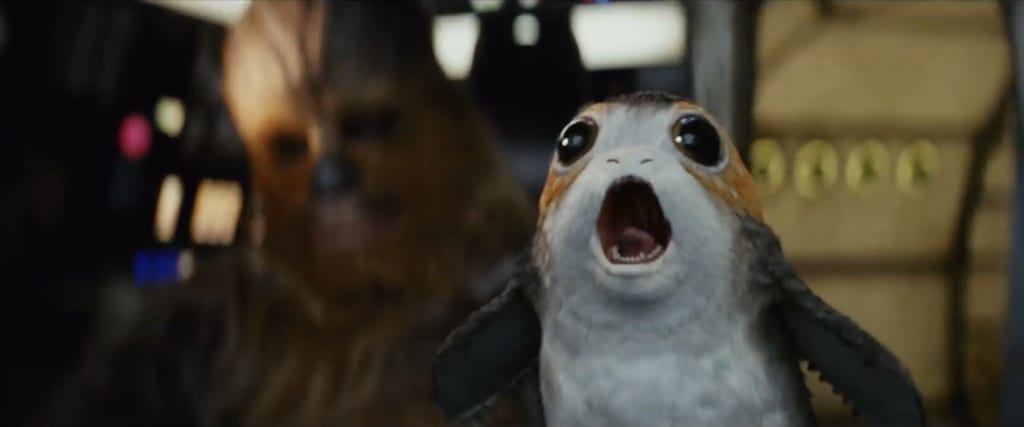 Image via Slash Film
I don't watch the Oscars. I think they are mostly a waste of time and really are nothing more than an experiment in mass onanism. It's really just an excuse for a group of people to come together to cheer each other on because millions of dollars and houses in the South of France isn't enough to fill that hole inside them.
But, I say something online related to the Oscars that I found truly terrible and a reminder of perhaps the worst thing I've seen in theaters.
It showed Rian Johnson and his effort to troll the people who hate his movie by wearing Porg cufflinks.
It wasn't enough they showed Mr. Johnson who then in all of his smarm, revealed his little jewelry companions.
Of course, he would pick Porgs. I can't say I blame him but it is exactly like Johnson to pick something from his movie.
I guess it could have been worse.
The cufflinks could have been a little Luke heads with their faces marred with green breastmilk.
Or, maybe little Laura Dern's and this he could throw them at someone and shout Holdo maneuver. Maybe he couldn't find his Rose cufflinks.
H should have worn his Rey cufflinks. I'm sure they would have done the job better than all the others for no reason at all.
It just speaks to Rian's juvenile side. He was there because of another movie but instead of doing something with Knive's Out, but know he couldn't resist stirring up the people who hate his movie.
But, one shouldn't be surprised. Rian (which is a dumb way of spelling Ryan, I know that's petty but it's true) spent more time making fun of Star Wars fans than he does making terrible movies.
It's just a reminder of how terrible The Last Jedi is.
Porgs might have been the least terrible part of that movie, but I'm fairly sure the CGI'd puffins had more screen time than Luke did.
The Force Awakens was a heartless re-tread but The Last Jedi was where things just started going so wrong it was painful.
This was the movie where Star Wars took a turn it would never recover from. Rian took the franchise everything loved and broke it. He trashed it and then said you were dumb if you didn't like how he trashed it artfully.
He threw canon out of the window. He disgraced Luke Skywalker's legacy. He made a Mary Sue so powerful it took out all the tension. His disdain for the franchise was palpable.
The Last Jedi was when fans realized that Disney could care less about Star Wars. It's when the money started to trail off.
And to make matters worse, it opened the doors for The Rise Of Skywalker to be made and no movie franchise deserves that crime against good taste. Where Rian is smarmy Chris Terrio and J.J. made everything so dumb it was physically painful to watch.
And now Disney is no longer going to make Star Wars movies. He did so much damage that the biggest media company on Earth no longer thinks the most lucrative movie franchise of all time is no longer viable. He made a movie that people liked so little that the franchise might be permanently damaged.
But it won't matter. He'll make more movies. Shows will come out on Disney+. I might never get to sit in the theater and hear that triumphant score.
He wrecked Star Wars, Rian did. He wrecked it in a way he'll never forget, and then I have to see him with his dumb space penguin jewelry.