Review of 'The Peripheral' 1.1-1.2
Cyberpunk, Time Travel, and Alternate Reality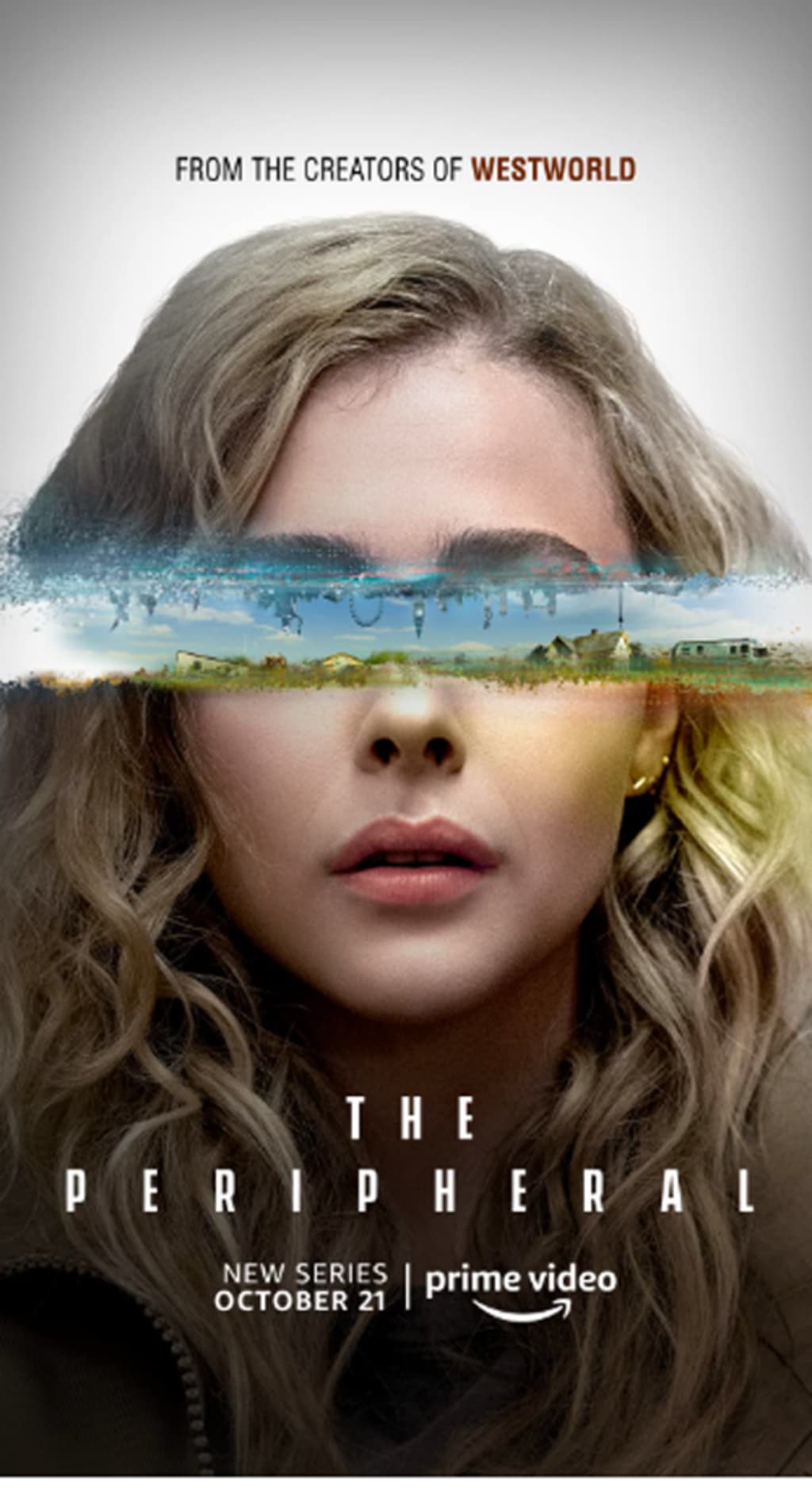 I saw the first two episodes of The Peripheral on Amazon Prime Video last night. It's an adaptation of the 2014 novel of the same name by William Gibson, the veritable godfather of cyberpunk who practically invented the genre with his novel Neuromancer in 1984. It was made by the creators of Westworld on HBO. So, The Peripheral has to be good, right?
Well, it is. Pretty good, that is. I haven't read the book, so I'm not making comparisons. My favorite parts of the new series are 2099 London, which we visit inside the peripheral, a cyber construct that our heroes and villains from an earlier time -- just ten years from now, and who knows when else -- inhabit, and use as a base to plan their nefarious and redemptive operations.
But there's some triteness here, especially in the flesh and blood reality of the 2030s, where we encounter some good old Southern boys and Flynne (an interesting, original hero, or one of the heroes, well played by Chloë Grace Moretz), but whose mother is dependent on some drug to treat her deadly cancer, a character member of the family we've seen many times before. I also could have lived without such physical literally eye-popping detail of the eye-transplant in the first episode. (It reminded me of the spoon scene in the opening episode of the British 2013 version of Utopia, which was eye-opening in the worst possible way.)
But there are also lots of fun and cool details in the first two episodes of The Peripheral, such as the deputy or whoever he was coming upon what seems to be a take-out coffee-to-go just floating in the air, in the second episode. Talk about a good cup of coffee giving you a boost!
And Flynne does bring back a drug from the future to cure her mother, after seeing an obituary for her -- a nice time-travel touch -- which says that she otherwise would have died in just a few months. We also soon learn that Flynne's entering the peripheral causes her visceral self to branch off in a different life back in 2030. So we're dealing here not just with cyberpunk, but with time travel and alternate realities, which is tremendously ok in my book. As a writer, reader, and viewer, time travel and alternate realities have long been my favorite kinds of science fiction, with one (time travel) quite naturally leading to the other (alternate realities, when a trip to the past, or any contact with it from the future, can bring into being new realities or divergences from the original timeline).
In The Peripheral, drugs and knowledge are not the only commodities that can be sent seventy years back in time. Money can also be transferred from 2100 to 2030, from the cyberworld to the real world -- if you can call a world already significantly different from ours in 2022 really real -- and that opens up all kinds of possibilities, such as people in the further future hiring assassins to take out people in the nearer future. At this point, however, the folks in 2100 have apparently not yet considered and certainly have not discussed (at least not in our, the audience's, earshot), what unintended consequences killing anyone in the past might have on the future. Surely they've heard of the grandfather paradox?
But at this point, that's what we have in The Peripheral, all kinds of intriguing and yet to be explored possibilities. And that's all to the good. Bad guys and good guys, young and older people, of all genders, and lots of people and things in between, all caught up as players and creators of a blurry matrix that's slowly coming into focus. I'd say as long as The Peripheral continues to mine the esoteric, mind-bending possibilities of cyberspace, time travel, and alternate realities, it could be a top-notch series.
I'll be watching and reviewing.
==========
Like alternate realities (about The Beatles)? Try It's Real Life.
My review of The Peripheral 1.3: John Snow
tv review
About the author
Novels include The Silk Code & The Plot To Save Socrates; LPs Twice Upon A Rhyme & Welcome Up; nonfiction includes Fake News in Real Context, The Soft Edge, & Digital McLuhan translated into 15 languages. Details here. Prof, Fordham Univ.
Reader insights
Be the first to share your insights about this piece.
Add your insights