Real phenomenon hidden under umbrella of secrecy
The Umbrella Academy revelations: PART ONE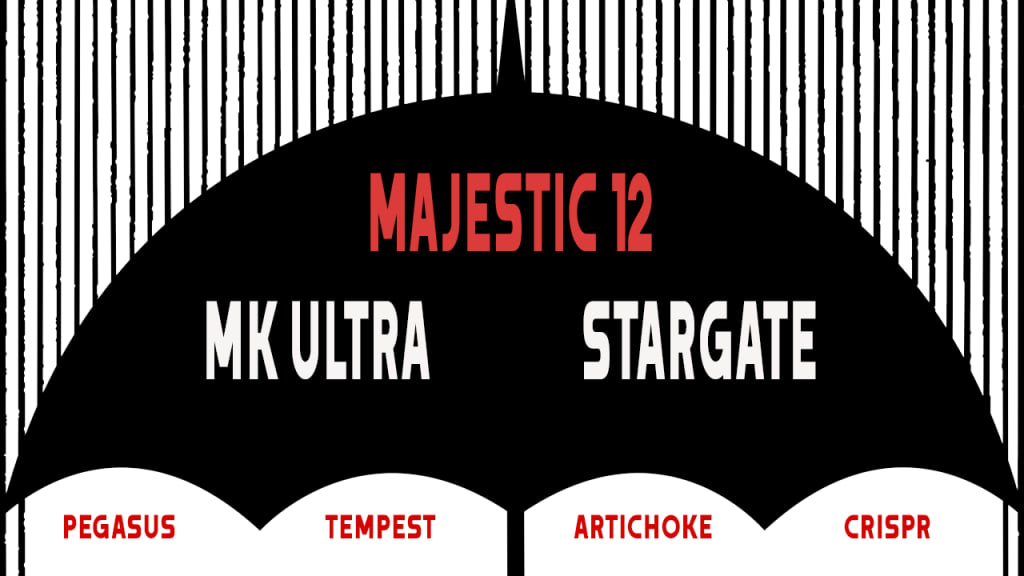 In December 2020 United States president-elect Joe Biden announced that Susan Rice was being appointed to a top policy position in his new administration. She was coming in as director of his Domestic Policy Council, which would give her broad influence over the incoming administration's approach to immigration, health care and racial inequality.
A woman of considerable political clout, Rice came with impressive credentials having been the 24th US National Security Advisor from 2013-17 during Barack Obama's second term in office and American ambassador to the United Nations from 2009-13 during his first.
But having been at the helm of the National Security Council under Obama and overseen the co-ordination and implementation of all aspects of the administration's foreign and national security policy, intelligence and military efforts, the Rhodes Scholar and Brookings Institution fellow wasn't going to be switching from a role in public office to join the Biden team… she was leaving a position on the board of media organisation Netflix, which she had held since March 2018.
Her curious involvement with Netflix had come to my attention when I started questioning the rationale behind the worldwide response to Covid-19 and it was suggested a Netflix series, Pandemic: How to Prevent an Outbreak, could offer some insight into the subject.
The series followed some of the medical professionals battling to treat influenza and focused on their efforts to stop the next global outbreak. Although I found the narrative rather ponderous it was quite informative, particularly since the flu was causing so many deaths annually as a result of the respiratory tract infections that can result from it, especially for those with compromised immune systems.
Much of the series focused on the work of Distributed Bio to develop a universal influenza vaccine, able to combat mutations of a large number of RNA viruses, which in the broadest terms cover everything from the flu, Ebola and coronavirus.
I believe the documentary had been recommended on the basis it illustrated medical experts had been worried about an influenza pandemic for some time, so the outbreak of Covid-19 was just a random manifestation of a crisis they had already been expecting.
But to me it all seemed incredibly contrived… a documentary about a coronavirus outbreak premiering just as media sources and government agencies were starting to go potty about a suspected global pandemic that was closing down borders and isolating countries? Sorry, but to me it stank of a propaganda exercise to help justify the questionable measures which were starting to be introduced globally.
In the two years that have followed that stench of deceit, coercion and government brainwashing has become even more unbearable, as miraculously the flu has disappeared as countless "variants" of Covid-19 have heralded in an extended period of emergency measures culminating in calls for mandatory vaccination. Pardon my scepticism but if it wasn't for the mainstream media I'd swear the flu had been re-branded.
Perhaps on the surface it seems unlikely that just about every country on the planet has been duped into believing the world has been in the grips of a global pandemic during the past two years, but in reality it's not that hard a deception to pull off.
In the US there are just six organisations that control virtually all the existing media outlets. The big six are Comcast, Walt Disney, Viacom CBS, Sony, Fox and AT&T, which owns Warner Media. So when it comes to news, it's a case of whatever the directors of these organisations deem relevant becomes what the public is fed.
Obviously takeovers and start-ups are constantly changing the picture, but the control of the industry ultimately lies within these organisations. And the story is the same worldwide… all the power in an extremely small number of outlets... who ultimately create the news.
These organisations operate across all media platforms, not just news… so it is easy to imagine propaganda permeating into the entertainment industry, computer games and across internet platforms.
So, Pandemic: How to Prevent an Outbreak got me wondering about Netflix… and who was running the show in Los Gatos, California.
A quick look at the profiles of its "officers" in March 2020 threw up some interesting connections to organisations such as Instagram, Expedia, WeWork, Peloton and Zillow.
For example, Richard Barton "co-founded Zillow in 2005 and was its CEO until 2010, when he became the company's executive chairman".
His profile continues: "Before Zillow, Rich founded Expedia within Microsoft in 1994 and successfully spun the company out as a public company in 1999. Rich served as president, CEO and board director of Expedia from 1999 until 2003. He also co-founded and served as non-executive chairman of Glassdoor from its 2007 creation through its acquisition in 2018.
"Rich was a venture partner at Benchmark, a venture capital firm that has been an early-stage investor in companies like Netflix, Instagram, WeWork and Zillow, from 2005 until 2018."
Another director, Jay Hoag, has "served as one of the company's directors since 1999". Hoag's profile states: "Since 1995, Mr Hoag has served as a founding general partner at Technology Crossover Ventures, a venture capital firm. Mr Hoag serves on the board of directors of Electronic Arts Inc, Zillow Group Inc, TripAdvisor and several private companies, including Peloton."
Then there's Brad Smith who has served as one of the "company's directors since March 2015". He's another with links to Microsoft, where he "plays a key role in representing the company externally and in leading the company's work on a number of critical issues including privacy, security, accessibility, environmental sustainability and digital inclusion, among others".
His profile continues: "Mr Smith joined Microsoft in 1993 and became general counsel in 2002. He spent three years leading the company's legal and corporate affairs team in Europe and five years as deputy general counsel responsible for such teams outside the US. His area of expertise includes competition law, intellectual property, government surveillance and privacy."
But perhaps the most interesting of Netflix's list of directors was Rice… Obama's National Security Advisor and a former American ambassador to the United Nations. Now director of Biden's Domestic Policy Council, Rice was also previously the US Assistant Secretary of State for African Affairs and a special assistant to Bill Clinton when he was in office.
I tried not to infer too much from this but I couldn't help but wonder why someone so ingrained in the intelligence community was on the board of Netflix? As someone with vast experience in the corridors of power she would undoubtedly be able to offer a valuable input regarding the dramatisation of many of the series produced by the company, but my fear was that her involvement was more a case of government leveraging an element of control over the messages being transmitted through the company's programming.
Prior to 2020 I'd hardly watched anything on Netflix, but two years of lockdown, vaccine passports and related Covid-19 lunacy has changed all that… I've now pretty much exhausted the Netflix catalogue and no longer remember what I have or haven't seen.
And to be perfectly honest, based on what I've watched, I find the majority of offerings to be disturbingly violent… to the point where they seem to trivialise the taking of human life. There is also an abundance of fantasy drama, which in many instances comes across as a form of disclosure of themes that we are being encouraged to become more tolerant and accepting of. I guess what I'm trying to say is that to me it feels like conditioning… preparing humanity for societal changes that could be on the horizon.
Two very popular series that I found particularly interesting were the South Korean survival drama Squid Game and The Umbrella Academy, the television spin-off of the American comic book series first released by Dark Horse Comics in 2007, written by Gerard Way and illustrated by Gabriel Ba.
Squid Game I found particularly concerning because it turned a fantasy-style drama into an extremely disturbing production which began with a game where a sniper picked off contestants and concluded with influential sponsors casually betting on who would be the next participant to be killed in the final showdown. Is this how humanity is viewed by those running our society? Is it a form of conditioning for how we are being brainwashed to perceive the value of life in comparison to money?
I'm well aware how popular the series was, but I also feel it was indicative of how "fiction" is being used to manage our perceptions of the real world in an extremely negative way… entertainment being used to change how we comprehend society.
But it is The Umbrella Academy that I really want to focus on and its implications for how Netflix programming appears to be conditioning mankind for revelations which have been deliberately kept secret by government agencies for decades, which could soon be about to become recognised phenomenon.
Could this have been Rice's role within Netflix… the intelligence community using the organisation as a way to slowly program society?
The premise for the series is that 43 women around the world give birth simultaneously at noon on 1 October 1989, despite none showing any signs of pregnancy until labour began.
Seven of the children are adopted by eccentric billionaire Sir Reginald Hargreeves and display special powers which their adopted father manages, assisted by his sentient chimpanzee assistant Pogo and their robot-mother Grace.
So, what do I find so interesting about The Umbrella Academy? Well, based on the comics of My Chemical Romance lead vocalist Way, the series explores many of the esoteric topics that have puzzled mankind during my lifetime and started me thinking about how far our understanding of them has changed in the past 100 years, when intelligence communities globally began taking these concepts more seriously and devoting vast amounts of black-budget money to investigate them.
My question is how much truth is there regarding the "super powers" displayed by members of the Hargreaves family and the storyline of Sir Reginald, Grace and Pogo?
Some of the children's powers include super strength heightened by genetic modification; telekinesis and an incredible ability to control breathing; the power to manipulate reality by thought control; psychic channeling; time travel; shape shifting, alternative dimensions and the after life; and, finally, the manipulation of sound waves.
Throw in the other three members of the Hargreaves family and you have humanoid robots, sentient apes and a billionaire benefactor linked to the mysterious Majestic 12, the branch of the US government allegedly responsible for covering up the existence of extraterrestrials being present on the Earth.
It's a potent mix of mind-boggling concepts that most people would regard as total fantasy but, given how little "man" can perceive of the electromagnetic spectrum, it begs the question: are such powers really possible and how close has the military intelligence community come to developing them through covert projects sanctioned in the last century?
Stargate, Pegasus, MKUltra, Tempest, Moondust, Horizon, Artichoke and Solo are just some of the codenames for clandestine projects conducted by the US during the past century that have surfaced following the declassification of "secret" intelligence-community documents. All of the powers mentioned above have been extensively studied, and not just by the US, but how far has that research taken us and, 100 years on, what fantastic abilities has mankind been proven to be capable of?
Check out Part Two of this series for more on the secret government projects that could have turned fantasy into reality and given life to the amazing powers featured in The Umbrella Academy.
About the Creator
From Covid to the Ukraine and Gaza... nothing is as it seems in the world. Don't just accept the mainstream brainwashing, open your eyes to the bigger picture at the heart of these globalist agendas.
JOIN THE DOTS: http://not.wildaboutit.com
Reader insights
Be the first to share your insights about this piece.
Add your insights