Putting the 'F' in Sci-Fi
An Interview with TV Writer Rob Kutner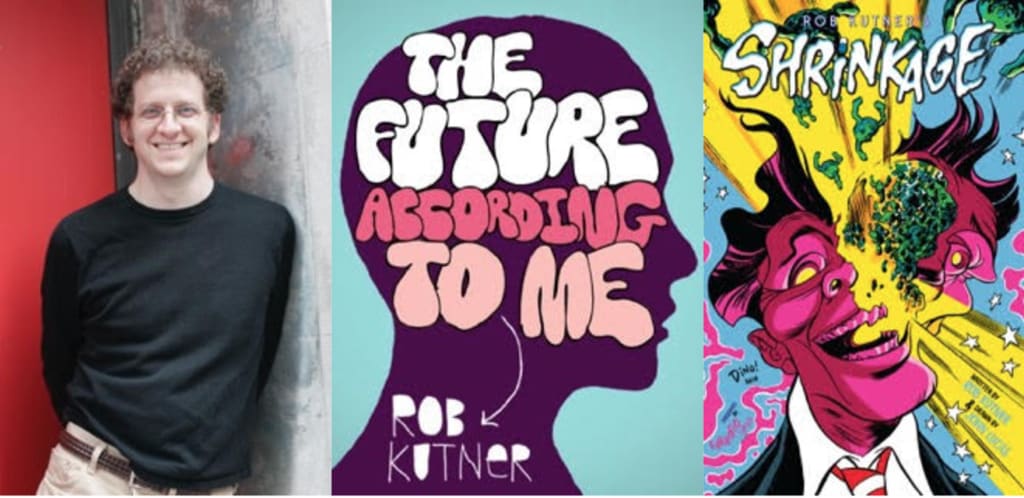 Writer / producer Rob Kutner is an Emmy-award winning writer who has worked on some of the most influential late night shows, including The Daily Show with Jon Stewart and Conan. Most recently he's made a foray into comedic genre fare with his book, The Future According to Me, which has 35 funny takes on what tomorrow might look like, and his graphic novel, Shrinkage, about the American president's brain being hi-jacked by aliens. I had the opportunity to chat with him and get his take about the intersecting worlds of comedy and science fiction.
Joshua Sky:Give me your origin story – how did you get into comics, sci-fi and all things comedy?
Rob Kutner: Looking back, you might say I've been making geeky, funny (at least to me) things ever since scribbling them in class during Junior High, followed by "discovering" comic books around the time of
the great Dark Knight/Watchmen "Nexus of Grittiness." However, it didn't all gel together as a career direction until junior year of college, when I applied for a Mad Magazine summer internship -- and didn't get it.
But the process of putting it together was so much fun, I looked around and realized everything I was doing outside of class was comedy-related. Oprah might have called this a "Ha-Ha Moment."
Talk about how those interests led you to your first TV job.
After that point, I teamed up with a fellow funny classmate, and we started writing "spec scripts" of sitcoms then on the air. Then each of meandered our way to Los Angeles, where we took on any number of "assistant" jobs way beneath our snooty Ivy League education. Only he ended up with one at HBO's "Dennis Miller Live" (NB: This was centrist/libertarian Dennis Miller, not post-9/11 Dennis Miller) and he encouraged me to send some jokes in. They didn't use any, but when he got moved up, he recommended me, and by that time I'd worked so hard on them, when a writer's slot opened up, Dennis asked me to fill it.
You've been in the TV comedy game for some time – what are some of the big changes and challenges you've noticed.
Broadly speaking, the Internet/YouTube/Twitter culture of DIY comedy has blossomed so much that sometimes, we feel like we're in competition with EVERYONE, not just our fellow shows. Also my first two jobs were at political comedy shows (DML and The Daily Show), and they were practically the only ones doing it. Now there are tons. Finally, the "nichification" of the TV landscape with streaming/digital channels like Netflix, Amazon and Hulu means that shows don't only have to blandly appeal to millions, but can take more creative license to only appeal to some. All healthy developments, IMO.
Originally it seemed like comedy was a stratified insular world, but now there's more openness and cross-pollination. For example, we're seeing cross-genre shows like Futurama and The Orville blending sci-fi and comedy together. And at times, comedy writers are getting brought onto big blockbusters to help make them funnier.
Yes it's true about cross-pollination. I've long felt that the main problem with sci-fi is that so much of it is so bloody grim and dark. In the 25th century, have they lost the technology to install adequate indoor lighting?
With all your experience in comedy writing – what are your thoughts on getting good at the craft? What helped bring your game to a professional level?
A combination of taking in every possible practitioner out there (even - perhaps especially - the ones you hate), and just plain doing it yourself over and over and over again. For no one, just to sharpen your blades. Consider yourself a marathon runner just getting up at 5am to build up those muscles. Also, with an equally good chance of having your nipples bleed.
Can you talk about the challenges of making a move and trying to straddle both worlds? Has it been easy for you to get into writing other media? I'm sure it's easier getting articles and shorts – but a much bigger challenge to procure, say, an episode of scripted television.
Yes, this is changing, but there is a bit of a "pigeonholing" mentality in Hollywood. I think as a writer in one format you have to do a little more to prove you can execute another one. I've gone in and pitched episodic things that people loved, but from my late-night background, they said, "We'd like to see a script of it first." Hollywood is always enthusiastic and eager about getting writers to do more free work.
I understand that you recently published your graphic novel, Shrinkage. What was that process like and has it opened more doors for you into the comic book writing world?
It was a thrill getting to write a comic book, because to me they're like a mini-movie you can hold in your hand. So one: more tangible than the mostly ephemeral stuff I write for a topical comedy show, and two: WAY easier than getting an actual movie made. I wouldn't say it's led to immediate entree, but it's been amazing to go to Comic-Con and have something to share with a great, highly enthusiastic mass of strangers dressed as Deadpools and Harley Quinns.
I understand you study Talmud and Torah during your free time. Talk about how the lessons therein effects your thinking, writing and life.
Whoa - sudden depth alert! Well, I'll just say that studying such ancient, seminal texts that have withstood the test of so much time gets you thinking about the deeper resonance to "origin myths" and the tropes you hope that your own stories are tapping into. Also, studying all that Hebrew has led to me writing my jokes from right to left.
It must be tough for you – on one hand, you have this amazing, wonderful job and position in the late night world. On the other, it seems like it would be a challenge to take big risks, because to leave late night, you'd essentially be starting all over again in a different arena of media while you're supporting your family. What are your thoughts on that?
Yep, that's pretty much it. I have a great job that is fun every day and that I spent years getting to — and, notwithstanding the Jay Leno/Tonight Show "recent unpleasantness" — is very steady! So to start over in, say, the sitcom world would mean entering a big work of risks and volatility. Not only a show getting canceled after 3 episodes, but nowadays, shows are given shorter orders, meaning you have to scramble for work more often just to put together a yearly salary.
At this point, what would you like out of your career? What do you really want to accomplish?
I've made a couple of one-off projects (the comic book, two prose books, an audio series for Howl.fm) that I got to do exactly as I wanted, and am proud of. My goal is to make something like that for TV. I love writing in the voice of the great people I've worked for: Dennis, Jon Stewart, Conan. But those can only express my voice so far. I'm ready for my megaphone.
Readers can buy the full collected paperback of Shrinkage here
Or digitally from ComiXology here
About the Creator
Originally from Maui, Hawaii, Joshua is a multi-award winning writer based in LA. He has written for Marvel, SciFutures, Motherboard, Geeks and is represented by Abrams Artist Agency.
Reader insights
Be the first to share your insights about this piece.
Add your insights