Playing The 'Scape' Goat: There Was A Huge Sci-Fi Cameo Hiding In 'Guardians Of The Galaxy Vol. 2'
Did anyone spot a familiar face under all that gold paint in Guardians Of The Galaxy Vol. 2?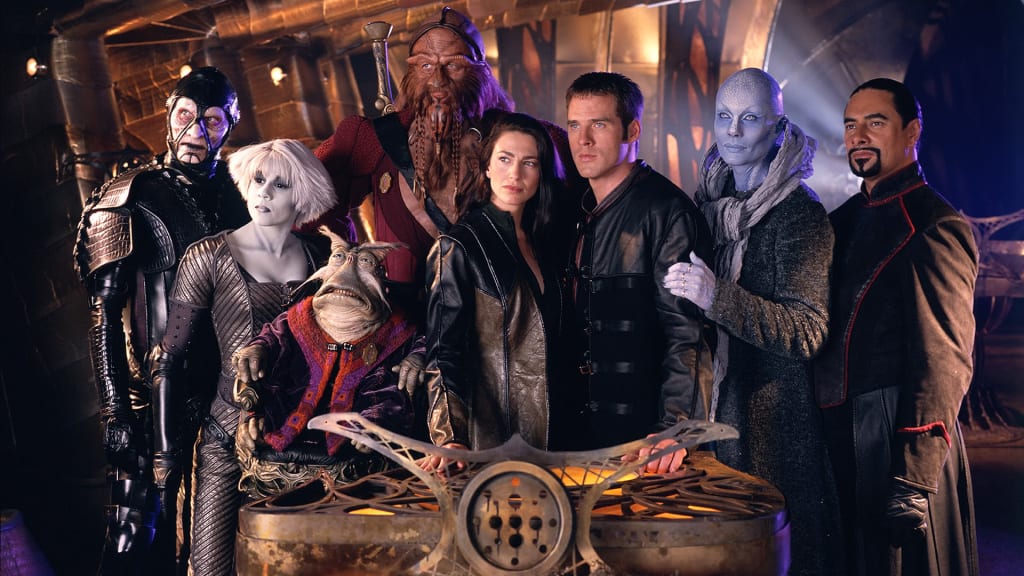 As Disney's Guardians of the Galaxy Vol. 2 stuck on some banging tunes and flew us into another outlandish adventure in the cosmos, the good and the great of Hollywood nabbed themselves a role. Alongside returning favorites like Chris Pratt and Zoe Saldana were greats like Kurt Russell, Sly Stallone, and even Miley Cyrus.
With Easter Eggs and cocoons galore, #JamesGunn's second entry in the slapstick space saga still has us talking now, but it appears that we may have missed another sneaky cameo hiding in plain sight. Away from Russell's bearded brute Ego, we saw Elizabeth Debicki and her golden race of Sovereign aliens pursue our heroes across the galaxy. However, did anyone spot a familiar face under all that gold paint?
You are gold.
Taking to Instagram, Gunn confirmed that a certain #scifi favorite managed to sneak his face into the sequel. While some may have spotted him (we certainly did, along with these other sci-fi cameos), others did not see #Farscape's Ben Browder lurking like an Oscar statue among the rest of the Sovereign people.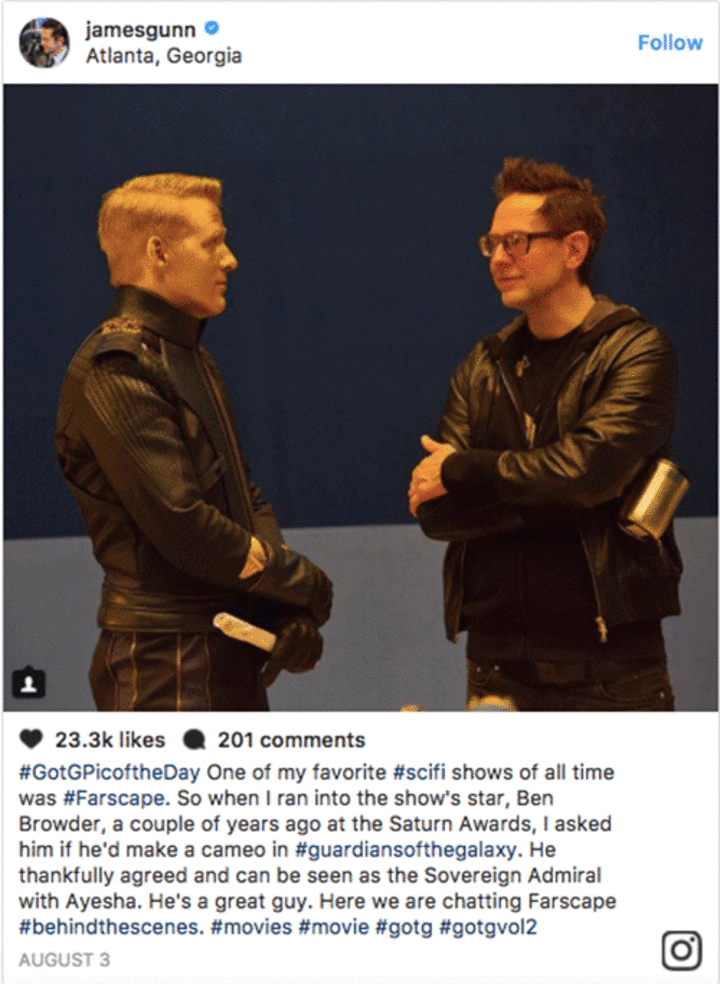 For those who weren't enjoying sci-fi greatness in the '00s, Farscape was the weird and wonderful show that followed Browder's John Crichton as an astronaut lost through a wormhole. As a cross between Stargate and Labyrinth, Farscape developed a cult following but only lasted a lackluster four seasons. However, after ending on a cliffhanger, Farscape did what many shows couldn't and resurrected itself for a mini-movie to round the story off. Since then there have been several comic book continuations, but nothing can beat the cheese-fest of Jim Henson puppets that was Farscape's original run.
While Browder's role as "Sovereign Admiral" may have has passed us by, it is just another reason that Vol. 2 was a faithful nod to the pop culture world around it. However, now that we know he is there, could Browder return for Gunn's Vol. 3? We saw Ayesha's Sovereign fleet decimated by our titular heroes, but after being piloted remotely from their planet, no Sovereign lives were lost. We already know that Debicki will be back to introduce us to a certain Adam Warlock, so why not bring Browder's admiral along for the ride too?
The Guardians of the Galaxy world is clearly influenced by the likes of Firefly and Star Wars, but it looks like we can now add Farscape to that list too. While word of a Farscape film has long circled development hell, could Gunn be the one to helm the zany sci-fi spectacle? He clearly has the love for the material and (now) the connections, so forget the Hollywood megabucks of Guardians Vol. 3, let's get the ball rolling on Farscape!