People On Twitter React To The 'Obi-Wan Kenobi' Trailer
Feel The Hype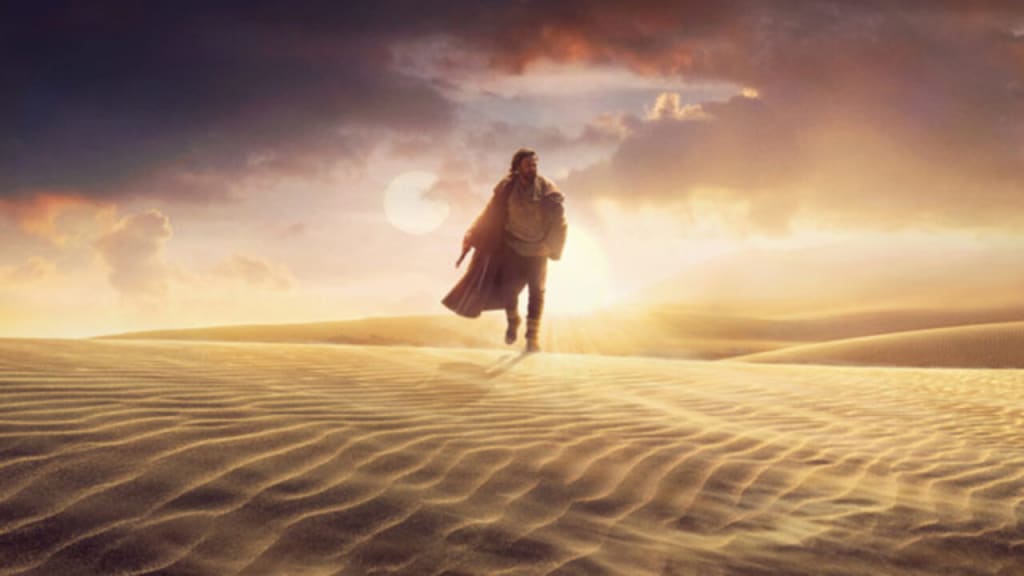 Happy Star Wars Day everyone! It is also officially Obi-Wan month or Star Wars month as Celebration is happening later this month as well. But most importantly, Obi-Wan Kenobi comes out on May 27th. Yes, that's right, the highly anticipated show finally comes out later this month. After waiting patiently for so long, we have finally been blessed with the Obi-Wan Kenobi trailer on Star Wars day. As a huge Obi-Wan fan, I am so excited about this series. From the reactions on Twitter, I don't seem to be the only one either.
Reactions on Twitter seem to be mostly hype, which I love to see. However, it is the Star Wars fandom after all, so there are always a few that like to go against the hype.
RELATED: Deep Dive Into New Promotional Posters For Obi-Wan Kenobi
After all these years, we finally get to see Ewan McGregor and Hayden Christensen return as Obi-Wan and Darth Vader again. Fans are so excited that the duo is back together again. However, we also know this is going to result in pain as well, because of the circumstances we last saw these characters.
Some fans however are wondering how the confrontation between Vader and Kenobi will go. Their encounter in A New Hope was supposed to be their first time seeing each other in many years. There is a nineteen-year gap between Revenge of the Sith and A New Hope whereas there is only a nine-year gap between Obi-Wan Kenobi and A New Hope. On the Death Star, Vader had said that it has been a long time. I doubt he meant nine years. I will be curious to see how this will be addressed in the show.
Most fans seem to be more excited about the possible "rematch of the century" between Vader and Obi-Wan.
While some fans may not be as thrilled about the possible rematch, most seem excited to see Hayden back in the role of Vader. I personally look forward to seeing Hayden in Star Wars again. Hopefully, this time around, he will get the love and respect he deserves.
I have a feeling we all felt like this tweet after seeing Vader's arm in the trailer.
All the hype for Vader
"When the time comes, he must be trained."

"Like you trained his father?"
Ouch! Uncle Owen did not have to hurt us like this. This quote is currently trending on Twitter, so Star Wars fans are going through the same emotions. Uncle Owen thinks Luke will turn out like Anakin, because well, look what happened when he went with Obi-Wan. People on Twitter are mad at Uncle Owen for attacking Obi-Wan like that. I get that he is angry, but Obi-Wan has been through enough. And it wasn't his fault that Anakin turned to the dark side.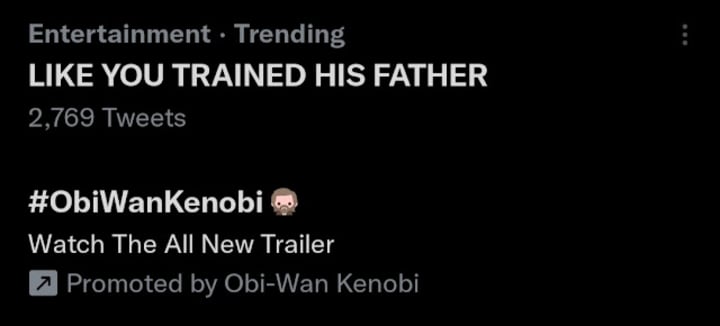 Even the official Star Wars Twitter tweeted about it.
Of course, fans also make jokes when they saw Obi-Wan using a blaster in the trailer, even though he had previously called them "uncivilized" in Revenge of the Sith. 
Another fan is hoping for some live-action Fallen Order content. There have been rumors of Cal Kestis possibly appearing in the show.
The majority of fans are just screaming, jumping up and down, and celebrating that we finally got an official trailer for Obi-Wan Kenobi, considering the lack of marketing this show has gotten until just recently. If these are the reactions to the trailer, I can't wait to see the reactions when the show actually premieres. I love that the reactions are so positive, and I hope they stay that way. We all want to see Obi-Wan be happy, but that will be hard for him in the position he is currently in. I can't wait to see the thoughts and the theories that will inevitably come out once the show premieres. I am just ecstatic to see Hayden and Ewan together again in Star Wars!
This tweet is how we all feel about Kenobi.
Thank you for reading our article today. If you want to keep up to date with our latest stories, please consider becoming a pledge or, alternatively, please consider leaving a tip. This will help us continue to keep bringing new and interesting content. You can also check out our video content on the following YouTube channels, where you can subscribe to keep up to date: Star Wars Culture, Eye On Canon, The Star Wars Underworld, Chatter Squadron.
READ NEXT: Could We See Cal Kestis Cameo in Kenobi?
Written By Anna Grimm
Syndicated From Culture Slate
Reader insights
Be the first to share your insights about this piece.
Add your insights