Outrun Stories #3 
Redline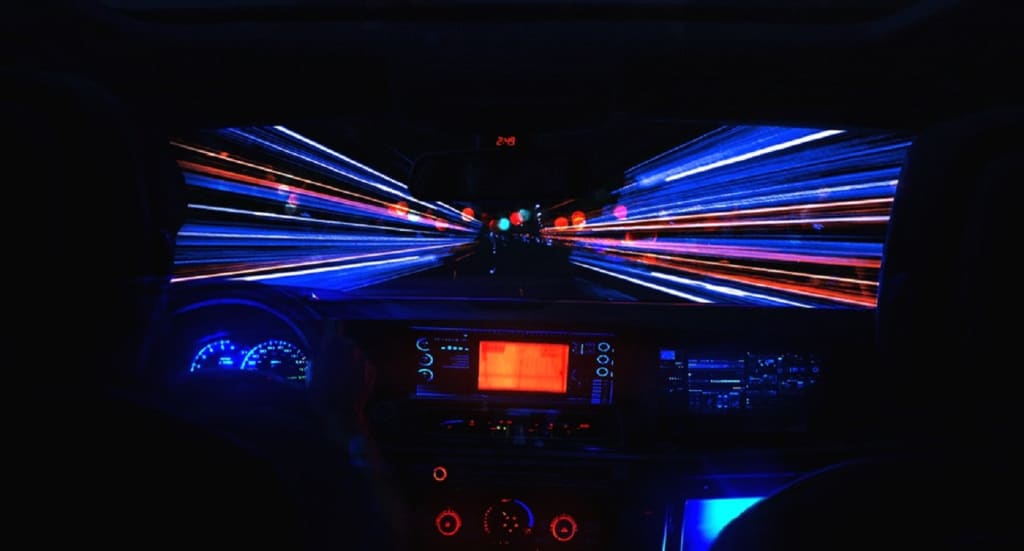 Hands gripped the tight leather of the steering wheel. The car's engine screaming. Dials hitting redline. The world outside skimming past, faster and faster, foot hitting the floor. Thinking about what might have been. Thinking about what used to be.
A lifetime. A million trials ran, a million fights fought, a million memories won. A million flashes of the past mixing with a million lights of the city shooting by in a neon blur. How did it all come to this?
That time, there, the pinpoint, a flicker and a friend. The hard streets, the laugh and the focus of an eye, lives side by side, a connection. "I love you, man," the dimly lit bar, stood there, cigarette in mouth, pool cue in hand, that memory, that time. "I mean, you know, you're the best." Hesitation, but it was there, that wavelength that would last a lifetime. Friends, the best of friends, and in a whiskey soaked embrace, a pact that would never be broken.
Marching those roads, climbing those impossible mountains together. Forwards, through it all, each other's backs covered, always. Then the Russian and a job. "We've gotta take it man." Why? Why did they have to? They were doing well. Not the best, but they had enough. Women, cars, the hum of a city full of potential and the luck to just about get away with it, but not this time.
"The Russian's bad news. Really bad." He looks up, lighting a cigarette, that wavelength still there, they believed, in each other, in the city, in the dream, too much.
"Man, it's ours for the taking, we do this job we're made. The Russian, he's connected."
"What do I know?" That memory, that moment, hands clasping, eyes meeting, smiles raising.
The car's engine screamed and brought him back to now and to what was beside him, the Desert Eagle glinting on the passenger seat's soft leather. A lifetime of memories. He gritted his teeth. A million fights fought. He hammered the accelerator. A million memories won. He squinted his eyes. A friend, a pact.
"I still believe and I'm coming for you. Just hold on."
About the Creator
Short sci-fi stories in 500 words or less deriving from the Outrun, tech-noir and NewWave aesthetic.
Reader insights
Be the first to share your insights about this piece.
Add your insights