New Poster From 'The Mandalorian' Shows Off Incredible Luke Skywalker Training Grogu
Amazing!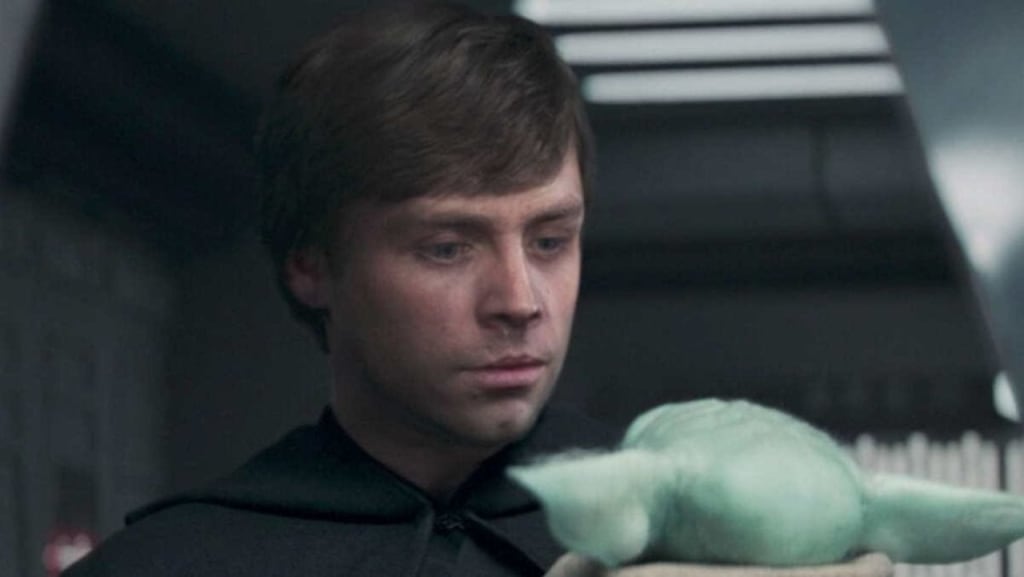 The Mandalorian has certainly re-ignited Star Wars interest and spawned Disney+ subscriptions. [The Mandalorian spoilers ahead] The second season of The Mandalorian was met with even more fanfare, especially with its concluding episode. Everyone has been wondering what will happen with Grogu and Luke Skywalker's future, and the recent poster release from Shop Trends, officially licensed, will excite even more fans of the franchise.
Last we saw Grogu, Din Djarin rescued him from Moff Gideon and then emotionally gave him to a surprise Luke Skywalker for Jedi training. The recent poster release focuses on the training of Grogu by Luke. It depicts Luke using the Force to elevate a yellow force crystal and Grogu using the Force to elevate lightsaber parts.
RELATED: Mark Hamill Explains The Insane Secrecy Behind Luke Skywalker's Cameo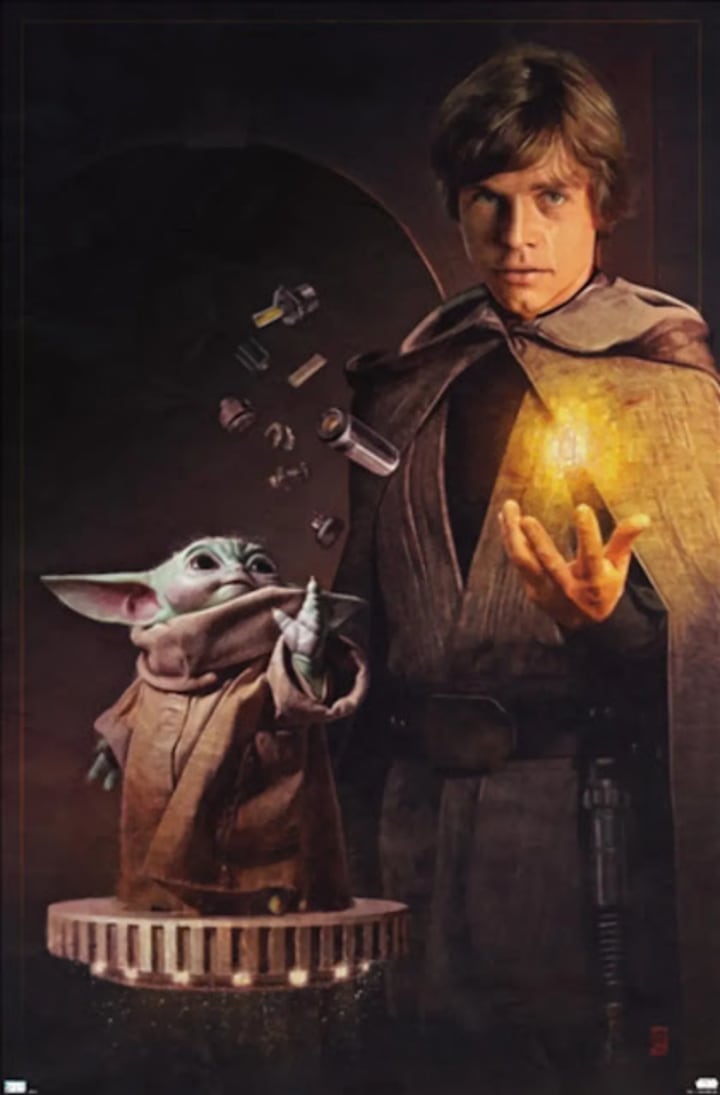 This is most exciting for Grogu's development. Although he was 50 years old when we met him, his species develops so slowly that he was essentially an infant when we first met him. Grogu has slowly progressed though the series to gain more independence, from eating frog-like creatures and walking instead of using his crib, to beginning to use the Force more and more. We last saw Grogu being able to move items and Force choke people, but constructing a lightsaber would be a fun and significant progression. The poster teases his progress and gives us hope for Grogu's development as a Force user.
This poster also highlights Luke's development and involvement in Grogu's future, as well as Luke's possible involvement in The Mandalorian. Many people have been worrying about Grogu's future and possible absence in the future The Mandalorian episodes. This poster might relax fans a little bit, as Grogu is definitely on Filoni and Faveau's minds. I also find it difficult to see The Mandalorian continuing too long without the cute and iconic presence of Grogu into the next season. However, it is tough to foresee Luke being too present in the upcoming seasons. It must have been very expensive to computer generate Mark Hamill's face onto the end of the final episode of season two. And story-wise, it would be tough to split storylines between Din Djarin and Luke, as we know their storylines probably won't be together.
For the future of The Mandalorian, it would be fascinating if they did split focus to look into Grogu's development as a Force user. However, that appears to be unlikely. As mentioned above, it does not seem like computer generated Mark Hamill will make too many more repeat appearances given the cost, difficulty, and fan reception. But, given Grogu's large presence in The Mandalorian and huge fan following, it is difficult to see the show change focus to being on Din's bounties or ascension of power with the Darksaber, as opposed to the cuteness and rescuing of "baby Yoda" from precarious situations in every episode.
This also leads to pondering about what the endgame is for Grogu. Does he become a major Force user in the universe akin to Yoda? Or how else is he involved, given that he doesn't appear in the sequel trilogy? It's likely he doesn't appear in the sequel trilogy due to the character not being conceived at the inception of the most recent trilogy. However, some of the recent inclusions in The Mandalorian, such as the season 2 episode 4's scenes where cloned bodies reminiscent of Snoke appear, indicate that there may be a related plan for Grogu.
Given his popularity (and cuteness), many hope for Grogu's continued inclusion and focus in future The Mandalorian episodes. This new poster gives hope that Grogu will be a focus of The Mandalorian and Star Wars.
READ NEXT: Luke Skywalker DeepFake Artist Hired By Lucasfilm
Written By Dave Sacca
Source(s): CBR
Syndicated From Culture Slate