Most Famous Astronauts
The most famous astronauts include the first female in space and the first man on the moon.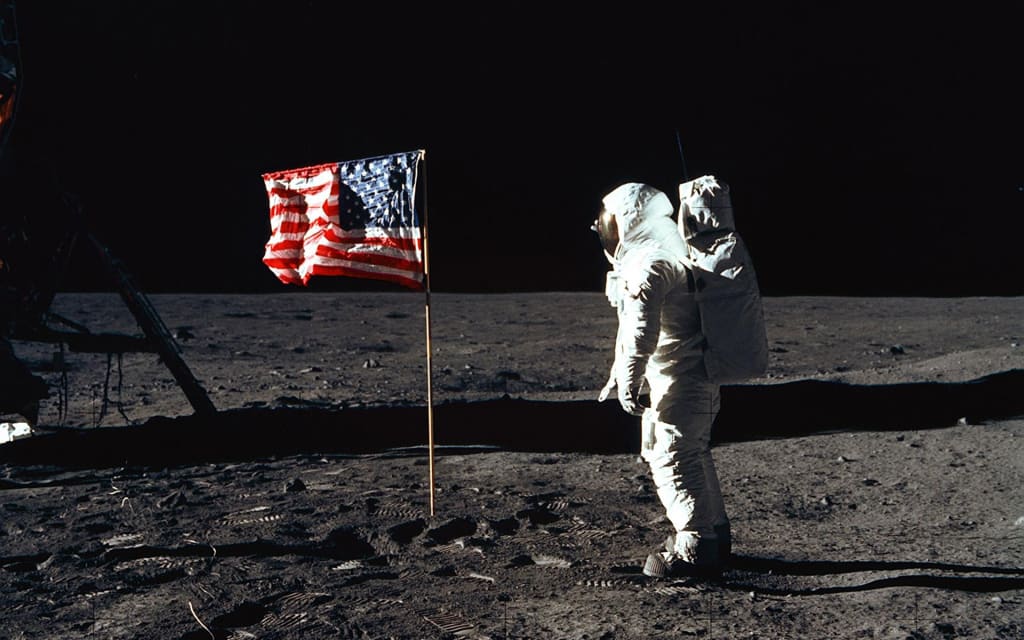 More than 500 brave men and women have left Earth's orbit in the name of science and space exploration, and they all merit adulation. Nevertheless, throughout humanity's ventures into the Heavens, there have been those astronauts and cosmonauts who, for whatever reason, have stood out from the rest. There are those who became household names and those whose deeds became landmarks in history. From being the first woman in space to being the first person to step foot on the Moon, there are many accomplishments for which the most notorious astronauts should be recognized.
Yuri Gagarin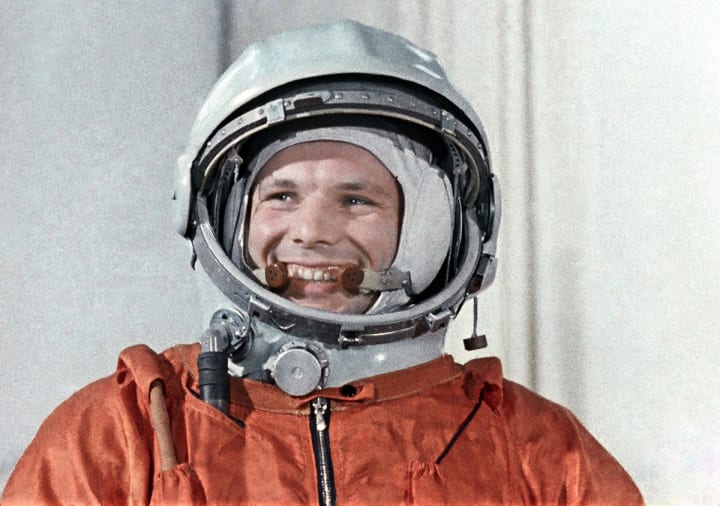 In 1934, Yuri Gagarin was born in the Russian village of Klushino. The Nazi army invaded Klushino in 1941, and both Gagarin's older brother and sister were sent to slave labor camps in Poland. Gagarin graduated from technical school in 1955, and then was drafted into the Soviet Army to became one of the Soviet cosmonauts branded the Sochi Six.
On April 12, 1961, Gagarin was the first human to enter space. His 108-minute journey upon the Vostok 1 reached an altitude of 203 miles, and it traveled around the Earth at 17,500 mph. Upon returning home, Gagarin was deemed a global hero and celebrity.
Aside his recognition as the first person in space, little was known about Gagarin or the people who worked behind the scenes of his epic space journey. Starman: The Truth Behind the Legend of Yuri Gagarin by Jamie Doran and Piers Bizony reveals of the legend's journey from ordinary man to famed astronaut.
Alan B. Shepard, Jr.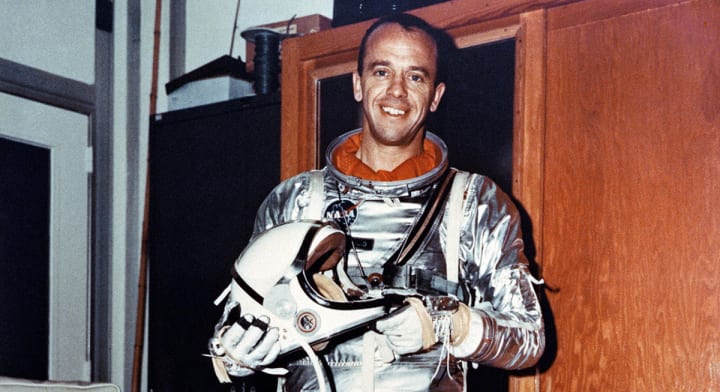 On May 5, 1961, 23 days after Yuri Gagarin's expedition, Alan B. Shepard Jr. became the first American in space. His Freedom 7 Mercury capsule reached an altitude of 116 miles and only lasted 15 minutes. After the flight, President John F. Kennedy awarded Shepard with the NASA Distinguished Service Medal.
In February 1971, Shepard commanded the third trip to the surface of the Moon upon Apollo 14. Shepard smuggled a golf club onto the rocket and hit two balls off the lunar surface. Because the original video was too grainy, the publisher of Shepard's and Deke Slayton's book, Moon Shot, decided to fabricate a photo of Shepard swinging a golf club. This fueled the conspiracy theories that the Moon Landing was a hoax.
Shepard and the rest of the Freedom 7 crew recall the exciting story behind the groundbreaking first US space flight in Freedom 7: The Historic Flight of Alan B. Shepard, Jr. by Colin Burgess. The book boasts stories and details that weren't previously uncovered about the mission.
Valentina Tereshkova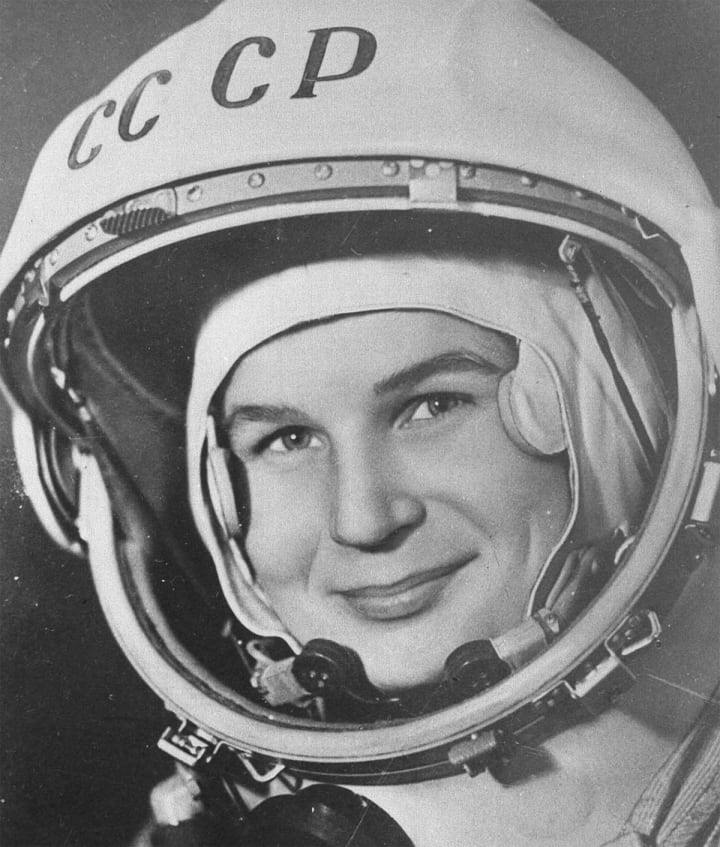 On June 16, 1963, inside the Vostok 6, Soviet Cosmonaut Valentina Tereshkova became the first woman to reach space. She orbited the Earth 48 times and remained there for 71 hours—much longer than any other human at that point. The Soviet Union used Tereshkova's experience to proclaim to the world that under Communism, women could accomplish the same things as men. However, the Soviets would not send another woman into space until Svetlana Yevgenyevna in 1982.
Some believe that Khrushchev coerced Tereshkova to marry cosmonaut Andrian Nikolayev in 1963. As pieces of propaganda, the couple was sent around the world to display the superiority of the Soviet Union. They separated in 1966, and Tereshkova went on to become a member of the USSR's national parliament and an advocate for women's rights.
In her autobiography, Valentina Tereshkova, The First Lady of Space: In Her Own Words, she recounts her first time in space and what it took to get there. Affectionately known as a "Hero of the Soviet Union," Tereshkova was a precedent for missions to come.
Neil Armstrong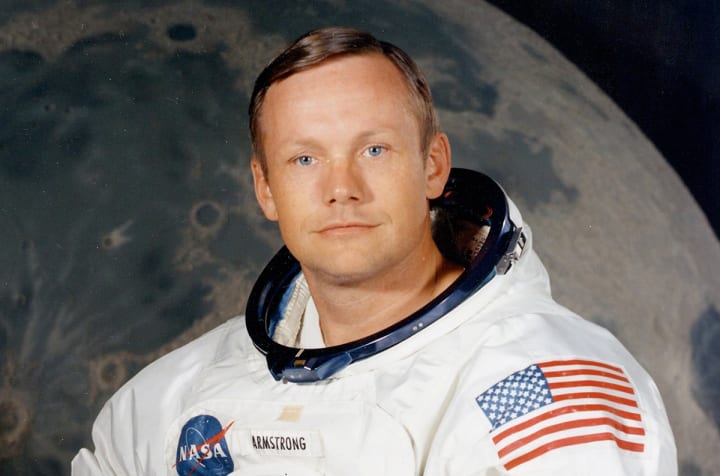 In 1962, Neil Armstrong was selected to be a part of the NASA Astronaut Corps and became one of the "new nine." His first space venture was aboard the Gemini VIII, which successfully docked with the unmanned Gemini Agena Target Vehicle. The mission ended prematurely when a systems failure caused the capsules to begin to roll.
At 9:32 AM on July 16, 1969, Apollo XI took off from the Kennedy Space Center. Onboard were Armstrong, Buzz Aldrin, and Michael Collins. On July 20, Armstrong became the first human to walk on the Moon.
After being awarded many honors, Armstrong retired from NASA in 1971. He then became a Professor of Engineering at the University of Cincinnati. In 1986, Armstrong served as Vice Chairperson of the Presidential Commission on the Space Shuttle Challenger Accident.
In Neil Armstrong: A Life of Flight, author Jay Barbree compiled notes, NASA transcripts, interviews, and accounts of friends and family to detail the astronaut's life. From his start as a combat missions pilot to his first steps on the Moon, the books sheds light upon a side of Armstrong that hasn't been seen through photos and personal details.
Buzz Aldrin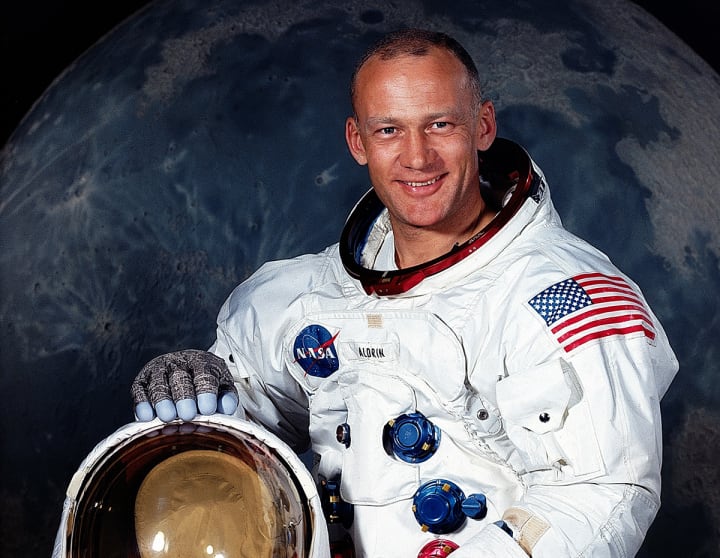 On November 11, 1966, during the spaceflight of Gemini XII, Edwin "Buzz" Aldrin completed a five-hour spacewalk. This successfully satisfied his mission's goal of determining whether astronauts could work in orbit outside of a spacecraft.
On the Apollo XI mission, Aldrin served as the Lunar Module pilot. Twenty minutes after Neil Armstrong's legendary first step, Aldrin became the second man to walk on the Moon. After remaining on the surface for approximately an entire day and collecting 47.5 pounds of rocks, Aldrin and Armstrong rendezvoused with Columbia and returned safely to Earth.
Aldrin was awarded numerous medals and honors, including the Presidential Medal of Freedom. He retired from NASA in 1972. He went on to author several books and become the inspiration for Disney's Buzz Lightyear. He is perhaps best remembered in pop culture for punching the conspiracy theorist Bart Sibrel for being called "a coward, and a liar, and a thief."
After exploring space and stepping foot on the Moon, astronaut and author Buzz Aldrin offers his own insights on the future in Mission to Mars: My Vision for Space Exploration. The book offers a plan and explains the importance of US space exploration for technological and economic growth.
Jim Lovell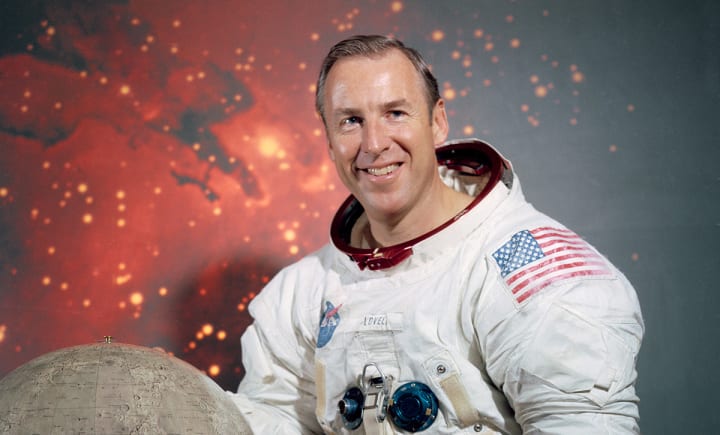 In 1965, Jim Lovell piloted Gemini VII, which completed the first rendezvous with a manned spacecraft. In November 1966, Lovell was the commander of Gemini XII alongside pilot Buzz Aldrin. In December 1968, Lovell was the command module pilot for Apollo VIII, which orbited the Moon and then returned to Earth.
On April 11, 1970, upon Apollo 13, Lovell became the first astronaut to go on four space flights. His crew was to be the third to land on the Moon. However, two days after takeoff, Lovell saw a warning light and heard a bang. It was then he uttered, "Houston, we've had a problem here." The mission was aborted because of an oxygen tank explosion. Lovell and astronauts John Swigert and Fred Haise engineered a plan to return to Earth safely. They succeeded on April 17, 1970.
In Lost Moon: The Perilous Voyage of Apollo 13, James Lovell and Jeffrey Kruger recount the harrowing and ultimately successful journey of the Apollo 13 space flight. This books puts the reader in the spaceship involved in one the worst disasters in space history through its language and descriptive nature.
Sally Ride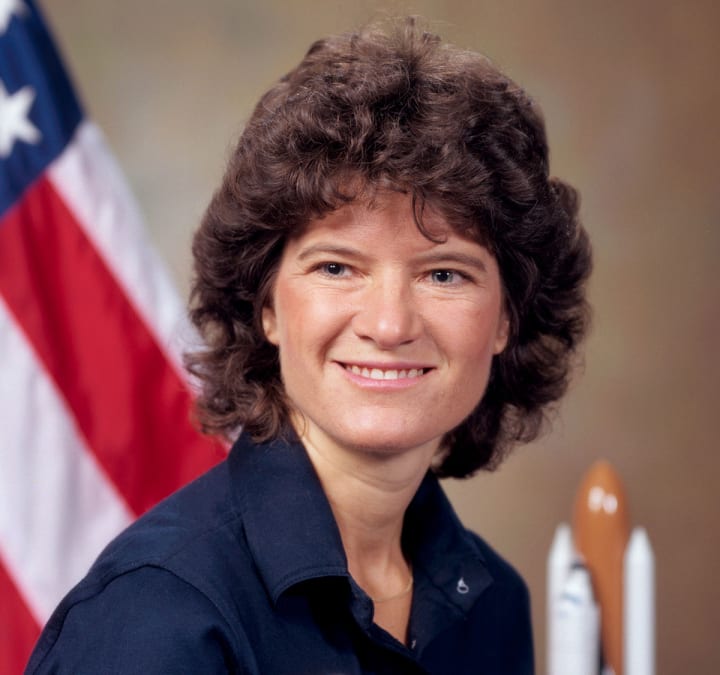 On June 18, 1983, traveling aboard the Space Shuttle Challenger, astronaut and astrophysicist Sally Ride became the first American woman to enter space. Ride returned to space a second time on the Challenger in 1984. She was scheduled to return for a third time, but the Challenger exploded 73 seconds after liftoff on January 28, 1986, and the mission was canceled. Along with Neil Armstrong, Ride served on the Presidential Commission on the Space Shuttle Challenger Accident.
With her days as an astronaut behind her, Ride continued to work for NASA as the Director of the Office of Exploration. She then worked at Stanford University and the California Space Institute. On July 23, 2012, Ride died after battling pancreatic cancer.
Written by Lynn Sherr, the biography Sally Ride: America's First Woman in Space is the story of the history-making astronaut. A unique piece about a unique woman, Sherr shares insights from Ride's family, friends, and partner.
Ham the Astrochimp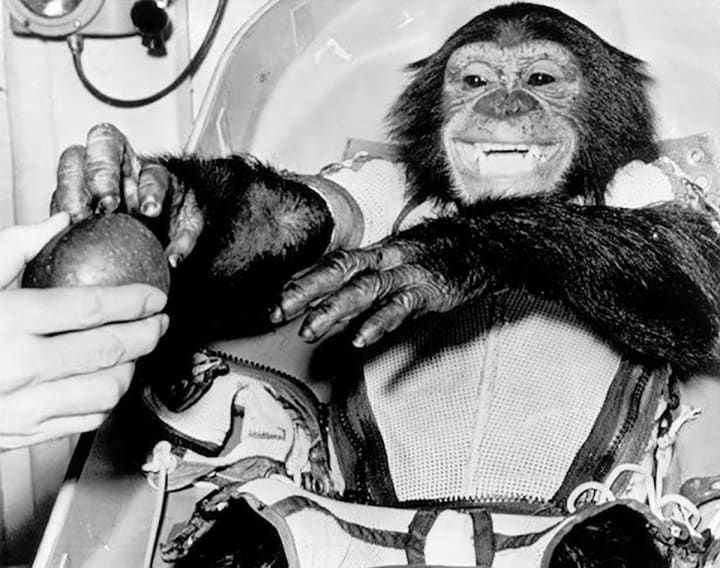 Ham the Astrochimp began his career as a "chimponaut" in 1959. The name Ham was an acronym for the lab where he trained—the Holloman Aerospace Medical Center. In the press, NASA indicated that Ham was treated well. However, it is now known that this was not true. While discussing Ham's condition, Dr. Jane Goodall said, "I have never seen such terror on a chimp's face."
On January 31, 1961, Ham was launched into space in a Mercury-Redstone rocket. The flight only lasted 16 minutes and 39 seconds. Afterward, Ham went to live in Washington, D.C.'s National Zoo. He remained there for 17 years and died in 1983. Today, his remains sit in a drawer marked "Specimen 1871496" in the US National Museum of Health and Medicine.
The story of the three-year-old chimp's space flight is documented in Ham the Astrochimp by Richard Hilliard. More than just a chimp, Ham was the first intelligent being sent into suborbital space. The book is both informative and entertaining, as it features lively illustrations which bring the story to life.
John Glenn, Jr.
John Glenn, Jr. became a national hero on July 16, 1957, when he flew an F8U-1P Crusader (BuNo 144608) and beat the transcontinental air speed record by 15 minutes. Reaching 725.55 mph, Glenn's trip from Los Alamitos, California to Floyd Bennett Field, New York took only three hours and 23 minutes.
Glenn joined Project Mercury in 1959, and two years later, he was the backup pilot for both Alan Shepard and Virgil Grissom. On February 20, 1962, aboard Mercury capsule Friendship 7, Glenn became the first American to orbit the Earth. Soon after that, Glenn left NASA and began a career in politics. In November 1974, Glenn was elected to the US Senate and served four consecutive terms for the state of Ohio. In 1983, he launched an unsuccessful campaign to become the 1984 Democratic presidential nominee. On October 29, 1998, seventy-seven-year-old Glenn traveled aboard the Space Shuttle Discovery and became the oldest person to fly in space.
When spaceflight was in its early years, it was deemed critical to record the initial observations and thoughts of the astronauts. In John Glenn, Jr.—Debriefed: First Thoughts and Pilot's Debriefing of His Historic Friendship 7 Flight written by the astronaut himself, Glenn takes us through the flight.
Chris Hadfield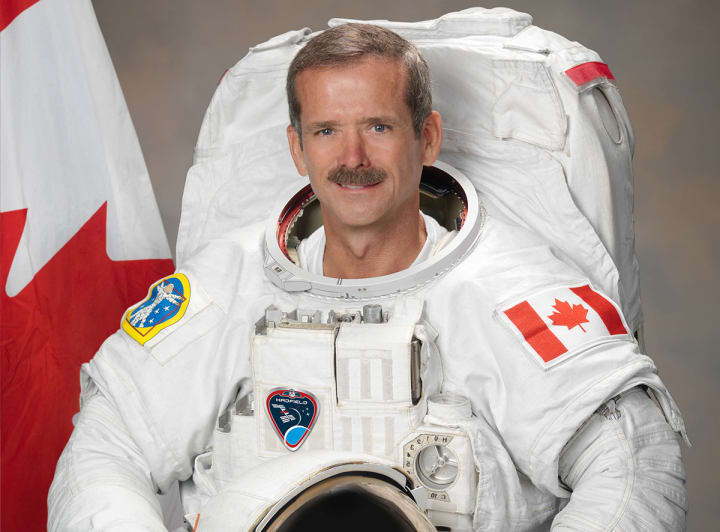 Canadian Chris Hadfield spent much of the 1980s as a fighter pilot for both Canada and America. During this time, he trained as a US Air Force test pilot and conducted research for NASA. By the end of the decade, Hadfield flew in more than 70 different kinds of aircraft.
In June 1992, Hadfield became one of four newly selected Canadian astronauts, and the Canadian Space Agency (CSA) appointed him to the Johnson Space Center in Houston, Texas. Hadfield participated in several space missions and stayed on the International Space Station for 11 days in 2001. In December 2012, Hadfield—along with two other astronauts—remained on the Space Station for five months. During this mission, Hadfield became a global celebrity by using Twitter to describe life aboard the Space Station.
After spending almost 4000 hours in space, Hadfield has a variety of experiences both terrestrial and extraterrestrial. In his book, An Astronaut's Guide to Life on Earth: What Going to Space Taught Me About Ingenuity, Determination, and Being Prepared for Anything, Hadfield shows how the impossible becomes possible in an in-depth look at his years of training and exploration.
About the Creator
Richard is a writer and public speaker who lives in Atlanta, Georgia. He is a life-long geek, an aspiring historian, and believes the awe-inspiring grandeur of the universe requires no supernatural explanations to be magical.
Reader insights
Be the first to share your insights about this piece.
Add your insights