Is this the end of Doctor Who? Will Captain Jack Harkness join the Doctor for future adventures?
If you've seen the New Years Day special, you can only hope for more of Jack. But will Doctor Who be coming to an end?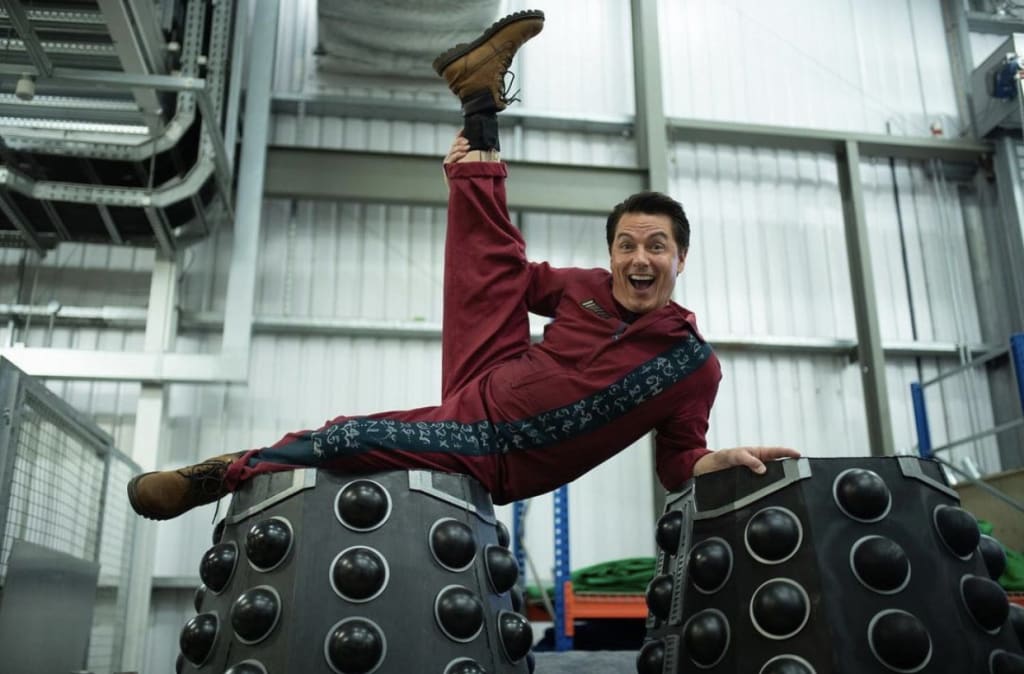 Let's be honest. You're still thinking about that New Year's Day special. Captain Jack Harkness was probably your favorite part. I mean, you're not alone. Many fans took to social media right after the premiere to talk about parts that were not that exciting to the perfection that is John Barrowman as Jack Harkness.
Though we did get a glimpse of Jack in the previous season, it wasn't enough. Whovians have also exclaimed how much they miss the old Doctor Who since recent seasons haven't felt much like home. Maybe Doctor Who did get one thing right? Along with more questionable choices amongst other parts of the special that made us say, "Daleks...again?"
Yet, Jack's witty banter with the Doctor and the mention of Rose got us all giddy. So this begs the question, will we see Captain Jack Harkness again?
It's hard to say. They did leave it the possiblity of that happening open, especially as we see a change in companions. In an interview with Variety (Link Below) Barrowman said "putting on Jack's coat and setting foot back on the set of 'Doctor Who' was just like going back home. It's always thrilling to play Captain Jack. He's a character very close to my heart who changed my life, and to know the fans love him as much as I do makes his return even sweeter. I hope everyone enjoys Jack's heroic adventure with Thirteen."
But one of the rumors currently circulating the internet is that BBC might be cancelling Doctor Who. Could this be true? The thought of Doctor Who being cancelled causes our hearts to skip a beat and we can only hope that this rumor turns out to be false. Can you imagine? A world without the Doctor? How can this be?
The rumor comes from Youtube's Nerdrotic's Gary Buechler claiming that Doctor Who's cancellation is "on the table," and that there's "another rumor that goes with that." We don't know what that other rumor is, but we can only guess a spin off of some kind? Of course we know that this isn't the first time that the show has been cancelled. Remember, 1989 brought us the temporary end of the show, so we can only wonder if the BBC is truly deciding to call it quits.
The rumors of Doctor Who's end could mean a temporary end, that is if the show continues to see the decline it has been taking the past couple of seasons. Maybe it's just what the show needs to restart in a few years with a bang? But for now, it's only rumors.
All we know is that if we do get one more season, Jack Harkness could help end the show on a high. For now, the show's future is balancing on a thread and something major needs to change or we may not see the show again for at least a couple of years. It's now exactly what we want to hear, but it may be just what is needed before we're able to say "Geronimo" again.
For now, let's hope that the BBC makes a wise decision for the future of Doctor Who. Today, let's just join in the excitement we had a month ago when Barrowman took to the screens again as Jack. Maybe if every Whovian keeps the excitement going with Jack's return they may write more stories with him in it? WHOknows?
Barrowman also shared his excitement on social media. We were just as excited to see your name on there too John!
Does anyone else want that outfit as well?
Opinion piece by Mary Howell