Insider Hints At 2023 Release For 'Knights Of The Old Republic' Remake
Better Late Than Never
During the lead-up to Celebration later this month the rumor mill seems to be working overtime. It looks like the latest piece of juicy gossip to come out of Twitter might be one of our favorites yet. User @accngt took to Twitter on May 4th to drop a very cryptic tweet that simply said, "Hopefully next year" in response to Okami Games' remark on the release date of the Knights of the Old Republic (KOTOR) remake that is in development at Aspyr Media.
Few details about the game have come to light other than the reveal trailer from last September's Playstation Showcase. If the leak is true that means that not only has Aspyr been hard at work for longer than any of us thought, but that Lucasfilm Games and Aspyr run a very tight ship when it comes to leaks. Most fans are expecting a release closer to 2025 from what we have seen in the reveal trailer due to the lack of gameplay footage.
RELATED: 'Star Wars' Fan Finds Copy Of Cancelled 'Battlefront III' Game
With any good leak, there should be a healthy amount of skepticism, especially given that this month is a very important month in Star Wars news. In regards to the credibility of the leaks, it seems only fair to point out that this Twitter account does seem to have a good track record recently. AccountNgt has predicted Star Wars: Eclipse as well as a slew of Star Wars games that were set to release for GeForce Now before they were announced. Sadly the post has no other details to share so this could just be speculative. On the other hand, it is of note that AccountNgt even posted on the subject at all without something concrete to go on.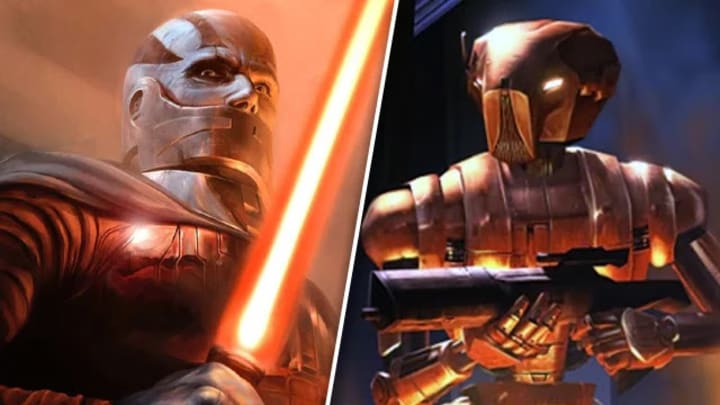 For the time being, fans will have to wait longer for any further news. With Celebration coming up in a few weeks, any rumor about the game will likely be confirmed there. Given that Jedi: Fallen Order II originally was rumored to release at the end of 2022, there are now reports for release in 2023. It is unlikely that Lucasfilm Games would release two games in the same year. Keep in mind that even if there is no news of the KOTOR remake later this month it might appear at the next Playstation Showcase. We have yet to see one this year and Sony might be saving up for a big reveal. After all, the game will be a PS5 exclusive at release.
While it seems like Cal Kestis will make his return to Star Wars before Revan and the crew of the Ebon Hawk, Jedi: Fallen Order II studio Respawn Entertainment has yet to even reveal the game. This gives KOTOR a healthy seven months head start. Maybe the remake will launch sooner than Jedi: Fallen Order II. Considering the earlier reveal and that Aspyr was the developer of the mobile ports of both Knights of the Old Republic and its sequel Knights of the Old Republic II: The Sith Lords it does not seem that unlikely.
However, all of this is purely speculation until something happens. It remains to be seen if a release date will be revealed at Celebration or during the PlayStation Showcase. This leak does inspire some hope, and that is after all what rebellions are built on. On that note, we hope to see Revan and company sooner rather than later. It has been over twenty years since we first met the Jedi-turned-Sith Lord-turned-Jedi-again who changed the fate of the galaxy. We are long overdue to return to one of, if not the best Star Wars games we have ever seen.
Thank you for reading our article today. If you want to keep up to date with our latest stories, please consider becoming a pledge or, alternatively, please consider leaving a tip. This will help us continue to keep bringing new and interesting content. You can also check out our video content on the following YouTube channels, where you can subscribe to keep up to date: Star Wars Culture, Eye On Canon, The Star Wars Underworld, Chatter Squadron.
READ NEXT: 'Obi-Wan Kenobi' Trailer Gives Us First Look At Darth Vader
Written By James E. Cockrum
Source(s): ComicBook.com, Twitter
Syndicated From Culture Slate