Hyperlocal and ecommerce: Tracking their change with a change in customer behavior
Future is hyperlocal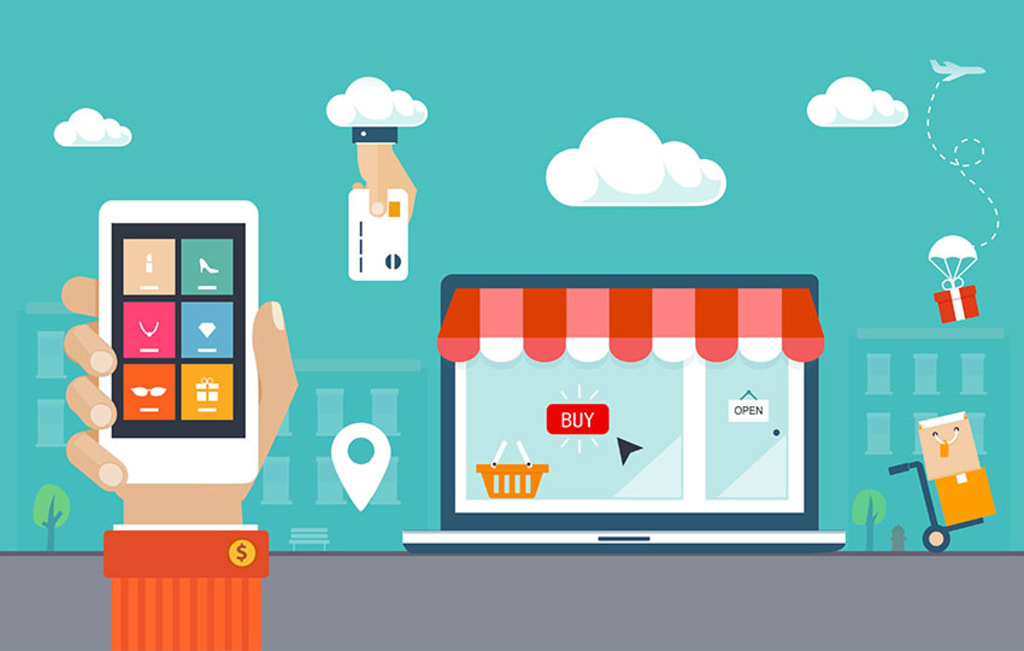 Hyperlocal- The new buzzword in the ecommerce space
"Where on one hand, traditional ecommerce paved way for businesses to stay competitive and afloat in an industry, on the other hand, hyperlocal ecommerce has just got them to be one notch up- to be leaders in their industry. That's how impactful hyperlocal ecommerce is."
Ecommerce, an abbreviated version of electronic commerce, is the buying and selling of goods or services over the internet. It encompasses a wide variety of data, systems and tools for online buyers and sellers, including mobile shopping and online payment encryption. In other words, it refers to all online activities that involve the buying and selling of products and services.
For instance, when you search for your favourite online retailer to buy a new set of curtains for your home, you're engaging in ecommerce. If you pay online to attend a music concert or buy a plane ticket through the airline's website, that's ecommerce, too.
Ecommerce doesn't only occur on desktop, though. In fact, most ecommerce traffic is driven through mobile commerce. Spurred by the influence of smartphones and the comfort of online shopping, mobile commerce sales are expected to account for more than half of all ecommerce sales by the year 2021.
Ecommerce as it stands today
To stay ahead in a highly competitive market, several business owners are taking their businesses online — not only by having a website but by selling their products and services directly through their website and other ecommerce platforms. This is possible through the use of ecommerce software that functions just about brilliantly at the backend to give customers a pleasant experience. With such software and apps available at one's disposal, online shopping behavior is bound to change, which is happening nowadays. Yes! customer preferences are driving ecommerce growth.
Have a look at the below mentioned statistics.
• Ecommerce sales were projected to reach 17.5% of retail sales by the year 2021.
• Some 21.8% of the world's population shops online. If you're not selling online, you're missing out on the opportunity to convert a massive pool of potential buyers.
• According to Forrester, U.S. B2B ecommerce will reach $1.8 trillion by the end of the year 2023.
• Seventy three percent of shoppers use multiple channels — including Google, social media, and email — to do their shopping.
To maximize sales and provide the tailored experience customers are looking for, it's important to stay on top of the latest business trends. It's clear that ecommerce is booming internationally, so now is the time to consider ecommerce as a viable business. With 95% of all purchases expected to be transacted via ecommerce by 2040, there is still some time to ride on the success of ecommerce wave.
Having known the basics of ecommerce and having gained fundamental insights and stats about it, it becomes equally important to learn about the growing popularity of an ecommerce that is hyperlocal. Well! What's that you would ask? Simply writing, it is just speedy ecommerce- one that may often surprise you. Yes! That's hyperlocal ecommerce for you.
What has led to the adoption of hyperlocal model over the traditional ecommerce model?
Hyperlocal ecommerce is extremely fast. It is just unbelievably quick. And this is something that has perhaps given a reason to businesses and customers around the globe to think of adopting a hyperlocal business model. The model is so developed that the retailers and customers are in close geographical proximity to each other and hence lightning-fast deliveries get possible.
Living in an era where speed is dominating every other aspect of online deliveries, it is just sheer common sense to understand as to why hyperlocal ecommerce has become a rage among businesses and consumers alike. Consumers of today just do not want to waste time waiting for their orders and subsequent deliveries and no prudent business would ever take the risk of dealing in procrastinated deliveries. Right? Ecommerce has just got the better of itself. It has come of age and relayed the online ordering and delivery activities to a more refined form of ecommerce known as 'hyperlocal ecommerce'. Yes! We are living in an era of hyperlocal deliveries- ones that don't take time to get delivered. Before you can bat an eyelid post the placement of an order, it is almost there at your doorstep.
The fast-paced lifestyles of consumers and businesses of today and galloping need for urbanization are another possible reason why hyperlocal ecommerce is getting better by the day. In fact, the entire world is switching over to more speedy online experiences in today's times. With millions of customers changing their outlook and reinforcing their shopping habits, ideal market conditions have been created for the growth of the hyperlocal business model.
What's in for a hyperlocal business?
A research survey by Coresight mentioned that, 'Shopping centres/malls were expected to be the most-avoided places but more than half of the respondents said they would also avoid shops in general.' Even after the effects of the pandemic seem to be waning, the enthusiasm for hyperlocal deliveries among the masses doesn't seem to be lessening anytime soon.
This emotion is leading people to heatedly click on a screen to land on e-commerce websites and portals. People are not going out to buy daily-used essential products when they can have everything delivered to their doorstep. Ecommerce delivery companies have become quick in handling their delivery services thereby enabling hyperlocal ecommerce.
The success of ecommerce fulfilment companies is all about understanding customers' needs and acting upon them. Customer experience has now become more important than ever for ecommerce firms. A more pleasant customer experience brings along with itself increased likelihood of more customer visits to your website and a positive word of mouth from them. This leads to increased customer trust, satisfaction and subsequent loyalty which hyperlocal businesses can make the most of.
Visualizing the growing popularity of a hyperlocal business space
The global hyperlocal services market is estimated to record a CAGR of 17.9% from 2021 to 2027.
With the ever-changing market, businesses don't want to fall short in any space. In an effort to maximize operations with available resources at first, brands are re-inventing ways that disrupt market taboos. Hyperlocal delivery services from food to groceries and medicine to essentials have made recovery and the Indian consumer, specifically, has been able to quickly adapt to the changes.
Ecommerce delivery companies, with a hyperlocal vision for themselves, are forming partnerships with local stores to fulfil increased orders as customers are buying essentials in large volumes. The hyperlocal delivery market, a model of picking up goods from neighborhood stores and supermarkets, has gained popular interest a few years ago and it is moving ahead great momentum.
Some examples of leading companies
A group of start-ups had launched attempts to ride on the success of hyperlocal ecommerce and afterward established venture capital. Brands like Grofers and Amazon were the leading players initially, setting up their warehouses instead of partnering with retailers.
Swiggy, a popular food-delivery app, initially, has launched Swiggy stores with retailer partnerships. Now, it is pivoted to develop stores to stock products.
Walmart-owned Flipkart made several efforts to work with retailers in order to deliver grocery orders, but launched Supermart, which also relied on its own warehouses.
Currently, Grofers runs on a model where it sets up large and mini-warehouses within cities. The mini-warehouses are managed by distributors who fulfil their deliveries to keep costs in check. For offline retailers and physical retail chains, this has come as another opportunity to refine their physical presence.
Wrapping up
Given the craze for and momentum of hyperlocal ecommerce, the hyperlocal space is set for tremendous growth. This overwhelming growth in hyperlocal ecommerce can be gauged by the fact that, even when people are not wanting to order things online, yet somehow, they are doing it quite frequently, if not regularly. And even when businesses are not set for a hyperlocal flight due to lack of paraphernalia or explicitly stating, a lack of support from an efficient hyperlocal ecommerce delivery software company, they are just somehow getting desirous of getting onboard one such flight pretty soon. Isn't it?
The growing furor for it and the scenario says it all. Hyperlocal is the new buzz in ecommerce and the future is getting hyperlocal- both dominatingly and interestingly.
The question is- How would you like to contribute to that future?
About the Creator
Finding comfort and learning in expression, I have been a pedagogue, a guest columnist, soft skills trainer, freelancer and a tech blog writer. I have devoted years on delivering discourses on corporate strategy and digital marketing.
Reader insights
Be the first to share your insights about this piece.
Add your insights