How Would You Survive Without the Internet Today?
In South Louisiana, tens of thousands of people have been living without access to the Internet for weeks in the wake of Hurricane Ida. Here's what this ongoing, painful "lesson learned" should tell all Americans about the need for reliable connectivity and just how much Internet access is intertwined with resiliency today.
How long could you go without all modern forms of communication? 3 minutes? 30 minutes? 3 hours? Well, tens of thousands of us here in South Louisiana have been living through quite an experience - and an experiment in living without perhaps the linchpins of modern life and work - namely reliable cell service and easy access to the Internet.
You may not have heard a great deal about what has been happening here of late in the Northshore area of Louisiana on the national news in the wake of Hurricane Ida, as this time, New Orleans was hit far less than the areas around it.
However, to the south toward what is left of Louisiana's coast, entire communities like Grand Isle and Port Fuchon were sadly almost wiped off the map. Here on the Northshore however, in communities you may never heard of, unless you have driven along Interstate 12 from Covington and Mandeville to Hammond (where the author lives and teaches at Southeastern Louisiana University) and Ponchatoula to Walker and Livingston, the eye of Hurricane Ida came right through here, causing massive amounts of wind damage. Massive numbers of trees fell, and with them fell thousands upon thousands of utility poles, causing almost a complete outage of both electrical and Internet services.
When such widespread outages occur, electricity, of course, takes precedence over Internet connectivity, as in South Louisiana in the late summer, air conditioning is literally a lifesaver! Now, 3 weeks post-storm, through the heroic efforts of many thousands of electrical workers who converged on our area from all over the country, power has largely been restored. However, the Internet is another matter, as the major providers of Internet and cable services in our area, AT&T and Spectrum, can only begin their work to restore services after electrical work has been completed. And so for many of us who have been without Internet access (other than what we can access on our smartphones - and cell service has been sporadic since the storm as well) since Ida passed on August 29th may be facing weeks, perhaps even months, without Internet and cable service to our homes and businesses!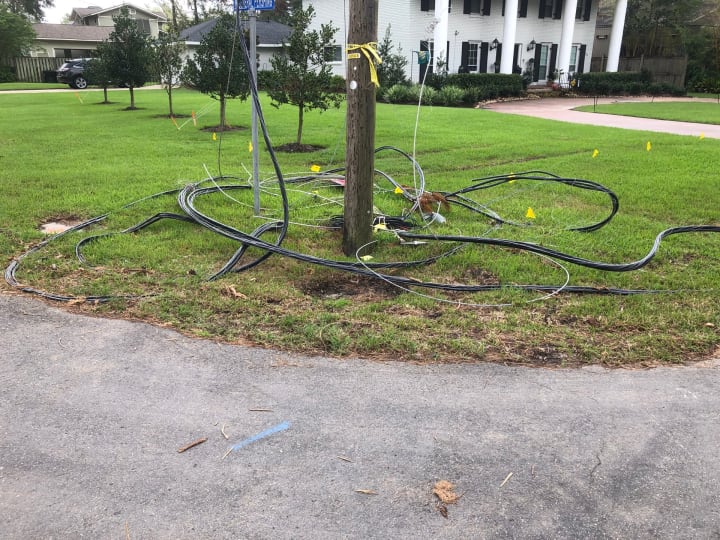 Many people dream of "disconnecting" for a day or two or even a week voluntarily, perhaps while on vacation at the beach or a remote cabin far from civilization. They would see taking a break from being connected - from the office, from social media, from everything that they can do online - as a way to reconnect with their loved ones and to even improve their mental health. However, think about being truly disconnected from the Internet for weeks at a time - involuntarily! How would you feel not being able to connect with family and friends via social media, especially in a time of crisis when they were concerned with your well-being, and in many cases, you with theirs? How would you do your work, whatever that may be, without access to email and to the Internet? How would you engage in remote learning without online access?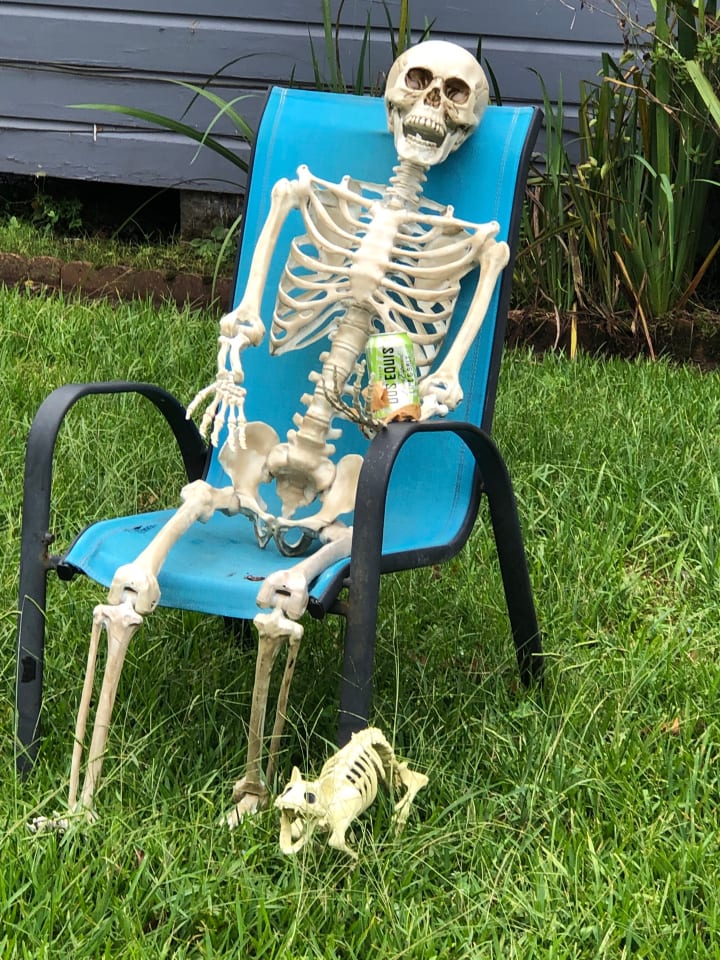 These are just some of the questions that the vast majority of us in the area are dealing with today - and unless there's massive, sudden, unexpected progress in service restoration, we will be doing so for many, many days to come. And so while the rest of the world - and business - goes on, you are unable to engage in even the simplest of online activities.
To me personally, the timing of all of this is quite ironic. On Friday, August 27th, I made the final edits on a draft of a forthcoming research report on how organizations in the private and public sectors can be better prepared for responding to unexpected events, based on the "lessons learned" over the past year and a half from dealing with the COVID-19 pandemic. It will be a major publication for me, written for a prominent advisory group. The watchword for managers and executives in this report, coming from a year of research undertaken in the wake of the COVID-19 pandemic, was a single word: Resiliency. Yes, during COVID, we found new ways to work, to educate, to socialize and much more while being safe, setting the stage for challenging many of the assumptions about how we do a whole host of things in our individual and collective lives. And many of today's workarounds and temporary solutions for COVID conditions would also work in a whole host of potential disruptions to "normal" life. However, organizational, institutional, societal and even familial resiliency today is based on connectivity (i.e. reliable, relatively high speed Internet access) being readily available for communications, coordination, and collaboration.
And so the situation we in this part of Louisiana face today is indeed a chink in the armor in planning for how to respond to various types of events, whether they be other natural disasters or even man-made events, from political unrest, terrorism, or even an electromagnetic pulse attack. We have learned just how important, how really essential Internet connectivity is today - and our reliance on this connectivity will only continue to grow in the future as we become more web centric in our technology dependence.
And so the lesson coming out of the Ida experience for tens of thousands of us here in South Louisiana in the late summer of 2021 is clear: We need to make massive investments as a country in our utility grids, both electrical and Internet. We should not - and really cannot today - afford to have our electrical and connectivity lifelines being literally suspended between wooden poles anymore! We must resolve to spend whatever it takes to ensure that we have a hardened electrical and Internet infrastructure, preferably buried underground. The investment that needs to be made to do this nationwide will be significant. However, the billions of dollars that will need to be spent to produce an impenetrable utility infrastructure pales in comparison to the very real and substantial costs of not doing so and continuing to have our businesses and our lives subject to the whims of weather, fires, and other natural disasters, let alone the potential for man-made mischief. Failure to do so could mean that you, your business, your community, and your family might just be next to experience forced disconnection from modern life for days, weeks, or perhaps even months at a time.
And so you should ask yourself a simple question: How indeed would you fare in 2021 without Internet connectivity? If you think about such a prospect for just a few minutes, you will no doubt come to the same conclusion that we have after 3 weeks being forcibly disconnected from modern communications and looking at many more such days and weeks ahead: This is simply the kind of "big thing" that government must take the lead to make certain that the electrical and digital infrastructure meets the demands of not just the ways we live, work, communicate and yes socialize today, but the exciting news ways we will no doubt use reliable and yes, even faster connectivity in the future.
In the meantime, you will see many of us here in Hammond gathered in the coffee houses and fast food restaurants, in university buildings and even the public library that do have Internet connectivity at the moment. In fact, that is how many of us are doing our email and checking in on social media. And yes, that is how this article was written. However, until Internet connectivity is fully restored, much of our modern existence in this area of America won't be back to "normal," and that is the "lesson learned" by all of us - including this management consultant who thought he knew what resiliency meant prior to August 29th - who has been educated by what a forced disconnection from much of modern communications really feels like. Trust me - you won't feel "relaxed" in any way, and you will come away with a determination that this can not and should not happen here or anywhere else in America ever again!
++++++++++++++++++++++++++++++++++++++++++++++++++++
About David Wyld
David Wyld is a Professor of Strategic Management at Southeastern Louisiana University in Hammond, Louisiana. He is a management consultant, researcher/writer, publisher, executive educator, and experienced expert witness. You can view all of his work at https://authory.com/DavidWyld.
Social Media Links to David Wyld:
opinion
Professor, Consultant, Doer. Founder/Publisher of The IDEA Publishing (http://www.theideapublishing.com/) & Modern Business Press (http://www.modernbusinesspress.com)