Introduction
An organizational chart is a detailed diagram of a company's structure. It highlights the employees' roles, responsibilities, relationships, and departments. We use different shapes, like squares or circles, to represent individuals in these charts. 
Organizational charts have many alternative names. You might have heard of them as Org charts, Organization charts, Organigrams, Organograms, Organigrammes, Organogram charts, or Hierarchy charts. Is there any difference between these terms? The answer is no. All of them refer to the same diagram. 
The question is, how can one create these diagrams? You can do so by using an org chart creator. This task will seem even easier if you are using a feature-rich and simple chart creator. Let's look at how to draw organizational charts in this detailed guide!
Templates for Organizational Chart
A template for organizational chart can be very helpful if you have no experience drawing one. It enables users to make a few changes in a sample diagram to create the desired chart. But not every chart creator has this option.
That is where EdrawMax comes in. This tool has built-in templates for organizational charts, mind maps, Venn diagrams, infographics, and more. All these options are customizable according to your requirements.
But what's the point of using a template? You may wonder why shouldn't I draw an organizational chart from scratch. Let's go through some benefits of using templates to provide a clearer picture.
Saves Time
Creating a completely new organizational chart can take a lot of time. If you are new, you will be confused about where to begin. But that's not the case with templates. They have the full map that you can modify. Sometimes, you would need to make only 2-3 changes, and you will have the org chart for your company. 
Suitable For Beginners
A beginner will find it very challenging to draw organizational charts from scratch. Using a template will be way simpler. You only need to adjust the already-drawn chart with available shapes, diagrams, and other elements. Plus, you can get a pretty clear idea of how to draw organizational charts just by viewing a template.
Consistency in Design
Organizational chart includes many factors, so maintaining consistency can be challenging. However, templates make visually appealing and consistent org charts easier. With increased flexibility, you can create a proper diagram that fully defines an organization's structure.
How to Make Organizational Chart Easily with Templates
Making an organizational chart is very simple with templates. All you need is to make a few adjustments according to your organization and its structure. That said, here's a step-by-step guide on how to make organizational charts using EdrawMax templates.
Download and install EdrawMax's desktop version or open its web application.
Go to Templates and select Organizational Charts from the menu.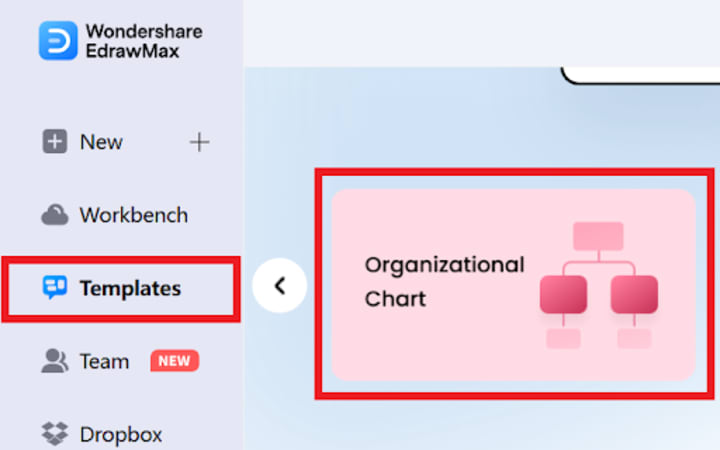 3. Choose any organizational chart template to get started. For this tutorial, let's go with the Company Organizational Chart, which is very simple.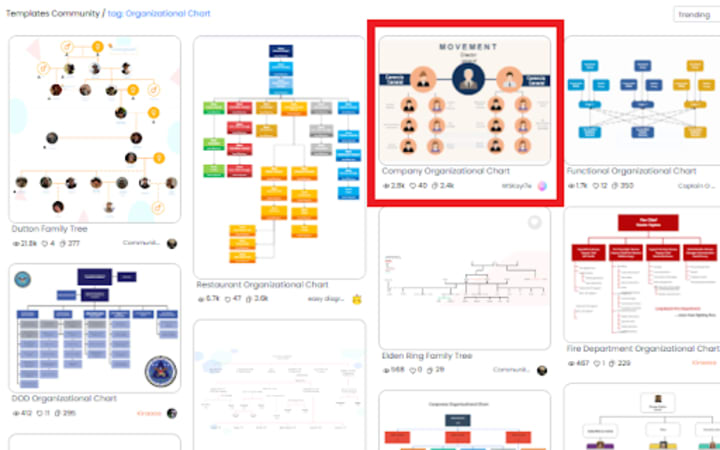 4. Hover over the template and click Use Immediately. 
5. Select shapes, headings, genograms, and professions from the left toolbar. Simply drag and drop them on the main screen. 
6. Click a shape to change its properties, including color, font, style, etc.
7. Customize the chart depending on your needs.
8. Once done, download the file from the top right corner. EdrawMax provides more than 14 unique export options. So, sharing your chart is now simple. You can also share it by clicking the Share button.
It is crucial to choose the template that fits your needs. You can identify the right option by analyzing your requirements. An organizational chart creator will offer you hundreds of templates. Pick the one that is easiest to customize and describes your company's structure perfectly.
EdrawMax – The Ideal Organizational Chart Maker
Which organizational chart maker should you use? As a beginner, you will come across thousands of options. But not all of them are easy to use. 
EdrawMax is designed to fit new and advanced users. It has a large library of templates and symbols to assist your drawing. Here's why you should use EdrawMax as your org chart creator.
Templates For All
EdrawMax offers a wide variety of templates. That includes all categories, like restaurants, fire departments, departments of justice, Greek mythology, popular families, businesses, corporate organizations, and CMS.
The good part is that all the templates are ready to customize. Select the one you like and modify it per your needs.
Convenient and Easy
If you are new to organizational charts, EdrawMax is the simplest tool. All of its customization options are readily available on the screen. You can head to the left toolbar to pick an element. Additionally, it works on the simple drag-and-drop mechanism. Choose any component and place it on the screen. Every element is open to customization. You can change its size, color, font, style, and more. 
Library of Assets
EdrawMax has a vast library of digital assets. You can add symbols, automated org charts, genograms, basic flowcharts, professions, shapes, and text to your diagrams. Each component increases your chart's functionality.
If you do not find the desired component, you can include one. EdrawMax allows you to use shapes and diagrams from other templates, like Workflow, Mind maps, Graphs & Charts, Database Modeling, Software Engineering, etc. You can integrate these shapes into your organizational chart to improve its detailing.
Share With the World
After creating an organizational chart, you can share your diagram using EdrawMax's option. It allows you to export a file in various formats or share it directly through different platforms. The formats include JPG, PNG, HTML, xlsx, etc.
Conclusion
How to draw an organizational chart? Go through this guide to learn everything about this subject. Try your first diagram using a template. Insert different elements and implement your ideas to create the ideal org chart for your company.
If you want to create an organizational chart from scratch, it's possible on EdrawMax. It even assists you in the process with data import feature. All your organization data can be imported in a snap.
About the Creator
Edraw, as a company, we're now helping our existing and new customers do mind mapping, Gantt charts, infographics, and more, quickly and better.
Reader insights
Be the first to share your insights about this piece.
Add your insights