Health Care, Precisely One Person at a Time
A radical technology platform emerges for health and medicine.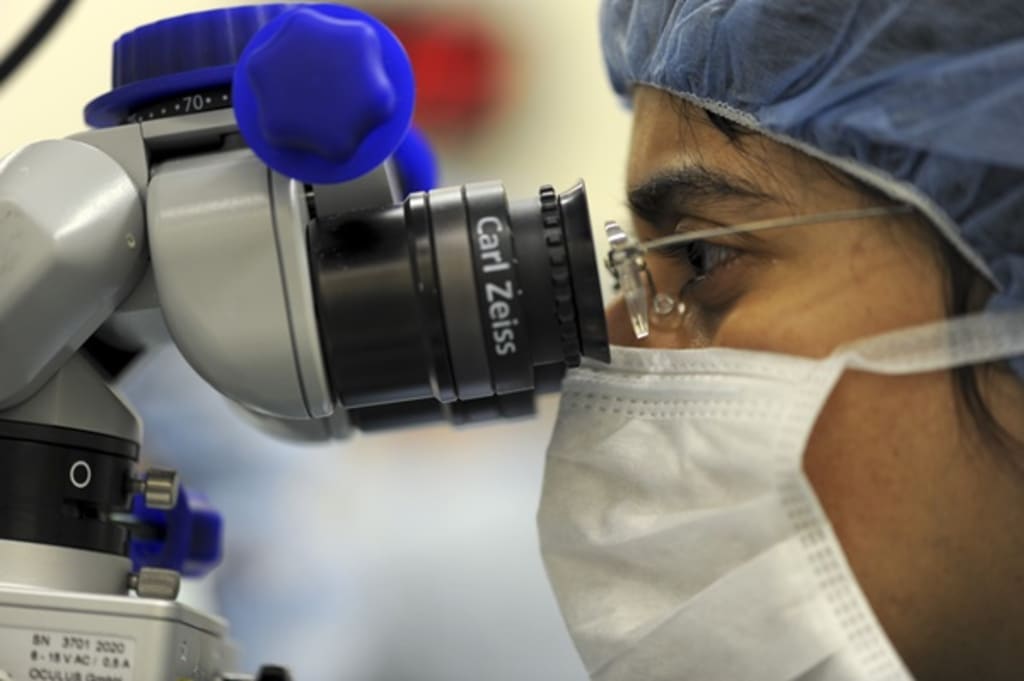 Credit: Skeeze/Pixabay (Creative Commons, Public Domain)
About a year ago, National Institutes of Health launched the All of Us initiative, a large-scale research program that NIH hopes will make possible precision medicine: the design of health care tailored for each individual. Directing this research project is Eric Dishman, whose remarkable story is perhaps eclipsed by the audacity of the All of Us initiative itself.
Dishman's credentials alone should tell you that All of Us is a different kind of research project, since he's neither a medical doctor nor biomedical research scientist. He comes from Intel Corporation, where he headed the company's life sciences group. But as a cancer survivor, Dishman has a personal stake in precision medicine that he credits for helping him beat a rare form of kidney cancer. He talked about the All of Us project and the promise of precision medicine at a meeting of the Personalized Medicine Coalition on 2 May in Washington, D.C.
Most drugs today are designed, developed, and tested to treat groups of people with common disease characteristics, but as the Personalized Medicine Coalition points out, this practice leaves out large segments of the population. The group cites data from a 2001 study showing, for example, 25 percent of cancer patients, 3 in 10 people with Alzheimer's disease, half of arthritis sufferers, and 6 in 10 people with asthma do not respond to their drugs.
Precision or personalized medicine, on the other hand, is designed to make use of advances in genomics, where we define our body's chemistry by our unique DNA or genetic code. That genetic code dictates the precise mix of proteins in the body, and as a result, often determines the nature of our health and response to medications. Our health, of course, is a result of much more than DNA, including our culture, lifestyle, and surrounding environment.
Taking all of these factors into account is a complex undertaking, which until recently was difficult to contemplate, much less achieve. But along with progress in genomics come advances in information technology -- greater processing power, virtually unlimited storage, cloud computing, and artificial intelligence -- that we often lump together under the term Big Data. With these Big Data advances, it's now possible to capture, align, and integrate all of these disparate pieces of information, and most importantly, make sense out of them.
An advocate for patients and precision medicine
As Dishman explained it, it took precision medicine for he and his doctors to battle a rare form of kidney cancer, diagnosed at age 19, some 23 years ago. To understand the nature of this rare disease first required understanding the precise molecular composition of his tumor, from mutations in the DNA producing the cancer. Dishman told a hushed audience at National Press Club the diagnosis showed his disorder was more like pancreatic cancer than most kidney cancers, yet still required a kidney transplant. But as a result, he's been cancer-free since then.
That experience made Dishman into an advocate for patients and precision medicine, leading him to work in electronic health records, telemedicine, and independent living for seniors, extending into neurodegenerative diseases like Alzheimer's and Parkinson's disease, as well as cancer. At Intel, he became head of the company's health care and life sciences group, responsible for its platforms in genomics and personalized medicine, consumer wellness, and care coordination. He also was named to a panel advising NIH director Francis Collins on precision medicine.
Dishman says he got the job directing All of Us in April 2016 as a result of saying to NIH director Collins, "You know you're building a technology platform, don't you?" One can visualize precision medicine in much the same way as smartphone technology. With phones, there's the basic hardware, with chips and circuits making up the wiring. Then add in the iPhone or Android operating systems, with layer upon layer of mobile apps on top of that to personalize the technology to the needs of the individual customer.
In precision medicine, we start with our personal wiring -- genetic code in DNA -- with cultural, environmental, and lifestyle factors added to the mix to determine our health and wellness. An individual's health takes into account all of these factors, creating a holistic, yet personal picture over time for making medical decisions.
The first phase of the All of Us initiative is building a prototype model for precision medicine. The project is now enrolling 1 million individuals, who offer blood and urine samples, along with genomic data, medical histories, lifestyle, and environmental information to gain a fuller understanding of precise drivers of health and disease. People can sign up through their health care providers across the country, or at a Walgreens drug store, a 1-800 number, local not-for-profit organizations, or mobile app. Participants can access their own data, but otherwise the information is de-identified for researchers.
The All of Us project, says Dishman, will provide more than knowledge about people and their health. He aims to "nuture a relationship with a million or more people from across the United States, in all walks of life for decades." He expects participants in the project will be life-long partners in making precision health and medicine happen. The outcome of this extended participation will be the "largest, richest, data set in history," which needs to be free and easy to access, yet safeguarded against misuse.
Around this rich massive data store, Dishman wants to build an ecosystem of researchers and practitioners, from which the precision medicine platform will emerge. That ecosystem is starting this year with 60 partners, including 42 health care providers, signing up participants to get All of Us off the ground. Dishman expects subsequent releases of the platform to cover pain and cardiovascular disorders, and growing further into neurodegenerative diseases.
Scaling up to 325 million
But even with 1 million participants, the All of Us ecosystem is still a prototype. If we can build an ecosystem that provides precision medicine for 1 million people, asks Dishman, why not 10 or 100 million people? Why not extend this precision health and medicine platform to all 325 million people in the U.S.?
Getting to that kind of scale, Dishman warns is possible only if all of the supporting ecosystems are in place. Smartphones became ubiquitous in our lives because all major players joined together to make it happen. The FCC devoted a portion of the electromagnetic spectrum, network providers invested in the engineering and infrastructure, other businesses hired and trained specialists needed to operate and maintain the networks, and software developers created the operating systems and apps to run on the phones.
Intel Corp., Dishman notes, makes microprocessors, but knows full well that its fortunes depend on the health of the tech industry overall. In the same way, the health care industry needs to recognize its interdependence for precision health and medicine to work. And that interdependence extends to cultural, regulatory, and economic ecosystems beyond the traditional health care industry boundaries.
Dishman says the health care world needs to plan for the state of its ecosystems 10 to 15 years out in the same way Intel forecasts the evolution of the tech industry in planning for new microprocessors. In that time, he says, patients will likely become more active participants in their health care decisions, data will be generated from more than just medical devices and stored in files other than today's medical records, and care will be delivered through systems other than clinics and hospitals.
The All of Us project is pointing health care in those directions. It's up to the health care industry to follow that path.
About the Creator
Alan Kotok is a Washington, DC-area writer and reporter, and editor and publisher of the daily news site Science & Enterprise. Kotok was previously managing editor of the careers section at Science magazine.
Reader insights
Be the first to share your insights about this piece.
Add your insights