Halcyon the animation
Ep 2. Unbroken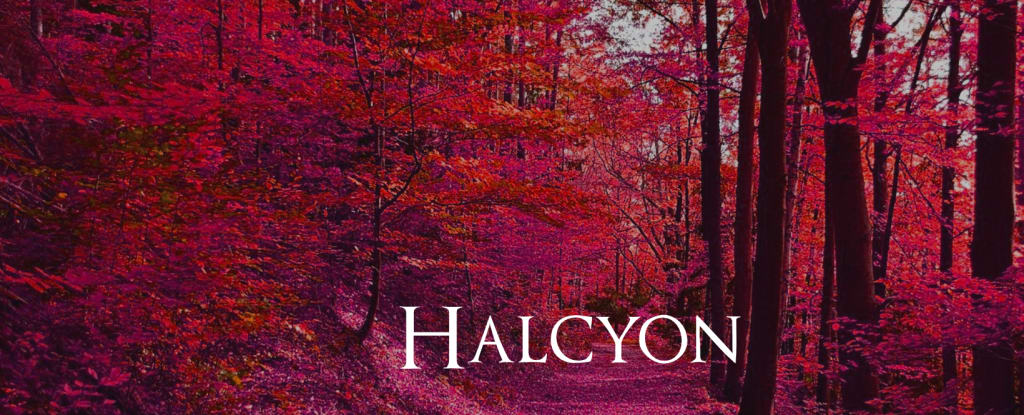 FADE IN
EXT. MERCURIAL CITY - MORNING
Rio walks down the street followed by Phee.
PHEE
Rioooo come ooooon!
RIO KENTA
no Phee, it would be a pain if someone saw. I can hear Hyria now.
Rio's left eye twitches as bird screeches, sirens, and explosions ring out in his head. Phee collapses to the ground and grabs Rio's leg.
PHEE
pretty pleeeease
Rio sighs and stuffs his hands into his pockets. he begins to walk and drags Phee along.
PHEE (cont'd)
Rioooo ow pleeeease fly ouch ugh me to schoooool oof ugh
MR.RIVALLE
smokes a cigarette and waters the flowers outside of his Shop.
RIO KENTA
Hey old man, y'know smoking is bad for plants.
MR.RIVALLE
Don't call me old man you sound like a delinquent.
RIO KENTA
Don't you know you're looking at the leader of the slimiest gang on the east coast the Mercurial Dragons
MR.RIVALLE
never heard of'em.
Phee stands up and dusts herself off
PHEE
that's because they don't exist
MR.RIVALLE
who's the kid?
PHEE
Also Rio you cant even ask for extra sauce at Burger Queen, How in the world would you lead a gang?
RIO KENTA
We call it Phee, she is sort of like a little sister
PHEE
IT!?
MR.RIVALLE
Well you better not have abandoned my little sunshine's heart.
Phee pulls Rio Down to her level.
PHEE (whisper)
Whats he on about?
RIO KENTA
you see he is a regular at the bar i play pool at. well one night he got super drunk and challenged me in pool betting his daughters hand.
PHEE
you let him win!? I've never seen anyone beat you!
RIO KENTA
Normally its easy to wipe the floor with this drunkard, but he turned up that night. who knew his daughter got him so fired up
Rio returns his attention to Mr. Rivalle.
RIO KENTA (cont'd)
look I'm sure your daughter is super nice
Mr. Rivalle grabs Rio by the shoulder and begins to shake him violently.
MR.RIVALLE
Nice! Nice! My angel is more than nice!
Rio looks over to Phee who has her phone out in an attempt to videotape.
RIO KENTA
Phee a little help!
PHEE
just a sec let him throw one punch
RIO KENTA
Phee!!!
Phee sighs and rolls her eyes as she shoves her phone into her pocket. Phee Pushes Rio and Mr. Rivalle apart.
PHEE
as much as id love for this to end up on World Star, were late.
Rio dust himself
RIO KENTA
later pops
Rio begins to walk off. Phee sighs and stomps off after him. Mr. Rivalle relights his half burned out cigarette.
PHEE (o.s.)
You cant let me flex on the snap for one day.
RIO KENTA (o.s.)
pipe down squirt I'm getting a headache
PHEE (o.s.)
Squirt!?
Phee punches Rio
MR.RIVALLE
I can see why shes so interested in those two, especially the girl.
Mr. Rivalle goes back to watering his plants.
CUT TO
INT. MERCURIAL MIDDLE - MORNING
Coach Carter stands in from of the seated children in the Gymnasium and checks attendance.
COACH CARTER
Alright kids pair up and begin stretching and warm ups.
Coach Carter shuffles off into the equipment closet. Phee looks visibly unenthused.
PHEE (V.o.)
Physical group work, Yay!
LEGACY, a slender 14 year old girl with light brown twin tail French braids thick round glasses and green eyes with bags underneath, grabs Phee by the arm. Phee startled, chuckles nervously.
PHEE (cont'd)
I guess we are partners.
LEGACY
what can you tell me about magic?
PHEE
Well not to toot my own horn but I'm pretty good at pulling rabbits out of my hat.
Legacy looks visibly unamused. Phee begins to sweat profusely.
PHEE (cont'd) (V.o.)
Rio is going to murder me.
CUT TO
INT. MERCURIAL HIGH - MORNING
Rio sits with his arms crossed and his head down on his desk. He sneezes.
RIO KENTA
Dammit Phee, What did you do now?
NIRO, a 16 year old Japanese boy with glasses blue eyes and jet black shoulder length hair, sits down at the desk in front of Rio.
NIRO (o.s.)
Psst … psst … Rio
Rio slowly raises his head. Niro smiles at him. Rio drops his head back into his arms.
RIO KENTA
Sup Niro
NIRO
How are you enjoying the manga I lent you?
Rio springs up and throws his head back over his chair. he then grabs his forehead with his left hand.
RIO KENTA
Duuude I haven't even had time to read it
NIRO
what? really? I would've thought with how much school you've been missing that...
Rio puts his right hand up while leaning forward onto his left arm still holding his forehead.
RIO KENTA
Family stuff its complicated you wouldn't ….ok you'd probably understand but you'd think I was talking about some anime or manga.
NIRO
Dude try me
Rio sighs and drops his head with a SLAM onto his desk.
CUT TO
INT. MERCURIAL MIDDLE - MORNING
Phee and Legacy are stretching.
LEGACY
Look I've exhausted all the internet has to offer, nothing but hoaxes, tourist traps, and dead end leads, but you...you seem to be emitting an energy I've never encountered in such large quantities before.
PHEE
ok sure but um run that by me one more time, when exactly did you get this data or whatever?
LEGACY
when you collapsed in the hallway I was the one who got a teacher but before that I used my EMPA to scan you.
Phee turns bright red
LEGACY (cont'd)
why are you getting embarrassed, it was purely scientific.
Phee covers her face. Legacy sighs and rolls her eyes.
PHEE
look I don't know either I'm about as useful as the internet.
LEGACY
if you have any information I do not I want it.
PHEE
fine fine but lets continue this after school I'm afraid a lizard is snooping around.
CUT TO
INT. MERCURIAL HIGH - MORNING
Rio sneezes.
RIO KENTA
oh Phee is in so much trouble when I see her.
CUT TO
INT. MERCURIAL MIDDLE - MORNING
Legacy looks puzzled shrugs it off and nods in agreement.
LEGACY
That is fine, 5pm Mercurial Public Library, don't be late.
Phee nods. the bell rings.
CUT TO
INT. PHEE'S HOUSE - AFTERNOON
Hyria sits on the couch and read a book with a cup of tea. Rio opens the door and enters the house.
HYRIA
Rio, Can you take out the trash.
Rio slowly walks upstairs. Phee opens and enters the house.
HYRIA
How was your day Phee?
Phee smiles nervously.
PHEE
normal...just a normal average day.
Hyria closes her book and turns around. Phee begins to sweat profusely.
HYRIA
What is Rio doing, I told him to take out the trash.
PHEE
oh I saw him flying away as I walked up.
Hyria removes her glasses and rubs her eyes in frustration.
HYRIA
Phee can you please take out the trash.
PHEE
No problem, by the way I'm going to hang out with a friend if that is ok.
Hyria nods.
HYRIA
That's fine, but if you see Rio let him know he is in a world of trouble.
Phee salutes and grabs the trash.
PHEE
will do captain!
Phee leaves.
CUT TO
EXT. MERCURIAL CITY PARK - AFTERNOON
Phee walks through the park. she stops to tie her shoe on a bench. Rio hangs upside down from a tree behind Phee. he begins to chug his guitar menacingly. Phee freezes and begins to sweat profusely.
RIO KENTA
Got something on your mind?
PHEE
n... n n… no
RIO KENTA
now see id love to believe that but my nose says otherwise.
PHEE
your n.. n n.. nose?
RIO KENTA
All morning I was sneezing like crazy and that usually means one of two things.
Rio jumps out of the tree and begins to circle Phee.
RIO KENTA (cont'd)
One, someone is dissing me or two..
PHEE (interrupting)
Allergies?
Rio smiles then chuckles
RIO KENTA
Yes Phee Allergies, and you know what I'm allergic to?
PHEE
pollen?
RIO KENTA
No, I'm allergic to that shady smell coming off you now spill, where are you going?
Phee sweats a puddle underneath herself.
PHEE (V.o.)
Crap Phee Think... think think… oh wait!
PHEE (cont'd)
I'm on my way to hang out with a friend!
Rio whips around.
RIO KENTA
What?
PHEE
you heard me
Rio grabs Phee and lifts her into the air. Rio hugs Phee and kisses her cheek. Phee struggles. Rio puts her down. Phee wipes her cheek off. Rio cries tears of joy.
PHEE (cont'd)
ew dude gross
RIO KENTA
finally my awkward caterpillar emerges from her cocoon a butterfly
PHEE
please stop
Rio grabs Phee's hands.
RIO KENTA
what can I do to help this friendship blossom?
PHEE
well there is one thing
FADE TO
EXT. YE OLDE CANDY SHOPPE - AFTERNOON
Rio and Phee exit the candy store
PHEE
Thanks big bro this should make up for my tardiness.
Rio plays Phee off.
FADE TO
INT. MERCURIAL PUBLIC LIBRARY - AFTERNOON
Phee enters the library and heads to a table in the back. She puts her bag down.
LEGACY (V.o.)
I said don't be late.
Phee spins around and grips her chest.
PHEE
Dude what the fuck my heart almost exploded.
LEGACY
you're reason for being late better be good.
Phee takes a moment to regain her composure, she opens her bag and pour the candy onto the table.
LEGACY (cont'd)
I will not be bribed
PHEE
Try saying that without drooling.
Phee giggles. Legacy wipes her mouth and takes a seat. she pulls out a small laptop.
LEGACY
alright so lets start, tell me everything you know first and ill fill in what gaps i can.
PHEE
Fine, Supposedly everything was....
Phee's eyes go blank. she slowly falls out of her chair slaming on the floor
CUT TO
EXT. TERRA SCAPE - NIGHT
Phee lays in the grass asleep.
ILYA (V.o.)
Phee Halcyon, Wake up.
Phee rolls over
PHEE
Five more minutes Hyria this is a good dream
Ilya approaches Phee, it lowers it head and snorts on Phee.
ILYA
Rise Child
Phee rolls over and yawns
PHEE
what...how did I get here....
Phee stretches.
PHEE (cont'd)
here?
ILYA
We must talk about your reckless behavior as of late, Child.
Phee sighs and stands up as she dust herself off.
PHEE
do you have a name?
ILYA
w.. wh.. what?
PHEE
you keep calling me child, I have a name its Phee, so Whats yours?
ILYA
my name?
Phee looks visibly irritated.
PHEE
yes, what is it?
Ilya lowers its head.
ILYA
my apologies Phee halcyon, I am Ilya The Unbroken
PHEE
Just Phee is fine
Phee sits in the grass.
PHEE (cont'd)
Now Ilya, why the sudden interruption.
ILYA
You trust far to easily the intentions of this child...
PHEE
Legacy
ILYA
The intentions of this Legacy are unclear, plus I've noticed some etheric energy is her life essence.
PHEE
shouldn't that be more reason to trust her, the information she could provide should be more credible.
ILYA
credible or not we cant..
PHEE (interrupting)
no no no no don't talk to me about trust, you and Hyria are hiding something, you've been all but silent since my first time here, and Hyria has been struggling to hide this pained expression when she looks at me!
ILYA
Phee... Listen its complicated
PHEE
I'm not some immature child, I'm going to find answers with or without you.
Ilya morphs into A golden clone of Phee with antlers.
ILYA
Then I Challenge you to a duel, if I win you end this nonsense.
PHEE
Then I guess you cant win huh.
Ilya nods and takes a fighting stance. Phee charges. Ilya throws a jab. Phee dodges and grabs Ilya's torso. Ilya elbows Phee in the back. Phee drop. Ilya knees Phee in the face as she comes down.
ILYA
Phee you will learn everything in a timely fashion, I don't want to hurt you.
Phee wipes the blood from her nose.
PHEE
you say that after breaking my nose.
ILYA
do not be dramatic it is not..
Phee stares blankly at Ilya as she sets her nose.
PHEE (mockingly)
Its not Broken.
Phee lunges and tackles Ilya. They Grapple around. Phee puts Ilya in a headlock. Ilya struggles, and Phee tightens her grip. Ilya clumsily rises to her feet. She slams Phee into a tree. Phee tightens her grip. Ilya throws all her weight into the tree. Phee lets go and falls. Ilya spins around and kicks at Phee. Phee dodges rolls out of the way. Ilya kicks at Phee. Phee catches her foot. Phee smirks. Ilya smirks and spins. She kicks Phee in the head. Phee spins 3 times and slams into the dirt.
ILYA
Had enough?
Ilya approaches the motionless Phee. Phee grabs her leg and roll. Ilya catches herself and flips. She throws Phee onto her back.
ILYA
you are tougher than I projected , but you are still far to unworthy.
PHEE
What can I say Rio is a thorough older brother.
Ilya smirks.
ILYA
Then let the true test begin.
Ilya begins to glow light orange.
ILYA (cont'd)
Magic skill Giant's Blood, My strength and durability are increased 10 fold.
PHEE
Wait that isn't fair.
Ilya sighs and rolls her eyes.
ILYA
Fine Phee, To use this ability you must allow nature energy to flow in and out of you with little to no resistance the less resistance the stronger the spell.
PHEE
Even though you told me that, I'm assuming I wont get time to practice?
Ilya smiles.
ILYA
Correct
Ilya launches at Phee with an explosive take off. Ilya cocks her arm back for a punch. Phee throws up an unstable guard. She begins to faintly glow light orange. Ilya punches Phee and the veil shatters. Phee is launched through several trees.
ILYA
she couldn't have?
Phee pushes the debris off of her. Ilya appears in front of Phee. Ilya cocks back for a kick. Phee Guards. Phee begins to faintly glow light orange. Ilya kicks Phee and the veil shatters. Phee is launched into the air.
ILYA
I'll need to finish this before she figures it out.
Ilya jumps with an explosive take off. Ilya hits Phee with a lariat. Phee spins out of control. Ilya spikes Phee into the ground with cataclysmic impact. Ilya lands softly.
ILYA (cont'd)
Give up Phee.
BEAT
ILYA (cont'd)
Maybe I went a little.
The dust and debris begin to settle.
ILYA
No way.
The debris and dust clear to reveal Phee covered in a light orange veil. Phee smirks mischievously.
PHEE
Magic Skill Giant's blood
Ilya slow claps.
ILYA
Congratulations Phee Halcyon, The 8th Guardian of Terra. you have proven yourself worthy of the title but this battle is far from finished.
Ilya summons a golden staff with a red ribbon tied to the end. Ilya jams the ribbon less side into the ground. She pulls it out with a giant hammer like boulder. Ilya rapidly spins the hammer before she points the business end at Phee.
PHEE
More cheats?
ILYA
If you want a weapon you're going to have to take it.
Phee rolls her eyes.
PHEE (Mockingly)
If You want a Weapons You're going To Have To Take It.
Ilya launches at Phee. She slams her hammer to cause a smoke screen. Phee guards and searches frantically. Ilya pops out the smoke and swats at Phee. Phee Guards and is launched through the forest. Phee quickly recovers. Ilya begins to spin like a top and chases Phee. Phee catches the hammer and stops with a slide. Ilya pushes the hammer forward. Phee is thrown off balance. Ilya jabs the hammer at Phee. Phee Punches it. Ilya slides back a bit. Ilya uppercuts Phee with the hammer. Phee is launched into the air. Ilya appears and swats at Phee. Phee punches the boulder and It shatters. Ilya prepares for another spell. Phee punches Ilya in the gut. Ilya launches into the ground. Ilya quickly recovers. Ilya jams the golden staff into the ground. Phee comes down with a kick. Ilya steps back and dodges. Phee throws a punch. Ilya dodges and goes for the staff. Phee throws a kick that blocks Ilya from the staff. Ilya Dodges. Ilya throws a punch at Phee. Phee blocks and is launched through several trees. Ilya runs and grabs the staff. Phee runs out the forest and grabs the staff. she swings around and kicks Ilya in the chest. Ilya is flung through the forest. Ilya now back in deer form rises from the debris. Ilya approaches Phee.
ILYA
Phee Halcyon The 8th Guardian of Terra, have passed my test and have been officially recognized as the next Guardian.
The staff condenses into a light orange crystal shard. Ilya picks it up and walks over to Phee.
ILYA (cont'd)
Open your hand child.
Phee glares at Ilya and holds her hand out. Ilya drops the crystal shard into Phee's hand.
ILYA (cont'd)
We have much to discuss, but you must first go home to The Guardian of Radiance.
PHEE
wait what is this?
ILYA
all will be explained, later child. Mentally Prepare yourself.
Phee opens to her mouth but is interrupted by an explosion of bright white light.
CUT TO.
INT. MERCURIAL PUBLIC LIBRARY - EVENING
Phee opens her eyes slowly. she begins to focus and notices Legacy. Legacy says something inaudible.
PHEE (Muffled)
what?
Phee adjust herself and notices CAMELLIA, a 13 year old Japanese girl with long straight jet black hair and blue eyes, hovering over her. Phee flushes bright red and lifts up. Phee and Camellia smash foreheads. Phee falls back and grabs her forehead. Camellia grabs her forehead.
PHEE (cont'd)
I'm so sorry.
Camellia giggles.
CAMELLIA
Don't worry about me, I saw you collapse are you ok?
Phee sits up and giggles nervously
.
PHEE
oh that, don't worry it happens sometimes.
CAMELLIA
oh wait I know you two! class C right?
LEGACY
yea?
CAMELLIA
I'm from class A, our classes have lunch together.
PHEE
oh I've never noticed.
CAMELLIA
well I make my own lunch so I eat and then go to the library to read.
PHEE
Oh that's pretty cool.
Camellia smiles and extends a hand to Phee.
CAMELLIA
Kajiyama Camellia.
Phee grabs her hand and smiles back with a little blush.
PHEE
Phee...Phee Halcyon
LEGACY
Legacy Rivalle
CAMELLIA
Nice to meet you both.
Camellia catches a glimpse of her watch. she lets go of Phee's hand and examines her watch closer.
CAMELLIA (cont'd)
oh no I'm going to be late for the dinner rush.
Camellia frantically packs her things.
CAMELLIA (cont'd)
I hope to see you guys at school, buh bye!
Phee waves and grins star struck. legacy squats next to Phee.
LEGACY
Now who is the drooly one?
Phee turns bright red and stares at the ground. legacy stands up and begins leaving.
LEGACY
Its getting late, lets pick this up some other time. see ya Phee.
Legacy exits. Phee stands up and packs her stuff up.
PHEE
she ate all the candy.....jerk.
CUT TO:
EXT. PHEE'S HOUSE - NIGHT
Rio sits on the roof and plays his guitar softly.
CUT TO:
INT. PHEE'S HOUSE - NIGHT
Hyria and Phee sit across from one another in a meditative fashion. Hyria glows white and Phee glows lights orange.
CUT TO:
EXT. TERRA SCAPE/ RADIANT SCAPE - NIGHT
The Terra Scape is merged with a temple of pure light. Hyria sits and pets Ilya. An Owl of white light sits in Ilya's antlers. Phee sits across from them.
HYRIA
First I'd like to congratulate you on passing Ilya's trial, Ilya being one of the most powerful spirits it is no easy feat to best them in battle.
PHEE
Thanks i guess.
ILYA
You have proven to have a stronger affinity for magic than any Guardian before you. Please show us the Crystal I gave you earlier.
Phee reaches into her pocket and removes the crystal.
HYRIA
That is what is known as an etheric Terra shard, taken from the primal source of Terra magic, it is bestowed upon every guardian but contains the primal source of their respective magic. and someday you will activate its power and draw out your very own Magic weapon.
Phee looks starry eyed.
HYRIA (cont'd)
Now Phee. Most guardians spend their whole lives being trained to house a spirit and bring balance to 7 realms, sadly you did not get that luxury for several reasons.
ILYA
the first being your Mother. She wanted you to live a normal life which is why you were sent to the lesser realm.
HYRIA
But it seems she had a change of plans.
PHEE
what....what do you mean?
Hyria opens her mouth to talk but instead burst into tears. Ilya and Phee engage deep eye contact.
PHEE (cont'd)
is...is she dead?
ILYA
No...or at least she wasn't before i ended up with you. she must have performed the ritual of selection.
PHEE
The ritual of selection.
ILYA
Yes before the Etherealm achieved the prosperity it has achieved in recent years guardians were designated when the current reached the age of 45 they perform a ritual to the highest achieving trainee in their clan to receive the spirit, but due to the calm most people just stay the guardian until they die and let it pass randomly within their clan.
Hyria stops crying for a moment.
HYRIA
possible since she took a vial of Phee's blood before she left. but that ritual hasn't been done is ages who could have taught her that?
ILYA
It matters not. Phee is the new guardian and I don't know much about what Scarlett was up too but I fear something ominous coming, for now we must train Phee and prepare her for the daunting task I am sure are to come.
Phee nods. Hyria wipes her tears. the Deer stands. An explosion of light envelopes the group.
CUT TO:
INT. PHEE'S BEDROOM - NIGHT
Phee lies in bed staring at her ceiling. She reaches up towards it. she stares at the antler tattoo on her hand.
PHEE (V.o.)
Mom...did you really make the right choice?
Phee drops her hand and returns her gaze to the ceiling.
PHEE (cont'd) (V.o.)
what were you doing that was so dangerous?
Phee rolls over.
PHEE (cont'd) (V.o.)
I hope you'll be able to tell me someday....I hope you're ok.
Phee falls asleep.
CUT TO:
EXT. MERCURIAL CITY - NIGHT.
We see a cloaked figure standing on a light post overlooking the city. the moon is full behind them. we zoom into the figures face. we only see their mouth. they smile with exposed teeth. We zoom out. the figure turns translucent like water. The figure splashes down the post.
FADE OUT
END