Giancarlo Esposito Teases That The Darksaber "Is a Key" in 'The Mandalorian' Season 2
October simply cannot come soon enough.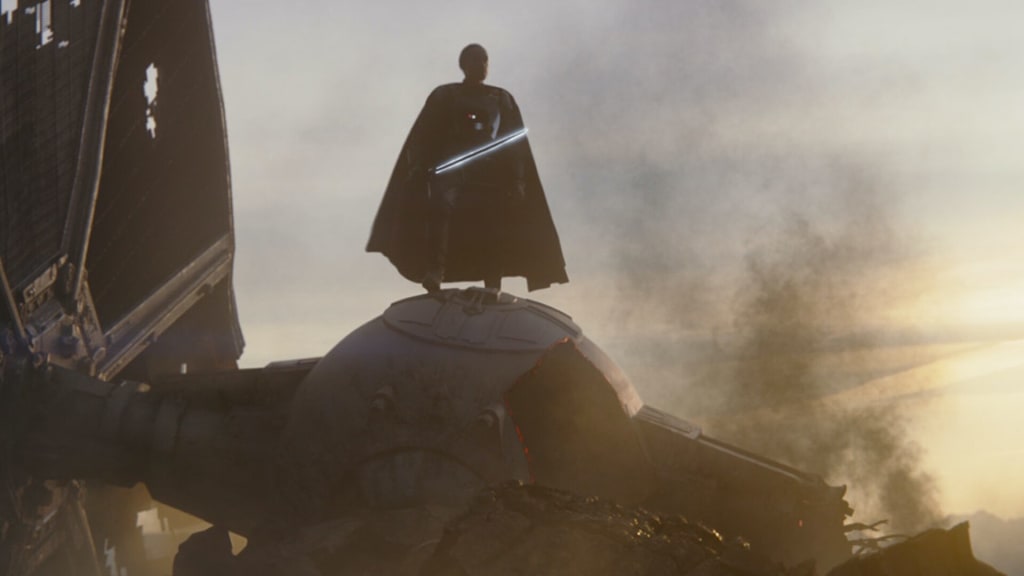 In the wake of the conclusion of the Skywalker saga with last year's The Rise of Skywalker, and with season 7 of The Clone Wars closing out the show this past May, Star Wars fans are clamoring for more content. While the film series and animated television show have drawn to a close, the Star Wars Disney+ shows are, fortunately, just getting started. Last year's first season of The Mandalorian was a resounding success, and with season 2 set to air in October of this year, speculation and excitement abound in regards to where the story might go from here.
While there are many ideas floating around about what is next in The Mandalorian -- like theories about the origins of The Child (or "Baby Yoda" to some viewers) and potential cameos of fan favorite characters like Ahsoka Tano -- one of the most mysterious and intriguing aspects is what is to come of Giancarlo Esposito's character Moff Gideon. At the end of season 1, Gideon weilds the Darksaber, a Mandalorian weapon featured prominently in The Clone Wars and Rebels. Questions of how Gideon obtained the saber and why he wields it have been raised, and recently, actor Giancarlo Esposito had a few things to say about the importance of Moff Gideon and his attachment to the mysterious weapon.
In an interview with DeadlineEsposito chatted about season 2 of The Mandalorian and specifically Moff Gideon's role within it. When asked about the Darksaber, he had this to say:
"[The saber] is a key to Moff Gideon's past, which possibly has a lot to do with where he comes from and his desire to build a planet and bring it back together."
He also said that we will get an explanation of what the saber means to the "modern world" of Star Wars, and that we will learn both where it came from and how Gideon came to obtain it. Esposito said that Star Wars fans "don't know how extra special [Gideon] is yet," which means that he will play an integral role in season 2 along with his legendary weapon.
Esposito has also teased that Gideon might even be Force-sensitive, which may explain his connection to the Darksaber and make him an even more formidable villain in the show's second season. In an interview with Entertainment Tonight, Esposito said that Gideon's use of the Darksaber suggests the possibility that "he is, ya know, one of the ones, ya know, like, he possibly has that." While Esposito's wording was intentionally vague, it seems pretty obvious as to what he is alluding to. If Gideon is indeed Force-sensitive, that would open up a whole host of possibilities for where the series might be able to take his character, and how he might tie into the larger Star Wars mythos.
With big plans for season 2 even with just Moff Gideon alone, it is clear that Lucasfilm intends for the series to continue branching out into the larger Star Wars universe. The series earned an impressive 15 Emmy Nominations, and will hopefully even garner some wins at the September 20th awards show. Giancarlo Esposito himself was nominated for Outstanding Guest Actor in a Drama Series for his role as Moff Gideon, and Taika Waititi was also nominated for his voice work with the droid IG-11, in the category of Outstanding Character Voice-Over Performance.
The Mandalorian is a huge win for LucasFilm. Not only is it popular with audiences, but it is clearly resonating with critics, as well. We hope this means that the series will be around to stay, and also that this will encourage speedy production on the other Disney+ Star Wars projects coming down the line.
Written By Alex Cherry
Syndicated from Culture Slate