Fire Fighting Ice
Extreme fire fighting in ice cold conditions requires extreme preparation.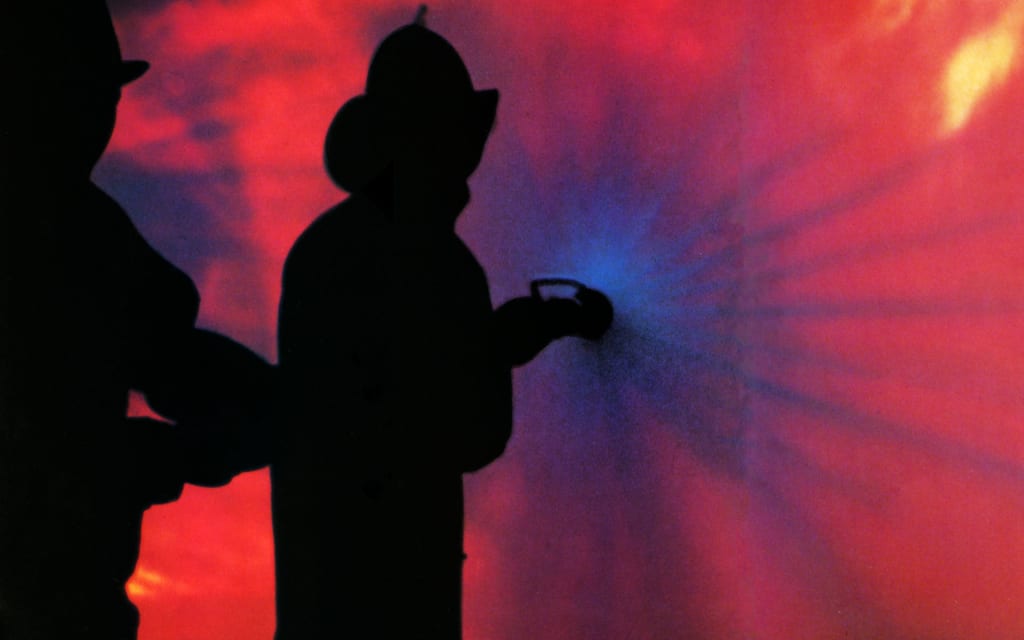 On a cold Christmas Day a long time ago, a five-alarm fire at 2724 Heath Avenue, in the Bronx, New York City, raged out of control for more than five hours before firefighters were able to subdue the flames. Firemen arriving at the scene found hydrants locked solidly with ice and were forced to use 750-gallon pumpers. While the firemen attempted to unfreeze pumper spigots with acetylene torches, flames raced through the cockloft of the six-story white-brick building and spilled from the windows on the upper floor. Firefighters battled the flames from fire escapes on the face of the building, but intense heat drove them off the ice-coated metal stairways. From the street below, Fire Commissioner Charles Hynes watched as the icy spray from water cannons pelted the street with golf-ball-size hail. "These were the most difficult circumstances under which we had to operate," he said, referring to the arctic weather and the immense volume of water needed to extinguish the blaze. "If it had been summer, it would have been a one-alarm, easy," said a department spokesman.
Instead, 200 men from 40 companies worked to extinguish the fire. "Winter fire fighting is a different ball game," says East Harlem firefighter John McKernan. "We ride outside on the truck. I work in a tower ladder company, and when you're wearing so many clothes, it's not easy to move around. We have to do a lot of climbing and jumping around on roofs, which isn't easy when you're wearing 50 pounds of clothing."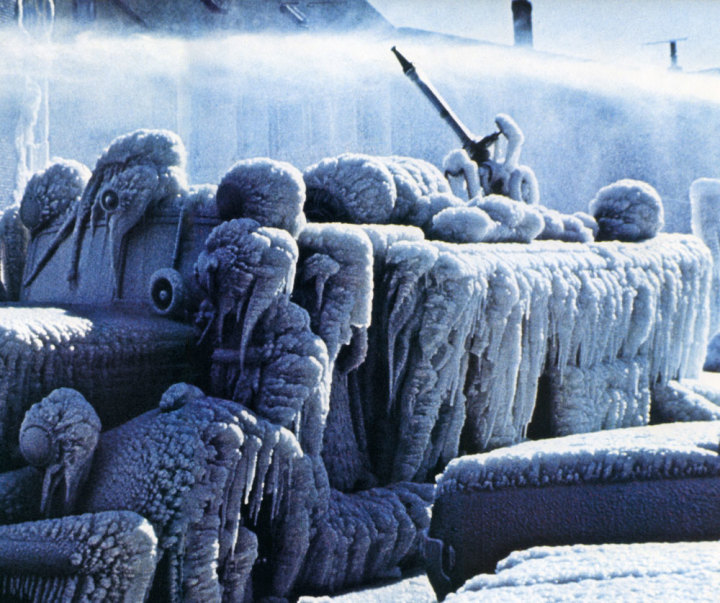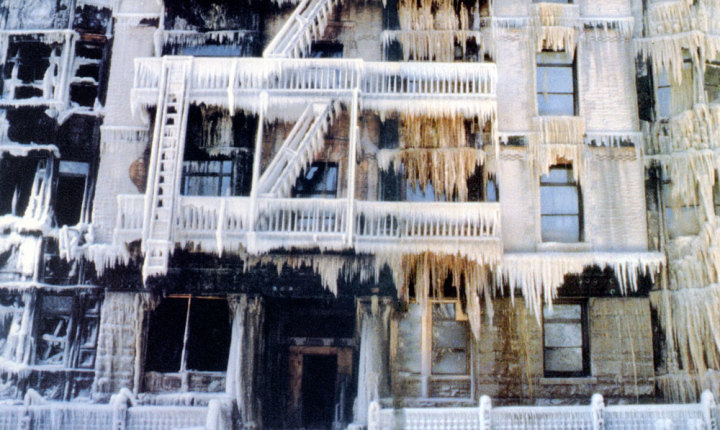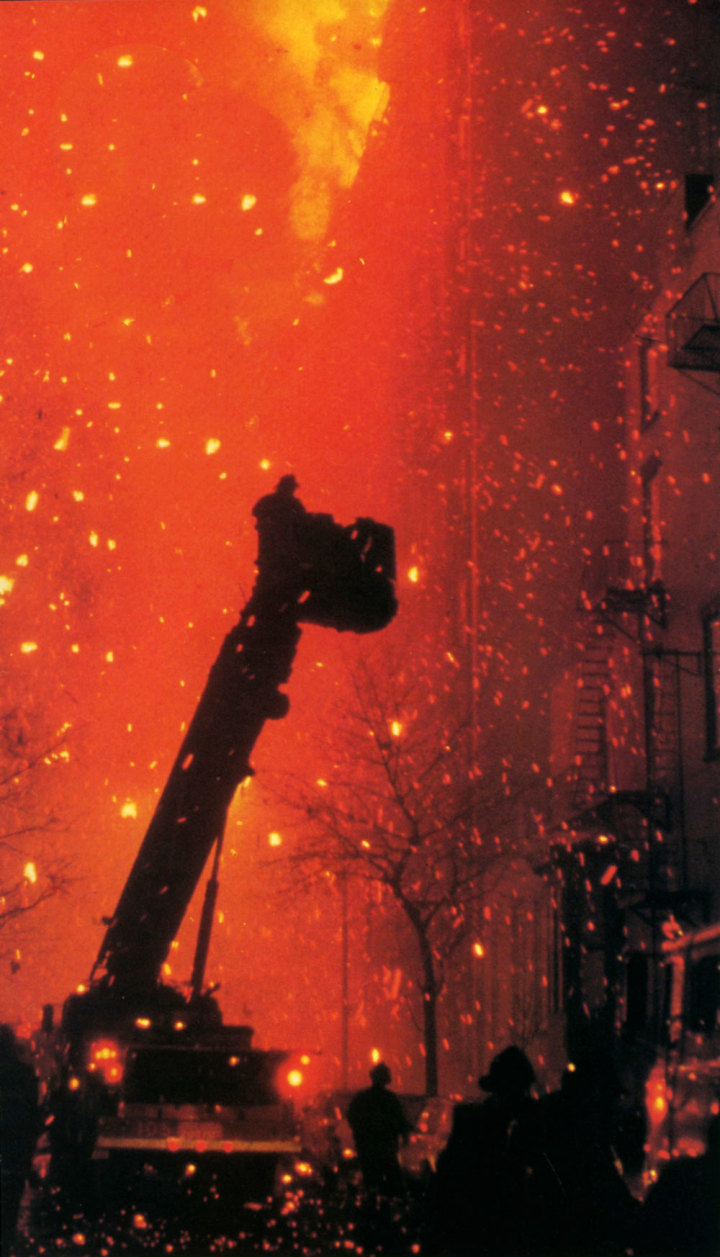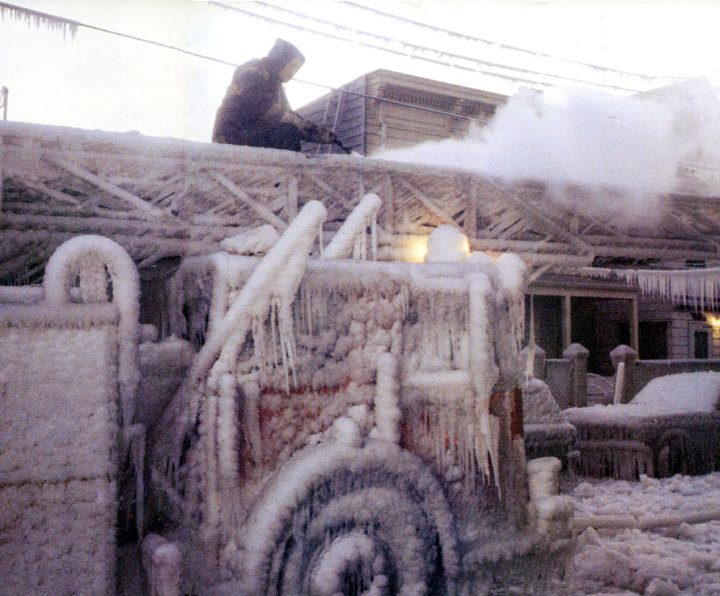 Winter Fire Fighting Gear
Selecting the right gear to work in extreme cold and harsh weather conditions can be life saving. Firefighters who are not used to working under extreme cold must always remember to wear their gear with appropriate winter reinforcements and make sure they can be replaced in case they get wet. Simple items such as thick balaclavas and neck gaiters can guarantee a warmer face and neck. Underneath their turnout coat, winter firefighters have on thick sweaters over their polyester undershirt which helps wick moisture from the body. Experienced firefighters though, caution against sacrificing too much mobility when prepping for a winter blaze in ice conditions.
Although fire is fire, it feeds ferociously in the winter. Somehow, it's harder to put out in the cold. Winter weather slows down movement, everything turns to ice, and aerial ladders, which are hydraulically operated, tend to freeze. "We've had to literally chop guys out of buckets," says McKernan. In the Bronx Christmas Day fire, firemen had to abandon an aerial ladder truck after spray from a hose froze, paralyzing the truck's mechanisms. "We try to keep the ladders moving," a fire chief says. "We lower them a little and pivot them so that the ice cracks as soon as it forms." If the ice doesn't get in your way, the cold invariably does. "You get wet from the hose, you get wet from perspiration, and the wind and the cold just go right through you," said Battalion Chief Anthony Lambiase of Rochester, New York. "Your clothes in subzero weather get like boards, so you can hardly move. Your fingers and your toes become painful appendages; You can hardly manipulate your limbs." First signs of the dangerous effects the severe cold has on a human body can be spotted at the extremities. In preparation, firefighters use thin neoprene gloves that can be worn under their flaming-resistant gloves. These gloves help retain heat and act as a barrier against wind and water. There is no question that even the reinforced rubber boots will freeze when walking in snow or ice, so firefighters wear thick pairs of socks and impact absorbing insoles to prevent the loss of heat of their lower extremities. A firefighter's boots are a top priority in preparing for extreme firefighting.
The Tactical Firefighter by Wildland are made of long lasting rough-out leather and are fire resistant. The moisture-wicking inner mesh lining keeps warmth in, and feet dry. Everyone's perfect boot for outdoors, built for the extremes.
Equipment Wear and Tear
The equipment also takes a hell of a beating. Ice cakes not only on the ladders but all over the equipment, making it difficult to handle, "The minute you get a slowdown in water flow the water will freeze in the hose, so you lose water pressure," Lambiase went on to say. "The hydrant fills with water and becomes frozen and completely useless." Fire Departments go to great lengths to make sure equipment is properly maintained, preventing malfunctions in the field. In an Ames, Iowa fraternity house blaze, firemen worked in temperatures of 16 below zero with 30-mile-per-hour winds. Ice was so thick that the fire equipment froze in place and a huge crane had to be used to break it loose. "Picking up after the fire is horrendous," says Lambiase. "All your equipment is completely frozen solid. You have to bend the hose in 25 lengths in order to get it on the rigs to get it back to thaw it. You just can't handle it. The extra work that's involved in handling all this frozen equipment when you are cold and wet and miserable just makes firefighting a hundred times, a thousand times, more difficult."
Not all fire departments, however, are so frustrated by frigid conditions. In Minneapolis, where the temperature is 32 degrees or lower 158 days a year (compared with 81 days for program New York City), aggressive preventive maintenance by the city fire and water departments has helped to avoid some of the problems many other firefighters continue to encounter. "Our water department has a prevention program where they check out hydrants," says an assistant chief of the Minneapolis Fire Department." They check the seals and put lubricant in them so water won't freeze in the barrels of the hydrant. And our water mains are farther underground than in many cities, so they don't freeze." Minneapolis may be cold, but in Alaska, the word frigid takes on new meaning. "When it's 65 degrees below zero, you'd better be damn sure the fire's out before you shut down the water," says Bill Shechter, fire chief at the University of Alaska Fire Department in Fairbanks. "At those temperatures, hoses can become plugged with ice quickly. As a result, extra care must be taken not to shut off the water until the last hot spot is doused." In order to give student firefighters a realistic view of winter firefighting, the university fire department continues outdoor training until the temperature hits zero. "It's important that they know how to climb a slippery ladder and drag a hose in the cold," said Shechter. "People can't believe our firefighters keep training in those temperatures." It is important that men and women training in these conditions have the right amount of body protection, and appropriate gear. Being prepared can save your life.
Hellen Hansen's Fargo Pant is a base layer for protection form the elements. Its blend of Belton, kernel, and viscose is soft to the touch, but will stand up to extreme cold.
Personal Safety
Under extreme weather, snow accumulation on roofs turns into a hazardous threat and roofs caving in while in the midst of battling a blaze is not uncommon. The extended fire fighting takes its toll on the crew. Firefighters make sure to rotate throughout the struggle, hydrating, and avoiding exhaustion. Counterintuitively, gear is left outdoors after a firefight. Left outdoors, there is no heat to cause the ice and snow to melt and soak the gear. There is no certainty that the gear won't be needed again, and a firefighter cannot risk freezing his gear once he goes out in the field again. It's best to brush away the ice and snow excess on the gear and simply replace any wet accessories such as gloves and socks.
Even adventure photographers, who have to brave the harshest elements to get their shots, are stunned by the brutal circumstances under which firemen must perform. Gary Benson, a volunteer fireman in a Rochester suburb, recalls the most brutal fire he ever photographed. "The coldest one I've ever been to was a five alarm in Staten Island. It was 10 degrees below zero and there were winds upward of 30 miles per hour. The cold just went through layer after layer of clothing. I was blasting the heat in the car all the way home, and only after I was under the electric blanket for a few hours did I begin to warm up." Fire and ice are a deadly combination, and the last thing you want to touch in winter is water—unless, of course, you're a firefighter.
habitat
humanity