Film Review: 'The Humanity Bureau' Arrives in Select Theaters and VOD and Nicolas Cage's Character Is Barely Bonkers in It
The sci-fi dystopian global warming thriller is finally here and it isn't what you would expect from viewing the trailer.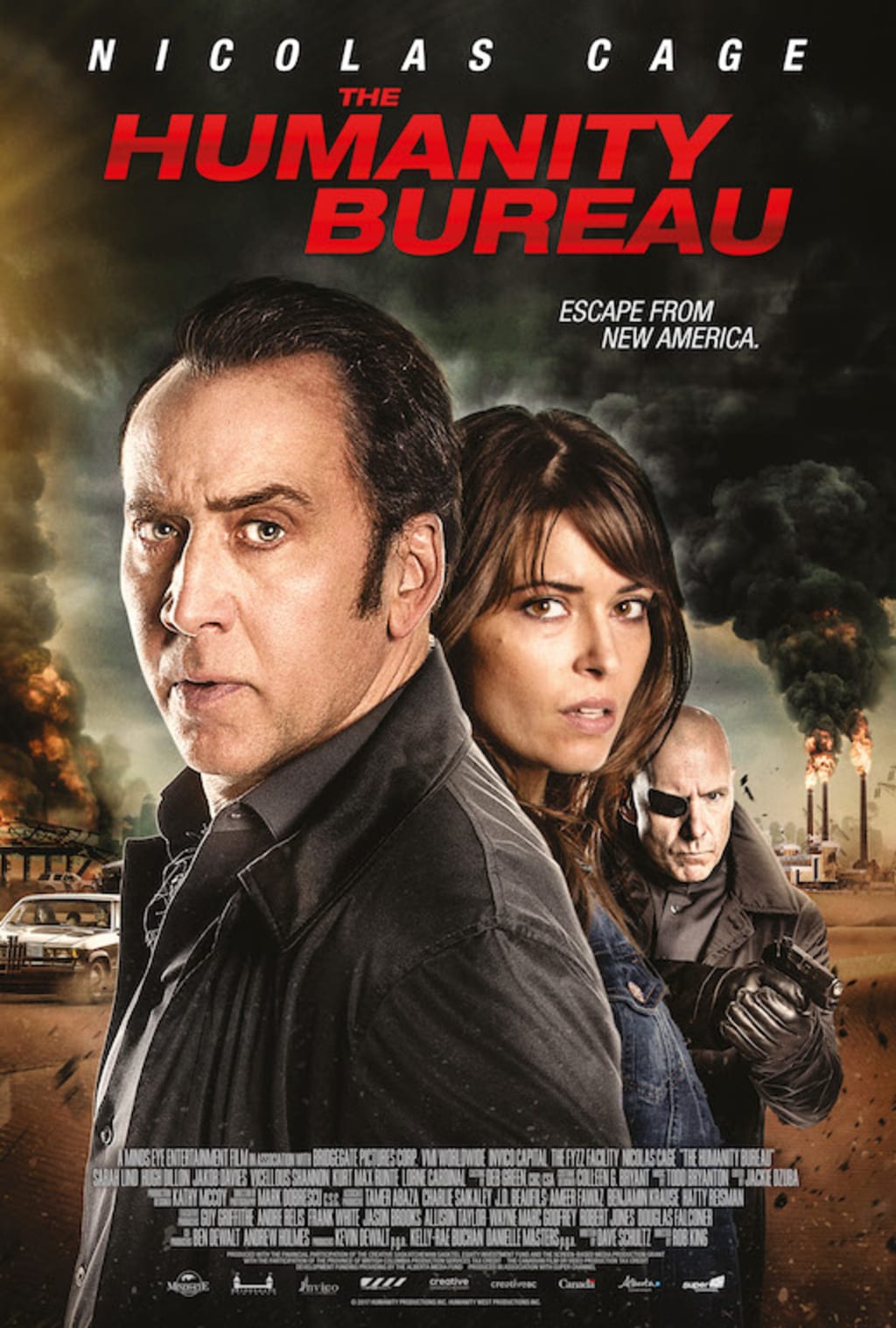 Nicolas Cage's
new film,
The Humanity Bureau
is a Canadian indie suspenseful thriller film shot in British Columbia, Canada. It has finally dropped in the US at select theaters, VOD, and iTunes on April 6. It's also available in VR format on the
Oculus
website and other media platforms. Without any spoilers, the story is about climate change and global warming and its main protagonist government agent—Noah Kross, played by
Nicolas Cage
who is sent to investigate a case involving a single mother Rachel Weller, (
Sarah Lind
) and her 11-year-old son Lucas (
Jakob Davies
). While on assignment, he discovers the secrets of "The Humanity Bureau" and attempts to unlock its agenda; once and for the sake of all "humanity!" The film also stars
Hugh Dillon
as Adam Westinghouse, Noah Kross's boss. Hugh is the lead singer of the rock band, '
Headstones
'. The end credits roll with their song, "
Done The Math
." The film is directed by
Rob King
and produced by
Kevin DeWalt
for
Minds-Eye Entertainment
and is also produced by
Danielle Masters
. The screenplay is written by
Dave Schultz
.The film is unrated.
The Revolution begins now.
The film is very entertaining from start to finish. There's never a dull moment in the movie. Nicolas Cage is brilliant in his role as the hero government agent, Noah Kross. He starts a "revolution" after uncovering the truth of The Humanity Bureau government agency and then all hell finally breaks loose! The entire cast and crew did an amazing job assembling the project together. The acting is very convincing and real! Nic has mentioned in interviews that his favorite genre is science fiction!
There are some unexpected twists and turns in the film that unfold but you have to witness the movie for yourself as I won't reveal them here! I highly recommend viewing it twice— because the first time you may miss some clues! The film is relevant to our current society with global warming and the anarchic government trying to maintain their control over US citizens so they think we don't have the ability to overthrow them. They're wrong. We're waking up! Power to the American people... We do have the power and they fear us! The photo of Trump in the film is a hint!
Never judge a film by its trailer.
Don't let parts of the trailer fool you when he is yelling. There are some intense emotional scenes but it's not what you think. His character is very calm in many of the scenes and there's very few or hardly any displays of his famous "Cage-Rage" unlike his latest black comedy/horror flick, Mom And Dad where he really shows off his off-the-wall eclectic acting style. There's lots of action-packed car chasing, gun violence and everything in-between but it's not that usual type of Cage film that we're all used to! Neither was his recent film, Looking Glass which is also available On-Demand. Nic prefers working on indie films nowadays compared to the days of his blockbuster films, The Rock and Leaving Las Vegas to name a few.
What's next For Nic Cage?
Nic is currently in production of two films, one which I covered in one of my articles on Geeks called Running With The Devil and the other is called Primal which involves working with wild animals. It's being filmed in Puerto Rico where the natives are still recovering from the massive hurricane that affected the lives of many residents there.