Empty Coffee Cup
A Sci-Fi Play in One Act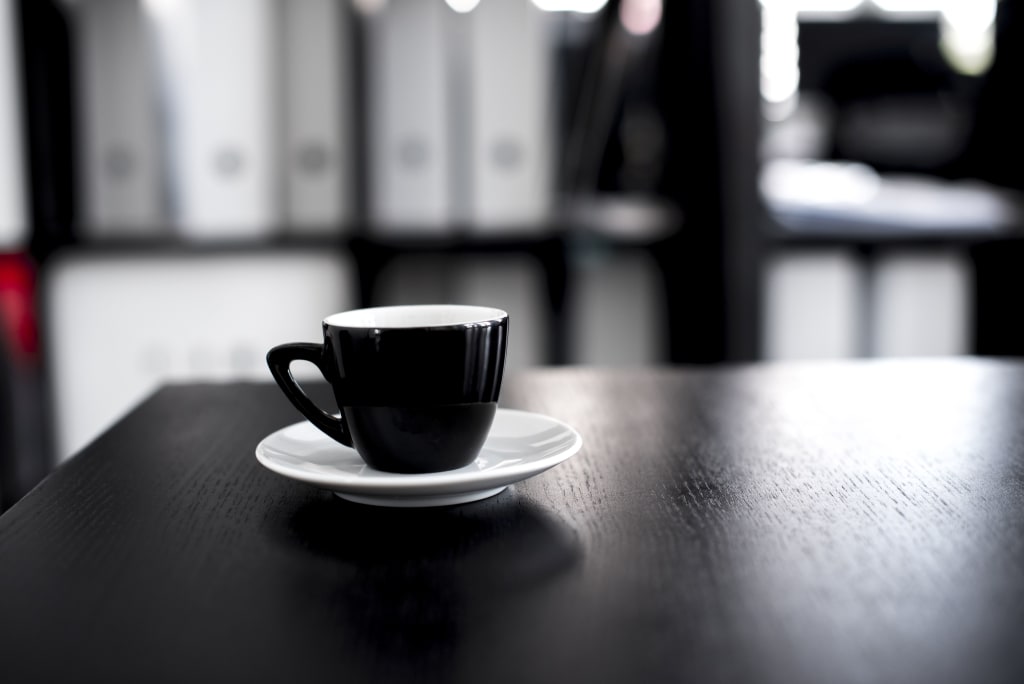 A Play in One Act by TCC Edwards
CAST

YOUNG ARTIST: A man in his early 20s. Dressed casually, but neat and well-kempt. He has a distinctive goatee and wireframe glasses. He's a bit of a loner, and comes across as anxious and a little awkward.
OLDER MAN: A man in his late 50s. He is dressed very similarly to the YOUNG ARTIST, and he has the same style of facial hair and glasses. He is the YOUNG ARTIST'S future self. He's seasoned, self-confident, and likes to mess with people, but in a good-natured way.
NEW BARISTA: A woman in her early 20s. She has short cropped hair and light makeup. This is her first day of work, so she's a bit awkward, but she's also very smart. She thinks on her feet, and he has a good sense of humor.
REDHEADED BARISTA: A woman in her late 20s. Her red hair and her confident stride get a lot of attention from men, and she doesn't seem to mind.
SETTING: A large, upscale coffee shop, THE MORNING CUP, at a corner table in the back. The coffee shop is in off-peak hours, so only one or two of the tables around the corner table are occupied. The logo of THE MORNING CUP is visible on the wall, along with their catchphrase "ENJOY YOUR MORNING CUP, ANY TIME OF DAY!" There are several reprints of famous works on the walls around – Warhol, Pollock, Rauschenberg, and other such Pop Art. Baristas walk back and forth before the corner table – young women and men dressed in simple uniforms with the logo of the coffee shop prominent on the front of their aprons.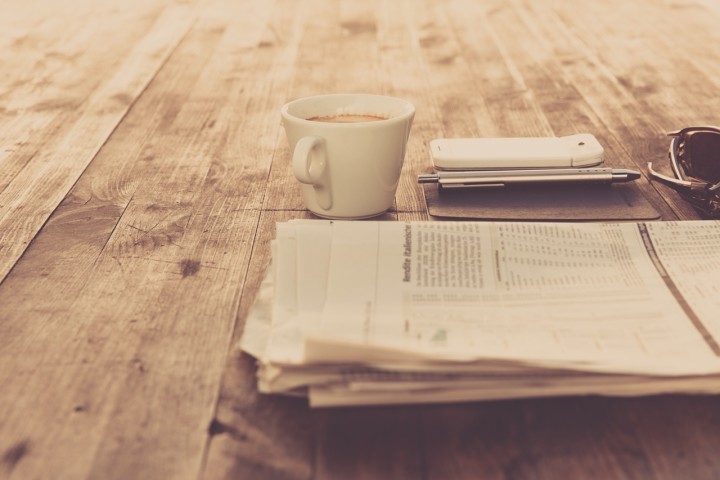 AT RISE: The YOUNG ARTIST is sitting at the corner table, checking his phone quickly before placing it down and picking up his book. A REDHEADED BARISTA walks on and takes away his empty coffee cup. He smiles at her shyly, clearly nervous around the attractive woman as he wordlessly declines a refill. Just as he goes back to his book, an OLDER MAN walks toward the table, eliciting a shocked reaction from the YOUNG ARTIST.
OLDER MAN
Don't gawk, just sit calmly. [Approaches the YOUNG ARTIST. As he does, the audience can see the similarities between the two men.]
YOUNG ARTIST
[Gasping] You . . . who are you?
OLDER MAN
I'm you! Well, thirty-odd years from now. Mind if I sit here?
[He sits without waiting for a reply.]
YOUNG ARTIST
[Standing, looking wide-eyed at the OLDER MAN.]
Seriously, what the hell?
OLDER MAN
Sit down, will you please?
[YOUNG ARTIST sits reluctantly.]
That's better. And don't hunch up your shoulders. Just take a sip - dark roast, extra cream, no sugar.
YOUNG ARTIST
Should I be impressed you know my coffee? [Relaxes his posture slightly, buts still looks at OLDER MAN uneasily.]
OLDER MAN
Good. You look more relaxed. Nobody's watching - making a scene wouldn't exactly help.
YOUNG ARTIST
Then tell me what the hell is going on!
OLDER MAN
Lower your voice another notch. I'm you, okay. Future you, here to change your life.
YOUNG ARTIST
[Scoffing and raising an eyebrow] What? You're going to give me a sports almanac or some stock tips?
OLDER MAN
Believe me, I wanted to, but there are rules. If I tell you too much, you might never learn how to come back here. That's my problem - how can I help without changing things too much?
YOUNG ARTIST
You don't say? How inconvenient.
OLDER MAN
Yeah, you don't believe me. Smart – always liked that about me. Well, what if I told you this is the day you meet her?
YOUNG ARTIST
Her? Her who?
OLDER MAN
[Smiling conspiratorially] You know, her. The one, Ms. Right, your Juliet. You know, her.
YOUNG ARTIST
[Leans in close, eyes wide] Seriously?
OLDER MAN
[Chuckles and shakes his head] Hard to believe the long search could be over, huh? Tone down the wide eyes, though, would ya?
[Leans in, tone now more serious] Yeah, I'm super serious.
YOUNG ARTIST
Who is she?
OLDER MAN
Her shift starts in fifteen minutes.
YOUNG ARTIST
One of the baristas?
[Looking offstage to where the REDHEADED BARISTA last was.]
OLDER MAN
Down boy! No, it's not the redhead. She ends up with someone else – a lot of someone else's, but she'll get it right eventually. You haven't met this one 'cause today's her first day.
YOUNG ARTIST
Okay, let's just say that I believe you. You're going to . . . what? Tell me how to win her over?
OLDER MAN
You don't need my help for that! She's already into you.
YOUNG ARTIST
Then what? I should turn her down?
OLDER MAN
Hell no! How about we try something between those extremes?
YOUNG ARTIST
[Sighing in exasperation] You've come back to give me advice. For a relationship that doesn't exist yet.
OLDER MAN
Sarcasm! I remember that phase! No, I'm here to make things different. You see, right here, this moment, you and I have something in common – aside from the obvious. We're both single and not handling it very well. I'm nearly ready to just enjoy bachelorhood, but I can't shake this feeling that things could have worked out differently.
YOUNG ARTIST
Oh. Okay, so how does . . . how did . . . how will . . . ?
OLDER MAN
Don't bother keeping your tenses straight. Not worth it, trust me. Now, I can't tell you exactly how the breakup happens – like I said, too much foreknowledge can mess things up.
YOUNG ARTIST
So why did you come back?
OLDER MAN
Nostalgia, mostly.
YOUNG ARTIST
Excuse me?
OLDER MAN
This moment, when you meet her – anything could happen. When your eyes meet, the whole world is open. Things could go any which way – endless possibilities. I thought about all the things I could change, what I could tell you. But if I tell you what to do, you might do just what I tell you. You might not try different things – things I never even thought of. You've got freedom – I've forgotten what that feels like.
YOUNG ARTIST
But . . . you're changing things just by being here, aren't you?
OLDER MAN
Exactly! Who knows how things will go this time? I won't know until I return, until the past – your future – is rewritten.
YOUNG ARTIST
Things could turn out worse.
OLDER MAN
Yeah, yeah, they could. Trust me, I'm aware of that. And maybe, things will be better for everyone – not just you.
YOUNG ARTIST
Why don't you give me something I can work with? So, you . . . I meet her, we get together, but something happens?
OLDER MAN
Not one thing. A lot of things. Red flags. I was single for so long . . .
YOUNG ARTIST
Tell me about it.
OLDER MAN
Exactly! You've been single, you know you want to be with someone. You'll want this to just work, to sort itself out. I ignored little things, swept problems under the rug. I'd drive myself mad trying to go back and fix every one.
YOUNG ARTIST
So … you came back to say pay attention?
[The sound of a vibrating phone is heard.]
Hey, your space phone or something's buzzing, Future Me.
OLDER MAN
It's my watch. Telling me our dream girl's about to see you any minute. Drink up, she's collecting empties.
YOUNG ARTIST
What about you?
OLDER MAN
I'm gonna put on my invisibility cloak. Cool trick, just like Harry Potter. After you two lovebirds meet, I'll be on my way.
YOUNG ARTIST
Come on. You've got to do more than this. What stocks should I buy? You could be a billionaire!
OLDER MAN
You're right. I ought to do something . . . Here she comes – oops!
[OLDER MAN knocks the empty coffee cup off the table, causing it to shatter on the floor. Immediately after, he stands up and throws on a black cloak. The lights around him flicker as he slips out through a hidden door in the backdrop.]
YOUNG ARTIST
Hey! What the . . .
NEW BARISTA
[Rushes over to the table] Is everything all right? Oh, your cup!
YOUNG ARTIST
Huh? Where'd he – Huh. That wasn't cool at all!
NEW BARISTA
Hey, it's all right. You're not hurt or anything, are you?
YOUNG ARTIST
No, I'm fine. Sorry about the cup – just one of those days.
NEW BARISTA
[Flustered, but trying to play it cool] Oh no, it's . . . uh, no problem. It's my first day, so . . . I'll go easy on you! I won't charge you for the cup, and you don't smash any more. Deal?
YOUNG ARTIST
It'll be our little secret.
NEW BARISTA
[Laughs nervously] Just a second.
[She smiles at him and walks off. She quickly returns with a small broom and dustpan.]
YOUNG ARTIST
[Starts to stand up] Here, let me help.
NEW BARISTA
No, please – I got this! You want anything else? You know, we have good cakes here – they're all half-price today.
YOUNG ARTIST
I'll take a slice – I'll let you choose.
NEW BARISTA
Feeling adventurous, huh? Well, how about our bestseller, the Chocolate Delight?
YOUNG ARTIST
Sounds good to me!
NEW BARISTA
Be right back! [Walks off.]
YOUNG ARTIST
You still listening in, future me?
OLDER MAN
[Reappears, removes his black cloak] Yup, still here, see? Did you see the way she was checking you out?
YOUNG ARTIST
She barely looked at me, thanks to you. Why'd you break the cup?
OLDER MAN
Because she would have started flirting. She made the first move, and I just took whatever I could get. This time, you'll have to get things started – and keep them going.
YOUNG ARTIST
What, you're leaving?
OLDER MAN
Just play it cool. She's coming back with that cake.
YOUNG ARTIST
Wait. Did it work? Did you make it better?
OLDER MAN
No clue. It's all on you now, kid.
END