Elephant on the Moon
Short Story for Children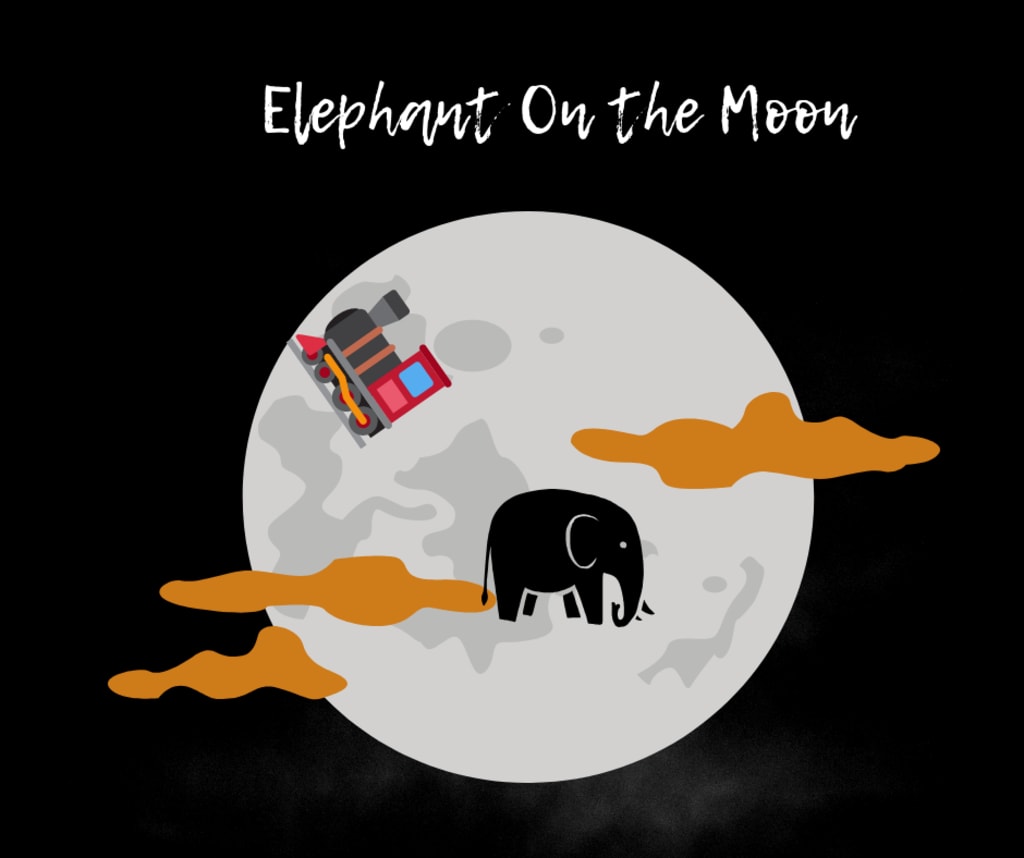 Kitty popped round to Great-grandpa Lucas's house for a cup of tea. Great-grandpa Lucas was sleeping after working hard all day tidying up his house. When Kitty woke him up, he said to him. "Oh, Kitty! You're here at last. Let me show you what I've done to my garden."
Holding his hand, Kitty followed Great-grandpa Lucas into his back garden and followed the trail of roses towards his shed. "Where will we go?" asked Kitty.
"We're going to Starlight Station."
Kitty gasped. "How are we going to get there?"
"It's the train station in the sky. See those clouds above the sky? They're the train tracks."
"So what's up there?"
"Magic stuff happens up there."
Kitty remembered one thing. "But we can't fly!"
Great-grandpa Lucas laughed. "Here, my dear, drink this special potion. It will help us there."
Kitty was concerned at first as she didn't know what the special potion was. In the end, she decided to drink it anyway. If Great-grandpa Lucas had been drinking it all his life, it couldn't be dangerous. After she took the last drop, she began to feel dizzy, but when Great-grandpa Lucas picked her up, she knew everything was going to be okay.
Suddenly, the shed and the garden disappeared. Kitty grabbed Great-grandpa Lucas's shoulder. "Where are we?" she shouted.
"Welcome to Starlight Station! Where would you like to go?"
She shrugged her shoulders and tiptoed towards the sign. She felt like the odd one out. Everyone in the station was in silly costumes or big glamorous dresses, apart from her who wore a simple yellow dress.
"I want to see the elephant on the moon."
"Let's look at the tube map."
"It's just like London tube."
And so they headed towards the Southbound platform on the Don Broco line to the Starlight North. Listening very carefully to the announcements, they sat in between a colony of pigs dressed as bananas.
"Oh, look! Aren't they cute?" Kitty cried out.
"Yes, they are cute!"
"The next station is Modern Myths. Change here for the Nightwish Line, Black Sabbath, and Deep Purple line."
Only a few of the pigs left as a flock of butterflies and tiny people riding peacocks hopped on.
"Aren't they beautiful?" Kitty cried out.
"Yes," Great-grandpa Lucas said, "they are very beautiful indeed."
They waited for their stop. They still had a few to go.
"The next station is Fake News. Change here for the One Direction line and the Blue Powdered Monkeys Swinging Club."
A handful of creatures hopped on as a scary looking dragon hopped into the train.
"Wow, isn't he scary?"
Great-grandpa Lucas laughed. "He's not scary, that's my old friend Lee. Sadly, his memory and hearing are not so good."
"How many stops?"
"Just a couple more I think."
"The next station is Advertisements. Change here for Water Lily Theatre, and the Cake Museum."
Great-grandpa Lucas patted Kitty's back. "It's the next stop!"
"The next station is Starlight North. Change for the elephant on the moon. This service terminates here."
"At last!"
Great-grandpa Lucas guided Kitty out of the station and followed silver road towards the shiny elephant snoozing by a crater.
The Elephant on the moon had no name. Residents of the universe waited in their masses and travelled far to witness the great moment of the elephant finally having a name. By the time it came to Kitty's turn to think of a name, she patted the elephant's head and baptised her as, "Luna Artemis."
The Elephant rose to her feet and hugged Kitty with her trunk. "Thank you so much! I love the name. That is now my name."
Great-grandpa Lucas clapped. "Well done!"
Great-grandpa Lucas, Kitty, and the rest of the creatures held a big party on the moon. After a great party, they hopped back on the Starlight train in the sky and enjoyed the safe ride home.
About the Creator
Former healthcare worker and lab worker from Oxfordshire. Author of ten books including Drinking Poetry and Game of Mass Destruction. Travelled to over 20 countries.
Reader insights
Be the first to share your insights about this piece.
Add your insights