Dune
John Schoenherr's Dune art, inspired by Frank Herbert's classic sci-fi novel, inspired a generation of artists.
If there's anywhere the old axiom about judging a book by its cover holds true, it's science fiction. Few classic sci-fi authors and their cover artists ever see the same vision for the cover illustration. Typically it is the publisher that makes the final choice. Dune art was different. John Schoenherr connected to Frank Herbert's vision immediately. He was able to tell the same story visually. "Herbert wrote in 1980 that though he had not spoken to Schoenherr prior to the artist creating the paintings, the author was surprised to find that the artwork appeared exactly as he had imagined its fictional subjects, including Dune Sandworms, Baron Harkonnen and the Sardaukar." An extraordinary illustrator is capable of contributing to a piece of literature and even enhancing its message. In the case of an artist like John Schoenherr, he became the franchise's joint architect and left a mark no less indelible than the novel itself.
Schoenherr's illustrations (see: Omni Magazine, July 1980) are among the most celebrated of science fiction artworks; he showed, like Richard M. Powers, that science fiction art could be mature and painterly, worlds away from the lurid pulp exaggerations the genre had cultivated since its inception. The first artist to tackle the desert planet Arrakis, his Dune illustrations, in particular, have become archetypes by which Frank Herbert's universe is visualized.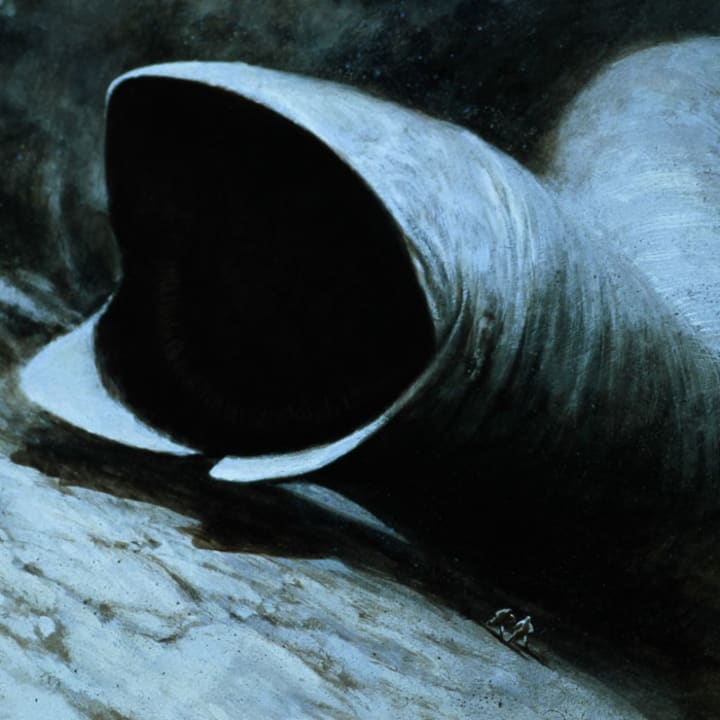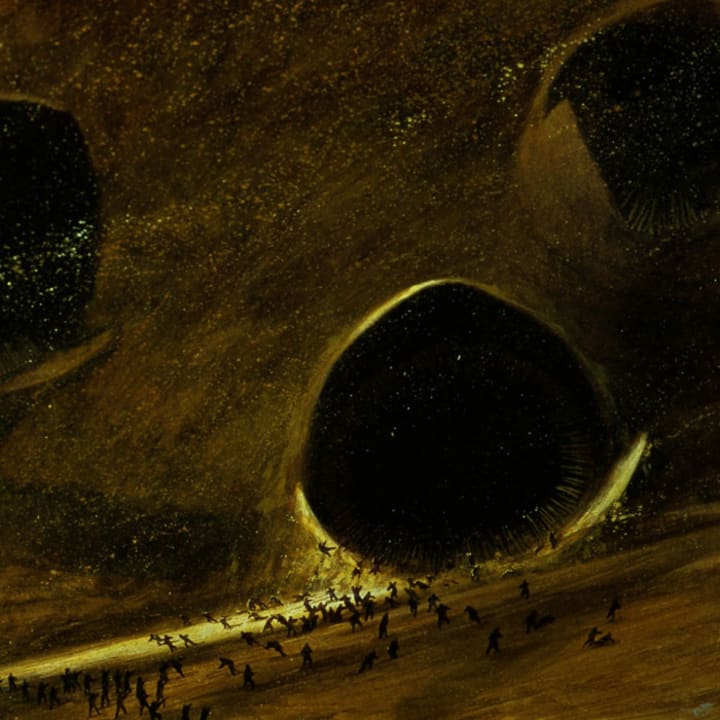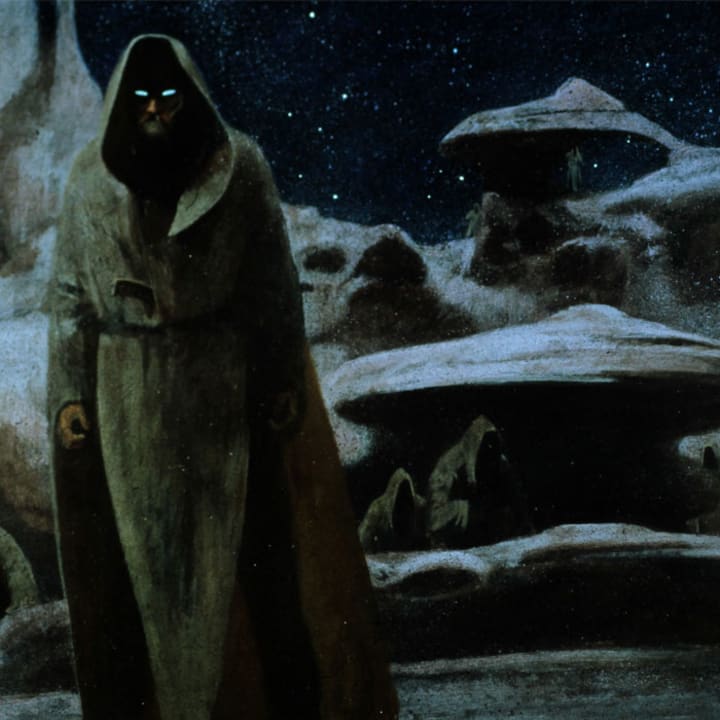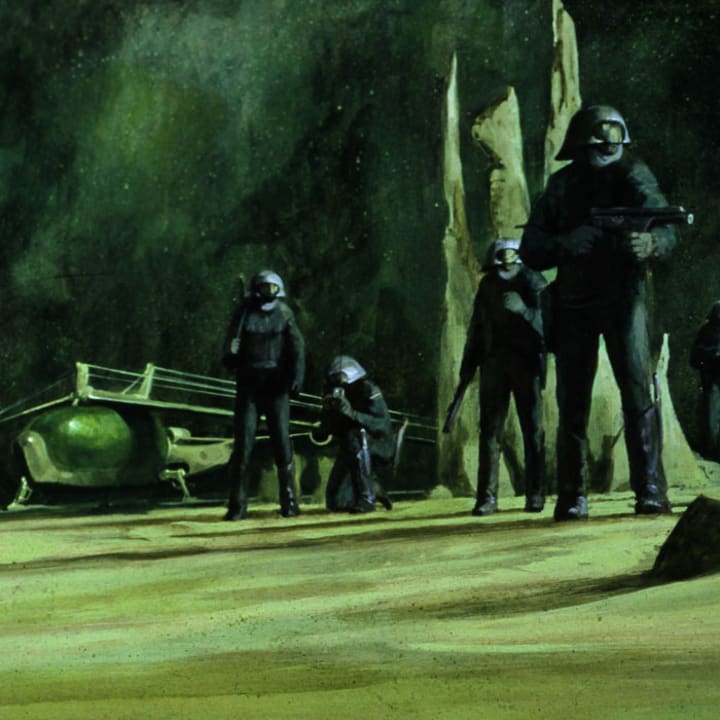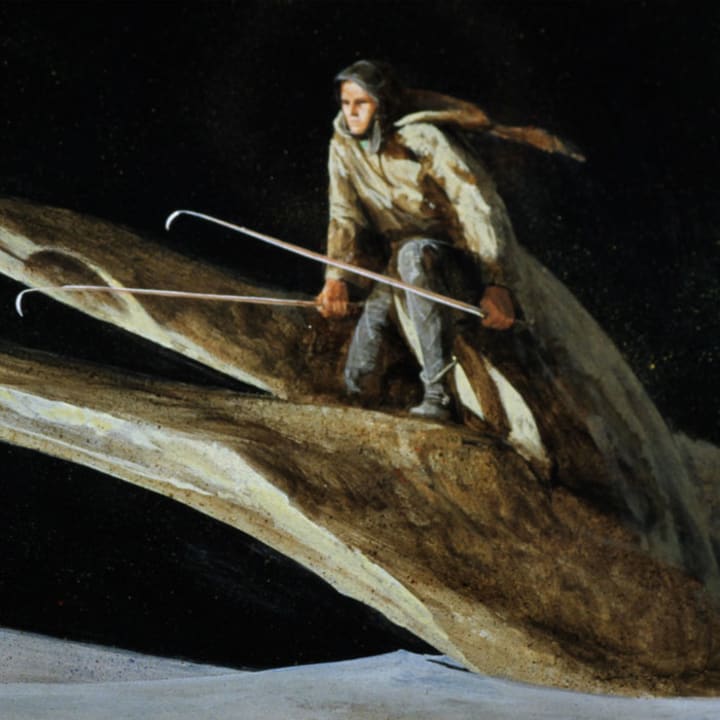 Schoenherr was born in New York City in 1935, studied at the Art Students' League, and graduated from the Pratt Institute in the late 1950s. After initial sales to magazines such as Infinity, Amazing, and other pulps of the day, he found a home in the pages of Astounding (later renamed Analog), arguably the most important magazine in the history of science fiction, under the reign of science fiction's ur-editor, John W. Campbell. His partnership with Analog was where he was most visibly active. Illustrating Gordon R. Dickson, Clifford D. Simak and Anne McCaffrey, Schoenherr's artwork dominated the covers and interiors of the magazine for almost two decades, continuing well into the early 1980s. During his tenure at Analog, he also produced full-color paperback covers for publishers such as Ace and Pyramid—covers of classic science fiction novels like Starship Troopers, The Stainless Steel Rat, and Galactic Patrol. He would go on to paint book covers for prominent science fiction authors such as Philip K. Dick and Anne McCaffery. By the early 1970s, he'd begun to explore new subjects, and found a second wave of critical acclaim for his animal paintings and children's books. It was this subject matter that focused his attention until his death in 2010.
Schoenherr's association with Dune had its genesis in the pages of Analog. He illustrated Herbert's serialized stories: the three-part Dune World (December 1963 through to Februrary, 1964) and the five-part Prophet of Dune (January to May, 1965) with highly detailed scratchboards and acrylic dry brush drawings. It was this work that won him the coveted Hugo for best professional artist, an award for which he was nominated eleven times.
He revisited Dune again when Herbert's third novel in the series, Children of Dune, was serialized in Analog in 1976, and again in 1978 for a handful of super-rare LP sleeves featuring excerpts from the novels read by Herbert on Caedmon Records (Sandworms of Dune, The Truths of Dune, Battles of Dune and Heretics of Dune) and most prominently; The Illustrated Dune (1978, Berkley Windhover), an almost legendary volume containing 33 black and white scratchboards and eight full-color paintings. Reportedly, the paintings were commissioned separately, originally created for an even rarer collector's item: the 1978 Dune Calendar.
OMNI generously exhibited this series of Schoenherr's iconic Dune paintings in its July 1980 issue, including two not present in the actual book. The series of images seen there have never been reproduced in their entirety since their appearance in OMNI, and remain touchstones of the Dune universe. Sadly, and somewhat bizarrely, these remarkable paintings have lingered in relative obscurity. Although iconic to those in the know, the Dune acolyte must practice a little archaeology—time spent in musty bookshops or scouring online sources—to unearth these hidden treasures. Owning them is expensive, whether original (his 11 x 15" watercolor painting used on the 1967 Ace Dune paperback sold for $26,000 in 2011) or in regular book form. The publications in which they were presented have been out of print for three decades.
Schoenherr's artwork perfectly corresponded with his subject matter: visionary, unique, extraordinary. His renditions are timeless and impressionistic while remaining so carefully drawn from Herbert's descriptions that they become the perfect companion, an illuminating template for the reader intent on visualizing Herbert's desolate world. Dune is a work of depth and often excruciating detail, but Schoenherr's accompanying artwork is ambiguous and abstract. Devices, machinery, and costumes are elegant in their simplicity. Its technologies are instantly recognizable, organic, and convincing, while still seeming like conventions of an environment set 21,000 years in the future. Utterly alien concepts are rendered fluently; 400 meter-long Sandworms erupt from the desert as though they always existed, and other demanding conceptions—the Ornithopter flying machines, Stillsuits, Sarduakar warriors and the 200 kilo Baron Harkonnen—leave little doubt as to their authenticity.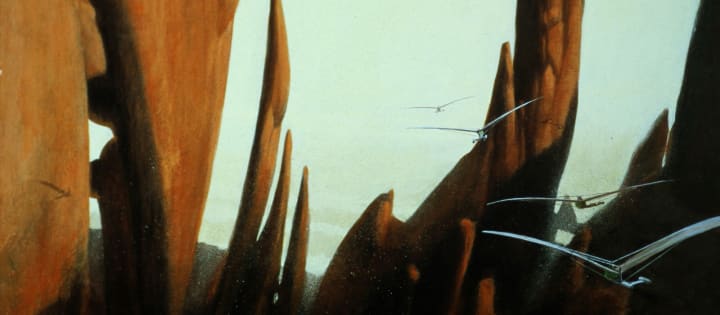 His depictions of the desert planet suggest the painter cemented his easel in the sand. Spice-mining operators flee an onslaught trio of sandworms drawn from the deep-desert by rhythmic machinery. The obese Baron Harkonnen sits in deep contemplation of young men and the planet his tenuous grasp commands. Menacing Sardauker soldiers armed with las-guns stand next to an Orinthopter and scan the horizon for the native Fremen. The Atreides sleep unsoundly in the palace of Arrakeen, unaware of the treachery plotted by the Padishah Emperor of the known universe. No one besides Frank Herbert can call Arrakis home like Schoenherr can. The Dune universe was brought to life by his phenomenal illustrations, cementing the artist's legacy.
The images transcribed Herbert's intricate universe for readers across the world, breathing life into the sand dunes of Arrakis and inspiring many sci-fi movies that were influenced by Dune. The windswept deserts of Arrakis were never truly envisioned for their immensity until Schoenherr painted them to scale. His work fleshed out a universe already teeming with detail thanks to Herbert's meticulous writing. It was Schoenherr's extensive knowledge of animals, a fascination he developed by illustrating at the Bronx zoo, that allowed him to create convincing extraterrestrial creatures.
Admittedly, Schoenherr could be technologically unsophisticated—numerous 20th century mechanical parts hide, like Easter eggs, in his work—but as his emphasis was on form, not function, the results were more often than not unobtrusive. His timeless renditions of Arrakis are the perfect reader's companion.
John Schoenherr's artwork brought a sense of credibility to his medium, trading the lurid canvases of yesteryear for authoritative, atmospheric composition. At the height of his popularity, his association with Dune was as intimate as Herbert's, helping to bring the world of Dune to life. Herbert once gave Schoenherr the ultimate praise: he called him "the only artist who has ever visited Dune."
Dune, set on the fictional desert planet Arrakis, is the tale of young Paul Atreides. He would grow to be the mysterious leader known as Muad'Dib. Avenging the traitorous attacks against his family, he would fulfill his destiny while changing the course of the universe. It is a tale of an ancient and once unattainable dream fulfilled by a noble hero.
Dune was the recipient of the first Nebula Award. A mix of adventure and universal mysticism, politics, and environmentalism. Dune shared a Hugo Award, inspired films, television series, and a universe of books and art. It remains an epic cerebral sci-fi franchise and is undoubtedly among the grandest and epic sci-fi novels and the greatest space opera books of all time.