NASA
Doomsday Asteroid 2012 TC4: What NASA Isn't Telling Us
Asteroid 2012 TC4 will come very close to Earth on 10/12/17 - Will it strike?
This video shows that Asteroid 2012 TC4 will come very close to Earth on 10/12/17 - Will it strike? 
On October 12, 2017, Asteroid 2012 TC4 will make a near-Earth orbital pass and, according to NASA, it could come as close as 4,200 miles. Why is that worrisome?
Because, most satellites circle the Earth at a much further distance (usually in a geo-stationary orbit of 24,000 miles) reaching a higher orbit than this potentially Doomsday asteroid, which is estimated as being as much as 100 feet (or 30 meters) long.
Asteroid 2012 TC4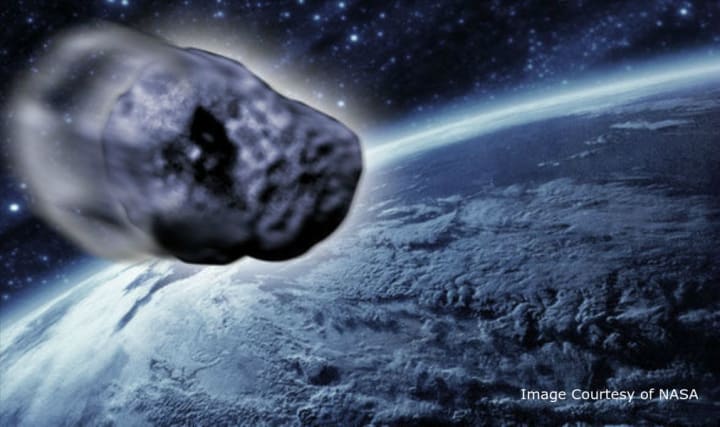 In a classic case of government Doublespeak, a NASA spokesperson was recently quoted as saying, "Even though scientists cannot yet predict exactly how close it will approach, they are certain it will come no closer than 4,200 miles (6,800 kilometers) from the surface of the earth."
And, that's the problem.
Scientists are not sure how close Asteroid 2012 TC4 will pass, but they are sure of how close it will pass. Sound confusing? Obviously. And not very reassuring.
In astronomical terms, 4,200 miles is a mere whisker away in relation to the vastness of the universe. What if scientists have miscalculated?
In truth, we're lucky NASA is even aware of this potentially life-threatening asteroid at all.
On February 15, 2013, The 20-meter (65-foot) Chelyabinsk meteor exploded above the Russian city, injuring hundreds of people and blasting out windows for miles around.
The frightening truth about that meteor strike was that it was totally unexpected and went undetected by all the sophisticated asteroid tracking technology spread out across the planet until it, luckily, vaporized in the atmosphere.
More recently, an asteroid as big as a jumbo jet whizzed past the Earth, coming as close as approximately 77,000 miles, and was only detected three days after it passed out back into its deep space orbit.
As it stands, NASA recently announced it will be observing Asteroid 2012 TC4 as it makes its near-Earth flyby. They will be using the event to calibrate tracking technology to more precisely determine the asteroid's orbital trajectory and to refine the agency's ability to track and predict the presence and orbital path of future asteroids on a potential collision course with the Earth.
That is, of course, if such an object is detected at all.
Meteors have been striking the Earth (and the Moon) for eons, and it's only a matter of time until "The Big One" hits, potentially ending life and civilization as we know it.
Scientists postulate that such a meteor struck the Earth in the Gulf of Mexico about 65 million years ago. It's widely believed that one wiped out the dinosaurs.
In the last several decades, planetary scientists have been ringing the alarm that a reliable asteroid detection system should be developed, no matter the cost.
And, more and more, public awareness of the problem has been raised, increasing the demand that such a system should be a bigger part of NASA's budget, eclipsing the dubious benefit of deep space exploration or sending probes to planets like Mars and beyond.
Has under-funding led to a potential Doomsday scenario?
Considering the sophistication of NASA's scientific capabilities, shouldn't an adequate asteroid detection and defense system be a priority?
What good will discovering water on Neptune do us if Earth is wiped out by an undetected, planet-killing asteroid?
The uncertainty about just how close Asteroid 2012 TC4 will fly by the Earth on October 12 should be a topic for serious discussion, and we would all do well to be prepared should scientists be wrong about their calculations.
The size of this asteroid means it's probably not a worldwide disaster threat. If it does strike, it's most likely to be about twice as bad as the Chelyabinsk meteor.
And, this time at least, we know it's coming...