Coolest Futuristic Armor That Actually Exists
We're going to practically be robots thanks to the coolest futuristic armor that actually exists today (kind of...)!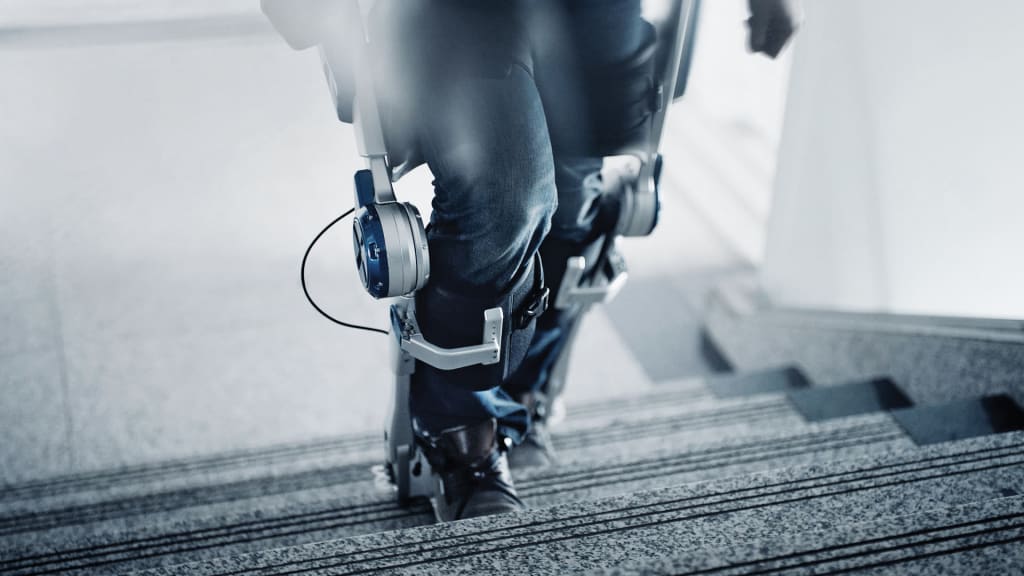 My son Jarret loves sci fi! So I like to scour the internet for stuff from his favorite sci-fi movies that's in the works right now. Turns out companies and governments are actually hard at work trying to create the coolest futuristic armor inspired by films like Aliens, Iron Man, and Elysium.
A lot of these projects end up fizzling out, but the fact that they're recurring makes me think that soon enough we'll have access to forklift suits! And even though soon Jarret will be too old to need his old man to protect him from scavengers in a The Road type of scenario, maybe Jarret will have a child of his own to protect and I'll just blow myself up like Michael Caine in Children of Men to keep the police off his tail. I tell Jarret that a lot: "I would blow myself up for you!"
One of the things Jarret's mother and I agreed upon in the divorce proceedings is that Jarret would have to wear a bulletproof vest to school. Companies like Bullet Blocker bulletproof clothing make some of the coolest futuristic armor around because it lets you hide bulletproof panels in clothes that look just like normal clothes, because they are normal clothes! Someone could shoot Jarret a whole bunch of times and he'd still survive! And he's probably getting stronger too, because all his clothes are heavier than normal clothes. He complains, but it's worth it!
ARAIG and Hard Light VR are two different companies competing to make the coolest futuristic armor for video games! You wear it while you play so that you can know what it feels like to be shot, which is real serious considering all the high school shootings that happen these days. I wish politicians would consider possible gun control solutions! Maybe politicians can suit up in these game suits so they feel how it feels to be shot — by a real gun! Not one of the greatest video game guns ever.
MAXFAS Exoskelaton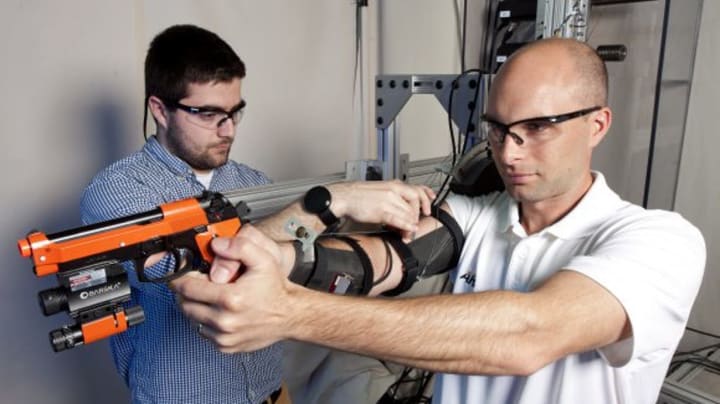 In 2015 the US Army was testing how the MAXFAS exoskeleton improves soldiers' aim when training to fire a gun. The MAXFAS looked like the exoskeleton from Elysium but it was only for your arms and it taught you how to shoot a gun better. Jarret asked if I would buy one if it was on the market so he could be a "good guy with a gun" and I said, "Absolutely no guns in this house," and then he said, "Dad, you are so uncool." I told him I'd blow myself up for him, but he said, "You wouldn't have to blow yourself up if I had a gun! God, don't you know anything, dad?!" And I said, "I know I love my son," and he rolled his eyes. A piece of the coolest futuristic armor for sure!
The US Military has been trying to make exoskeletons for a while. Unlike in Elysium, these suits would not be drilled into your skeleton, which is really impractical! These suits would make it possible to lift heavier things and get less tired. As user ac3b1s said, "Instead of giving this technology the Military you better make it civil for people with Muscle atrophy, Paraplegia, handicaps, and 100 other different diseases to make the world a better place... but that would be socialism ." If we had more people like ac3b1s then maybe I wouldn't be blowing myself up for Jarret!
They made an exoskeleton that teaches people how it feels to be old. Jarret said, "Why would I want to know how it feels to be you?" And I said, "I'm not that old!" And he said, "You will be!" "Not if I blow myself up," I said. And then he just shook his head. Empathy is cool; Jarret just doesn't get it yet. That makes this one of the coolest futuristic armor types, because it helps you feel what it's like to be someone else.
The Waterproof D1 Hybrid Drysuit is some of the coolest futuristic armor available for purchase today. It's a suit of armor to defend against water! Waterproof had a bunch of really smart people figure out how to make the first ever constant volume drysuit. There's a 3D inner mesh lining that keeps you warm, and then there are springs like in a mattress to keep the outer layer separated so that the water doesn't make you cold. That is truly futuristic and clever design! Jarret asked, "Are we going scuba diving?" when I shared this with Jarret I said, "One day!" and he asked, "When?!" and I said, "I'm just hoping we'll go on a scuba trip one day, that's all." He didn't respond.
For a hot second the internet thought that invisibility was heading our way, but really it was just some digital video trickery. Invisibility would have made for the coolest futuristic armor for sure. I'd still make Jarret wear a bulletproof vest, though, because you can't be invisible in school! That'd be against the rules!
This is as close as we're getting to Ripley's Caterpillar P-5000 Work Loader for now, which still makes it some of the coolest futuristic armor around. I'd put it on and yell, "Get your hands off him, you bitch!" to protect Jarret from an alien, but I probably wouldn't say, "bitch," because I don't feel comfortable using that word and I don't want to be a bad influence on Jarret. Not dealing with gendered hate words is one of the 10 rights that women don't have but men do.
In October of 2017, Russia was claiming to be developing combat suits that had upwards of 60 features that would make them the coolest futuristic armor around. But I don't buy it. I've been reading about propaganda and it seems like sometimes Russia just makes stuff up to keep America and the rest of the world on its toes. I didn't even bother sending this to Jarret because I didn't want him lecturing me about "fake news."
This is one of the coolest futuristic armors and it's available right now today! It's not real, so if you try to face down an active shooter while dressed as Iron Man you will absolutely die, but it's still cool that if I wanted to I have the option of dressing up like one of Jarret's heroes. I can also be the Master Chief from Halo! Although, my real goal is that one day I don't have to dress like anyone other than myself to be one of Jarret's heroes, because I would be one of Jarret's heroes.