Chris Foss Sci-Fi Starship Artist
Science fiction artist Chris Foss paints immense imaginative spaceships that permeate our visions of a future.
Obsessed by speed, color, and hybrid technology, Chris Foss paints enormous spaceships and intergalactic arks that are too big for the horizon to hold. The curiously antiquated qualities of his vehicles evoke memories of Edwardian ocean liners and World War I tanks. With structures that are postmodern and completely unlike the streamlined shapes of his predecessors, Foss gives form to machines that will one day populate all of interstellar space.
Highly regarded among the greatest sci-fi artists of all time, Chris Foss is a name to be ingrained throughout every star-date. Coloring the recesses of our own imagination, Foss lends a voice to the unspeakable wonders of not only his mind, but ours as well. Painting plausibilities of a future that is not yet our own, his immense spaceships overtake the horizon while bringing in a new age of cosmic travel that are already a sight to behold.
Foss' eye for detail is meticulous. While his spaceships exceed the limitations of the horizon, he gives form to intergalactic arks that ramjet and ion­drive entire civilizations from one remote star system to another—all while including each and every painstakingly tactile detail of the ship, the people, the environment, and the unseen. Everything is treated as a reality in the work of Chris Foss.
Synthesis of Art and Science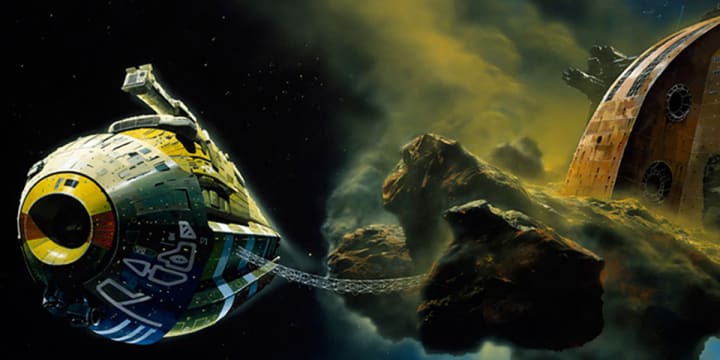 As a child in Devon, England, Foss found himself fascinated by the remains of the Industrial Revolution––its aging railway stations and the innumerable abandoned mines. Infatuated by hybrid technology, color, and vitesse, he built models of steam engines and rebuilt wrecked cars from scrap metal.
Foss' ambition was always to become an artist. In his early years, to placate his parents, he entered architecture school at Cambridge—thus nurturing his structural crave for understanding the elements around him. This naturally created a unified mind formed of both art and science.
While at the university, Foss sold a six­-page cartoon strip to Penthouse magazine. The publishers (who later published OMNI magazine) were so impressed that they put Foss on retainer so that he could build up his portfolio. Within six years, Foss grew into an internationally acclaimed science fiction artist. Such authors as Isaac Asimov and Arthur C. Clarke asked specifically for him to illustrate their novels.
"Next to the soul, the most beautiful object in the galaxy is the spaceship." ––Chris Foss
His ships endure explosions in space battles that often leave them scarred and blasted, limping home to monstrous continental dry docks. Of this, Foss explains they are "very tatty spaceships." While evoking a steam-punk-like quality through their antiquated elements (perhaps he gave way to the Steampunk Revolution), his structures are postmodern, asymmetrical, immense, and totally unlike the streamlined shapes of those before him.
Success in Science Fiction Films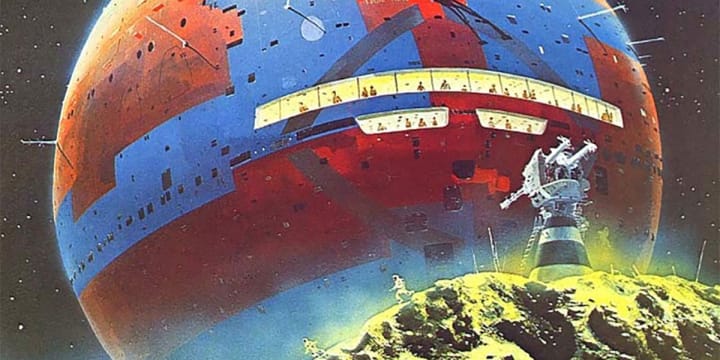 Then came the films. Foss' imagery inspired a small army of imitators, including TV and movie designers. Foss was the first to conceptualize the crystalline planet, Krypton, for the movie Superman. Twentieth Century ­Fox asked him to work on concepts for Alien along with fellow artist H. R. Giger.
Perhaps Foss' most monumental works were executed for a film still waiting to be completed. In 1975, Alejandro Jodorowsky (director of El Topo and The Holy Mountain) was commissioned to film Frank Herbert's novel Dune, and he asked Foss to design the impressive panoply of the Padishah Empire. On the artist, Jodorowsky said, "Foss is a being as real and unreal as his spaceships, a medieval goldsmith of future eons, and from him are born the leather and dagger-studded machines of the Sardaukers, the pachydermatous geometry of Emperor Padishah's golden planet, the delicate butterfly plane, and other machines that will one day populate all of interstellar space."
In addition to his cinematic endeavors, Chris Foss painted the book cover for one of the longest-running science fiction series ever created, Perry Rhodan 9: Quest Through Space And Time. The series began in Germany of 1961 as the brainchild of K. H. Scheer and Walter Ernsting. Initially conceived for 30 volumes, it endured and passed 2700 installments in May 2013. Author John O' Neil called Perry Rhodan "one of the richest—if not the richest—Space Operas ever written." It is the most successful science fiction book series ever written, having sold over one billion copies worldwide.
Foss continues to design mesmerizing spaceships for film. His most recent contribution was to Marvel's Guardians of the Galaxy. Foss' ability to captivate audiences through unusual art is timeless.
Foss's groundbreaking and distinctive science fiction art revolutionized paperback covers in the 1970s and 80s. Dramatically raising the bar for realism and invention, his trademark battle-weary spacecraft, dramatic alien landscapes, and crumbling brutalist architecture irrevocably changed the aesthetic of science fiction art and cinema. Featuring a collection of work chosen by the artist himself, Hardware showcases Foss' work for the greats such as Asimov, Clarke, Kubrik, Dick, and Scott.
Reader insights
Be the first to share your insights about this piece.
Add your insights