Carl Weathers Gives Fans An Update On 'The Mandalorian' Season 3
No Rest For The Wicked
Since Disney took over the property of Star Wars, fan reception has been mixed at best. However, everyone will agree that the Star Wars Disney+ series have been some of the sharpest writing, direction, and action to come to television in recent memory. When Disney announced the start of their streaming platform two years ago, everyone was immediately drawn to The Mandalorian and the world built by creators Jon Favreau and Dave Filoni. Within the first two seasons, we have seen a unique side to the Star Wars universe with a world that has been well- rounded with callbacks to characters from the animated world and Legends. But since the end of season 2 and the great reveal of a certain Jedi Master, everyone has been wondering when season 3 will make its debut or if we have even started. Thanks to a tweet from Greef Karga himself, Carl Weathers, we know where we stand.
In the tweet sent out on January 14, Carl Weathers was thanking fans for the love sent on his 74th birthday and letting fans know how things are coming along on the set of The Mandalorian. In his own words, "We are in the thick of shooting a new season of THE MANDALORIAN. It's going to be fantastic!"
RELATED: 'The Mandalorian' Season 3 Production Reportedly Postponed
It looks like we might be getting season 3 by the end of this year. During last year's Disney+ Day, we were told that season 3 of The Mandalorian would be joining other hotly expected properties Obi-Wan Kenobi and Andor coming in 2022. Then last year, Carl Weathers explained that production was to begin in and around September, which he should know considering he will be directing another episode this upcoming season. Weathers had directed a previous episode "Chapter 12: The Siege," which was a well-directed episode filled with a lot of action, and also revealed that the remnant of the Empire appeared to be cloning again. This would ultimately lead us down a plotline in Rise of Skywalker.
Without knowing much about the upcoming season, we can most likely confirm that Greef Karga, the former head of a bounty hunting guild now turned administrator, is going to be making an appearance. However, what Weathers the director will cover remains to be seen. If I was to hazard a guess, I think we will have to really pay attention to the remaining episodes of The Book of Boba Fett as they do occur in the same timeframe and worlds. We also see that based on the overall timeframe of the Star Wars universe, perhaps he will be able to answer some of the open-ended questions from the sequel trilogy or even help us determine where the Darksaber has been over the last few years before it appears in Moff Gideon's hands.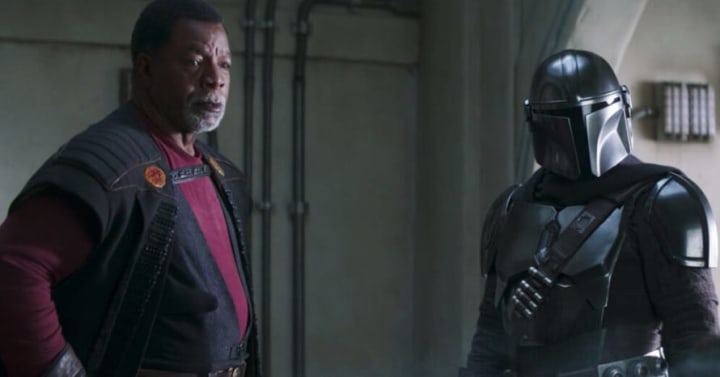 Another positive to come out of Weathers' tweet is that he confirms they are indeed in the thick of filming season 3 of The Mandalorian, which gives fans a sense of relief. In recent weeks we have seen multiple delays in major television and movie projects thanks to the recent rise in the Omicron variant. Many have speculated that we might see a delay in the release of season 3, considering we are only a couple of months away from the expected wrapping of the season in mid-March.
Ideally, with everything falling into place for the remainder of the year, Obi-Wan Kenobi will be expected to premiere a little bit after Book of Boba Fett, following by Andor, and then wrapping up with Season 3 of The Mandalorian. So, this year has turned into quite the tentpole for the franchise seeing as there are no expected movies on the horizon with Disney seemingly satisfied to leave that domain to Marvel.
READ NEXT: Which Other Star Wars Characters Deserve Their Own Show?
Written By Scott Ogino
Source(s): CBR