Brutalist Stories #1  
Warm Autumn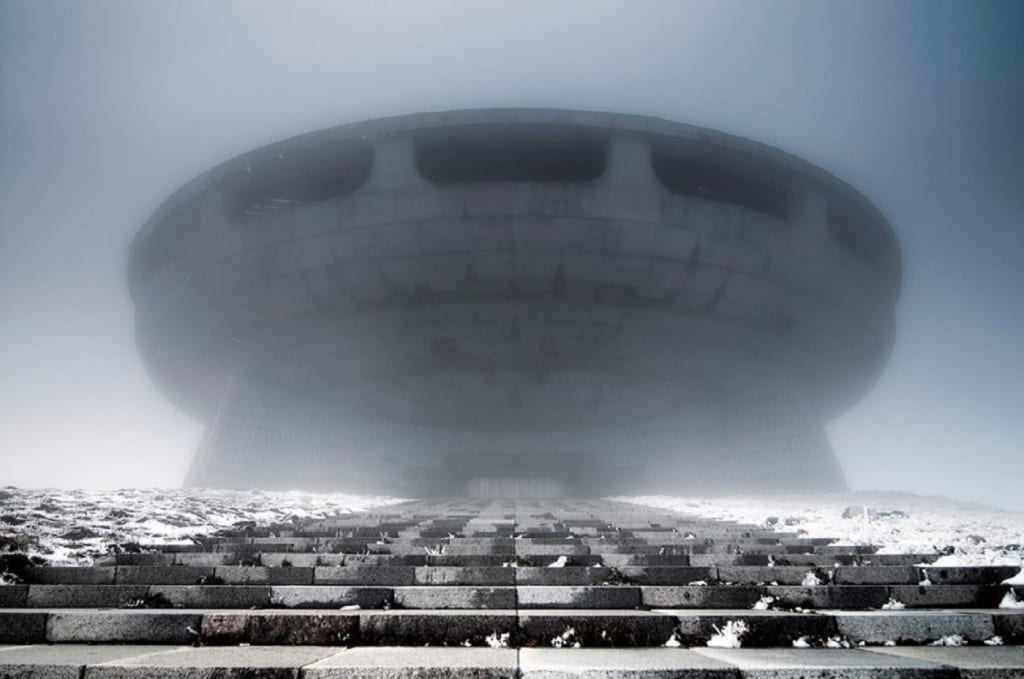 Buzludzha Monument
"There's a piano playing in my mind." The fog glittered in the light from the lamps that circled him.
A high note, a low note, a high note, a low note. Back and forth, back and forth. One for her, one for him. He looked up and away from the path in front of him to the ceiling of the dome and a high note rang through. A sonic hallucination, the vibration of the key and a memory flashing before him, projected onto the fog. Her smile, her laughter, a moment, a memory, a time and place far away from here.
A crack shot across the dome, the concrete shivered and pushed out a gigantic huff of thick, grey dust all around him. It mixed with the fog, swirled and settled as he turned his hands over and watched the thin film coat his torn palms.
"A piano…" A high note, a low note, a high note, a low note. Shaking through him, a bass string in the invisible wooden house of the unknown piano resonating with his soul. Its universal frequency vibrating the dust off his hands as he looked into the tiny cloud. All that time, all that patience, all those moments disappearing as the grey particles evaporated into the fog.
He stepped forward onto the path, the rubble crunching underneath his feet. Another note, another crack rupturing the dome, another shiver of concrete, another memory. Her, just her. It vibrated, the thought, the piano, the dust, the notes, high and low, high and low. Alone, with the choice. Take the path? His hands gripped at his side. Listen to the piano play? Nails digging into this palms. There was never a doubt.
Gritted teeth, tearing concrete. Never a doubt. Another step onto the path, the piano's terminal vibration. Another step, through the fog. Another through the raining concrete, forward. Always forward.
Building inspiration: Buzludzha Monument
Musical inspiration: Loscil — Red Tide
science fiction
humanity
Short sci-fi stories in 500 words or less deriving from the stark style of the functionalist architecture, that is characterised by the use of concrete.
Receive stories by Brutalist Stories in

your feed