Artificial Intelligence and Marketing
Austin Rotter | Hoboken, NJ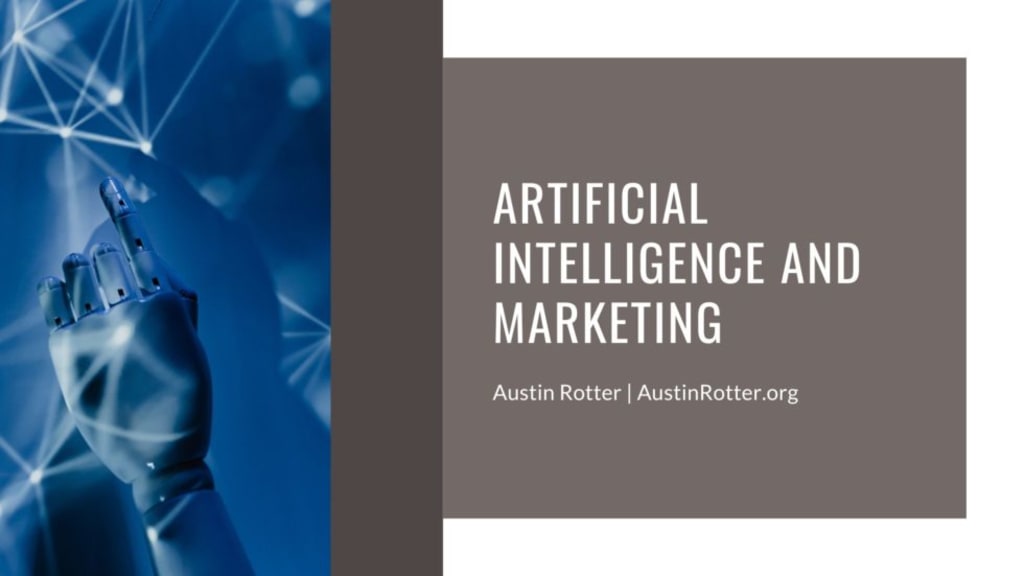 https://austinrotter.org/artificial-intelligence-and-marketing/
Artificial intelligence (AI) is a tool that can be used in marketing to analyze and interpret data gathered by various sources, such as customer profiles and data collection. AI marketing can then make informed decisions and deliver personalized messages to customers. This technology is commonly used in marketing efforts that require speed. AI tools can help improve the efficiency of a marketing department by learning how to best communicate with its customers.
Today, many marketers use AI to perform more tactical tasks and enhance their teams' efficiency. Some of the use cases of this technology include data analysis, media buying, and automated decision-making.
AI Marketing Components
The various components of this technology are helping them bridge the gap between the vast amount of data collected and the next steps needed to implement effective marketing strategies.
One component utilized is Machine Learning. Machine learning is artificial intelligence that uses computer algorithms to analyze and improve data. It can then inform decisions based on the collected information. For instance, by analyzing historical data, devices can provide marketers with the necessary insight to make informed decisions.
Another component is big data and analytics. Big data has become an integral part of marketing due to the rise of digital media. It has allowed marketers to understand their customers better and improve their performance. Unfortunately, due to the overabundance of data, many marketers cannot identify which data sets are worth investing in.
The last component of AI marketing is AI platform solutions. With the help of this AI marketing tool, organizations can now manage the vast amount of data collected by their various marketing departments. These AI-powered platforms give them the necessary insight to make informed decisions and deliver effective marketing strategies.
AI Marketing Challenges
Modern marketing relies on analyzing and interpreting data collected from various sources, such as customer profiles and data collection. With the help of AI, organizations can now make informed decisions and deliver effective marketing strategies. However, implementing this technology into their operations is still in its early stages. A few challenges should be considered before implementing them into their marketing departments.
Before implementing AI in their operations, the tools must be trained to recognize the various goals and actions required to achieve them. Besides learning about the collected data, AI tools must also be equipped with the necessary expertise to make informed decisions. Data quality is one of the most critical factors that an organization must consider when implementing AI in its marketing department.
Due to the increasing number of regulations and complaints about how organizations use their data, tools must be designed to follow the legal guidelines when it comes to collecting and using consumer data. This is because if they are not programmed to follow specific guidelines, they may inadvertently overstep what is considered acceptable use of the data.
Unfortunately, it is not always easy for marketing teams to show the value of AI investments to their business stakeholders. Although many of the key performance indicators that are used to measure the effectiveness of AI are easy to interpret, it is also essential that they have the necessary tools to attribute these gains to the technology.
Due to the technological advancements in the marketing field over the past few years, there are still no standard best practices for implementing AI in the marketing department.
Due to the emergence of AI, it has also become more important that marketers consider the various jobs that will be affected by the technology.
ABOUT AUSTIN ROTTER
Operating in New York, Austin Rotter is a media relations, branding, and media strategy professional who has spent his career building skills, knowledge, and experience within the arena of public relations and online branding. A sharp and driven individual, Austin has distinguished himself as an executive in the industry.
Throughout his career, Austin Rotter has had the privilege of working with more clients than he can count. With more than eleven years of experience working in public relations and media strategy, Austin has helped numerous individuals and companies alike represent themselves online and in the public eye.
About the Creator
Austin Rotter is a Public Relations executive living in Hoboken, New Jersey, who operates professionally out of New York. Austin's particular skills lie in media strategy, media relations, and branding businesses.
Reader insights
Be the first to share your insights about this piece.
Add your insights