Amazing DIY Firefly Projects All Browncoats Will Love

People of the Whedonverse, rejoice: from hats and earrings to cross stitch samplers and gingerbread, these are the best DIY Firefly crafts ever.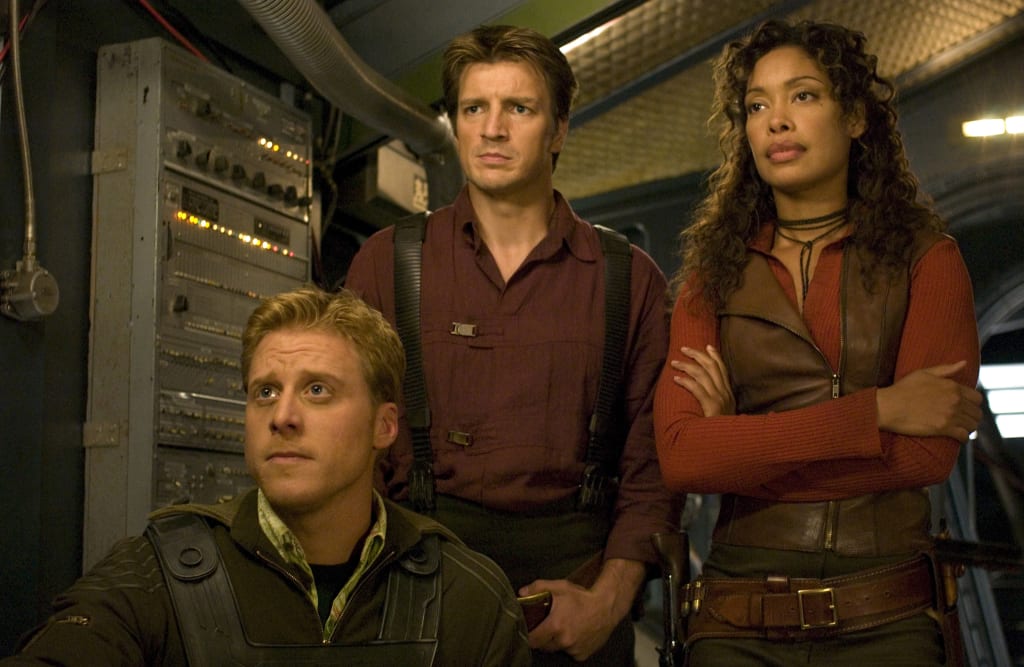 Wait. Are you reading the right list? Here is a short quiz:
Are you always referring to someone named "Cap'n Tight-Pants" as if he were not only a real man, but your personal hero?
Does love keep you in the air when you oughta fall down?
When people ask how you're doing, do you always respond, "Shiny!" even if you're about to go into surgery?
Do you aim to misbehave?
Have you ever fallen down the rabbit hole of the Browncoats Tumblr for like...a lot longer than you mean to?
If you answered "Yes!" to all of the above questions, you're probably going to feel like a big damn hero when you've completed one (or all) of these amazing DIY Firefly projects.
Hand-Knitted Jayne Hat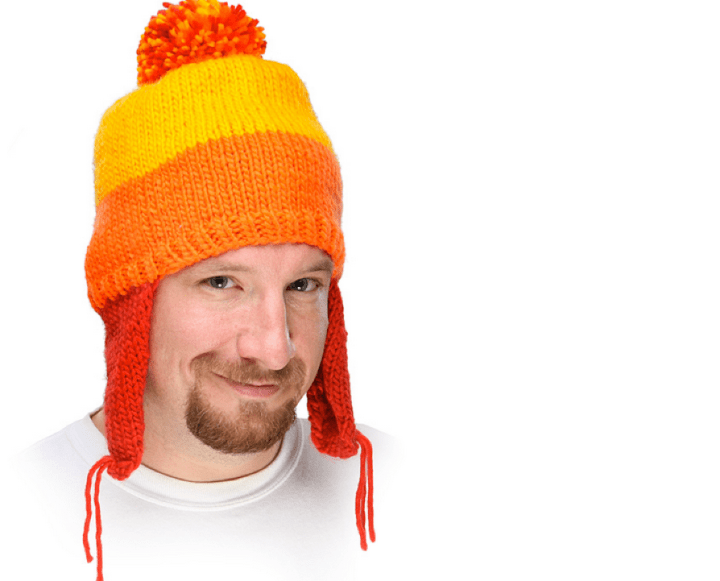 It's time for some thrilling heroics! Want to know how Jayne Cobb's hat was made? I know, I know, Ma Cobb made it for him; I mean in real life. Shawna Trpcic, the costume designer for Firefly, first used watercolors to design Jayne's hat, then bought yarn at a no-longer-open store in Santa Monica and then had a production coordinator knit it. Later, it was sold at a 2008 auction; the proceeds went to Adam Baldwin's favorite charity, the Marine Corps - Law Enforcement Foundation. And now you know! If you can knit, you can make your own Jayne hat complete with pom-poms and ear flaps. Thanks to the Austin Browncoats, you've got a free pattern to use - it even includes everything you need to buy right down to yarn brand suggestions with the names of the colors they recommend. Dress like your favorite tough-on-the-outside but sentimental-on-the-inside mercenary (or give it to someone who loves Jayne even more than you).
Origami Serenity Earrings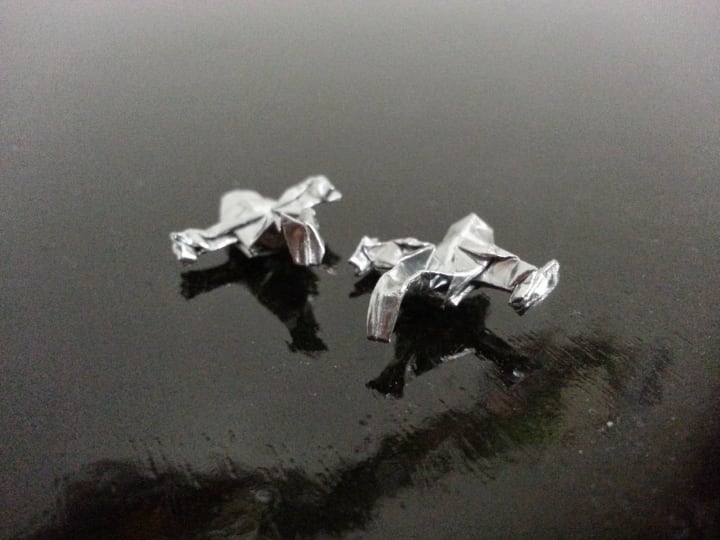 I once folded a thousand paper cranes for a sick friend. Even though I had help, it definitely took even longer than I had anticipated. These Origami Serenity Earrings will be a snap (at least by contrast!). Nerd by Night found a great online tutorial that will walk you through the whole folding process, one step at a time, so even if you're not an origami master you might give this one a try. Just get ahold of some silver origami paper, earring hooks, silver wire, and some transparent beads; you'll also need a pair of chain nose pliers and some wire cutters. You may want to practice with some scrap paper before you begin folding the paper that you'll actually be using to make the jewelry. Quietly hum the Firefly theme song every time you're wearing them and see if anyone makes the connection. Bonus: unlike Jayne's hat, you can wear these almost anywhere, anytime, without getting funny looks or reminders about the office dress code.
Pretty Floral Bonnet Cross Stitch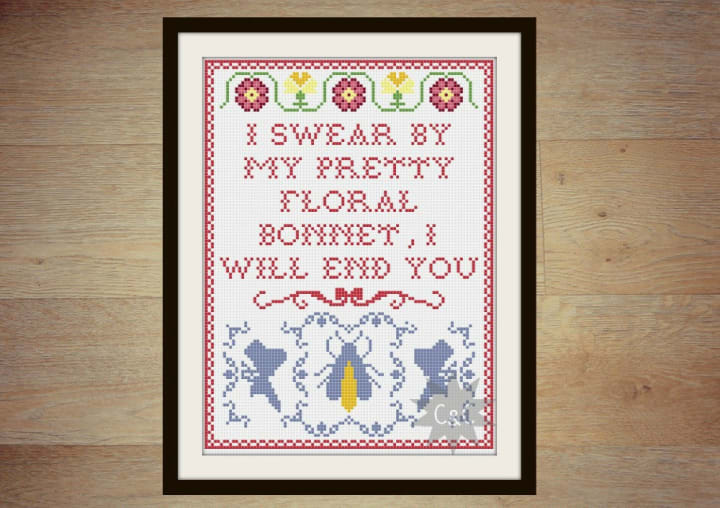 "Now think real hard. You've been birddoggin' this township a while now. They wouldn't mind a corpse of you. Now you can luxuriate in a nice jail cell, but if your hand touches metal, I swear by my pretty floral bonnet I will end you."
It's not every man who can wear a woman's flower-covered hat and issue effective death threats, but Mal certainly can. If you'd like to remember that amazing moment for yourself, try your hand at this delightful and ironic cross stitch sampler complete with Captain Malcolm's Reynold's famous words and some flowers, bonnets, and a butterfly to boot. It's a cunning art piece that definitely merits a second look from guests. (Also, if you have never cross stitched before, I promise you can handle it. I cross stitched things about this complicated when I was but a wee eight-year-old girl and I am not particularly crafty.) Just purchase the pattern from Etsy, follow the instructions for buying embroidery floss and other needed supplies, and give yourself a little project to keep your hands busy while you're re-watching the first season. (The...only...season...)
Soft Damn Heroes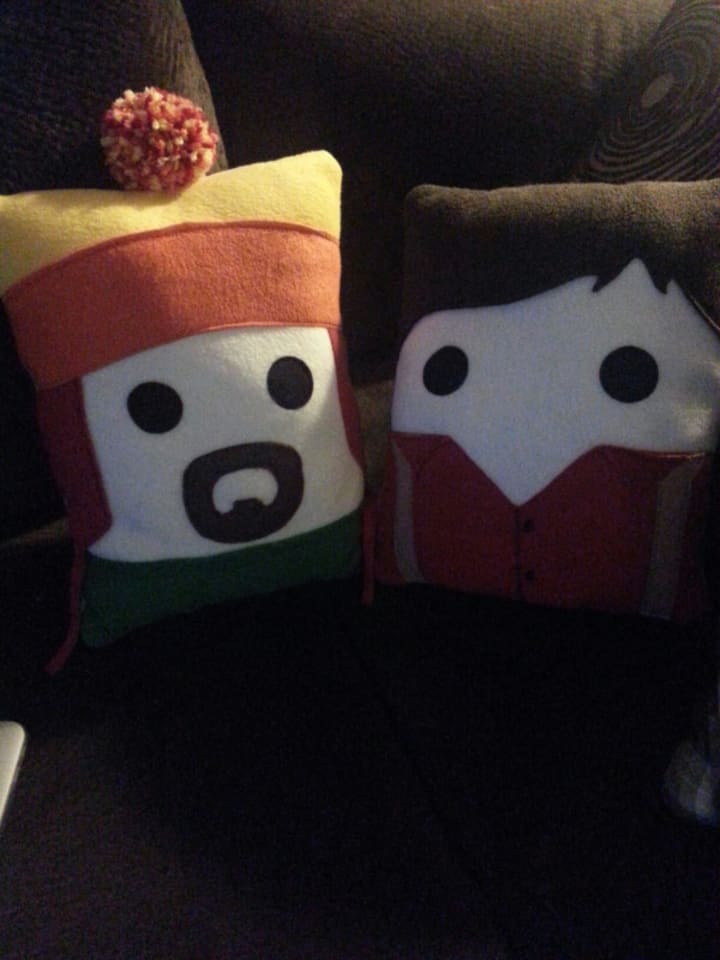 These are some really soft damn heroes. Suggestions for their use:
Place them on your sofa. Make them have loud, animated conversations with each other when people suggest watching Mike and Dave Need Wedding Dates. "How come you didn't turn on me, Jayne?" "Money wasn't good enough." "I call it Vera." "Well, my days of not taking you seriously are certainly coming to a middle.'
Decorate your bed with them. Snuggle with them when no one else is watching.
PILLOW FIGHT!
Ahem. Or, you know, they can just...sit on your couch. Like normal people's pillows do. Though you won't find a pattern or detailed instruction for how to make them, the craftiest among us might be able to make them (and the rest of the crew!) from felt and pre-made pillow forms.
Gingerbread Serenity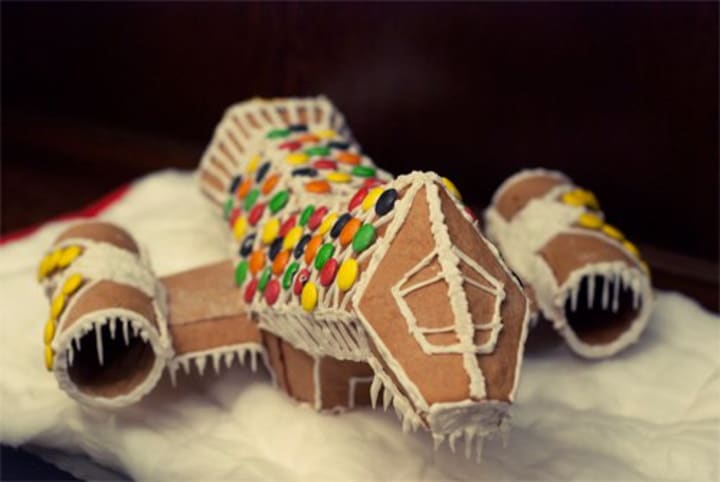 Jingle Bells! Jingle Bells! If Christmas spirit you lack,
Someone ever tries to kill you, you try to kill them right back, hey!
Uh...ok, so I'm going to stop. Sorry. But this is SO COOL! There's no pattern - just a link to the awesome guys who created this and more pictures on their Facebook page. Making gingerbread houses with my grandparents was a favorite Christmas tradition when I was a child (yes, I had an idyllic childhood), but we never did anything this epic. The good thing about gingerbread houses is that once you learn how to work with royal icing, the possibilities are almost endless - that stuff hardens up like cement. They went pretty simple with the candy, but if you find a store with bulk candy bins you'll discover even more options for your very own gingerbread Serenity. Just don't let the catalyzer on the port compression cable blow and you'll be all set.
I Am a Leaf on the Wind Mug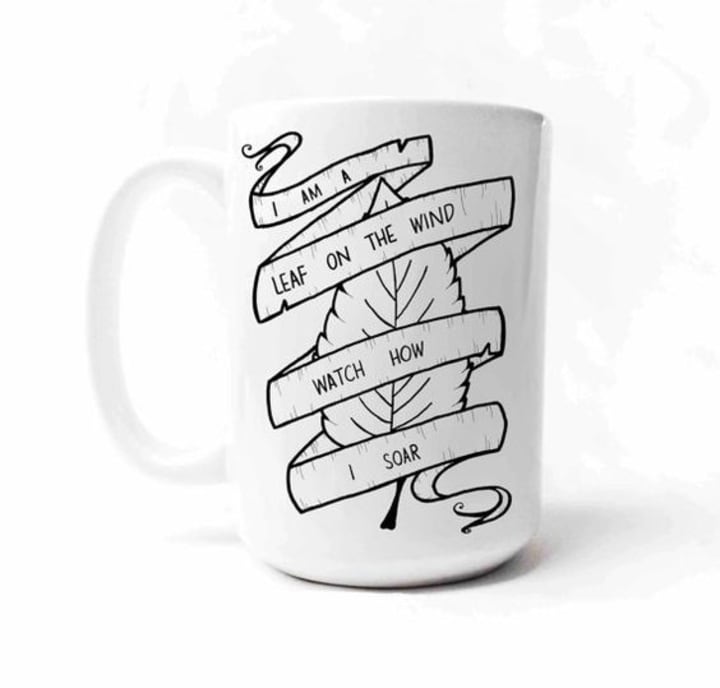 Simple and classy, you can use this as an example for a simple Sharpie mug or, if you're feeling artistic, come up with your own design and make something truly incredible. I like the black on white, but there are SO many possibilities. Consider a Blue Sun design, Kaylee's umbrella, or the Chinese Serenity symbol. Or use a different quote; I fancy the idea of a mug emblazoned with "Curse your sudden but inevitable betrayal!"