A Million Angry Faces
Dateline: 2050, it's media mayhem out here!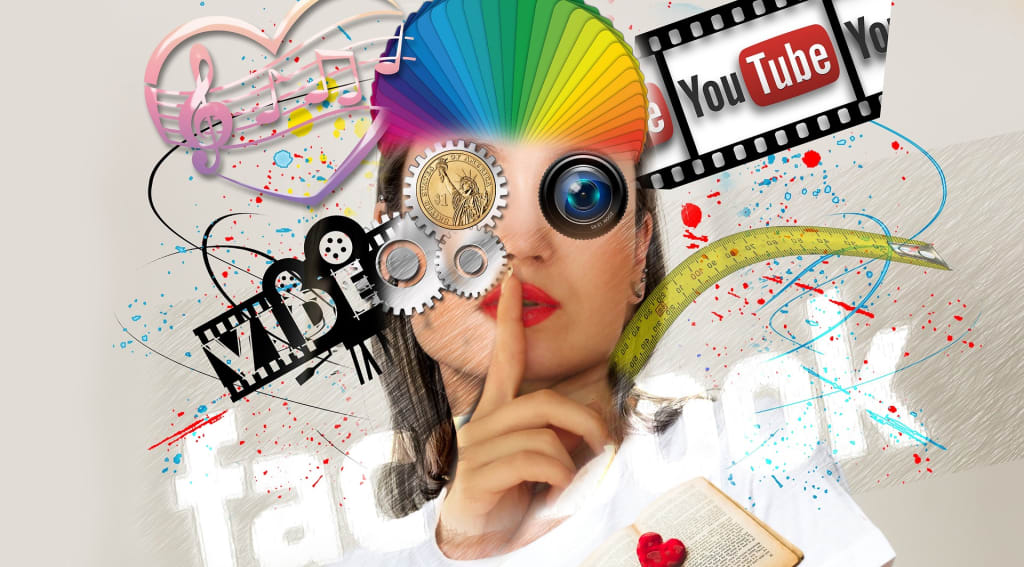 Omnipresent forever: Isabella was everywhere 
2050 - An obituary-writing company sends its carefully constructed pieces to celebrities before they die, so that the star can approve the text. In this modern super-era of media-constructed status and personality, a good obit can go a long way…
ISABELLA'S million dollar empire, which includes the charmed fragrance "Guinea pig" and endorsements for multiple sports bra brands across swathes of Asia, will continue her meteoric ascension into the super-celebrity stratosphere where she joins Whitney Houston, Gandhi, and Mohammed Ali (we'll add in more recent names nearer the time… you can choose some A-listers that you would like to be compared to—consider adding a B-lister to make you seem more humble, and mix up the races to boost bra sales).
Her fraught battle with depression and alcoholism led millions to her weekly YouTube show "It's up to you" that she began in her early teens. By age 19 she had been drawn into a world of global politics making her the poster child for issues on body dysmorphia, fighting repressive regimes, and supporting environmental activism. (Date of actual death to go here…we'll need at least two weeks' notice to ensure you get to see the final proof before we release this). She leaves behind her iPhone (add generation) and Facebook account (leave us your login details so we can continue posting).
Her final Tweet @all: "Keep the lights on fellow Twits…I'll always be here" is expected to sell for $4.8m at auction (this is more than the national deficit of some small islands – we'll try and prompt a bidding war to get that up, but this is a reasonable estimate right now) catapulting her insights into life as being more valuable than any single-utterance by Jesus or Confucius whom she described as her marketing idols.
Isabella began life as Elizabeth Smith in a regular small town as many people do, but her distinctive chest and fully functioning third-eye quickly escalated her social worth through 'likes' and 'shares' and prompted a pioneering surgery to replicate her "Dalek vision."
Known to her close friends as "Fizzy Lizzy," her effervescent personality quickly charmed the great virtual continents Blog-istan, Twitter-sphere and the YouTube-iverse, leaving only the Instagram-o-zone and North American Tumblr Alliance to be dominated by her rivals. (Did we leave anything out?)
(We will add gushing condolences here—please list any rivals whose posts you don't want in your piece).
Pals describe her real life persona as "shy" and "retiring" and said that generally she was "a loner" who shunned human contact, which will surprise many who knew her though her profiles, advertising, multi-platform marketing, endorsements, virtual public lectures, TED talks, and brand placements on every form of public transport. Space scientists joked that she was literally the face of humankind for any future alien contact, with some fearing that her looks might lead other lifeforms to believe that the rest of the world's population is missing vital anatomy.
Although Isabella's family were never mentioned publically or visible even in the background of her millions of images, experts believe she was conceived of like everyone else. (Sorry—we know you don't mention family anywhere, but we do need to put this in for credibility). Even her closest associates claim never to have seen her with parents, ever.
Her public love life was a different matter, particularly her closest affairs with various sports celebs, TV hosts, male models, music stars, and outlandish politicians, and her 24-hour marriage to holographic business tycoon Dronaldo Frump, the AI who paved the way for acceptable hate speech. Many claimed it was a PR stunt to reinvigorate Dronaldo following his transgender reprogramming, but the bitter exchanges in their televised divorce proceedings took a visible toll on Isabella that led to her even more public breakdown.
The period after she described as her "Blue movement," which spawned many of her most memorable copycat celebs, most notably a generation of youth called the iBella-minis. Many faded away gaining only a fraction of Isabella's followers and necessary endorsements to keep them afloat in their eccentric constructed lifestyles.
Behind the scenes, Isabella doted on her pet dog, Humphry, and was greatly conflicted by her desire to become a school teacher to educate youth of the perils of social networking and modern media. Her work with young people was rarely publicised because it failed to promote celebrity and was seen as too "normalizing" (the CEO of your personal management company has agreed to this word—but we can remove this whole paragraph if you prefer: please note - inclusion of this image could affect your stock market value).
Hacked private medical records reveal that early on in life Elizabeth consulted with plastic surgeons about the removal of her additional eye and about breast reduction both of which she feared being born with would make her a pariah and attract too much public attention. But then social networking happened. When teaching seemed an unlikely career trajectory, she was consoled by her then boyfriend who unknown to her had started posting her naked pictures on the internet. This ultimately drew her into a modelling contract frenzy and a bid by Image is Everything that led to the creation of 'Isabella.' The boyfriend, who was never formerly charged, later told tabloids that Isabella had him to thank for her fame after he blackmailed her with threats of a sexual exposé, forcing her to take a lucrative contract.
Although she eventually accepted modelling, she secret harboured socially-motivated ambitions and through her life set up various worthy foundations that she never spoke about for fear of being ostracised.
Isabella's funeral service will be a live telecast that space agencies have agreed to broadcast as radiowaves on Lightyear.fm that will reach the edge of the universe in a long time from now. Her ashes will be blasted onto various moons as part of plans to seed new planets. Log in to isabellaglobal.com and for $49.99 get the boxed DVD set and instant access. (This is our top-celeb package, but we would consider creating a new super-bracket with your approval…please e-mail to let us know).
Ends