You Should Have A NSFW Twitter
A year on Not Safe For Work Twitter. Following sex workers, erotica writers, personal alt accounts, and so many more. It's been liberating, exciting, and altogether worth it! You're gonna want to get an account for your sexy self.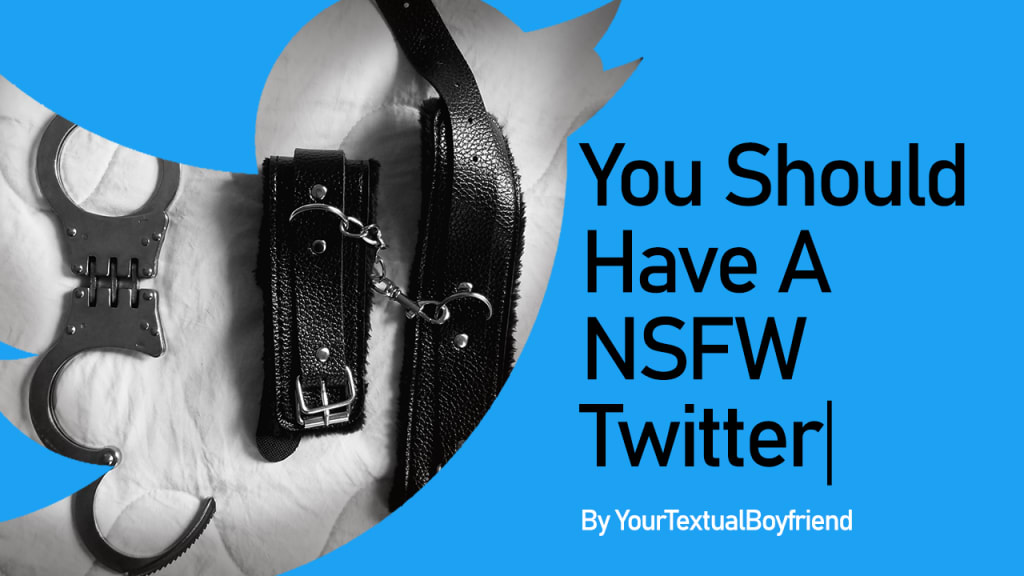 A year on Not Safe For Work Twitter. Following sex workers, erotica writers, personal alt accounts, and so many more. It's been liberating, exciting, and altogether worth it! You're gonna want to get an account for your sexy self.
Estimated Read Time: 12 minutes
► ► ► ► ► ► ►
If you're like me, you had a little trouble getting into Twitter at first. It's basically a huge chat room full of conversations happening 24/7. Especially if you don't know anyone or don't really know what you're doing on there, it can be intimidating.
But once you make some friends and gain some followers, your experience levels up. People actually reply to your tweets. It can be downright addicting how easy it is to fire off posts into the void and see who responds. Sometimes it's no one, sometimes you get some traction and have a bunch of new notifications pour in. Social media gambling for that big serotonin jackpot.
Now, if you're also like me, you've mainly spent your time in vanilla Twitter space. Tweeting at celebrities, following friends, maybe trying to build a following for whatever you do during the day. You quickly learn about the dos and don'ts. How Twitter shows people what posts you like. How some people make "horny on main" their brand while others are just awkwardly thirsty under every other model's selfies.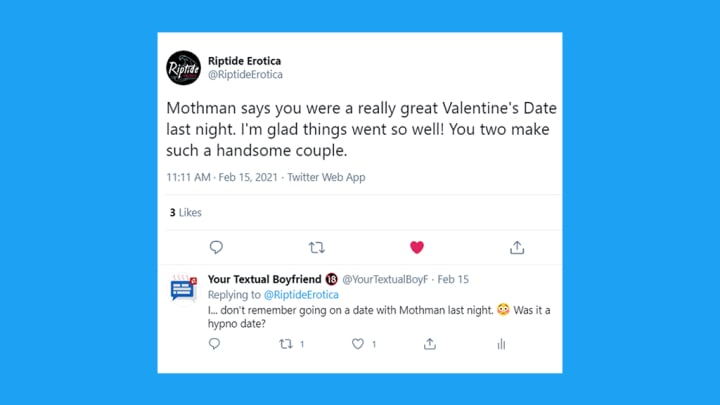 For a long time, I maintained a family-friendly Twitter account. Some swearing, some real talk about mental health and relationships, but nothing you could deem NSFW. I was mindful of when I was being thirsty. Careful not to follow anyone too risque. Nothing too sexual made it past my drafts. And if it did, it was quickly deleted after I sobered up.
And then the pandemic happened. Almost overnight the world was ordered to stay inside. We all suddenly had a lot of time on our hands and nothing to do. I was lonely. I was stressed. I was horny. So like any other person in this digital age, I turned to the internet.
I got into writing erotica. I stumbled into erotic audio. I started an Onlyfans. But what's been the best has been getting into NSFW Twitter. A place where I could post my horny thoughts, my dirty thoughts, my sexy thoughts, and be accepted. Encouraged even. I could follow whoever I wanted. Like whatever I wanted. Even post things that I would have died from embarrassment posting on my regular account. My experience has helped me in so many more ways than just being a place to be horny. It gave me a space to talk about and celebrate sex.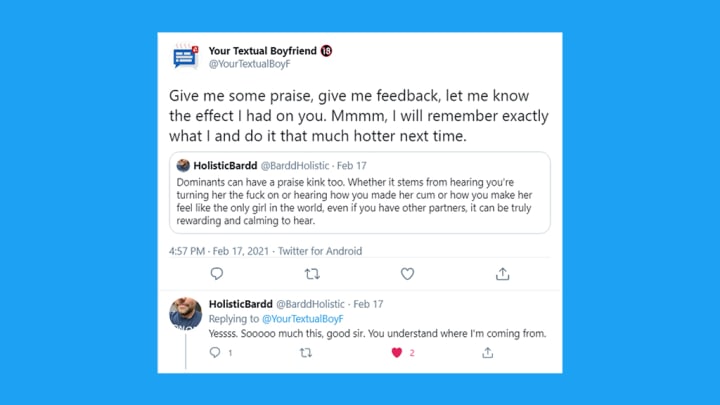 It's worth talking about my background and how it plays into all this. Growing up, sex was not talked about in our house. My parents once discovered I was visiting the Playboy website and the talk they gave me basically summed up to "Don't go on there." The only thing I learned was to delete my browser history after searching for porn. In turn, I was a late bloomer with relationships and sex, having to figure out most of it on my own. It's a miracle I didn't have toxic or weird hangups about it all.
Since getting out into the world, I've tried to be more mindful of sex and its role in my life. Working to drop the shame of being a sexual being. To embrace what I like and not shun that part of myself. To not be embarrassed at the mention of genitals and sex acts. To give others a nonjudgemental, less awkward space to talk about things if they wanted. As much as I've come a long way on my own, having a Twitter account specifically for this part of me was something new and liberating.
I started my account to go along with my erotic writing, though it's far from a professional writer account. For me, it's a more personal space where I can talk about sex. The good stuff and the bad stuff. The rejection, the struggles, the desires, the fireworks. I made the account separate from my main account so I could say what I wanted and not have to stress about maintaining an image. I can just be myself.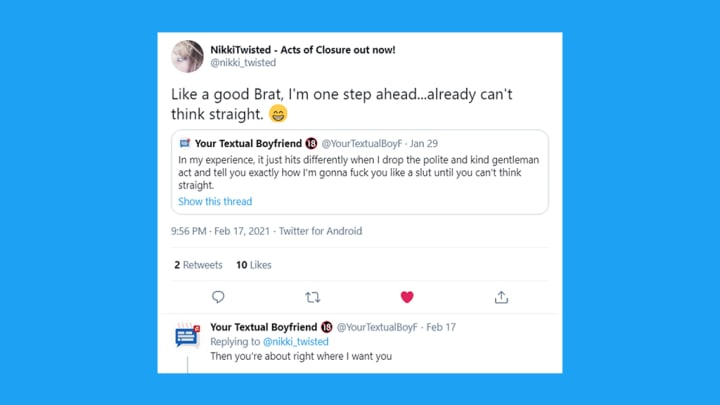 Now it's worth mentioning I'm a straight cis male and that I don't have my face on my profile. I'm able to be open and honest about being horny partly because I've kept my anonymity. Getting a chance to connect with and interact with all manner of sexy accounts as if I was at a masquerade sex party.
There are all kinds of different precautions people can take. From making up a new name, not showing your face, using a voice changer, or just lurking without posting anything of yourself. You don't have to reveal yourself any more than you want. How you present yourself and act in NSFW spaces there is up to you. Since it's a lot of intimate sharing, you'll find people can be very supportive and encouraging.
Being anonymous though still isn't a license to be a creep. There are rules to NSFW Twitter. As with all sexual spaces, consent is king. Just because you're on 18+ Twitter does not mean you get a free pass to spam your dick everywhere. Think of it like one of those secret club sex parties we see in movies. There are people getting down and dirty to enjoy, but there's plenty of people with their clothes still on watching politely from the side.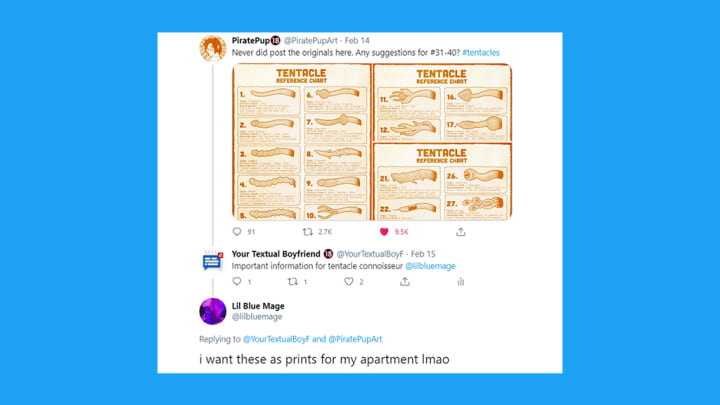 Like most new experiences, you want to take things slow and feel out what others are doing. There is a wide range of NSFW accounts out there to follow. Celebrity porn stars, erotica authors, NSFW artwork artists, erotic poetry accounts, indie Onlyfans sex workers, horny alt accounts, roleplay accounts, and so much more! Some are there to sell, some are there to connect, some are there to get off. Every account is a little different than the next. You'll want to find your people and remember that not everyone is there for the same reason.
Don't go sliding into DMs with unsolicited dick pics. Don't assume that because someone shares a sexy photo means they want to hear about how you'd like to fuck. Have some fucking class! You don't have to go all, "Your eyes are so beautiful I didn't even notice that dildo you were deep throating!" with your replies but it's better to be flirty than explicit. Be respectful, be considerate. Don't be "that guy."
NSFW Twitter can be a lot of things. You can share very personal sexual thoughts and feelings. Be thirsty and horny without limit! You can find validation, community, connections. But there is also risk. And drama, as there always is with bigger accounts and communities. Remember that there are real people on the other side of these accounts. Be mindful of what you post and who you share with. Just like anywhere online, take precautions to protect yourself.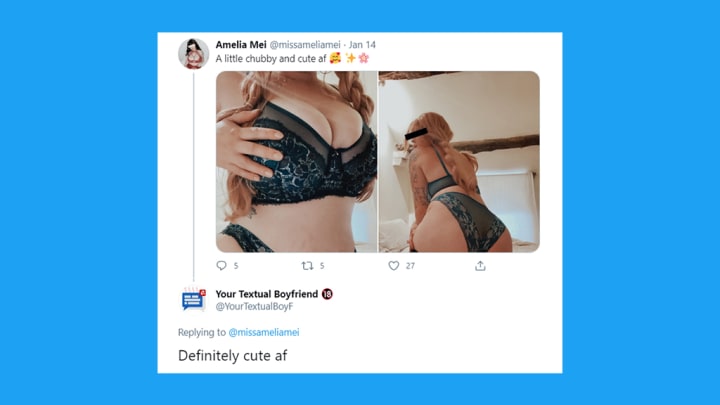 You don't have to show your face. You don't even have to post pictures! You can keep your account private. You can keep it text only. You can show off only select parts of yourself or keep it in your DMs with specific people you connect with and trust. Always remember that anything you post online can be shared beyond that original post. Once something is on the internet, it's basically there for good.
While you may see others getting lots of praise for their sexy pictures, don't feel you need to expose yourself if you're not comfortable. Be safe. You can still be teasy and flirty without full nudity. If you do post pictures of yourself naked, consider cropping your face from the more risque ones. Be mindful of what's in the background of your photos as well as any identifiable body markings such as tattoos. Use your phone's photo editing to crop images, add a sticker to cover your face, or apply filters before you post things.
Twitter now has Fleets which offers the opportunity to share something for 24 hours before it disappears for good. Replies to Fleets go right to your Direct Messages, a feature that can be turned on or off. Also, you may consider setting your profile to private so only your followers you approve can see what you share. At the least, you can manually go through and delete older pictures of yourself so they aren't forever available on your timeline. They'll still have gone out into the internet but it can limit how easy they are to find.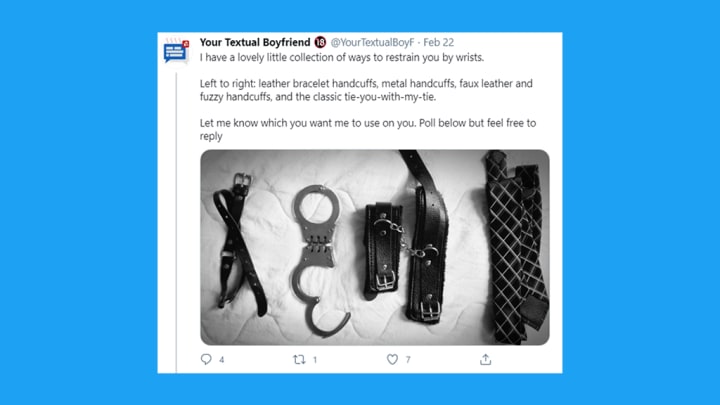 But you don't have to share photos of yourself. You can record audio, write stories, talk kinks, sext, just hang around, or even have perfectly vanilla conversations with people! Because, gasp, at the end of the day we're all just people with horny thoughts and sexual needs. Everyone should have a place where they can let off a little steam. Jettison some sexy thoughts into space.
While I've definitely exchanged sexy texts with people, I've also made friends on there. We've talked about our lives, shared personal struggles, and discussed perfectly vanilla interests. In fact, some really appreciate not having to always be "on" for someone. When we can acknowledge and appreciate our sexiness but can also laugh and talk shop. Be able to geek out about an anime, or commiserate about how much internet drama sucks. All between writing or posting our latest sexy works for the internet to get off to!
Having a NSFW account gave me a place to experiment and learn about myself. I could write sexy stories to share in subreddits. Run polls about our sexual interests and experiences. Interact with content made by others and learn more about what attracts me. You quickly learn what different terms mean. The difference between a findom, Daddy Dom, service dom, and a brat tamer. There's something out there for everyone. Different strokes for different folks, as the saying goes.
I can't recommend it enough. If you don't already have one, make yourself a NSFW account. Keep it secret. Keep it discrete. Have fun with it. It can be so freeing to express yourself sexually. You can reinvent yourself and use it to escape from the humdrum of reality. Exploring and trying new interests. Consuming or creating fiction can give you an outlet to express things you can't in everyday life. You never know what you might enjoy. What communities out there share your kinks.
Always remember if you interact with sex workers that you should tip them for their time. And don't waste the time of professionals. Always be respectful and accept no as an answer. It will take some time to find the community you best fit in with. It may take some trial and error before you discover like-minded people interested in what you are interested in. Just because someone is posting sexy content does not mean they want to talk sex with you. Definitely check someone's profile bio to get a better idea of what they are all about and what they are here for.
Enjoy yourself and don't be an asshole. Don't do this for anyone else but you. It can be a great time, it can be a strange time. There's definitely a lot going on in human sexuality that can get weird fast. Exploring and learning about yourself can be such an enriching experience. So go forth! Be horny, be thirsty! Simp, sub, tip! You sexy, sexy animal.
social media
About the author
Thoughtful male perspective erotica writer. Male for female. Intimate 2nd person sext message stylings. Stories first on Onlyfans. All characters are 18+ and fictional. He/him 33
Reader insights
Be the first to share your insights about this piece.
Add your insights