Women of Penthouse T-shirts
Taken from the pages of your teenage fantasies to your wardrobe, let the women of Penthouse up your style game.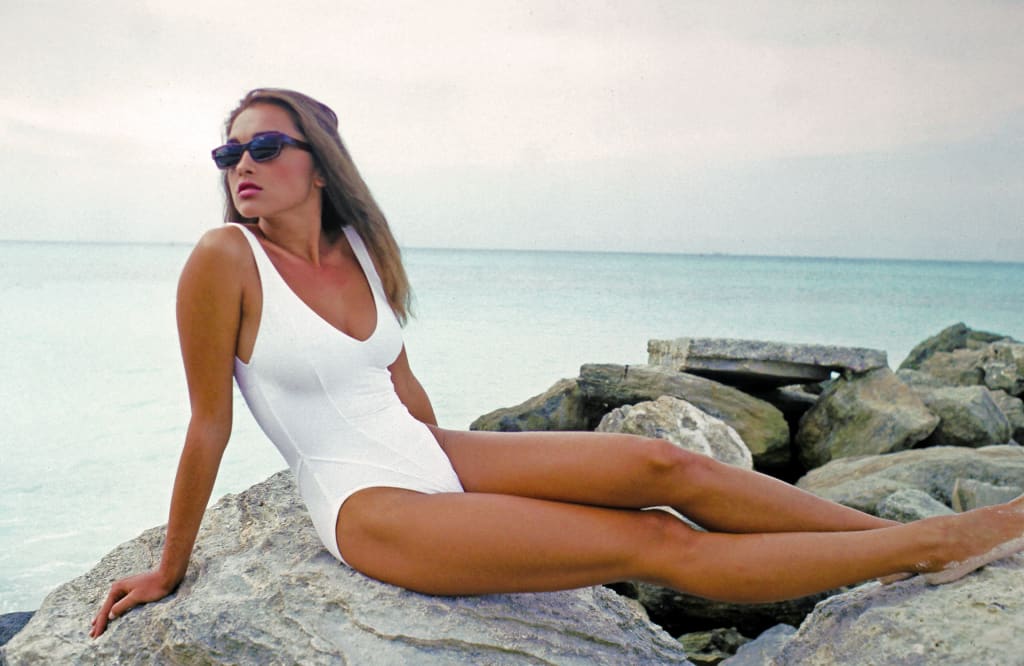 Photo of Sasha Vinni by Bob Guccione
If you're a fan of the classic men's magazine Penthouse and its glossy pages of beautiful women, then you'll love being able to add these exclusive t-shirts to your wardrobe. Penthouse Magazine was started by Italian-American Bob Guccione with a male audience in mind. It features several lifestyle articles but more importantly its iconic soft-focus imagery of scantily clad women. If you're looking for a way to get back to your youthful days of sneaking a look at a Penthouse under the covers at night and reliving the excitement of beautiful models in print, these iconic t-shirts will do just the trick. Be the envy of all your friends and honor the lovely ladies of Penthouse all in the comfort of a classic tee.
With these classy Penthouse women t-shirts, it's not hard to stay stylish. All of these women have had extraordinary careers as models and actresses. Each and every one of them has made an impact on the minds and sex drives of men across the world. Now you can remember them in their glory with a comfortable and high-quality Filthy Media Penthouse t-shirt.
Jane Hargrave is notable for setting the standard in beauty and attitude for all the Penthouse Pets. She was awarded the title of British Penthouse Pet of the Year in 1978 and appeared on the covers of three different Penthouse editions starting in 1975. Hargrave was discovered by Bob Guccione who photographed her first spread featured in Penthouse at the age of 18. From there she went on to become a regular Penthouse cover girl and Pet of the Month in July 1975. In 1979 Jane Hargrave left Penthouse to pursue a fashion modeling career. If you're a fan of the classic and sultry look of Jane Hargrave, why not wear her image on your very own Filthy Jane Hargrave Gypsy T-shirt. There's nothing quite like wearing a legendary Penthouse model printed on a 100% fine jersey cotton t-shirt. What's even better is that you can feel good about your Filthy Jane Hargrave purchase, because this beauty is printed on a t-shirt made in the USA with sweatshop-free labor. With a durable yet vintage feel, this t-shirt allows you to take the classic beauty and sultry pose of Jane Hargrave with you wherever you go.
Nothing screams the nineties like ripped denim on denim. Thanks to this Filthy Brandy Ledford T-shirt, you can relive your glory days and have some fun while doing it. Brandy Ledford was in her prime in 1991 to 1994, starring in multiple popular adult films. This particular photo comes from a shoot done by Bob Guccione that was featured in Penthouse Magazine in 1992. While we would never recommend wearing denim shorts, jacket and hat all at the same time, it's perfectly acceptable to wear a picture of Brandy Ledford on your shirt. Keep it cool and sexy in this fine jersey cotton, comfortable and nostalgic t-shirt from Filthy.
The allure of Kate Simmons is in the many facets of her personality. Although some avid Penthouse readers may have argued that her allure lay in the many facets of her body. Whatever you think, there's no denying that Kate Simmons is a Penthouse legend. She was featured in Penthouse on the September 1978 cover that secured her place in softcore porn history. Most people don't know that her real name is Felicity Buirski and she had a stint as an actress as well as a model. If you're into the sexy lawyer fantasy, you may be happy to know that Kate was studying a career in law. A smoking hot babe with personality and brains, what more can you ask for? Keep Kate Simmons close to your heart with this Filthy Kate Simmons Smoking Hot T-shirt. You'll almost be able to feel her silky smooth skin with the 100% fine jersey cotton and durable fabric construction.
If you've ever seen the 1983 classic movie Spring Break, we're sure you're familiar with Corinne Alphen's iconic sexy bikini scenes. There's nothing like getting back in touch with your over-eager teenage self than indulging in a t-shirt featuring the star of your youthful wet dreams. Not only is Corinne Alphen hot, but she's a talented bombshell. Having a double career as an actress and a model, her legacy deserves to be remembered for years to come hanging in your closet. Just like the memory Corinne's tiny bikini, this fine jersey t-shirt will never fade or shrink in the washing machine. Take a step back into nostalgia with this Filthy Corinne Alphen Bikini Body T-shirt.
Sasha Vinni may hail from ice cold Russia, but her smoking hot beach body and bright white swimsuit will melt your heart any day. With this Filthy Sasha Vinni Beach Bum t-shirt you have the option of wearing this Penthouse Pet's high quality image on a black or white background. Who wouldn't want to walk around all day with the likes of Sasha Vinni on their chest? Vinni set the standard for Penthouse Pets in the nineties. At the tender age of 21, she grabbed hold of the acclaimed title Penthouse Pet of the Year, finding herself the admiration of every young teenage boy who could get a hand on their dad's Penthouse. Wear this t-shirt and you could become that much closer to possibly be the best thing to come out of Russia.
Talk about great photography and a great bod. With Sheila Kennedy's sultry nude silhouette gracing your t-shirt, you'll be the envy of all your friends. Just make sure you leave this shirt hanging in your closet when you're on your way to the office or your parents' house. While they will be sure to know who she is, your coworkers and family may not be supportive of her nude body plastered on your chest. But don't worry, there are tons of other places where Sheila Kennedy will most certainly be appreciated! After all, she was named the Penthouse Pet of the Month in December 1981 and later took home the crown of Pet of the Year in 1983. In the 80s you couldn't escape Sheila, she was all over every magazine cover, featured in Penthouse, and on all the TV channels. If you want to bring back a slice of the good ole days and be the owner of a fine artistic rendering of the female nude, this Filthy Sheila Kennedy Nude Heels T-Shirt is just for you.
Stephanie Page is as American as apple pie. With her platinum blonde hair, sky blue eyes and near perfect hourglass figure, it's no wonder she won Pet of the Year in 1990. Stephanie Page made her Penthouse debut at the age of 21 when she was featured in Penthouse as the September 1987 Pet of the Month. From then on she graced the glossy pages of the beloved magazine for another several years. Thankfully, Filthy has kept her beautiful image frozen in time on their Stephanie Page Boardroom T-Shirt. This shirt is a perfect way to get comfortable and a little sexy after a long day at the office. Spice up your free-time and fulfill your boardroom fantasies with a little help from Stephanie Page.
Nothing quite says the seventies like a partially nude photograph of Lynn Partington leaning against a stone wall. Wear a piece of legendary history with this Filthy Lynn Partington Stone Wall T-Shirt. Not only was Lynn a beautiful British bombshell, she was also a former Playboy Club "bunny girl." When Bob Guccione got his hands on her in 1970, he photographed this iconic shoot that was featured in Penthouse when Lynn was awarded the December 1971 Pet of the Month. Now you can have your very own rendition of beautiful Lynn Partington with you at all times when you wear this 100% combed and ring-spun cotton t-shirt. Get as groovy and stylish as Lynn in her Filthy classic cut, ultra comfortable tee.
Even though Bob Guccione, founder of Penthouse, claimed Janice to be his favorite model to shoot, she never did get to make her debut in Penthouse. Now she gets an even better claim to fame by being featured on a super soft, classic American Apparel t-shirt. Give Janice the visibility she deserves by wearing her around town. Her youthful sex appeal glows in this vintage photo of her in a colorful low-cut tank top and bright orange snapback. With the choice between classic black or sharp white, you're to be comfortable and stylish with Janice to keep you company.
Danielle Deneux was honored with the title of Pet of the Year in November 1981. And we can see why with this titillating white lingerie photo shoot captured by none other than the man himself, Bob Guccione. If you're looking for a lady with class to bring home to your parents, you've found one with Danielle Deneux. Clad in innocent white lace, an elegant string of pearls, and high-class fur, Danielle has something going on for everyone. Now you can show everyone your appreciation for Danielle's timeless looks with the option of either a simple white or solid black premium t-shirt.
No pop singer can quite compare to the legendary Madonna. While her music was Grammy-winning, her acting flawless, and her actions controversy a lot of people tend to forget the humble nude beginnings of Madonna when she was featured in Penthouse. Take a hint from Madonna's successful and long-running career by pushing the mainstream boundaries with this Filthy Madonna Nude Cowgirl T-Shirt. Not only is this iconic image a great conversation starter at parties and family dinners, but it will let everyone around you know what great music taste you have. Celebrate the Queen of Pop herself in the only way you really can, with a nude image of her dressed as a cowgirl on your t-shirt. Madonna would be proud!
Is there anything hotter than a partially nude Sandi Greco talking dirty to someone on the phone? We think not. Wish it was you, right? Take home this uber sexy vintage photo of Sandi taken by Bob Guccione in 1973, featured in Penthouse. This iconic image has been turned into a high-quality print on the softest premium Bella + Canvas t-shirt. Now you can experience what it must have felt like to be Bob Guccione and have beautiful women follow you around everywhere. With Sandi printed on your t-shirt, you'll never be lonely again. Lounge around the house, pick up some groceries or drop off the mail in this Filthy Sandi Greco Is On The Line T-Shirt.
There's truly nothing classier than a black and white image of Teresa Ann Savoy naked in nature. Now you can bring this class to your wardrobe! While Teresa was never named a Penthouse Pet, she was a favorite of the legendary Bob Guccione. In fact, it was because of his interest in this budding model that she was cast in the movie Caligula catapulting her to fame. Never forget this stunning image of Teresa Ann Savoy with it printed on a high-quality fine jersey cotton t-shirt made in the USA. The only thing better than this beautiful image of Teresa is being able to wear it on a comfortable t-shirt all day long.