What Makes Art Controversial?
7 controversial artworks in modern art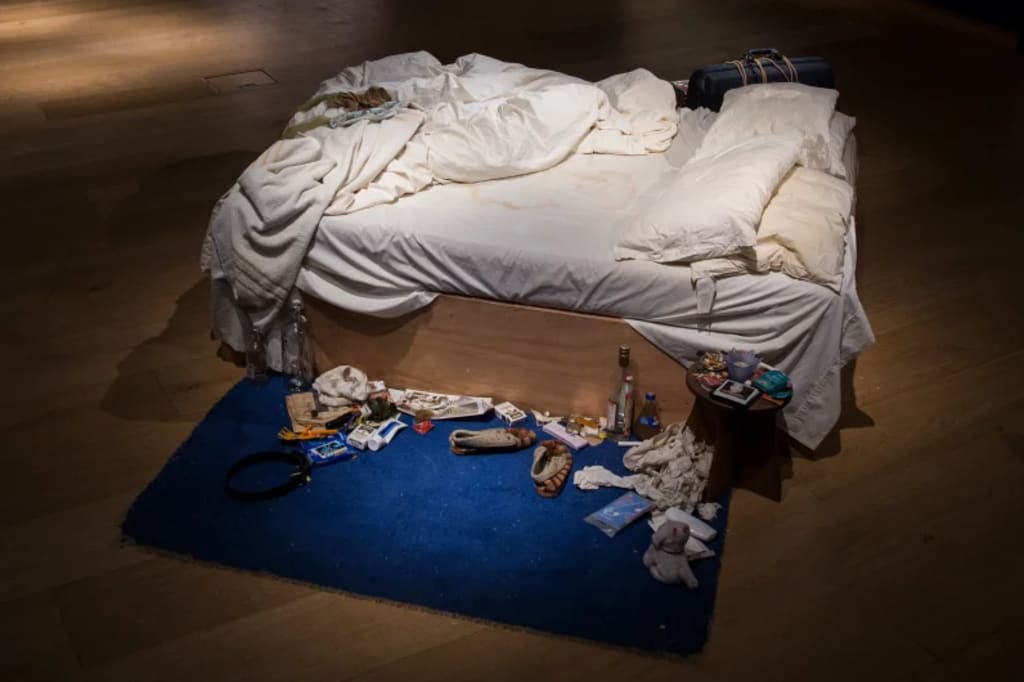 My Bed by Tracey Emin. Source - Public Domain
Art is subjective. It can be transgressive and can spark controversies.
And that's completely okay. Art is not to please everyone.
It is a medium to evoke emotions, transport you to another world, evolve your perspectives and challenge the status quo.
But when art romanticizes sensitive rhetoric like gun usage, adolescent sexuality, inflicting pain on others, or camouflaging all of this into an umbrella term of "freedom of expression," it often seems like a gimmick to garner attention or gain popularity.
Here I plunge into 7 controversial modern artwork that has stormed the art world and enraged audiences. To be honest, a few of them crossed the line of decency.
1. Erased De Kooning by Robert Rauschenberg (1953)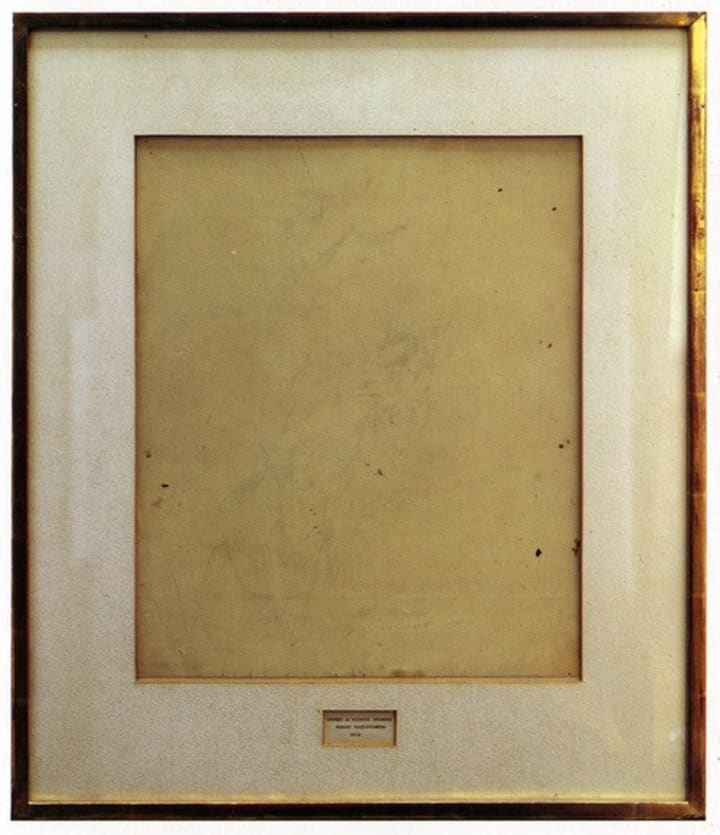 The famous blank piece of beige paper with a few scribblings in a gilded frame.
Rauschenberg was a painter who experimented with art in extreme form.
From incorporating taxidermied animals on canvas to going absolute white - a canvas with no colors.
This painting might have been the extension of his white canvases.
In 1953, Rauschenberg went to de Kooning's house with a bottle of Jack Daniels, praying that he shouldn't be home. After some awkward moments, Rauschenberg explained his research on the nature of paintings with emptiness and how he wished to erase one of his paintings.
De Kooning agreed and gave him one of his sketches made with a comb pencil, ink, charcoal, and graphite. It took 2 months for Rauschenberg to erase the drawing.
2. The Guitar Lesson by Balthus (1934)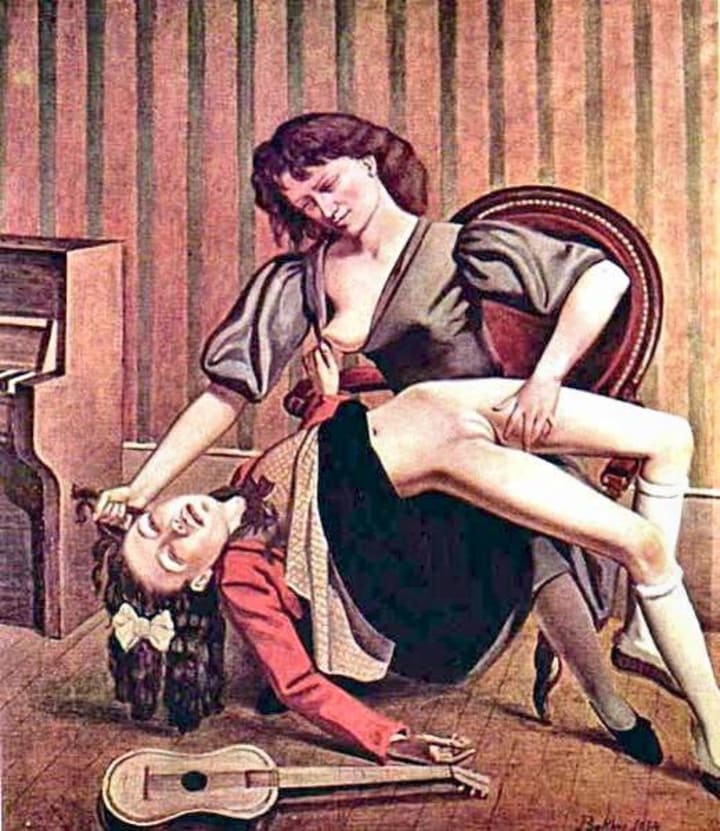 Does this painting cross the boundaries of decency? Yes, it does.
I have written about Balthus's obsession with cats and adolescent girls.
Their unselfconscious postures sometimes suggest sensuality and sometimes inelegance, a contradiction that perfectly matched puberty's phase.
However, the artist's mindset and orientation towards making these subjects remain enigmatic.
This painting has been pissing off audiences for decades. Even though Balthus apologized for this creation, he had to face the public's wrath.
3. Myra by Marcus Harvey (1995)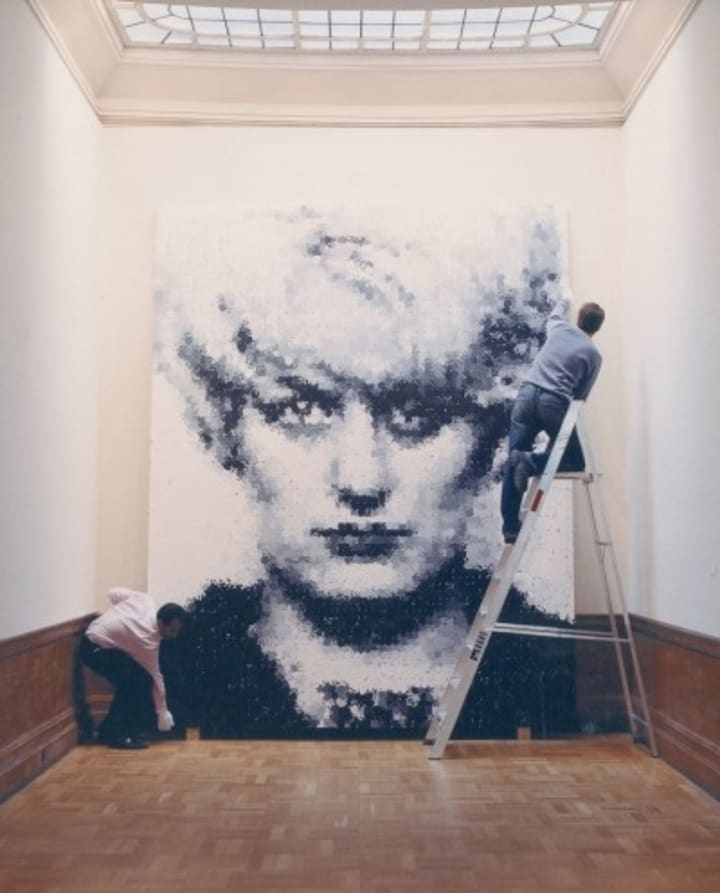 Remember the documentary The Moors Murders?
A British woman who committed the heinous crime of killing small children.
That woman was Myra Hindley.
Marcus Harvey, a Young British artist (YBA), created a mugshot of Hindley, entirely composed of children's handprints.
This portrait infuriated the public.
In defense, Harvey clarified that his portrait was used irresponsibly. In the first place, he never intended this to go public. But his dealer bought it and sold it to Saatchi gallery.
4. The Holy Virgin Mary by Chris Ofili (1996)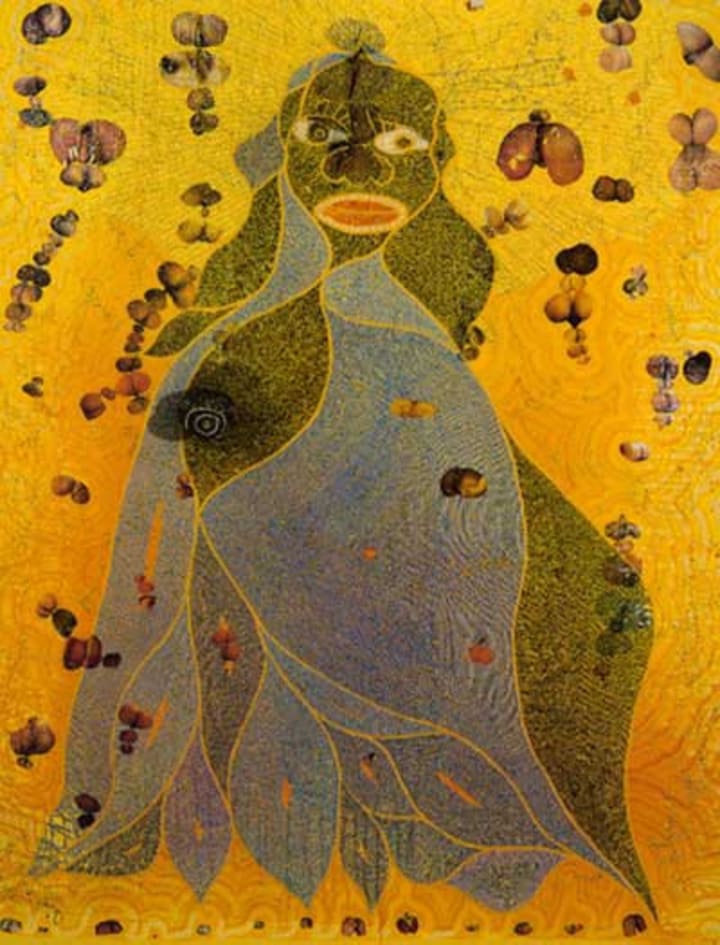 This painting depicts Mary as a Black woman with exposed breasts made up of elephant dung. The image is surrounded by cutouts of female genitalia that look like butterflies/flies from far away.
Now, wait. Elephant dung? I'm clueless why it was used.
Mayor Rudy Giuliani filed a lawsuit against the museum to stop their funding after this painting, which he eventually lost.
5. L'Origine du monde (The Origin of the World) by Gustave Courbet (1866)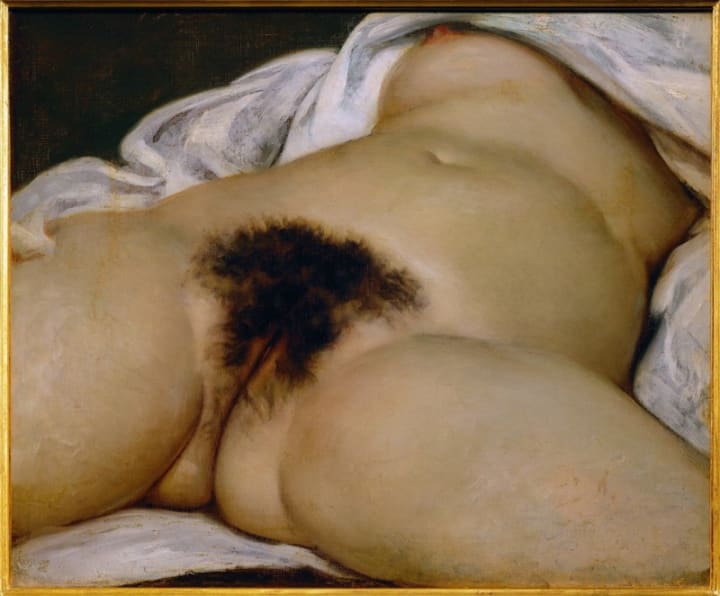 I'd be lying if I said I'm comfortable viewing this provocative piece of art.
A faceless woman is lying in an awkward position. No arms or hands are visible. We could see one breast and a crude depiction of female genitalia.
The mystery doubles because we don't know who the subject is.
For years, art historians have speculated the subject to be Courbet's favorite model Joanna Hiffernan, also known as Jo.
But a recent discovery in 2013 by Courbet's expert proved this figure to be Constance Quéniaux, a dancer at the Paris opera and a courtesan.
6. Rhythm 0 (1974)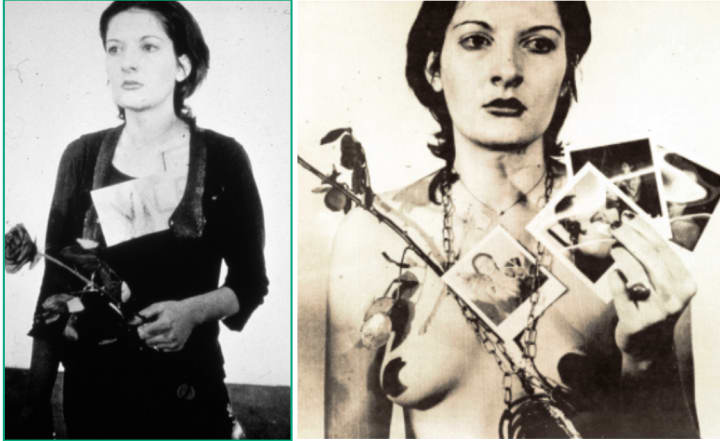 Rhythm 0 was a social experiment/performance art conducted by a Serbian artist Marina Abramovic in 1974.
She placed 72 objects on a table ranging from non-lethal to lethal - perfume, candle, rose, bullet, nail, needle, safety pin, etc.
Here are the instructions:
I am the object.

During this period, I take full responsibility.

1974

Duration: 6 hours (8pm–2am.)

Studio Morra, Naples
Initially, the crowd was docile and put objects like roses, perfume, etc., but this experiment ended with chilling conclusions as time went by.
She was stripped, had a razor cut, harassed, and was at gunpoint by a man, which had to be eventually stopped.
The artist has stated, "the experience I drew from this work was that in your own performances, you can go very far, but if you leave decisions to the public, you can be killed."
7. My Bed by Tracey Emin (1998)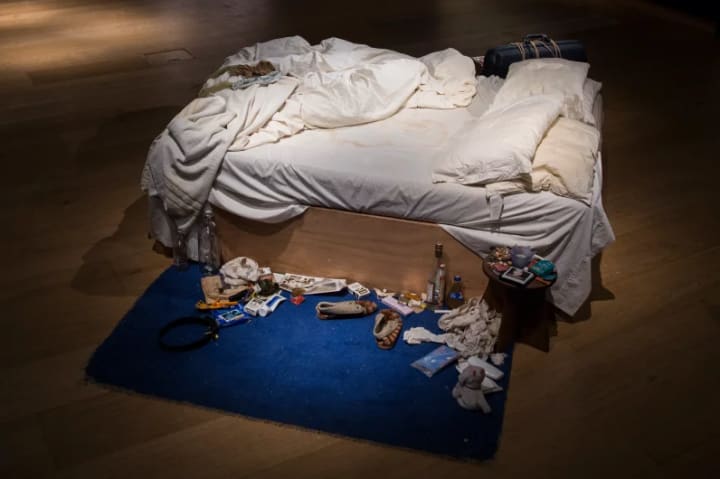 A messy bed, crumpled tissues, empty vodka bottles, cigarettes, pregnancy test kit, and condoms surrounding the bed.
This is what Tracey Emin's bed looked like when she had a breakup, was depressed, and could not come out of bed for four days.
And when she decided to put this in public as an art piece, it became confessional art.
A scene that depicted her fragility, depression, and heartbreak.
This also reflected Emin's difficult childhood when she was raped at 13 and had an abortion at 18.
Many considered this a piece of trash and not something to be displayed as an art piece, but others applauded her vulnerability.
"What's interesting is that the bed is a stage for birth, depressive isolation, and death," Tate Liverpool curator Darren Pih said.
-----------------------------------------------------------------------------------
What, according to you, makes art controversial? Let me know in the comments.
-----------------------------------------------------------------------------------
And yeah, I released my first e-book. Here's the link to pick your free copy.
nsfw
erotic
art
About the author
Art enthusiast. I engage with art at a deep level. I also share insights about entrepreneurship, founders & nascent technologies.
https://linktr.ee/kamnakirti