Valentine Vixen
An Ode to the Little Black Book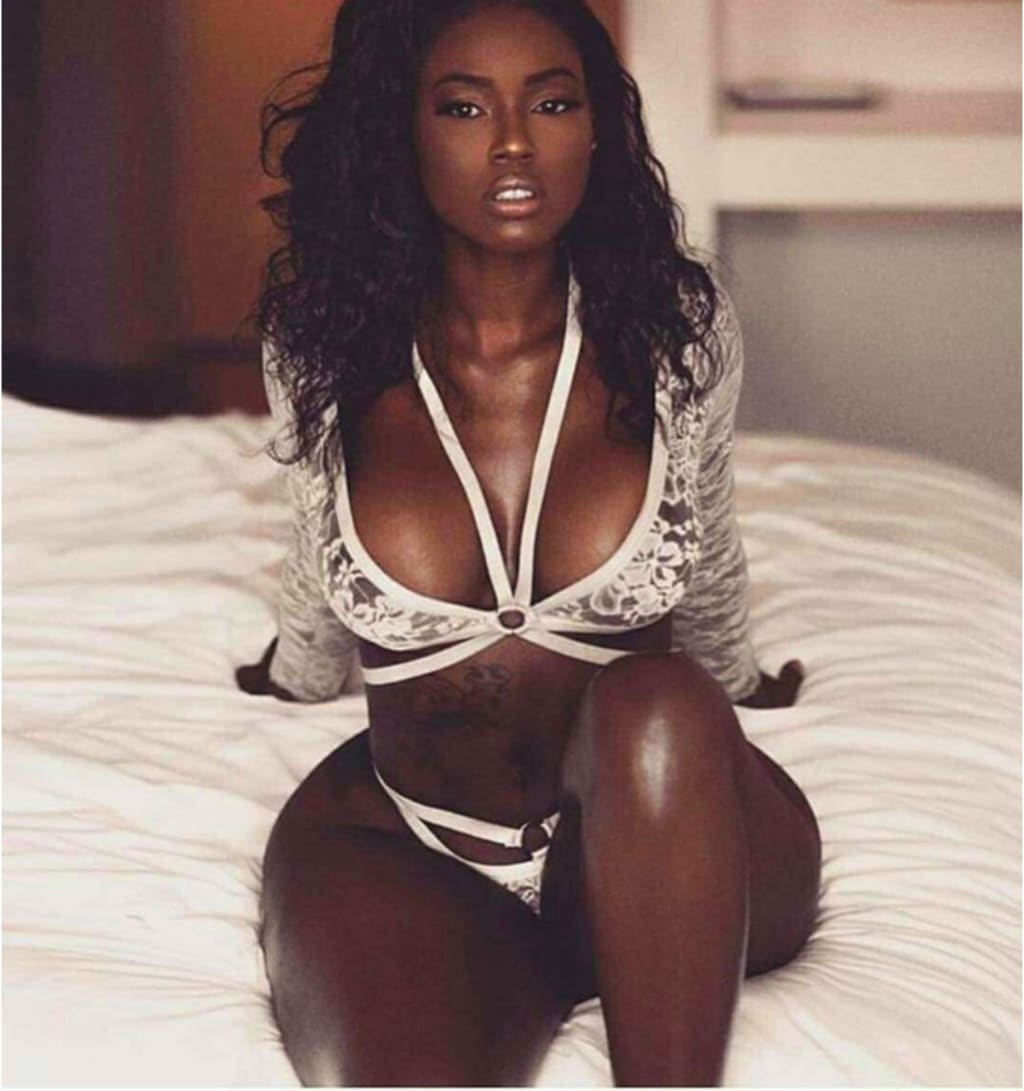 "It's two days before Valentine's Day and I'm so not excited. It's the worst day of the year for single people in my opinion but this year, I'm turning this shit around because I'm so tired of the bullshit every fucking year sis. And then to top it off my birthday is right after...." Leah was talking to her best friend Renee' on her way home from work. She's been single for the last three years. Her and Renee had been friends since their freshman year at NSU where Leah later graduated with a Masters in Journalism. She was hired immediately after graduation as an eighth grade English teacher at a private school in Yorktown, VA. "Laughing my fucking ass off, bitch you so silly. You always talking mess about Valentines Day", Renee' said laughing at her friends' demise. "I'm serious, I'm tired of watching all these lovey dovey ass couples, year after year, and here I am a great ass future wife looking dumb, taking shit from these bitches and ughhhh"...... "You're being dramatic as always and technically bitch, you're still married", Renee' fired back at her. Leah continued to rant to Renee' and assured her that this Valentines Day would be different. Leah had a long list of failed relationships that she longed to forget. She'd sit and think about Shay; the brown skinned entertainer she'd met while out of town in Richmond. She was head over heels for Shay but apparently she was always too busy to make time for Leah. However, Leah mostly drooled at the visions of Shays' caramel, six-packed sun blazed body. Leah would also often think about India, the banker in Chesapeake whose attitude could take down a monumental statue when triggered. And sometimes the woman that swept her off her feet crossed her mental. Autumn was her name, standing five foot nine with thick, strong arms only a solider should have. Her hugs often healed any sorrows Leah carried. Autumn accepted a job in South Carolina, which left Leah heartbroken. Leah was left with thoughts about the times they role played and the heartthrob she used to get from being cuffed to the bed, dripping wet waiting for their session to begin. Leah thought that this woman was her end all be all but obviously Autumn wasn't ready for the reality of what their relationship had become or so Leah thought. As Leah arrived home from work she walked through the door and immediately took off her black leather pumps. They were her favorite pair with the heart shaped rhinestones in the middle. Leah cherished her shoe collection and was known at work for her flawless stride. She walked towards her kitchen, sifted through her mail, she then placed her bags in the foyer and hung it above the bench where she sat every morning to put her shoes on. She hated shoes on in the house. Leah grabbed a blue bottle of Risata Moscato D'asti from her wet bar and poured it into her favorite purple and gold rhinestone wine glass. Rhinestones were her guilty pleasure. Leah scrolled through her twitter feed, and sipped from her glass; Leah's phone began to ring. She glanced at the name and slowly hesitated to answer. "Heyyyy" Leah said with exhaust in her voice. "What's up baby, I wanna see you. We miss you", the deep raspy voice said with sincerity. "You know I'll always come running for my baby girl, but I'm not in the mood to be playing with you". "See, there you go. I didn't call you for all of that. Can you come see us, please babe." Leah paused for a moment and a tear rolled down her face. Before she could answer, the deep voice says, "Look, come on, it's your birthday this weekend. I got something for you. Just come to me and you won't regret it I promise." "Alright, ok. I'll be there. I have a couple of errands to run and then ill be there." Leah hung up the phone and felt her heart beat swiftly to a point where she couldn't catch her breath. It was India, her wife. She and India had been together for six years. Leah carried their daughter because India had to get a hysterectomy after freezing a few eggs. The car accident had left India's uterus damaged from the impact. Lexii their daughter was a three-year-old spunky little girl. She had a smile that any adult could fall for. She loved Leah and knew that she had a special bond with Leah as her surrogate mother. Anytime they were together it was family over everything. Leah got in the shower and was wondering and pondering extensively on what India could possibly have for her. Leah's birthday was two days after Valentine's Day so if Valentine's Day was terrible then she already knew that her birthday was nine times out of ten reeked of dreadfulness. India still knew how to tug at Leah's heart and because of Lexii Leah would often let her. Leah and India had an estranged relationship. They were still legally married but had been separated since Lexii was a few weeks old. India had gotten so over protective of Lexii. She also suffered from PTSD from her accident. India often took out her frustrations on Leah using her as a punching bag or physically throwing her out of the house every time she'd got upset about something. Leah wasn't afraid of India but she told her, before she'd put her hands on her, she'd leave and that's what she did for the sake of their child. Leah had asked for a divorce on a couple of occasions but India refused every time saying she'd get better at controlling herself. India loved Leah but Leah couldn't handle the turmoil during an Indian Hurricane. Drying off from the steamy, emotional shower, Leah found herself pulling out a red box engraved with the words "When darkness falls upon you, remember who you are and where you came from; It was her happy place. Full of memories, laughter and shared moments, Leah fell deep into her thoughts forgetting all about getting dressed. RIIINNNNNGGG! Her phone began to sound off. "Hey girl, what's up?" Leah answered. "Hey giirrrlll, why the fuck did India just call me? "Renee automatically fired off. "She wants me to come visit her and Lexii..." Leah sighs. "Mmmm, I guess, you know she's crazy and I don't have time or the energy to be bailing nobody out this time around." Leah comically answered back, "Nah, it aint even like that. You know I'd do anything for my baby girl. And India crazy ass sure knows how to use that fucking card." Renee clapped back. "Well we gotta find you a new wife because the one you got is a coo coo for coco puffs type ass bitch." "Don't you worry, I just found something. Imma pull up on you when I leave them." Leah ended the call and began to prepare for her weekend escapade. Sifting through the box after mouthing off at Rrnee', Leah stumbled across her play toy from college; her little black book. It was at the very bottom of the box. Leah called it her little play toy because any woman that got close to Leah knew she was a dominatrix in a teachers' get up. Renee would always say her alter ego name should've been Storm. Leah didn't care about feelings when she was in dominatrix mode. She would move quickly yet abrasively but loved with passion on full blast like a summers storm. Vixen Tales, her little black book, consisted of women she had been with while at NSU. Not all of them attended the school but somehow ended up on campus when the campus was lit. Parties were perfect for Leah's hunting grounds. She'd always make sure her outfit screamed "come get some" or "I wore my fuck me pumps" just to be the highlight of what ever function jumped off for the night. The first name she stumbled across was Shamika. Shamika was whom she called her "Head Doctor". That woman had a tongue that would have you speaking in tongues, on a hot Sunday, ready to send yoself to hell. She would only call Shamika when she couldn't focus. She felt like Shamikas' head game aligned her headspace to get through exams. Pages flipped and flipped as thoughts liquefied Leah's mind. "Mmmm I used to get real excited when James came around." James was Jamie. She went by James because HE was going through some changes. James started his transition journey after the encounter with Leah. "Maybe I'll call him. He always knew how to lay some good pipe." And then it came to her. Leah was going to run through her Vixen Tales in the next 48 hours. "Niggas do it all the time, so why the fuck not." Leah spoke to her self. She walked back to her closet and pulled out a rose gold duffle bag with the words "Spinna Night Bag" printed on it, which she called her "fun bag". The "fun bag" was filled with a whip, handcuffs, truth or dare cards, two shot glasses, lingerie, edible body butter, a vibrating two-sided penis strap and a pair of pink clear stripper pumps she referred to as Becky. Leah always had some kind of kinky little trick in her bag. Pulling up to Indias' Leah became anxious. She threw her fun bag in the trunk just in case India walked her out later. "Mooommmmmmmmyyyyyyyy…… the squeaky voice yelled running across the grass to Leah's car. "My baby, hey baby girl. I missed you so much." Leah squeezed Lexii and pulled her closer. "Mommy, Mom Mom has something for you in a big box. Wanna see it?" Lexii cried out. "Yes, I can't wait." Lexii grabbed Leah's hand and walked her towards the house. India was standing at the door with a purple and gold package with a gold bow laying on the top. "Really woman, why you standing here with this big ass box. I know that's not for me." Leah uttered. "Leeeaaahhhh babe, chill, you on one already. Damn girl, can't ya wife do something nice for you once in a while." India's voice crackled. "Sit down on the couch. Unwrap it here cause you might need some space." Leah pulled the bow off the top and under it was a note. "You are an amazing and talented woman. Don't let my grand daughter take the credit for this." Leah baffled opened the box looked at India and said, "how long have you had this?" "Three months babe. I had to give it to you at the right time." From the box Leah unveiled her wedding dress. She thought she'd lost it when she moved out. India's grandmother wove the dress before she passed. It was so sudden when she died and Leah had a bond with India's grandmother that even burning a bridge couldn't keep them apart. "There's more in the box. Grams really loved you and she left all of this for you. I had to make sure you got it because you deserve it babe and I had o make up for my actions" India blurted. At the bottom of the box was another note on top of tissue paper the dress was laid on. "I knew this day would come. You and Lexii deserve it all. Use this wisely." Under the tissue paper rested a lock box with a key. Leah picked up the key and opened the box. She couldn't believe her eyes. Silently a tear fell. "Tell me im dreaming or this is a joke because BAYBEEEE!!!!!" Leah yelped. "What is it mommy? Tell me tell me….Pllllllleeeaaasssse" Lexii cried. In the lock box was a slip for a savings account valued at $35,000. Leah was in utter shock and had no idea how to make her next move.
fiction
About the author
Educator. Writer. Entreprenuer ♥️. Breaking my own shell and sharing my thoughts with the world.
Reader insights
Be the first to share your insights about this piece.
Add your insights