Undercover Girls
Chapter 2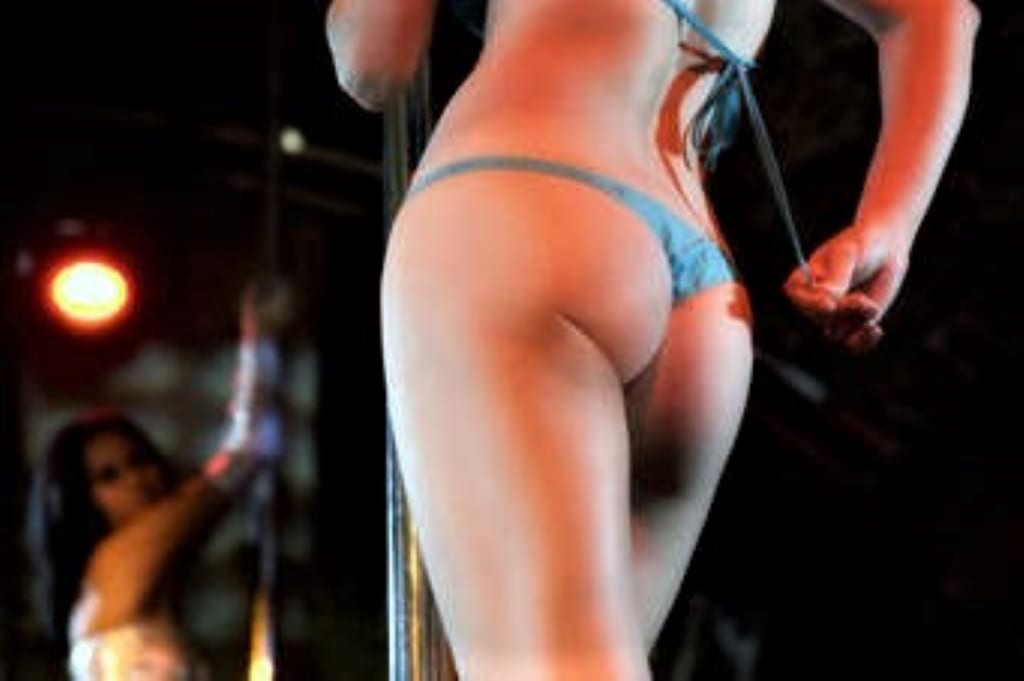 Jennifer woke up in her new apartment on Springdale, moaning as the light from her window hit her in the face. She grabbed the bedspread and pulled it over her head. Jennifer realized that she was naked. A good-looking girl, waking up after a drunken night and naked, she felt around behind her muttering "please no, please no, please no." As she found herself alone Jennifer breathed a sigh of relief. She only started her new undercover identity ten hours ago, ending up in bed with one of the disciples on day one sounded like a terrible outcome.
As she finished her set, Steve invited her over to his table for a drink. He was entertaining two members of the disciples, Alex Jordan and James "Buzz" Morgan. They finished off a bottle of Tequilla and went back to the office for a private show. Jennifer, still wound up from her first performance, gave the three of them a treat in the office. She was warmed up and far past being shy about her cover profession. It was obvious that they all enjoyed themselves but Lex really took a liking to her. By the time she was done with the group of hoods, she left them all wanting more from her, especially Lex.
Laying there, looking back at it all, Jennifer was proud of herself. She didn't know how Lucia felt about her performance or going back into the manager's office for the private show but Jennifer was confident that she had opened the door she needed to be able to gain access to the disciples.
Rolling out of bed, the leggy blond strolled to her kitchen without a stitch of clothing. For two weeks before her first performance last night, Jennifer had spent most of her time at home without clothing. If she was going to be a stripper, dancing nude for money, she needed to be comfortable in her own skin. Hanging out nude at home for a couple weeks had helped her to be comfortable on stage during her first performance and made it possible for her to perform privately for the guys, even enjoying herself. Jennifer looked down at herself, proud of what she saw. She didn't have anything to be shy about or any reason to feel ashamed. The young patrol officer had always kept herself in shape and taken good care of her body.
Her morning drink, chocolate-infused coffee, was ready when she got to the kitchen. Jennifer poured herself a cup, topping it off with some Irish crème. She mulled what to do. It was already noon by the time she woke up. Jennifer headed out to her living room and flopped down on the new couch the F.B.I. paid for to decorate the apartment. Setting her coffee down she grabbed her laptop and remote, turning on the news. Flipping through stations she found the C.N.C. news channel. It was her favorite channel to watch because it covered by the local news she needed to keep up on and the national news that interested her.
As she started to settle in for what was going to hopefully be a quiet afternoon a buzz at her door meant she needed to throw on a robe. She looked at the screen on her coffee table, pressing a key and opening the security program connecting to the camera outside her door. She saw Lucia standing there, wondering what her reason was for the surprise visit. Jennifer opened the door, greeting her as she invited her in.
"Can I get you a cup of coffee?" she asked Lucia as the attractive Hispanic agent entered, setting her satchel down on an end table.
"Sure," she replied, a look of anxiousness on her face.
"Have a seat, hun. I'll be back in a minute."
Jennifer came back into the living area a few minutes later with a fresh cup of coffee for her new friend. She joined her on the couch, in the midst of deafening silence. Considering how the previous night went, Jennifer was apprehensive. She could tell something troubled her. The girls both sat a moment, giving Lucia time to sip the coffee she was just handed before going into the issue bringing her to visit.
Lucia sat the cup down and pulled out a notebook. She took a pen out and began to write, looking first at her watch. With a questioning look on her face, she turned her attention to her new partner.
"Well, what happened after you disappeared last night?"
"Oh my god, I thought something was wrong. You're just here for a debriefing," Jennifer realized, a sense of relief in her voice.
Lucia put the pad on her lap and reached for her drink. Taking another sip, she paused and took a deep breath before telling Jennifer that regular case notes were going to be added to the file at the office and there was no way for Jennifer to come in and add them herself.
"Can I do them from home?" asked the rookie undercover officer.
"Here's the thing, you don't officially exist. This is a joint operation between the bureau and..." hesitated Lucia.
Jennifer looked at Lucia, puzzled by the secrecy. She had met everyone involved before being approved for the assignment. They were all in the chief's office the night she met with them. Wondering what she missed, Jennifer patiently waited for Lucia to finish her sentence before finally just asking her, who else besides the bureau was involved.
"O.G.A." Lucia answered.
Jennifer got up, went over to the table by her door. She pulled out a cigarette and after lighting it, took a long drag. Exhaling the blue-gray smoke, she turned to Lucia, demanding to know, who was O.G.A?
"It's the term used for agencies outside of domestic purview. I can't be more specific than that...even though you're the one at risk," admitted Lucia, her head dropping to the ground.
"I get it...it's alright," Jennifer reassured her partner.
The two started the debriefing, as Lucia asked questions about the meeting that occurred with the two members of the Disciples of Apocalypse Motorcycle Club, Jennifer filled in information. Lex, or Alex Jordan was the cuter of the two, with the blondish colored hair and athletic frame. The shot caller of the night was in fact James "Buzz" Morgan. Morgan, the Sgt. At Arms of the club chapter, provided arms and logistical support for the club if the intelligence they gathered on the gangs was correct. He carried a Beretta in the inside pocket of his cut and a couple of spare magazines on the opposite side. Buzz spent more time talking to Steve, the club manager, that Alex. Alex was their tech guy. He described himself as the club's networking expert. Alex told Jennifer during a lap dance that he set up the computers, the security system and secured their phones.
"That's why we have never gotten anything off the cell towers," Lucia announced.
"Probably. When I asked him what it meant he told me he could take any phone in the world and turn it into a black phone," Jennifer told her.
"Is there anything else?"
"About the guys, no."
"Alright," Lucia told her, putting down the notepad. "What have you got?"
Jennifer looked at Lucia, a wry grin stretching across her face. Sitting there, looking at Lucia, all she could think about was last night during her stage act. Kissing Lucia, feeling her against her, and the way she ran her tongue up and down her wetness right there in front of everybody, had her feeling wound up. Even as she slept, her mind wandered to Lucia. She had her first sex dream since high school, dreaming about Lucia's mouth on her body, her hands, on Lucia's sexy little frame. Even looking at her in her day off jeans and tee shirt, Jennifer wanted to kiss her, to feel her warm lips on her again.
She could not find the words to answer her. Instead, she opened her robe, slipping it off her shoulders as she leaned into Lucia. She put her hand against Lucia's cheek, staring right into her eyes as she ever so slightly kissed the sexy Mexican federal agent.
"Wait," Lucia said, pulling back. "What are you doing?"
"Well, I do owe you," Jennifer told her, putting her hand on Lucia's thigh as she kissed her again. Jennifer pushed her hand up, feeling Lucia's body quiver at her touch. Her nervous anxiety was pulsating as Lucia relented to her advances. Lucia's hands wrapped around Jennifer's body, finding their way down to her firm and athletically shaped ass.
Jennifer pulled at the hem of Lucia's tee-shirt, raising it over her shoulders to find that Agent Lucia wasn't wearing a bra. She threw the tee-shirt, hopping off of the couch and pulling Lucia to her feet. Jennifer kept kissing Lucia, passionately pushing her tongue against her pretty partners'. She felt Lucia reaching between her legs, rubbing her fingers against her swollen clit, finding her way to her pussy. She undid the buttons on Lucia's jeans before tugging them off her, revealing her athletic legs and tight buns. Jennifer dropped to her knees, pushing Lucia back onto the couch, surprised.
"As I said, I think I owe you one," Jennifer said, smiling ear to ear as she thrust open Lucia's legs.
Lucia laid back, a chill rushing over her. Jennifer started kissing the inside of her right leg, just above her knee. She ran her hands up her partners' legs as she playfully kissed her way up the inside of her thighs, gliding her tongue up Lucias' smooth, light brown skin. She looked up at Lucia, seeing her head leaned back, her breathing causing her ample breasts to heave. She wrapped her hands around Lucia's backside, pulling her face closer to her already wet slit. Lucia was almost cleanly shaven, with just a slight tuft of hair above her pussy.
Kissing Lucia's little clit, she ran her tongue down her center, pushing against her hidden wetness. Jennifer had wanted to taste her sexy partner for a while and now, she was enjoying her wish as she pushed her mouth squarely onto Lucia's little pussy. She ran her tongue up and down slowly, stopping at times to engage her clit with a circular pattern. Jennifer reached up to Lucia's firm and perky, 36 C-Cup breasts. She pinched her nipples slightly, applying more pressure as Lucia's moans grew louder, then louder still.
Lucia could feel the pressure building up behind her orgasm and was nearly ready to explode from all the sexual energies she had built up. She was still hot from the night before, the libidinous way she had acted with Jennifer having left her wanting more. To her surprise, Jennifer was about to cause her to explode over the pretty officer's face. She grabbed her head and pulled it against her crotch. In mere seconds, the firm licking of her sweet spot had her bucking and grinding against her partner's face.
Lucia took minutes to calm down enough to let Jennifer up. The two looked at one another, smiling widely, as neither of them had entered into this arrangement imagining what was happening. Jennifer slithered her way up Lucia's body, kissing her on the mouth. It was a long and lingering kiss, lasting minutes before they broke their embrace.
"Well," Jennifer finally asked, "What do you have planned for the rest of today?"
"I should go type of the field report for last night," she said.
"But?" asked Jennifer.
To Be Continued.
About the Creator
I have always enjoyed writing and exploring new ideas, new beliefs, and the dreams that rattle around inside my head. I have enjoyed the current state of science, human progress, fantasy and existence and write about them when I can.
Reader insights
Be the first to share your insights about this piece.
Add your insights