Ultimate Guide to Vintage Penthouse Pets
The women that graced the pages of Penthouse Magazine in the 1970s, 1980s and early part of the 1990s were chosen by Bob Guccione himself.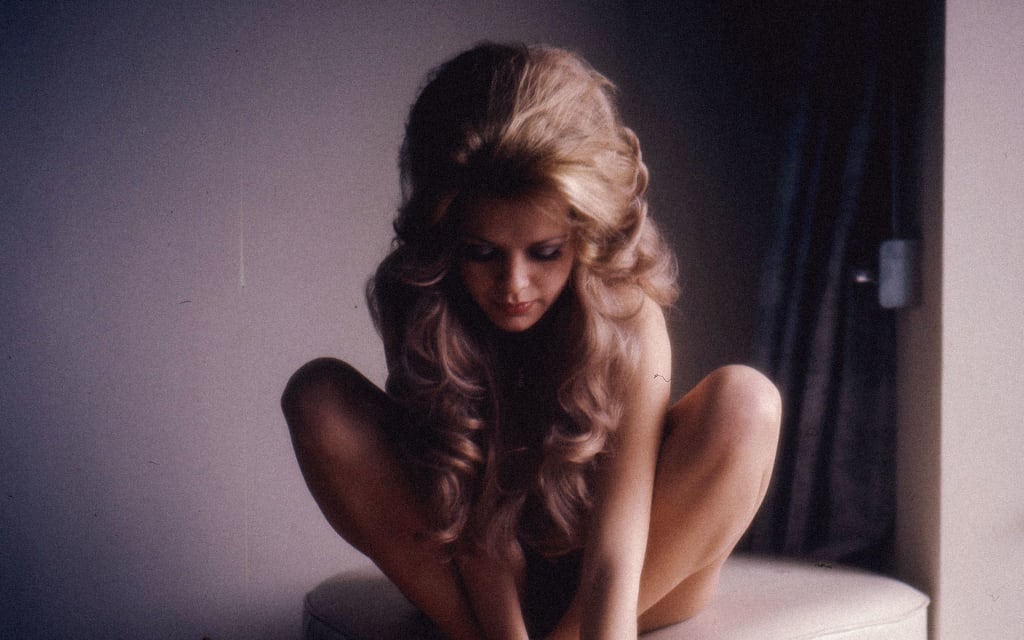 Beautiful women were attracted to the world of Penthouse Magazine and its founder, photographer Bob Guccione. As an artist, he chose his subjects from an internal perception of beauty that transcended societal trends and historical norms. The women that graced the pages of Penthouse Magazine in the 1970s, 1980s and early part of the '90s were chosen by Bob Guccione himself. By the time the late '90s rolled around, the magazine's editorial control shifted away from Bob, and thus came the end of an era.
Bob Guccione's vintage Penthouse Pets are a unique group of women spanning three decades that embody the eclectic features Guccione looked for in a muse. While all of the vintage Penthouse Pets were physically beautiful, some stand out even today as notably iconic in the history of the men's magazine.
Billie Deane - Penthouse Pet, March 1972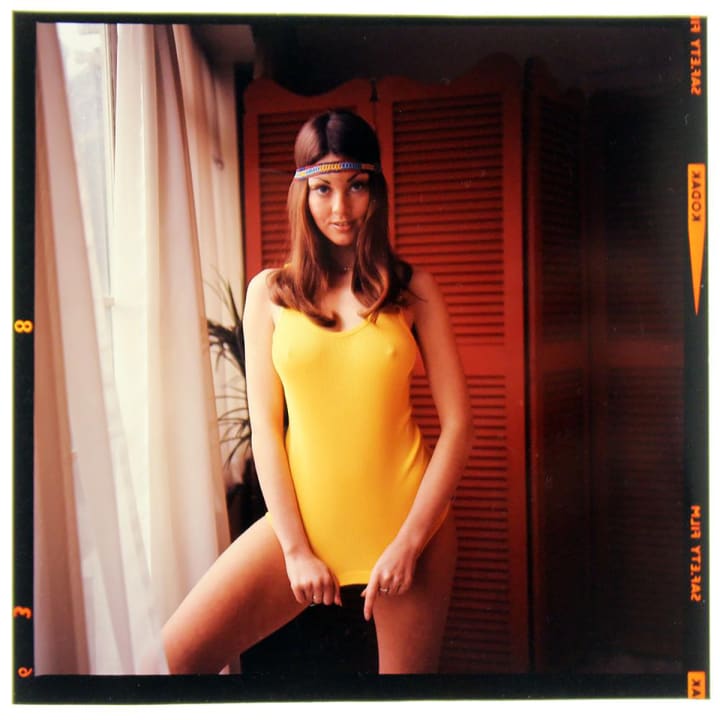 Billie Deane, Penthouse Pet of the Month for March, 1972, was actually the pseudonym used by actress Gillian Duxbury. That's a very British name for a very British girl (and indeed Gillian was, under that name, a Page Three Girl—that's the topless feature photo for the U.K. tabloid The Sun). As of September 2021, select iconic photos of Billie Deane have been minted as the first drop in a series of NFT art from the Bob Guccione and Penthouse archives.
The early 70's were a crucial time for the Bob Guccione aesthetic in erotic photography—but most people who followed Bob's work aren't aware that Penthouse had actually begun quite a few years prior. After humble pinup beginnings, during which he pioneered the concept of what he called the "Gucci Girl," Bob started Penthouse in 1965 and premiered the magazine in the U.S. in 1969. The big news—the big scandal, at the time—was the full frontal nudity, pubic hair and all, which Playboy prude Hugh Hefner vowed he would never, ever show. (That vow didn't take long to topple.)
Now that pubic hair styles are trendy, we can look past the shock of the bush of the '60s and '70s and focus on the other qualities that made Bob Guccione's girls special. While Playboy put their girls in outdoorsy and largely all-American settings, with leggings and props, Penthouse Magazine evoked a much more bohemian lifestyle. These weren't Hef's cheerleaders. These were art girls with naughty sides.
Marianne Gordon - Penthouse Pet, April 1972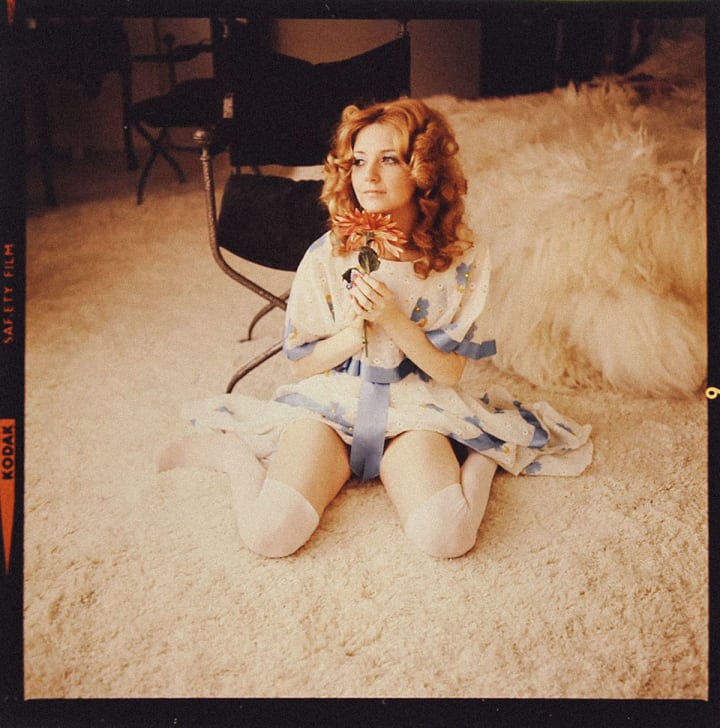 Marianne Gordon, the April 1972 Penthouse Pet of the Month, and Marianne Gordon, the one-time wife of pop star and chicken magnate Kenny Rogers: are they in fact the same dame? Wikipedia says, yep, she sure is; by the same token, though, a disclaimer at the top of the article says that it needs additional citations for verification, and "includes attribution to IMDb," which "may not be a reliable source for biographical information."
To be fair, though, the IMDb isn't the only source we have to the "former Penthouse Pet" tidbit. And truth be told, the eyes do not lie. A look at some of the lovely Bob Guccione-shot gelatin prints, contrasted with shots of the future and future-former Mrs. Rogers (they were married around 1977, and divorced in 1993, in a settlement that was reportedly very costly for Kenny), suggest that the accounts are accurate.
Prior to her liaison with Rogers and her engagement as a Penthouse Pet, Marianne, born in 1946, had small parts in films such as How To Stuff A Wild Bikini and Rosemary's Baby. After marrying, Gordon appeared in three of her husband's made-for-TV movies—in one appearing billed below former Playboy Playmate Teri Copley, which must have stung a bit. She has not made a film since that picture, and given her divorce settlement, it's likely she has not felt the need to perform.
Gina LaMarca - Penthouse Pet, May 1993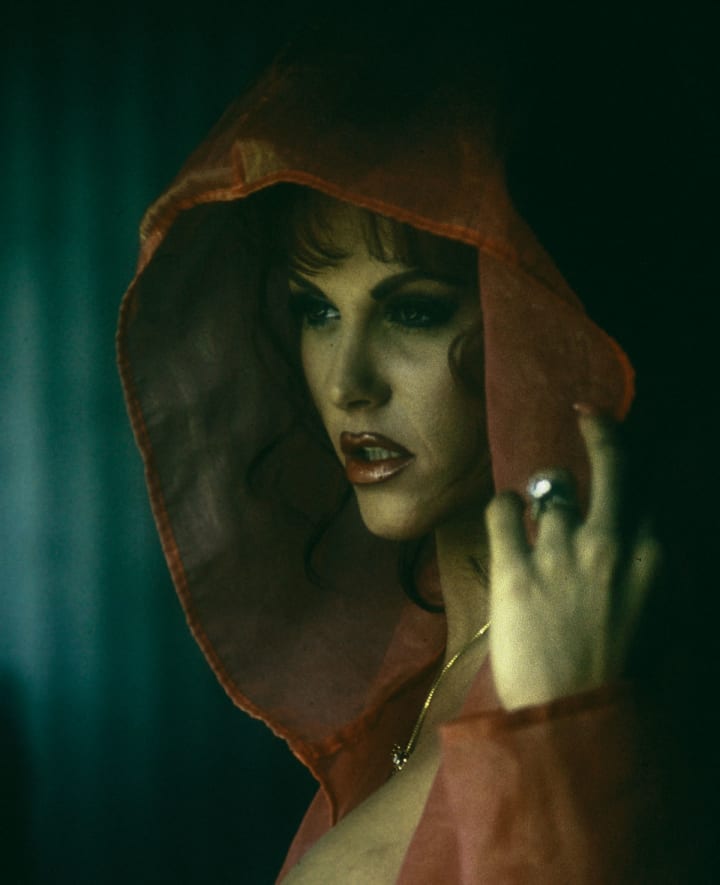 By the time the '90s rolled around, it wasn't all that uncommon for the angels in the centerfolds of your favorite men's magazines to also be featured in hardcore pornographic movies… or should we say videos, since the porno movie theater became a dying institution as soon as the first affordable VHS VCR hit the stores. The likes of Hustler, High Society, and their many offshoots were filled with models who were likely porn stars first and magazine stars second, and nobody cared much. But the honor of "Penthouse Pet" still meant something, and a certifiable Vintage Penthouse Pet making a move into the porno world was still news.
And so it was for Gina LaMarca, the stunning redhead who was the Penthouse Pet of the Month in May 1993. LaMarca made her mark in Zazel, directed by Dutch erotic photographer Phillip Mond. Zazel was what an Andrew Blake movie would look like if it were art-directed by Salvador Dali on acid. It's a must see.
While the movie features several Penthouse Pets besides LaMarca, including 1994 Pet of the Year Sasha Vinni in the movie's title role, none of the Pets are featured in sex scenes with men. LaMarca went on to a sporadic sex-scene career, logging only one movie in which she interacted with any phalli, that being the provocatively titled Breeders, directed by Brad Armstrong in the mid-90s.
Lesley Harrison - Penthouse Pet, July 1972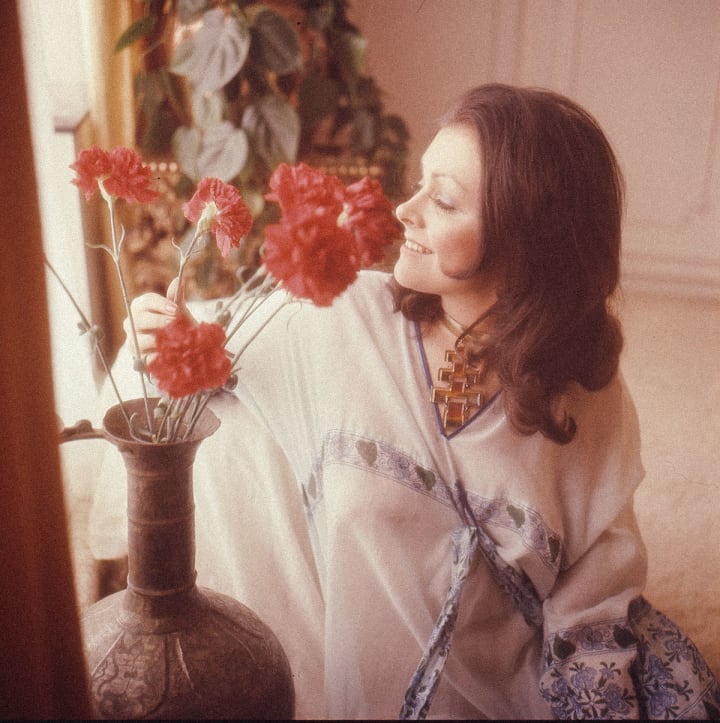 What does one do after nude modeling? As we've learned from Madonna, whose nude photos at at the young age of 21 appeared in Penthouse Magazine September 1985, sometimes the answer is lead an awesome life, become a pop star and international celebrity. Others go on to do… more nude modeling, and some go on to perform in erotic films. Others marry well, and/or divorce well. But we imagine if a motivated statistician were to compile an actuarial table of nude models who appear in glossy magazines, the results would show that the substantial percentage of them don't end up famous.
This isn't to say that they don't have interesting subsequent lives. Take Lesley Harrison. After making it as a Penthouse Pet, the Liverpool-born Lesley didn't step out onto many red carpets. But she did make her way to America, and her name turns up years after her Penthouse appearance in a place one might not expect: an account of Kohlberg Kravis Roberts, the American "financial services" firm whose co-founder Henry Kravis was a big target of derision for Spy magazine back in the Golden Eighties.
In her 1991 bookThe Money Machine: How KKR Manufactured Power And Profit, author Sarah Bartlett paints a picture of the contrasting styles of Kravis and Jerome Kohlberg, another of the firm's co-founders, by pointing out the differences between the two men's personal assistants. Mary Lou Murray, Kohlberg's assistant, "was a classic example of the two camps that were quietly forming in the office. A bright, middle-aged woman with white hair, she threw herself into her job with abandon and was fiercely protective of her slightly absent-minded boss. Jerry could barely function without her. Henry, on the other hand, liked his secretaries young and beautiful. He also preferred them to have an English accent. His current assistant, Lesley Harrison, fits the bill perfectly. An attractive blonde from Liverpool, she was a Penthouse Pet before joining Henry's employ."
Lesley Harrison must be doing something right. As of 2012, she was still with Mr. Kravis, working with him at KKR in midtown Manhattan. (We got in touch with Ms. Harrison, but in the words of the Beatles, no reply.) Steady jobs: they're nothing to sneeze at. So let's hear it for Lesley for landing one, even as her images from decades past continue to delight us.
Christina Lindberg - Penthouse Pet, June 1970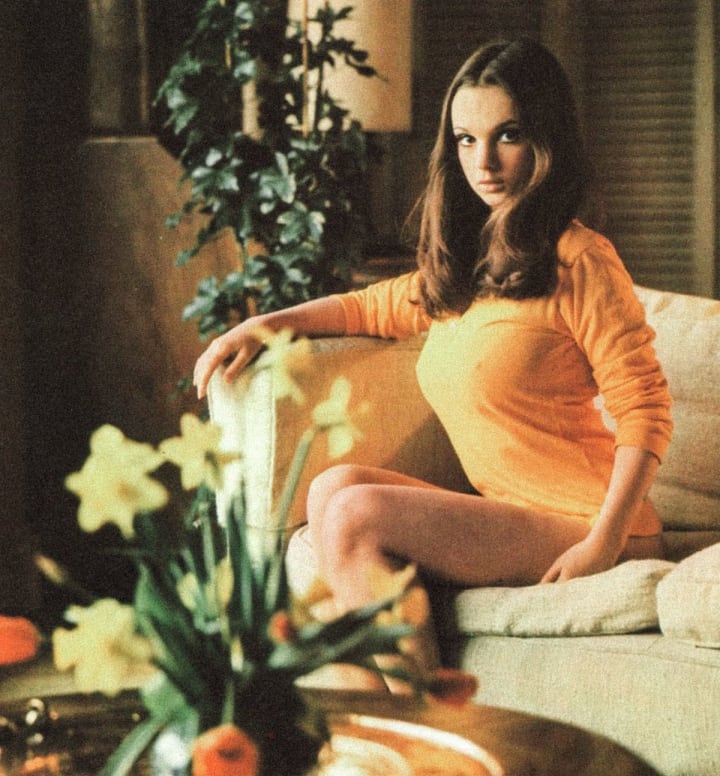 Swedish-born Christina Lindberg isn't just a remarkable Vintage Penthouse Pet; she's a bonafide icon of the Bob Guccione Era, although her icon status wasn't established at the time, but rather via a revival of interest in Swedish exploitation cinema. Christina's work in the remarkably skeevy film Thriller served as an inspiration for a Hollywood maverick or two. However, her accomplishments in her native land after that are pretty remarkable, too. Her one and only appearance in Bob Guccione's magazine was as Penthouse Pet June 1970.
How many former Pets do you know of who have intended to open acting schools? Well, Lindberg is one. How many former Penthouse Magazine models do you know of who have made documentary videos on mushroom-hunting? Yep, that's Christina as well. How many former Pets do you know of who have gone on to be magazine editors themselves? That's Lindberg again. In the early '70s, after posing for Penthouse at the age of 20, Christina met Bo Sehlberg, an aviator, writer, and photographer. When Sehlberg died in 2004, she took over her fiance's aviation magazine, Flygrevyn.
In light of her mainstream success, it's worth noting that the hardcore scenes in the brutal film Thriller are inserts featuring body doubles of the actors. Lindberg has been quoted as saying, "I've never seen most of my films, and it's probably better that way."
Françoise Pascal - Penthouse Pet, August 1970
Ultry-sultry brunette Françoise Pascal, August 1970's Penthouse Pet of the Month, was born in Mauritius, an island in the Southern reaches of the Indian Ocean, east of of Madagascar. Françoise has turned her multiethnic and multicultural background into a career advantage; her incredible warm, mocha-skinned beauty made her a particularly fetching Penthouse Magazine model, for one thing. At the same time she was posing, she was also acting, appearing opposite Peter Sellers in the 1970 sex comedy There's A Girl In My Soup, also starring Goldie Hawn and featuring an odd topless appearance by Gabrielle Drake.
In a foray across the channel, Françoise worked in a couple of movies directed by cult horror filmmaker Jean Rollin. One of these films was Les raisins de mort, AKA The Grapes of Death, also starring the beautiful Brigitte Lahaie.
Rollin wasn't the only French auteur Françoise had worked with. In the late '60s she was part of the motley crew of young actors corralled by Jean-Luc Godard for the sketches in his British-made Rolling Stones movie, One Plus One, retitled Sympathy For The Devil. She said in an interview, "What a great honor to work with him and also to be directed by him. I was in awe and will never forget the words that he said to me... 'Never let go of your ambitions.' Words that I did not listen to, and forgot in my later years."
Françoise's biggest mainstream success came in British television. In the late 70's sitcom Mind Your Language about a wacky ESL class, Françoise played a hot-to-trot au pair girl. A sojourn to America did not get her a whole lot more than a couple of years on The Young And The Restless. On the other hand, one of her most recent acting gigs was in a short film adaptation of the Vladimir Nabokov short story Symbols and Signs.
Lynn Carey - Penthouse Pet, December 1972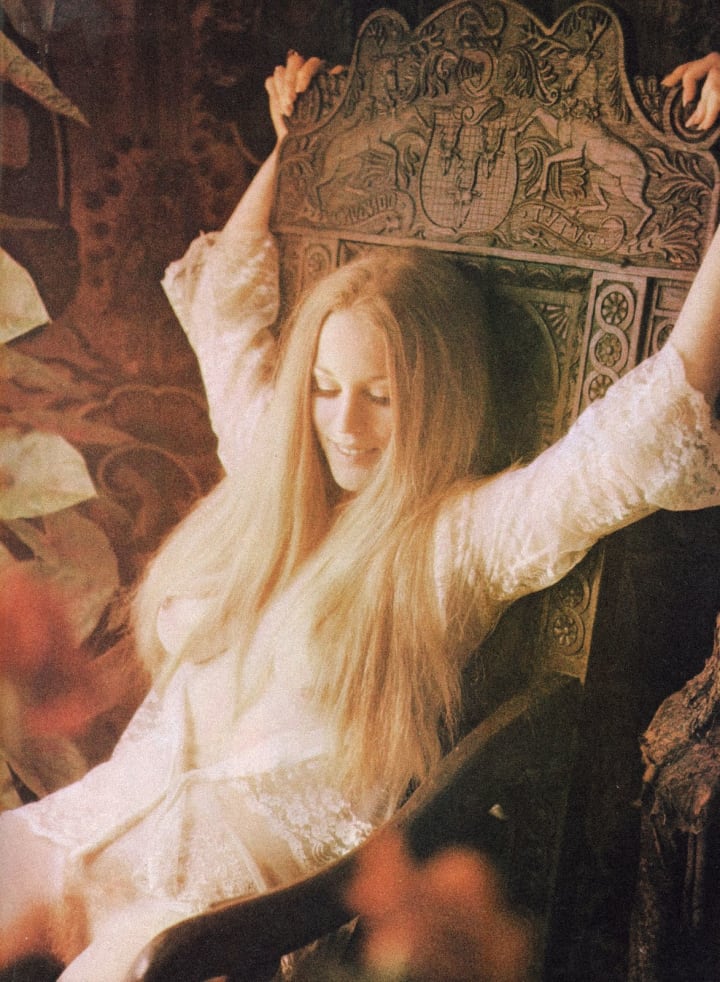 Here's the ultimate Trivial Pursuit question in the hot nude girls category: "Which Penthouse Pet dubbed the singing voice of a Playboy Playmate?" Well, it's Lynn Carey, although she was not yet a Penthouse Pet when she dubbed the singing voice of Dolly Read, Playmate of the Month in May 1966, for Russ Meyer's outrageous 1970 Beyond The Valley of the Dolls. In the movie, Read plays wannabe singer Kelly MacNamara. At the time Carey, herself Hollywood royalty as the daughter of actor MacDonald Carey, had been making the rounds as a blues-rock singer, working with the formidable likes of Barry Goldberg and Charles Musselwhite.
She had also done a spot of acting, appearing with Tuesday Weld in the quirky 60's comedy, Lord Love A Duck. In 1972, her band Mama Lion put out their debut record. This was the era of not just blues rock and fusion but a quasi-hybrid sometimes called jazz-rock. Lynn Carey was, and still is, a pretty soulful singer. In his highly negative review of the first Mama Lion record, stalwart rock critic Robert Christgau gave Lynn credit for that.
To further distinguish herself, the busty Lynn Carey also opted to pose for Penthouse Magazine December 1972. We are certainly glad she did. We are not sure how glad the baby leopard she clasped to her naked breast felt about the attention, but we would have certainly enjoyed it.
In any event, while Mama Lion never quite took off, they achieved enough of a cult following that their collected works were reissued on compact disc in 2007, and Lynn is still singing today, as a session artist and jazz/cabaret performer.
Avril Lund - Penthouse Pet of The Year 1974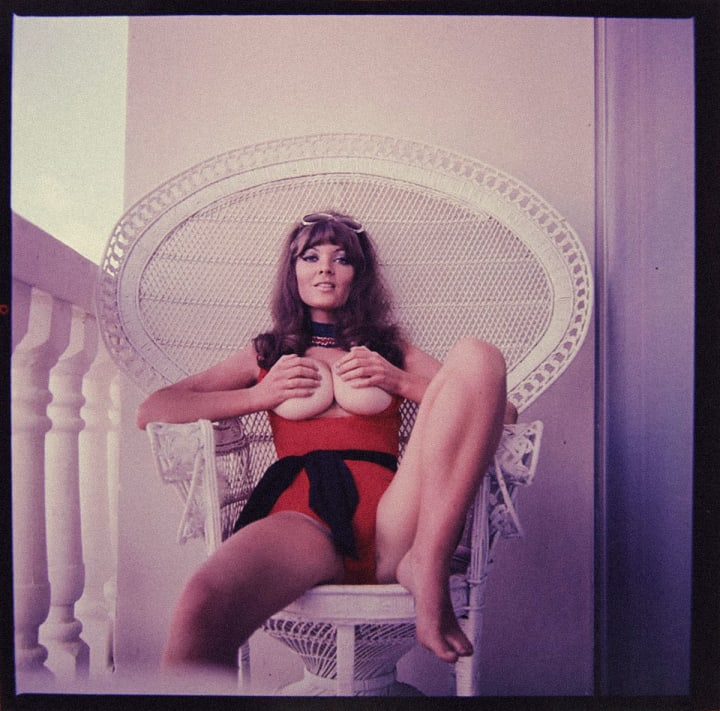 If you are a breast man of a certain age, chances are that Avril Lund (Pet of the Month March 1973, Pet of the Year 1974) looms large in your erotic memory. According to what scant records we are able to find, the lovely Ms. Avril Lund, standing a five feet seven inches, boasted a bust line of a full forty, as in four-zero, inches. All natural. This is impressive, as is the photographic record of her pulchritude, which makes aesthetic use of extremely dramatic tan lines in a way that has not been successfully emulated since.
Her Scandanavian-sounding name aside, Lund actually hailed from Ireland. Before becoming a model and Penthouse Pet, she worked as a nurse. That's right—in the days before her reign as a top Filthy Gorgeous girl, she worked at the St. Francis Psychiatric Hospital at Haywards Heath, West Sussex. At the Friends of St. Francis website, Joe Hughes, a former male nurse at the facility who now runs the commemorative site for the hospital, recalls the excitement that ran through the male nurses' quarters when news of the "new girl" circulated.
"Well, eventually we caught sight of her. For me the occasion was when she was returning from duty in her beautifully starched and tailored nurse's uniform. What a delightful sight. She was a lovely girl. We then heard her play the guitar and sing and there was no doubt in our minds that she could have had a career in that direction also."
Hughes relates another anecdote on the perks of Pet-dom:
"During my short excessive drinking career with Eugene Toner, we used to go to the club in our white shirts and dark trousers and drink Stella with Asbach brandy chasers! Oh! My goodness – can you imagine that? Whenever we'd order the brandy chaser, the barman would smirk with disdain at the brandy, which he regarded as a cooking brandy! I liked Asbach – it was mild to the taste.

Years after she became Penthouse Pet of the Year 1974, Avril returned to the Club with Jimmy Huff. I was in the club that night and sat and chatted to her at the bar. Later as she was about to leave she asked the barman for a bottle of Asbach brandy to take away! He happily fetched the bottle and delivered it to Avril with a broad happy smile on his face, until I reminded Avril of how he used to serve us this 'cheap' brandy. 'Shut up, Hughes,' says the barman with a twinkle in his eye. I said goodnight to Avril and haven't seen nor heard of her since."
Anneka Di Lorenzo - Penthouse Pet of The Year 1975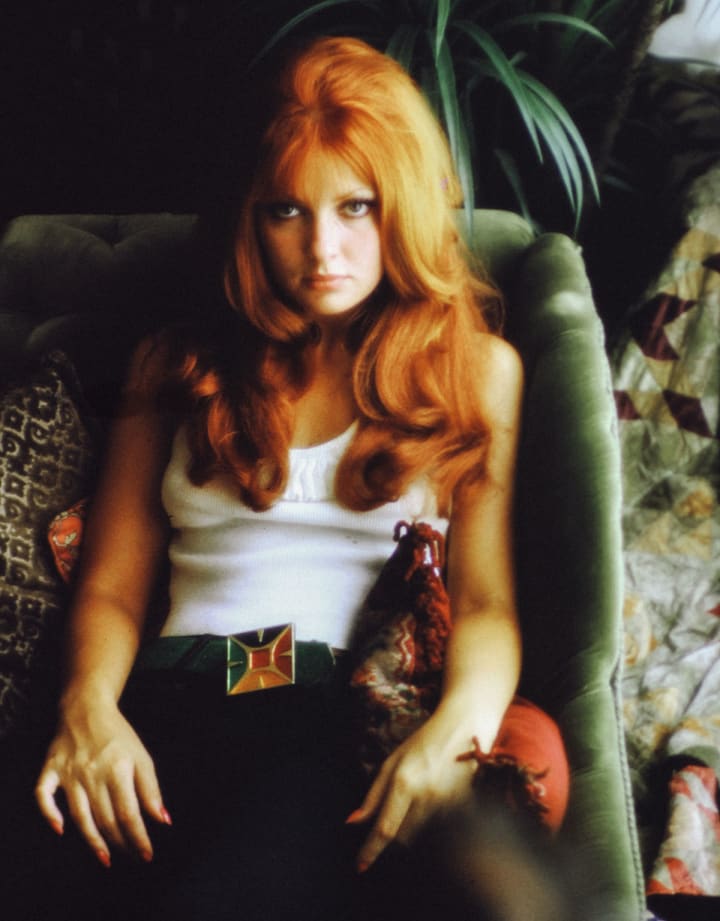 Di Lorenzo was Penthouse Pet of the Month in September 1973, and Pet of the Year 1975-76. In one of his more eccentric/befuddling editorial policies, Guccione did not consistently designate his Pets of the year on the basis of their having appeared in the magazine in the prior twelve months of run.
The tale of the late Anneka Di Lorenzo is one of the more twisted and tragic in the annals of the Filthy Gorgeous girls. Di Lorenzo, born Marjorie Lee Thoreson in St. Paul, Minnesota, once reportedly claimed an ambition to be "the sexiest woman in the world!" For a period in the 1970's moving into the early 1980's, she very possibly achieved that ambition. Certainly the troops she entertained during a USO tour in 1975 received her warmly.
Anneka Di Lorenzo figured prominently in Bob Guccione's vision to create erotic cinema that was as lavishly imagined and produced as any gargantuan Hollywood epic; to that end, he brought Di Lorenzo—whom he had personally re-named upon making her a Pet, believing the new title more exotic—along with Lori Wagner and other Penthouse Pets to Rome. Frequently usurping his director Tinto Brass, Guccione shot a number of scenes himself, taking particular pride in supervising an explicit lesbian love scene between Anneka Di Lorenzo and Wagner that was also the basis for a subsequent photo spread in Penthouse Magazine.
While the movie languished in post-production, its co-producer Franco Rossellini decided to use its sets for a different picture, and cast Di Lorenzo in the lead role of Messalina. Messalina was a sex "romp" in which Di Lorenzo's character cheats on her emperor husband with the likes of Tomas Milian.
The movie was directed by Bruno Corbucci, who was clearly more at home with spaghetti Westerns such as Django and The Great Silence. Guccione's vision was not fulfilled, and Di Lorenzo's movie career did not take off. In the late 80's, things got ugly when Di Lorenzo filed a suit against Guccione, which she technically won—although her settlement, in a Leon-Uris-style twist, was a measly five dollars or so.
Guccione, who had been in a semi-permanent combative mode of doing business, particularly since the publication of the nude photos of former Miss America Vanessa Williams which shattered newsstand records but also ended up casting the editor/publisher in a villain role, retaliated by reprinting the Di Lorenzo/Wagner photos. And so it went.
In 2011, Di Lorenzo's body washed up on the shores of the military base at Camp Pendleton, and the case of her death has yet to be solved.
Victoria Lynn Johnson - Penthouse Pet of The Year 1977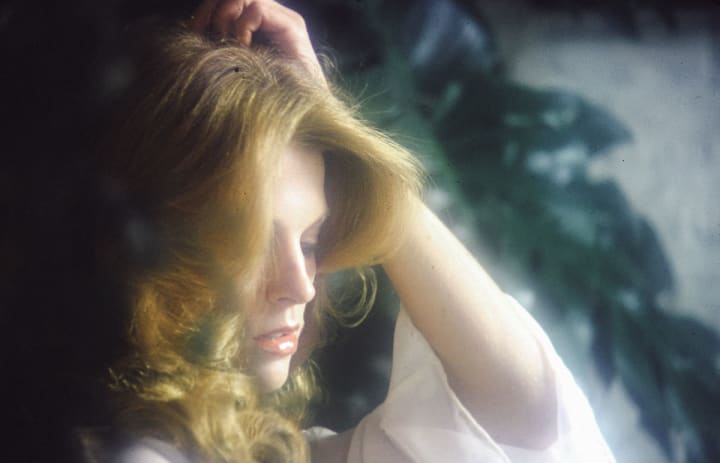 Victoria Lynn Johnson, also known as Victoria Lynn, was a special favorite of not just Penthouse readers, but of Bob Guccione himself. First off, she's a natural redhead. Secondly, she has a perfect classical figure. While the likes of Avril Lund had massive chest appeal, it's clear going over the Penthouse archives that Guccione's own taste tended toward a more realistic model. Thirdly, she was a remarkably adept model in terms of posing, and always looked great in the favored Guccione costumes and props: floppy hats, half-bras, post-Victorian garter belts, you name 'em. Lynn was featured not just as Pet of the Month for August 1976, and 1977 Pet of the Year, but a frequent cover girl all the way into the early 80's.
She achieved further notoriety as a body double for sassy Angie Dickinson in Brian De Palma's 1980 thriller, Dressed to Kill. As it was reported in People magazine at the time: "Lest anyone be misled about the explicit nudity, De Palma forthrightly announced that much of the skin shown was not Angie. It belonged to a 23-year-younger neck-to-knees stand-in. 'I was shocked,' says Dickinson, not because of the subterfuge but because 'the movie company admitted it. Why destroy the illusion? Let them think it's Tahiti, even if it is Burbank.'"
De Palma insists his decision had less to do with topography than property values. "It wasn't because Angie doesn't have a great body or would have minded doing it," he claims. "Why weigh down your leading lady when you can use a stand-in?" Dickinson had 'nightmares' that they would pick a woman 'too bosomy,' prompted by an earlier film whose doctored print ads 'made me look like an Italian Dolly Parton.'
While Angie fretted, De Palma chose Victoria Lynn Johnson, a some-time model and 1977 Penthouse Pet of the Year, for the shower episode. Dickinson also appears briefly later on in a nude scene shot from the back. "I was delighted with Brian's choice," Angie admits, "and happy I didn't have to do all that stuff in front of everybody." Tahiti and Burbank notwithstanding, the difference between the body of a 23-year-old and that of a then-49-year-old, even one in as spectacular shape as Dickinson's, is a physiological fact, but this gives the shower scene in De Palma's film an amusing metafictional frisson. (The director sends up the mechanics of making such a substitution in his next film, titled Body Double.) As for Victoria, she did more acting and her final IMDb credit is for a Dukes of Hazzard episode.
Angela Adams - Penthouse Pet, November 1972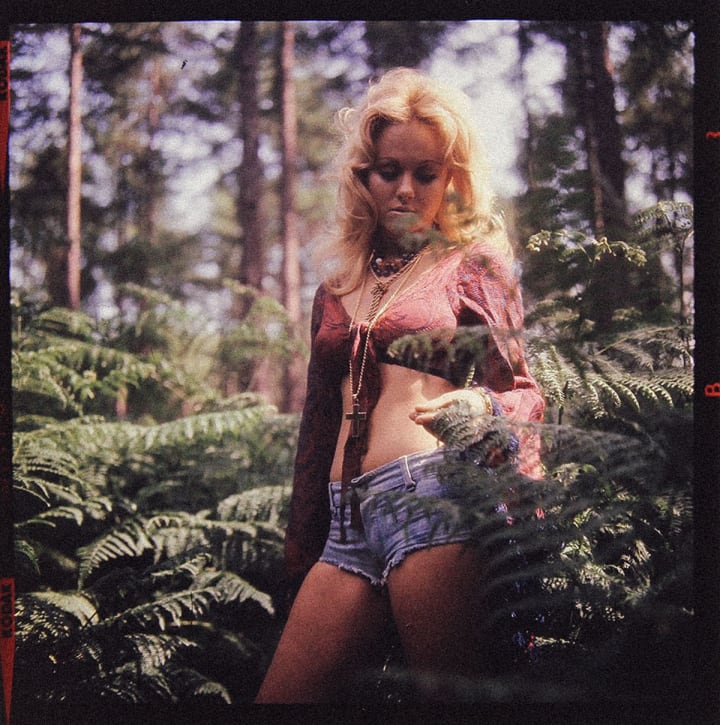 In our research of the beautiful Angela, we came up with only one screen credit, for a 1974 movie entitled Hurra…die deutsche Sex-Partei. With a little research and the help of Google Translate, we were able to figure out that the motion picture in question is merely a softcore quasi-satirical movie, and that the "Sex Party" of the title is not some kind of orgy, but rather a political entity that "wants to dismantle the obsolete idea of morality in the Bundestag." As for lovely Angela, that's the last that is heard from her in the realm of media. Thankfully we will always have her in Penthouse Magazine November 1972.
Hyapatia Lee - Penthouse Pet, September 1984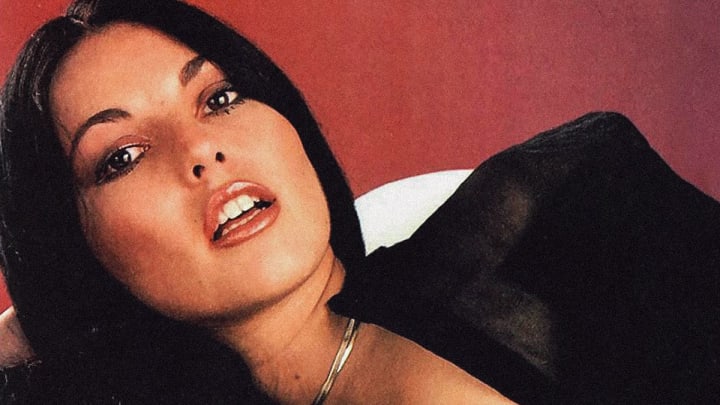 The September 1985 issue of Penthouse Magazine is famous for several reasons. One of the reasons is the "Oh God, She's Nude" cover featuring former Miss America, Vanessa Williams, standing with comedian George Burns. Not many people remember this, but Burns was luxuriating in a fame renaissance for playing "God" in more than one awful film bearing the title, "Oh God!" The second reason is that there are the notorious black and white nudes that compelled Ms. Williams to resign her title. Thirdly, there is the fact that those photos made this issue the record-holder in magazine newsstand sales. At six million copies, it's a figure that one can very confidently say will never be matched or surpassed. However, the thing that made this issue not only a collectors' item, but also contraband, was the fact that the Pet of the Month in that issue was an underage Traci Lords.
So who's the final girl in this story? Hyapatia Lee, who was a popular porn performer whose distinguishing characteristic was her Native American heritage.
As it happens, the gorgeous vintage Penthouse model Hyapatia is only one-quarter Cherokee, which isn't huge, but it's enough for her to have had the distinction of being the only Native-American adult performer in porn during her first pass at it, from 1983 to 1993. She got into nude modeling and more at the behest of her husband, Bud Lee, who became a porn entrepreneur and director. After separating from Hyapatia, he discovered and married Japanese-American porn sensation Asia Carrera. If you ever do a Google image search on Bud, you will conclude that he is among the luckiest men who ever lived.
Hypatia's pictorial shot by Penthouse stalwart Earl Miller is in a style that owes more to Bob Guccione than the explicit sharp-focus fare Miller subsequently dealt in. It suits the beauty of Hyapatia, whose brunette loveliness held up well in a lyrical lighting approach.
Cheryl Rixon - Penthouse Pet, December 1977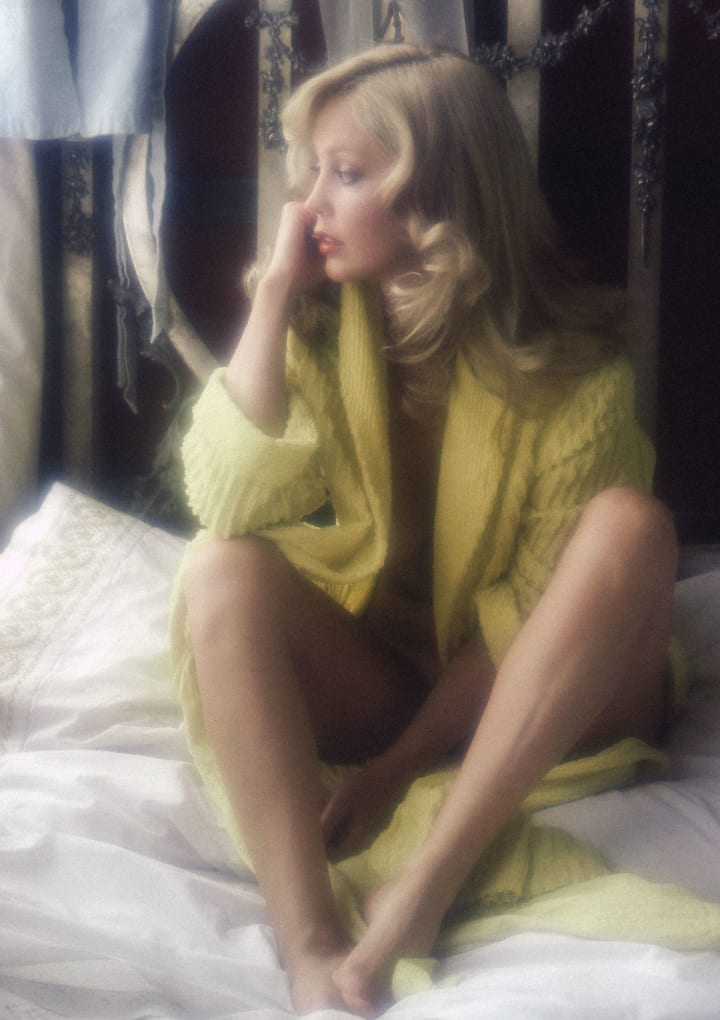 Prior to making her way into the pages of Penthouse, Rixon aimed for acting fame in her native land of Australia, and got some TV work that didn't move her along particularly far. Her striking Pet of the Month pictorial in the December 1977 issue of Bob Guccione's flagship publication got higher-than-normal notice from the readership.
At the height of the Guccione Era, Bob envisioned the Pet of the Year competition as just that: a pageant, and he produced a televised event from the Aladdin in Las Vegas. Rixon took the crown, and this led to a bad breakup, unfortunately; Rixon eventually sued Penthouse after discovering the keys to a handmade Diamante auto that Guccione handed her on announcing her win did not give her deed to the car, which was someone else's. In 1985, a New York Supreme Court ruled in Rixon's favor and ordered Penthouse to give her 86 grand.
For several years after that, Rixon, who in her suit against Penthouse called herself an aspiring rock singer, dated Judas Priest lead singer Rob Halford, who was at the time absolutely not out of the closet. She looked great in tight leather bondage gear at Halford's side, but nowadays she's more settled and sells jewelry from her own website. Given the number of Penthouse-related pictures on her site's Photobucket, including a hilarious January 1981 Penthouse forum cover on which she poses with Andy Warhol wearing a t-shirt reading "Andy Warhol Is A Virgin," she can't have exclusively hard feelings.
Janine Lindemulder - Penthouse Pet, December 1987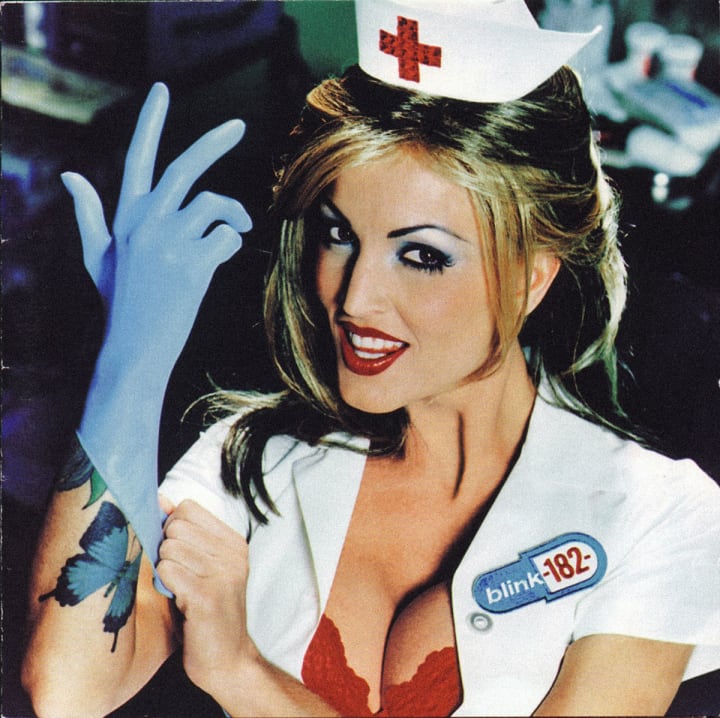 Ms. Janine Lindemulder is one complicated scenario. After becoming a sensation as a Penthouse Pet of the Month in December 1987, Janine tried the exploitation movie route, doing parts in the women's prison film Caged Fury. She also appeared in other non-greats, and porn, but with limits. Her adult debut, Hidden Obsession, directed by Andrew Blake, featured her doing only solo and girl-girl action.
That is how it stayed. Janine said in interviews that sex with men was too "emotional" for her to perform on cameras. Janine went on to become on of the biggest porn stars in the world, and it's a testament to her beauty and charisma that she did so even as she stuck by her promise to never have penetrative sex on camera. A reality sex tape of her in a threesome with Motley Crue frontman Vince Neal surfaced in 1998 and made a splash. Shortly after that, she announced her retirement, saying she was ditching the biz to teach kindergarten.
Well, it didn't work out. In the fall of 2002, she married the motorcycle repairman Jesse James, but they divorced almost exactly a year later. James subsequently married Sandra Bullock, at least until it was discovered he had been screwing a tattooed stripper, and according to rumors, was possibly a Nazi. Anyway, Janine, has now adorned herself with a couple of tattoos and has announced she would be returning to porn and having sex with fellas, including African Americans. She also said she would be having sex with Jenna Jameson as well.
Janine has been lying relatively low since 2010 when she was sprung, but in 2012, she showed some webcam action. If she ever decided to come back again, we will still be waiting.
Ultimate Guide to Vintage Penthouse Pets Pt. 2
For more vintage Penthouse pets, check out the next 12 ladies on the list.
About the Creator
New Yorker in his forties. His counsel is sought by many, offered to few. Traveled the world in search of answers, but found more questions.
Reader insights
Be the first to share your insights about this piece.
Add your insights